May 2013 Walt Disney World Bits and Bites
Feature Article
This article appeared in the April 30, 2013 Issue #710 of ALL EARS® (ISSN: 1533-0753)
Editor's Note: This story/information was accurate when it was published. Please be sure to confirm all current rates, information and other details before planning your trip.
= = = = = = = = = = = = = = = = =


STEP BACK IN TIME
= = = = = = = = = = = = = = = = =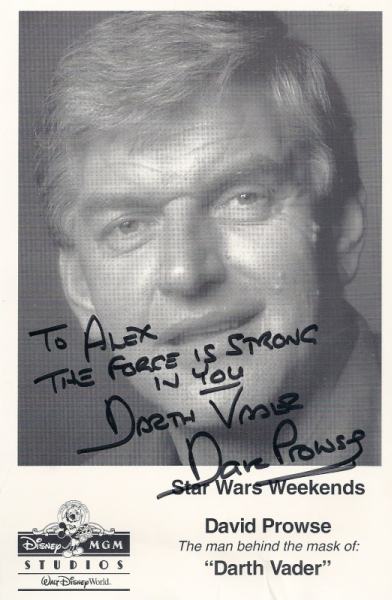 by Debra Martin Koma
Senior Editor
Each month, we rummage around in our archives for this featurette, which indulges in a bit of nostalgia, taking you back in history for a glimpse of Walt Disney World and The Walt Disney Company through the ages. This month, as we are about to embark on the 2013 Star Wars Weekends (May 17 – June 9), we take a look back at Disney's early Star Wars Weekends, originally held in February 1997.
Ah yes, February 1997. I remember it well. My second-ever visit to Walt Disney World. My son was just 5, and in the throes of a full-fledged Star Wars addiction. (Gee, I have no idea who he could have gotten that from…) We had planned a short visit (February 19-23) to the World during the first Star Wars Weekend ever to be held. The original Star Wars films had just been re-released to theaters as "special editions" and George Lucas had announced the coming of a new film that would be "Episode 1" of a new trilogy — The Phantom Menace. It was an exciting time to be a Star Wars fan.
The celebrity guest scheduled for that weekend was David Prowse, the man behind (or should I say INSIDE?) Darth Vader — he was the actor who wore the ominous black cape and costume for the character unforgettably voiced by James Earl Jones. He was scheduled to sign autographs, then would return later in the day for a motorcade and Q & A session. Meeting him and obtaining his autograph was the main mission of the day.
We got to the park very early that morning — it may have even been for opening, I'm a little fuzzy on the details. But I do remember that we were greeted at the gate of the Disney-MGM Studios by a host of characters, including two fully armed Stormtroopers. They wasted no time in harassing my son, who loved the attention after he got over his initial fear that perhaps they really were going to take him to see Darth Vader.
Once we got into the park, we found Star Wars characters were out in "force" (pardon the Star Wars pun) there as well: Chewbacca, Han Solo, Luke Skywalker, Leia, C3PO, Ewoks, a Jawa — it was Star Wars heaven.
Interestingly, the basic format of the original event didn't differ that much from the way things are done today, although there are a lot more activities staged now, and no Fastpass system for obtaining autographs. We had to wait in long lines to get our photos taken with the characters. There were huge crowds lining the streets for the 2 p.m. motorcade. And then there were more lines to get Prowse's autograph, but in the end it was well worth it. In fact, Prowse took an especially long time chatting with my young Padawan, and, as you can see from the photo above, wrote a very nice inscription: "To Alex. The Force is strong in YOU." All these years later, it's still a prized possession.
Today, each evening of a Star Wars Weekend concludes with a high-energy alien-filled dance party, which I really enjoy. But back then, the theme park still had the Sorcery in the Sky fireworks show at night, and during Star Wars Weekends they added a few minutes of music from the Star Wars films. I think I may have liked that even more than the dance party.
The 1997 Star Wars Weekends were held for five weekends altogether, through March 23. The celebrities scheduled to attend included some of the most familiar names in the Star Wars universe — many of whom are still active and attend Star Wars Weekends: Peter Mayhew (Chewbacca), Jeremy Bullock (Boba Fett), Anthony Daniels (C3PO), Kenny Davis (R2D2), and Warwick Davis (Wicket the Ewok). Even though those original weekends were extremely popular — and how could they not have been? — Walt Disney World did not host them again until 2000. It wasn't until 2003 that Star Wars Weekends became a regular annual event.
Were you at one of the early Star Wars Weekends? We'd love to hear your thoughts and see your photos! Send them along to allearsnet@yahoo.com.
RELATED LINKS
Star Wars Weekends:
http://allears.net/tp/mgm/m_starwars.htm
Jedi Training Academy
http://allears.net/tp/mgm/jedi_mgm.htm
= = = = = = = = = = = = = = = = = =
MONSTROUS SUMMER EVENT RECAP
= = = = = = = = = = = = = = = = = =
by Debra Martin Koma
Senior Editor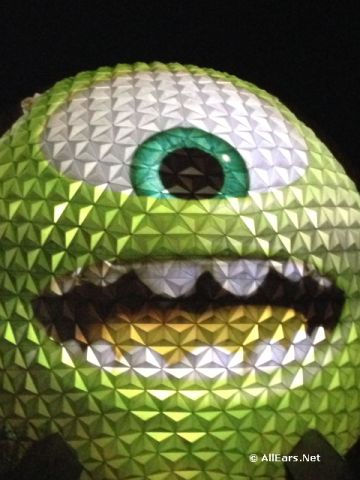 Last week, Walt Disney World hosted the media for a "Monstrous Summer" event, announcing several exciting upcoming projects, as well as providing an opportunity to talk with Imagineers and other cast members about ongoing developments around the theme parks. Senior Editor Deb Koma had the chance to participate in this media event and will be sharing details on the AllEars.Net site later this week. For now, though, here's a recap of the highlights:
— The biggest news was the announcement of major renovations for the Disney Cruise Line's Disney Magic. The Magic will be going into drydock this September in Cadiz, Spain, and while there will receive the following updates/additions:
renovated atrium lobby
new Marvel Avengers Academy for children
addition of several water play areas, including the Twist 'n' Spout water slide and the AquaDunk, which drops you three stories
addition of Animation Magic to the Animator's Palette restaurant
Cabanas restaurant replaces Topsider Buffet
renovated nightclub area, including the addition of O'Gill's Pub, Fathoms and Keys piano bar
For more about the Disney Magic upgrades:
http://land.allears.net/blogs/dnews/2013/04/disneys_first_cruise_ship_disn.html
— The "Monstrous Summer" promotion will kick off this Memorial Day Weekend with a 24-hour "all-nighter." Three parks — Magic Kingdom in Florida, and Disneyland and Disney California Adventure in California — will remain open from 6 a.m. May 24 until 6 a.m. May 25. Characters Mike Wazowski and Sulley will be the hosts of this 24-hour event, which will promote their upcoming film, "Monsters University."
EDITOR'S NOTE: Walt Disney World President George Kalogridis made this announcement assisted by an image of Mike Wazowski… projected onto Spaceship Earth!
http://land.allears.net/blogs/dnews/2013/04/disney_parks_to_kick_off_a_mon.html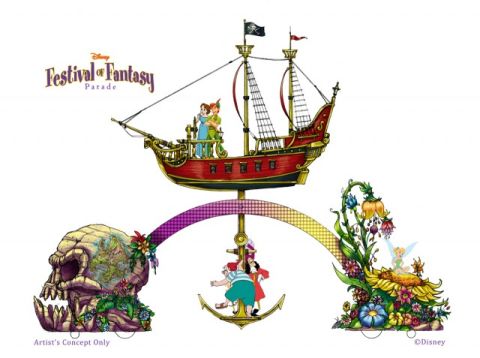 — Also announced during this press event — a new daytime parade will debut in the Magic Kingdom in spring 2014. The Disney Festival of Fantasy Parade "will bring the magical stories of New Fantasyland to Main Street, U.S.A., through fantastic and innovative new parade floats, vibrant costumes, and an original soundtrack that will feature beloved songs from favorite Disney films, plus a new parade theme song." It will replace the current "Celebrate a Dream Come True" daytime parade.
http://land.allears.net/blogs/dnews/2013/04/festival_of_fantasy_parade_com.html
As mentioned earlier, we've gathered lots of information on other upcoming projects, like the new Wilderness Explorers program that will be debuting soon in Animal Kingdom, which we'll be sharing on AllEars.Net in the next few days. Stay tuned!
= = = = = = = = = = = = = = = = =


HIDDEN MICKEYS ALERT
= = = = = = = = = = = = = = = = =
Steve Barrett, author of the Hidden Mickeys books and webmaster of www.HiddenMickeyGuy.com, hopes you enjoy these Hidden Mickeys in Fantasyland at Walt Disney World. Go to the following attractions right after the Magic Kingdom opens to avoid a long wait.
1. As you walk along the entrance queue for "Enchanted Tales with Belle" in the New Fantasyland, slow down and explore Maurice's cottage. A stack of firewood stands to the left of the fireplace inside the first room of the cottage. An upright classic (three-circle) Hidden Mickey made of three logs is at the middle bottom of the stack, and a sideways classic Mickey is at the upper middle left of the stack. Other combinations of logs also simulate classic Mickeys. (On my website, I'll credit the many folks who wrote to me about this image).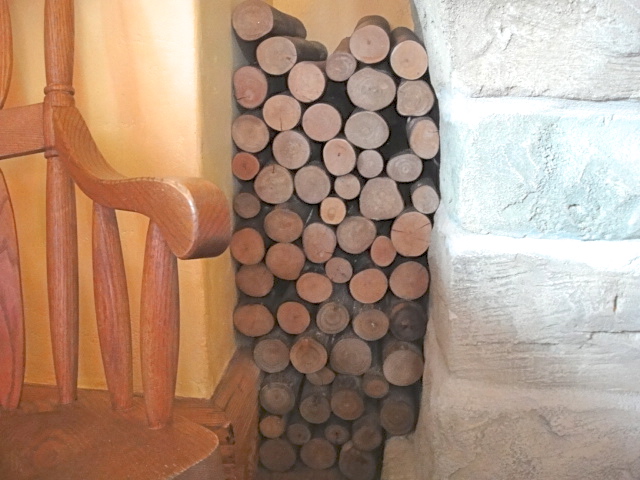 http://allears.net/btp/images/hidden-mickey-396.jpg
2. Admire the big tree at the beginning of the entrance queue for "The Many Adventures of Winnie the Pooh" in Fantasyland. Outside on the far side of the tree, behind the fence, a classic Mickey is etched into the wood in the middle of a vertical brown post on the left side of a window. (Thanks to Dennis Nordling and Lauren Roeser-Nordling.)
http://allears.net/btp/images/hidden-mickey-397.jpg
3. Further along the entrance for "The Many Adventures of Winnie the Pooh" is Rabbit's Garden play area; it's accessed through the Standby queue. Look for three watermelon drums that are positioned as a classic Mickey. (Thanks to Jeff Love.)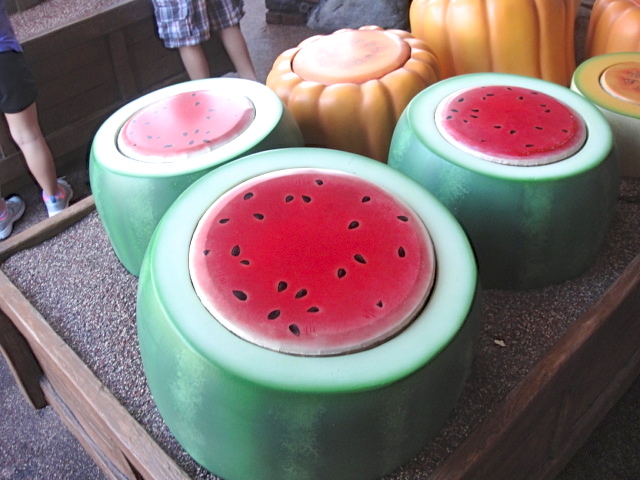 http://allears.net/btp/images/hidden-mickey-398.jpg
=-=-=-=-=-=-=-=-=-=-=-=-=-=-=-=
You can find a selection of past Hidden Mickeys Alerts here:
http://allears.net/btp/hiddenm2.htm
And check out our Searching Disney with Steve blog:
http://land.allears.net/blogs/stevebarrett/
= = = = = = = = = = = = = = = = = =

RATE & REVIEW SPOTLIGHT
= = = = = = = = = = = = = = = = = =
Compiled by AllEars® Team Member Cathy Bock
In this monthly featurette, we take a look at recent comments made in the AllEars.Net Rate & Review section about a particular restaurant, resort, event, etc. This month, we examine what AllEars® readers are saying about dinner at the Cape May Cafe, which is located at the Beach Club.
Cape May Cafe Clam Bake Dinner is an all-you-can-eat meal. AllEars® reviewers give it an average rating of 8.1 and it is recommended by 88% of reviewers.
From recent reviews:
Food: "Crab legs were incredibly good"; "carved beef was good as well as all the salads"; "our table of 8 did a serious job on the crab legs"; "Seafood chowder, marinated seafood salad, and peel & eat shrimp were great starters but the rest of the seafood was just OK"; "ample variety of food for seafood lovers as well as for those who prefer standard fare"; "food was OK"; "really need to learn to steam clams"; "mussels were good, as were the crab legs, beef and veggies"; "loved the crab legs, corn bread, shrimp, pasta"; "seafood is perfectly cooked, and delicious".
Desserts: "strawberry shortcake, pistachio cheesecake and tres leche was all very good"; "Ordered a cake for my son, which did not come out, so had to ask. That kind of spoils the surprise."; "loved the…desserts (Boston creme cake, cheese cake)"; "DESSERTS were amazing!!!"; "desserts are very good".
Service: "a party of 11 and they did an excellent job of accommodating us"; "Service was good and our waitress was really nice"; "we are never rushed and the staff has always been unfailingly polite"; "waitress was attentive"; "Service rather slow, but not outrageously so"; "didn't feel rushed and our waitress was fantastic"; "server, bless her heart, was struggling"; "checked in 10 minutes early for our ADR but were seated 15 minutes after our ADR time"; "do not manage the lines and have 2 lines with different items".
Overall: "the selection was not as plentiful that I am used to here"; "must-do for us"; "glad we tried it, but won't go back"; "Will go back"; "best meal we had the entire trip"; "a bit expensive"; "family loves this place and it is a must do"
If you have recently eaten dinner at Cape May Cafe, we'd love to have your review!
http://land.allears.net/reviewpost/showproduct.php?product=152&cat=53
= = = = = = = = = = = = = = = = = =


MONTHLY REMIND-EARS
= = = = = = = = = = = = = = = = =
EVENTS
Epcot
Epcot's Flower & Garden Festival — The 20th Epcot International Flower & Garden Festival runs through May 19, 2013. The festival, including all gardening programs and exhibits, is included in regular Epcot admission.

Flower Power Concert Series for May 2013 (tentative lineup):

— May 3-5 Tommy Roe
— May 10-12 Herman's Hermits starring Peter Noone
— May 17-19 Starship starring Mickey Thomas

At The Seas with Nemo & Friends: May 18: Endangered Species Day; May 23: World Turtle Day.
Disney's Hollywood Studios
Star Wars Weekends – This year's Star Wars Weekends at Disney's Hollywood Studios will take place every Friday, Saturday and Sunday, May 17 – June 9, 2013. James Arnold Taylor and Ashley Eckstein are returning as celebrity hosts for the annual special event. http://land.allears.net/blogs/dnews/2012/12/star_wars_2013_weekends_announ.html
Animal Kingdom
— May 8: International Migratory Bird Day
— May 23: World Turtle Day
May Merchandise Events at Walt Disney World, as reported by Disney Parks Blog:
— May 3: Disney Design Group Artist Betsy DePadova will be at Disney's Pin Traders in Downtown Disney Marketplace from 5 to 7 p.m. to sign the latest pin and Vinylmation release in the 2013 series.
— May 3-4: The newest releases from Chamilia will be featured at Tren-D in Downtown Disney Marketplace between the hours of 10 a.m. and 2 p.m. and 5 and 10 p.m.
— May 6-11: Artist Larry Dotson will be at Uptown Jewelers. He will also be at Art of Disney in Epcot, May 16-19.
— May 8-19: Artist David Doss will be on hand to showcase some of his most recent releases at Art of Disney in the Downtown Disney Marketplace.
— May 10-12: Precious Moments Doll Maker Linda Rick will be appearing at Once Upon A Toy in the Downtown Disney Marketplace.
— May 10: Park Starz 2 Vinylmation debuts at D Street in Downtown Disney Westside. Disney Design Group Artist Casey Jones will be on hand for a special signing of this new collection from 5 to 7 p.m.
Look for details on all of these events on www.ArtofDisneyParks.com
The Walt Disney World Swan and Dolphin Hotel is offering a special Mother's Day brunch at the Garden Grove restaurant Sunday, May 12 from 11:30 a.m. to 2 p.m. All mothers will receive a complimentary mimosa. The specialty menu will feature a create-your-own eggs benedict station, salads, soups, and a buffet with seared branzino, wild mushroom ravioli, honey-baked petite chicken and much more. The brunch is $35.99 for adults; $19.99 for children (ages 3 – 9); kids under 3 eat free. All pricing is exclusive of tax and gratuity; 18 percent gratuity will be added to all checks. Discounts, promotions and coupons will not be accepted for this event. To make reservations, call 407-934-1618 or visit www.swandolphin.com.
http://land.allears.net/blogs/dnews/2013/03/celebrate_mothers_day_at_the_w_1.html
-=-=-=-=-=-=-=-=-=-
Don't forget to check our Events page for current updates: http://allears.net/pl/events.htm
-=-=-=-=-=-=-=-=-=-=-=-=-=-=-=-=-=-=-
REHABS AND CLOSINGS
=-=-=-=-=-=-=-=-=-=-
Animal Kingdom
Adventurers Outpost will be the new Discovery Island exploration headquarters for Mickey Mouse and Minnie Mouse as of May 12. The all-new indoor retreat will allow guests to meet the duo as they get ready to set off on their next adventure. Filled with photos and mementos from Mickey's and Minnie's travels around the world, Adventurers Outpost invites explorers to gather and share tales from their expeditions around the world at Disney's Animal Kingdom.
Magic Kingdom
Fantasyland Expansion: The ongoing Fantasyland expansion project continues with the opening of Princess Fairytale Hall in 2013 and the debut of a new Disney "mountain" in the form of the Seven Dwarfs Mine Train in 2014.

The Magic Kingdom's Main Street Bakery closed for refurbishment in January 2013 and will reopen as a Starbucks in early summer. The cast members there will wear a costume consistent with the early 20th century look and feel of Main Street, U.S.A. The Starbucks location will offer the full complement of Starbucks signature beverages, artisan breakfast sandwiches and a wide selection of baked goods, including muffins, scones and specialty treats.

http://land.allears.net/blogs/dnews/2012/11/starbucks_locations_at_magic_k.html
Epcot
Spice Road Table, a new waterfront eatery, will be open by year-end at the Morocco Pavilion in Epcot's World Showcase. The new restaurant will have indoor and outdoor seating, and will feature small plates and refreshments inspired by the cuisine of the Mediterranean. More enhancements to the pavilion and news on Spice Road Table will be released as menus are finalized.

The Fountain View has closed for renovation and will reopen as a Starbucks location in mid-summer. The cast member costumes there will be themed to match the park's futuristic theme.

http://land.allears.net/blogs/dnews/2012/11/starbucks_locations_at_magic_k.html
Contemporary Resort
California Grill closed for an extensive renovation in early February 2013. The restaurant is slated to reopen late summer and will be sporting a new look and menu.

http://land.allears.net/blogs/dnews/2013/02/a_preview_of_the_new_californi.html

The 14th floor rooms and suites of the Contemporary Resort closed for refurbishment in January. Some renovations planned for these suites include: a hard and soft goods refurbishment (things like bedspreads, linens, furnishings, etc.); improvements to the concierge lounge that will capitalize on the sweeping views of Cinderella Castle, nightly fireworks and the Seven Seas Lagoon or Bay Lake; enhancements to the corridors and elevator foyer. The new room design and in-room amenities will be reflective of high-end suites at all deluxe Disney Resorts. The health and wellness concept that was mentioned last year will not be included on that floor or within the suites; however, most of the design concepts previously shown for these suites will be incorporated. The refurbishment is expected to last through late summer 2013 (dates are subject to change).
Port Orleans French Quarter
Port Orleans French Quarter Lobby is currently undergoing renovation. Work is expected to be complete in mid-July.
Saratoga Springs Resort & Spa
The "soft goods" room refurbishment at Disney's Saratoga Springs Resort & Spa continues. Accessories and linens are being replaced. The project is expected to last through spring 2013. Note that all refurbishment dates are estimates; exact project dates may vary.

http://dvcnews.com/index.php/resorts/saratoga-springs/news/1881-saratoga-springs-room-refurb-details

The spa at Disney's Saratoga Springs Resort temporarily closed for renovation. It will reopen in the summer as Senses – A Disney Spa at Disney's Saratoga Springs Resort.
Downtown Disney
Walt Disney World Resort announced the multi-year transformation of Downtown Disney into Disney Springs , which will treat guests to more shopping, dining and entertainment amid open-air promenades, springs and waterfront charm. Disney Springs will feature an eclectic and contemporary mix from Disney and other noteworthy brands, from boutique shops to unique flagship anchor stores. Disney Springs will double the number of shops, restaurants and other venues for guests to explore, resulting in more than 150 establishments. Drawing inspiration from Florida's waterfront towns and natural beauty, Disney Springs will include four outdoor neighborhoods interconnected by a flowing spring and vibrant lakefront. In addition to a new gateway with a signature water tower and grand entry, the destination will feature:

— The Town Center, which offers a mix of shopping and dining along a promenade.

— A commercial district called The Landing , with inspired dining and waterfront views.

— The family-friendly Marketplace that will continue to delight guests of all ages by combining new experiences, such as an over-the-water pedestrian causeway, along with classic Disney favorites, including an expanded World of Disney store.

— A West Side that provides an exuberant atmosphere with lively entertainment, along with a series of new elevated spaces that provide both shade and an overlook to the activity below.

The project will create an estimated 1,200 construction jobs and nearly 4,000 operational roles. New areas will open in phases. Disney Springs is expected to be complete in 2016.

http://land.allears.net/blogs/dnews/2013/03/disney_unveils_vision_for_disn_1.html
-=-=-=-=-=-=-=-=-=-
A complete list of rehabs can be found here: http://allears.net/tp/rehabs.htm
= = = = = = = = = = = = = = = = =


MAGICAL MOMENTS
= = = = = = = = = = = = = = = = =
Jason Kay: At Be Our Guest Restaurant, we were lucky to be seated in the West Wing, at the table closest to the magical rose. Before being seated, we were warned that there is a good amount of thunder that occurs (and very neat special effects with the rose and murals that go along with it), but we decided to sit there anyway. Our 4-year old daughter got scared of the effects and started to freak out. But our waitress came right over and gave her a "brave band," a bracelet that she wears to not be scared anymore (it's similar to a Silly Band). Supposedly, the Beast gave it to her because she had to work in the West Wing. I doubted the effectiveness of this plan at first, but almost immediately, my daughter wasn't scared anymore and she talked all about how the brave band really worked.
Denise Lamphere: Ten years ago we took our son, Ryan (then age 4), on his first trip to Disney World. One day, late in the afternoon, we decided to take the ferry from the Magic Kingdom to the TTC. We were the only ones to board the ferry when Chip, Dale and Pluto, along with their handler, boarded as well. We had the entire ferry to ourselves with three characters. My son was extremely shy and did not want anything to do with them. The characters respected his shyness and stayed on the other side of the boat. Midway through the ride, Pluto slowly wandered over and approached our son. Ryan was timid but open to playing with Pluto. Once Chip and Dale saw that Ryan was having a good time, they and the handler slowly made their way over too. The rest of the ride was spent joking around and taking pictures. It truly was an experience that we will never forget.
Dan Mulligan: After reading the wonderful comments about Bill Bathel's "Magical Moment" in last month's Bits and Bites issue, I thought I'd share my own experience. In 2000, my wife and I celebrated our honeymoon in Disney. After a horse-drawn carriage ride through Port Orleans with cheese and wine, the driver stopped to say, "I have to check the horse's shoe." She pulled out a pillow made from carnations and sitting on top was a glass slipper. Classy to say the least! After this was when the real magic of Disney came to light. We had reservations at the California Grill, with a table reserved in the corner overlooking Magic Kingdom for the fireworks show. Unfortunately, no buses to the Magic Kingdom came, until five minutes before we were to be there. We were the only ones on the bus at that time so we explained to the driver where we had to be and when. Without hesitation, he called his dispatcher and was given permission to take us to the front door of the Contemporary. We made our reservation, enjoyed amazing food and a spectacular fireworks show! The folks at Disney truly do go above and beyond to make your experience a magical one. I'll never forget what they did for my wife and me. We now take our kids every few years so they too can experience the magic that Disney continues to offer. We're going in two weeks for my daughter's first trip and I couldn't be more excited.
-=-=-=-=-=-=-=-=-=-=-=-=-=-=-=-=-=-=-=-=-
We just bet you have a story to tell about an unforgettable moment during your Disney vacation! Please send your favorite memory for inclusion in a future AllEars® to: allearsnet@yahoo.com
This month we also have a collection of readers' magical moments captured in photographs — "Then and Now" photos that show readers with their favorite characters or favorite spots in the Disney Parks years ago, and then again more recently. See them in our photo feature, "Wandering the World":
http://allears.net/tp/wander/wander.htm
Thank you all for sharing!
-o-o-o-o-o-o-o-o-o-o-o-
Editor's Note: This story/information was accurate when it was published. Please be sure to confirm all current rates, information and other details before planning your trip.