May 2011 Walt Disney World Bits and Bites
Feature Article
This article appeared in the April 26, 2011 Issue #605 of ALL EARS® (ISSN: 1533-0753)
= = = = = = = = = = = = = = = = =


STEP BACK IN TIME
= = = = = = = = = = = = = = = = =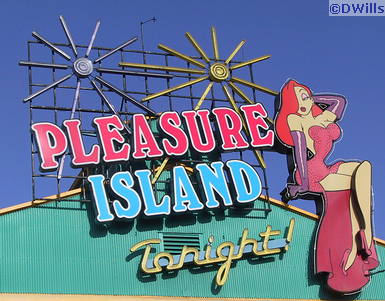 We rummage around in our archives for this monthly feature, which indulges in a bit of nostalgia, taking you back in history for a glimpse of Walt Disney World and the Disney Company through the ages. This month, we trace the origins of Disney's nighttime entertainment area, Downtown Disney's Pleasure Island, which opened 22 years ago, on May 1, 1989.
Walt Disney Imagineering (WDI) originally created Pleasure Island with an elaborate backstory: The island was part of a sail-making and shipbuilding empire built by entrepreneur Merriweather Adam Pleasure, who left for an adventure in the late 1930s to circumnavigate the globe and was subsequently lost at sea. After years of neglect by Pleasure's heirs, the story went, the six-acre island fell into ruin, but was eventually discovered by WDI, which rebuilt it into a high-energy nighttime entertainment district.
When it opened, Pleasure Island featured six different clubs: the XZFR Rockin' Rollerdrome (where guests could actually roller skate); Mannequins Dance Palace; Neon Armadillo (also dancing); Comedy Warehouse (improvisational comedy); Adventurers Club (also improvisational comedy, and more!); and Videopolis East, an under-21 club modeled after a video nightclub that was once at Disneyland Park. To gain entrance to Pleasure Island, visitors paid one price at the main gate, which then gave them admission to all six nightclubs for the entire evening. On opening day, admission to Pleasure Island was a mere $10.
Pleasure Island was also home to the AMC 10 Theatres (which grew to 24 in 1997 and was absorbed into Downtown Disney's West Side), as well as two restaurants operated by Levy — the Fireworks Factory (which was decorated with authentic pyrotechnic props) and Portobello Yacht Club.
Among the shops operating on opening day on the Island were Jessica's, named after the sexy character Jessica Rabbit from "Who Framed Roger Rabbit?", and Hammer and Fire, a jewelry shop that featured live models posing as mannequins among the displays.
In addition to providing additional dining and shopping options to Disney World visitors, Pleasure Island also was the location of many special events. The Island hosted colorful Halloween and Mardi Gras parties, and also celebrated New Year's Eve every night, not just on December 31, with fireworks and stage shows.
Today, Pleasure Island is in the process of being "re-imagined" into Hyperion Wharf — "a nostalgic yet modern take on an early 20th century port city and amusement pier."
http://land.allears.net/blogs/dnews/walt_disney_world/downtown_disney/hyperion_wharf/
(Source: Eyes and Ears, the Walt Disney World cast member publication)
= = = = = = = = = = = = = = = = =


WHISPERING
CANYON CAFE
REVIEW
= = = = = = = = = = = = = = = = =
by Andrew Rossi
AllEars® Guest Blogger
Whispering Canyon Cafe at Disney's Wilderness Lodge is a truly unforgettable dining experience, but in a way that is completely different. It is not necessarily the restaurant's atmosphere, or its location, or even its cuisine that makes it memorable. Rather, it is the service provided by an extremely dedicated and passionate group of Cast Members and the overall family-friendly nature of the restaurant that make Whispering Canyon Cafe truly unique among Disney restaurants.
Read all of Andrew's review of Whispering Canyon Cafe, complete with photos, here:
http://land.allears.net/blogs/guestblog/2011/04/whispering_canyon_cafe_a_fun_m_1.html
= = = = = = = = = = = = = = = = =


HIDDEN MICKEYS ALERT
= = = = = = = = = = = = = = = = =
Steven Barrett, author of the Hidden Mickeys books and webmaster of www.HiddenMickeysGuide.com, introduces you to a few Hidden Mickeys at Walt Disney World. Have fun scouting out these Hidden Mickeys!
1. Magic Kingdom, Frontierland, Tom Sawyer Island: Stroll into Old Scratch's Mystery Mine to find some black rocks arranged as an upside-down classic Mickey, halfway through the mine. The black stones are to the left of the Goofy-shaped gems, on the ground against the far left of the rear wall. (Thanks to Rob and Kathy Risavy, and Kathy Fetters.)
http://allears.net/btp/images/hidden-mickey324.jpg
2. Magic Kingdom, Frontierland: Check out the General Store. An outside display window facing the street has three wicker baskets holding merchandise that are arranged as a classic Mickey. This image has remained in place for a long time now. (Thanks to Melissa Uzzilia, Brian Harshberger, Chuck Lionberger, and Amelia.)
http://allears.net/btp/images/hidden-mickey325.jpg
3. Epcot, The Land Pavilion: During the "Behind the Seeds" tour, the tour guide will show you a growing container that shapes cucumbers into classic Mickeys. Disney knows how to grow cool cucumbers!
http://allears.net/btp/images/hidden-mickey326.jpg
You can find a selection of past Hidden Mickeys Alerts here:
http://allears.net/btp/hiddenm2.htm
= = = = = = = = = = = = = = = = =


VEGAN TIPS
= = = = = = = = = = = = = = = = =
by Emily Woesthoff
General Manager for BabyCakes NYC at Downtown Disney
Chances are, if you know a vegan, are a vegan, or have said the word "vegan" in Walt Disney World to someone, you have gotten a one-word reply: Boma.
Ahh, sweet Boma. The restaurant located downstairs in the Animal Kingdom Lodge has a fantastic dinner buffet that should please any hungry park-touring vegan, or any meat-eaters who happen to be in the party as well. The restaurant has a large dining room, so it is not usually too difficult to get an ADR that will fit your schedule. Buffets can be intimidating, and we vegans tend to hover around the pretty-looking fruit displays next to the cake and pastries that we can't eat. This buffet, however is quite different. The best strategy to tackle the line is with a professional. Ask for the chef upon being seated. When the chef comes out, she will walk you around the buffet pointing out all of the vegan options. Make sure you pay attention as the options (yes, there are actually many) can get overwhelming. Some favorites that you must sample and then go back for seconds or thirds include: falafel, lentils (ask them to prepare them without the cheese!), hummus, and especially the peanut rice! Certain items, like the aforementioned lentils can be prepared vegan to order. It will take a little bit of time, but it's definitely worth the wait. Similarly, even though there are dessert options out on the table, that doesn't necessarily mean all you can have for dessert is fruit. Just ask your server or the chef, they usually have Tofutti or Rice Dream ice cream available, along with Divvies Chocolate Chip Cookies! What's the best part about vegan dining at Boma, you ask? Well, aside from being able to enjoy a fulfilling meal in Walt Disney World, everyone crowds around the meat section (good for you, not necessarily for them). Strangely, there is hardly ever a line at the hummus or grain stations. Try walking the buffet from left (closest to the desserts) to right when it is not crowded and you'll save yourself from the buffet line, too!
Missed previous Vegan Tips from Emily? We're compiling them here:
http://allears.net/din/vegantips.htm
= = = = = = = = = = = = = = = = = =

RATE & REVIEW SPOTLIGHT
= = = = = = = = = = = = = = = = = =
Compiled by AllEars® Team Member Cathy Bock
In this monthly featurette, we take a look at recent comments made in the AllEars.Net Rate & Review section about a particular restaurant, resort, event, etc. This month, we examine what AllEars® readers are saying about lunch and dinner at The Wave, a table service restaurant located in Disney's Contemporary Resort.
One of Walt Disney World's newer restaurants, The Wave lunch/dinner has an average rating of 8.2 and is recommended by 92% of reviewers.
From recent reviews:
Food (general): "food was great!"; "Food was OK"; "One of the best meals we've eaten on Disney property!"; "quality of food here is very good".
Seafood: "sustainable fish of the day… was excellent"; "seared ahi tuna… was excellent"; "sustainable fish (which was salmon that night)…really good"; "had pan seared sea scallops and loved them".
Beef Tenderloin: "was really good'; "was very good"; "was delicious, though the side of veggies could have been larger"; "delicious, as were all the accompanying sides".
Pork Tenderloin: "it was amazing"; "pork loin was "RAW" which is totally unforgivable"; "was very good"; "delicious".
Pasta Dishes: "pasta with shrimp… really good"; "linguine… good but the clams were really salty"; "pasta… very good".
Desserts: "creamy indulgence dessert… was really good"; "kids loved the sundaes"; "desserts are also very good"; "desserts come in trios so you can try a little bit of everything"; "ordered the creamy indulgence dessert sampler and the decadent flavors dessert sampler. Not a dud in the bunch".
Service: "server was excellent"; "service was very timely"; "would hesitate to go back a second time due to the poor service we received from our server"; "server was very good"; "service was fantastic".
Atmosphere: "was very dark and cool and exceptionally quiet"; "even though it seats a lot, it did not have an overly loud or crowded feeling to it"; "atmosphere is also a bit, well, odd. It does feel like you're in somebody's basement or a more high-end rec room from the '70s".
Overall: "In my opinion, this is way better than some signature restaurants at WDW that take two points."; "I would definitely recommend it"; "Will most likely try again"; "absolutely stellar"; "convenient to all of the monorail resorts and outside the hectic pace of the Magic Kingdom".
If you have recently had lunch or dinner at The Wave, we'd love to have your review!
http://land.allears.net/reviewpost/showproduct.php?product=516&cat=43
= = = = = = = = = = = = = = = = =


MONTHY REMIND-EARS
= = = = = = = = = = = = = = = = =
EVENTS
Magic Kingdom
Disney Grad Nites: The Magic Kingdom will be hosting the final two Grad Nites May 6 and 7. The special evenings are private, after-hours parties for high school seniors from around the country, which means the Magic Kingdom closes early to the general public on these nights. UK-born singer Taio Cruz, Pete Wentz and duo 3OH!3 are scheduled to perform on each of the Grad Nite dates.
Epcot
Epcot's 18th International Flower & Garden Festival: March 2 – May 15, 2011.
Cable TV Network HGTV is sponsoring weekend appearances by its designers and landscaping experts at the 18th Epcot International Flower & Garden Festival, which runs through May 15, 2011. The lineup will include the likes of Taniya Nayak, Ahmed Hassan, Patti Moreno, Michele Beschen, John Gidding, Frank Fontana, and Vern Yip appearing at the Festival Center each Friday, Saturday and Sunday of the festival on the HGTV Stage. The HGTV hosts will deliver valuable tips to Disney guests on topics including "Mobile Gardens," "Secrets to Bringing Indoor Style Outside" and "Gardening with Kids." As part of the HGTV sponsorship, the Festival Center will open daily with presentations and Disney gardening workshops. In addition to brilliant horticulture displays and celebrity guest speakers, guests at the festival can also participate in hands-on seminars and experience innovative planting demonstrations and exhibits. Most activities at the Epcot International Flower & Garden Festival are included in regular Epcot admission. You can download the festival guide (9.5MB PDF file) directly from disneyworld.com here: http://tinyurl.com/6aena4y
http://allears.net/tp/ep/flogar.htm
The Flower & Garden Festival will celebrate Pixar's 25th Anniversary Weekend May 13-15, 2011 with the following:
— Pixar character meet-and-greets throughout Future World and World Showcase.
— "Race Around World Showcase" kids activity that, when completed, earns a collectible button.
— Informal discussions (May 14 and May 15) featuring Oscar-winning composer Michael Giacchino, Oscar-nominated Pixar producer Jonas Rivera, and "Cars" franchise guardian Jay Ward. Ward is currently involved with Disney-Pixar's "Cars 2," scheduled for release on June 24, 2011.
Flower Power Concerts for Epcot's 2011 International Flower & Garden Festival for the month of May (subject to change):
— May 1 — Paul Revere and the Raiders
— May 6-8 — Davy Jones
— May 13-15 — Herman's Hermits Starring Peter Noone
Flower and Garden Festival featured artisan Rachel Tribble will appear at the Garden Retreat from 11 a.m. – 9 p.m. on May 1, 7-8, 13-15.
Disney Theme Park Exclusive Figment: Noble Knight – Product Premier and Signing with sculptor Jacqueline Perreault Gonzales, Art of Disney Epcot, May 7 11 a.m. – 1 p.m. and 3 – 4 p.m.
Epcot's World Showplace will host the United Way's Chef's Gala to benefit Heart of Florida, which supports many Central Florida health and human service programs, on Saturday, May 21. The event will begin at 6:45 p.m., and will feature a silent auction and a sparkling wine reception. From 7:30 to 10 p.m., attendees will enjoy the creations of 20 Central Florida top chefs and restaurants, including desserts, specialty coffees and drinks, and fine wines. Participating Disney restaurants include: Artist Point, Kouzzina by Cat Cora, Raglan Road Irish Pub and Restaurant, Sanaa, Todd English's bluezoo, Tony's Town Square Restaurant, Tusker House Restaurant, The Wave…of American Flavors, Disney's Contemporary Resort Bakery, and Epcot Bakery. Tickets are $225/person, or $400/couple. Corporate ticket packages are also available for $2,000 for 10 tickets, and complimentary parking is included for the event. For more information, visit ChefsGala.org, or call 407-429-2129.
Disney's Hollywood Studios
Star Wars Weekends — Star Wars Weekends 2011 will be held at Disney's Hollywood Studios every Friday, Saturday and Sunday from May 20 to June 12. In addition to the launch of a new, 3-D Star Tours experience on May 20, there will be special Star Wars parades, trivia challenges, Jedi Training Academy, limited-edition merchandise and memorabilia, behind-the-scenes presentations, and star conversations. The complete celebrity lineup has not yet been announced, but two big names from the Star Wars universe have already been confirmed:
— Anthony Daniels, known for his portrayal of the protocol droid C-3PO, will return this year for Weekend 1 (May 20-22) and Weekend 2 (May 27-29).
— Ashley Eckstein , the voice of Ahsoka Tano in The Clone Wars, will appear each weekend this year as celebrity host of a behind-the-scenes talk show entitled "Clone Wars: Behind the Force."
http://allears.net/tp/mgm/m_starwars.htm
Phineas and Ferb meet-and-play experience begins May 16, located near Mama Melrose's Ristorante Italiano.
Contemporary Resort
The next free Disney Trading Night will be held on May 20, from 6 to 9 p.m. at Disney's Contemporary Resort – Ballroom of the Americas. This event for trading pins and other Disney merchandise is open to guests of all ages.
ESPN Wide World of Sports
Expedition Everest Challenge, presented by Champion, will be held Saturday, May 7, 2011, in Disney's Animal Kingdom. Just after sunset, individuals and teams of two will brave the mysteries of a thrilling 5K trek held in the shadows of the Forbidden Mountain. Teams will have to overcome obstacles lying in their path and then scavenge for clues to aid in their journey. In addition to the Expedition Everest Challenge, the event includes Disney kids' races and a Post-Race Party. For more details, visit:
http://espnwwos.disney.go.com/events/rundisney/expedition-everest-challenge/
D23 – The Official Disney Fan Club
May 12-13: D23's Great Disney Scavenger Hunt: Walt Disney World
For the first time in the 40-year history of Walt Disney World, guests will have the chance to scour all four Florida theme parks to win incredible prizes in this official Disney scavenger hunt. Each team will consist of 2-4 participants, and additional rules and registration information are available at the D23 Web site.
May 14-15: Destination D: Walt Disney World 40th
Following the rave reviews of Destination D: Disneyland '55, this event will celebrate the 40th anniversary of the Orlando resort, commemorating its history and heritage. Panels will include all-new presentations that build upon the successful panels at the Anaheim event, including:
•"Walt Disney World: The Way We Were," hosted by Disney Legend Dave Smith
•"Weird Disney World" with Walt Disney Archives Director Becky Cline
•"Walt Disney World Through the Eye of Television"
•A special evening event featuring musical memories from throughout the history of Walt Disney World
Other panels, featured speakers and details on the D23 Web site: http://d23.com
D23 members can purchase tickets to the two-day event at
http://d23.disney.go.com/expo/030111_EE_DestinationDWDW.html
http://land.allears.net/blogs/dnews/2011/02/destination_d_walt_disney_worl.html
=-=-=-=-=-=-=-=-=-=-
Don't forget to check our Events page for current updates: http://allears.net/pl/events.htm
-=-=-=-=-=-=-=-=-=-=-=-=-=-=-=-=-=-=-
REHABS AND CLOSINGS
Magic Kingdom
The Fantasyland Forest development in the Magic Kingdom will necessitate the closure of several existing Magic Kingdom park areas in 2011. Mickey's Toontown Fair's last day was February 11, 2011. Work has now begun on transforming the area into the new Storybook Circus section of Fantasyland.
http://allears.net/tp/mk/fant_expansion.htm
Mickey Mouse and Minnie Mouse and the Disney Princesses can now be found for meet-and-greets in new Town Square Theater, featuring FASTPASS. For more details on the new Town Square Theater featuring Magician Mickey:
http://land.allears.net/blogs/guestblog/2011/04/magician_mickey_mouse_and_prin_1.html

NOTE: Tinker Bell and friends can now be found in Epcot, at the Pixie Hollow Fairy Garden near MouseGear.
Enchanted Tiki Room — Under New Management remains closed after a fire earlier this year. It is expected to reopen on August 16.
Liberty Square Riverboat is scheduled to be closed for refurbishment May 2-25, 2011.
Disney's Hollywood Studios
Star Tours is closed for rehab. The attraction will be updated and is scheduled to reopen May 20, 2011. The new experience will be in 3-D, an all-new ride that includes many of the new worlds and elements from the more recent Star Wars movies.
http://allears.net/tp/mgm/m_startours.htm
Art of Disney Animation: Winnie the Pooh will replace Lotso in the meet-and-greet location on May 16. Lotso will continue to be seen in the Pixar Pals Countdown to Fun parade.
Animal Kingdom
Primeval Whirl is closed and is expected to reopen June 1, 2011.
Fort Wilderness Resort and Campground
The Cabanas Leisure Pool will be closed May 17-18.
Disney's Art of Animation Resort
Disney's Art of Animation Resort, the 26th resort at Walt Disney World, will feature family suites designed around four themes: The Lion King, Cars, Finding Nemo and The Little Mermaid. The resort will be located next to Disney's Pop Century Resort. Disney has released an artist rendering showing Disney's Art of Animation Resort at Walt Disney World as part of a new web page launched on the WaltDisneyWorld.com site. The resort is scheduled to open Summer 2012.
http://land.allears.net/blogs/dnews/2010/09/disneys_art_of_animation_resor_1.html
A complete list of rehabs can be found here: http://allears.net/tp/rehabs.htm
= = = = = = = = = = = = = = = = =


MAGICAL MOMENTS
= = = = = = = = = = = = = = = = =
Each month we share reports of guests at Walt Disney World and Disneyland experiencing special Magic, which we call "Magical Moments":
Gene Jones: When our daughter was 3, we had dinner in the castle and our daughter met Cinderella. She was so in awe that she stared up at her and gently touched her dress. Cinderella talked with her for at least five minutes and really made the trip special. The magical part — a little later on, right before the fireworks started, my husband took our daughter back inside the castle to warm up because of the cold. Cinderella saw our daughter and said, "I remember you!" It is still the best memory and our daughter told anyone who would listen for weeks that Cinderella remembered her. What awesome cast members!
Robin Hamilton: During a recent trip to the Magic Kingdom, our daughter was having a minor meltdown while riding in her stroller through Liberty Square. Apparently a cast member took notice as we parked her stroller and walked into the Haunted Mansion (one of her favorite rides, which we hoped would calm her down). When we returned to get her stroller, we found it was covered with Mickey confetti and now contained two occupants — a cute stuffed animal and Vinylmation — both Haunted Mansion themed. But it was the included Disney certificate that certified our Magical Moment. Addressed to the "Pretty Girl in Blue," it proclaimed she was the Citizen of the Day and wished her a Magical day. Our daughter just stood there in stunned silence for a long time before she started screaming with excitement! She cherished her new toys the rest of the trip. My husband and I just looked at each other and said, "A magical moment! This is why we come to Disney every year!" THANK YOU, DISNEY!
Cheryl Bartkiw: My daughter and I went to Disney World for the first time, celebrating her 19th birthday and my 40th. In Epcot, we had dinner with the Princesses. We ordered our meals and as each princess came to our table, they posed for pictures with us and signed our autograph book. After the princesses left to take the little ones on a parade around the restaurant, we were just waiting for our dessert to arrive. Then came the Magical Moment. Our server brought my daughter over a birthday cupcake with a lit candle and a card signed by all the princesses with a beautiful picture of her and Belle. Well, she started to cry, I cried — it was the most magical moment of our lives to date!
We just bet you have a story to tell about an unforgettable moment during your Disney vacation! Please send your favorite memory for inclusion in a future AllEars® to: allearsnet@yahoo.com Thank you all for sharing!
-=-=-=-=-=-=-=-=-=-=-=-=-=-=-=-=-=-=-
Some readers share their Magical Moments in photographs. In anticipation of Star Wars Weekends (starting May 20!), we have assembled a themed group of photos in the latest Wandering the World:
http://allears.net/tp/wander/wander.htm
-o-o-o-o-o-o-o-o-o-o-o-
Editor's Note: This story/information was accurate when it was published. Please be sure to confirm all current rates, information and other details before planning your trip.