July 2013 Walt Disney World Bits and Bites
Feature Article
This article appeared in the June 25, 2013 Issue #718 of ALL EARS® (ISSN: 1533-0753)
Editor's Note: This story/information was accurate when it was published. Please be sure to confirm all current rates, information and other details before planning your trip.
= = = = = = = = = = = = = = = = =


STEP BACK IN TIME
= = = = = = = = = = = = = = = = =
by Deb Wills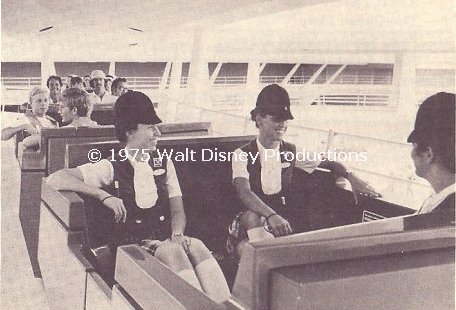 Each month, we rummage around in our archives for this featurette, which indulges in a bit of nostalgia, taking you back in history for a glimpse of Walt Disney World and The Walt Disney Company through the ages. This month, we take a look at The WEDway PeopleMover.
The WEDway PeopleMover opened in Tomorrowland in the Magic Kingdom in July 1975. Here's an excerpt from the July 5, 1975 issue of the Disney cast member newsletter, "Eyes and Ears" about the new attraction: "The WEDway PeopleMover is the first large-scale use of a new method of magnetic propulsion for transportation purposes."
When this attraction was introduced, I remember thinking, "This is how we are going to travel in the future!" At the time, I was about to begin college and thought it would make a great way to travel around large campuses.
The PeopleMover was presented by Edison Electric Institute and opened as an "E" Ticket attraction. As it does today, the ride took you on a tour of Tomorrowland — but the sights were a bit different back then. Here's a look at what it was like, quoting again from "Eyes and Ears": "Once on your way, you pass above the Space Port shop, Mission to Mars and enter a city of tomorrow. Spread out in front of you is a model depicting what could be EPCOT or some other city of the future. Then back out into the daylight and over Grand Prix. Leaving the roar of the car engines behind, you enter the cool tingling darkness of Space Mountain, filled with its sounds of tomorrow and outer space. You pass just above the Home of Future Living and out into the giant inner void of Space Mountain, with its whirling meteorites and screaming guests. Then over to the Carousel of Progress and through If You Had Wings. Lastly, you glide past America the Beautiful and back to the PeopleMover Station. Total elapsed time, 10-and-a-half minutes since your journey began."
RELATED LINKS
History of the Tomorrowland Transit Authority:
http://land.allears.net/blogs/jackspence/2009/09/tta_tomorrowland_transit_autho.html
TTA PeopleMover attraction page:
http://allears.net/tp/mk/tta.htm
= = = = = = = = = = = = = = = = =


HIDDEN MICKEYS ALERT
= = = = = = = = = = = = = = = = =
Steve Barrett, author of the Hidden Mickeys books and webmaster of www.HiddenMickeyGuy.com, returns to Disneyland, California, for a few Hidden Mickeys from Tomorrowland. Enjoy the search!
1. Inside Innoventions, stop by the large blue globe surrounded by small beads under glass. Stand in front of the middle of the globe and watch the images on the globe. At times, a classic Mickey made of bubbles floats across the lower third of the globe.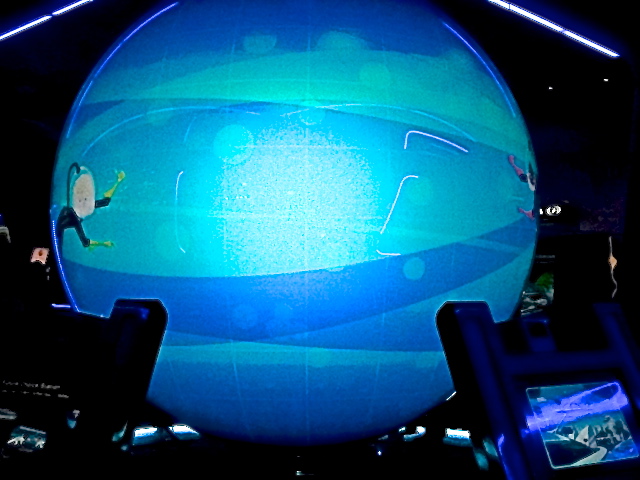 http://allears.net/btp/images/hidden-mickey-402.jpg
2. Inside Innoventions, walk to the left of the large blue globe and close to the wall. Under the second glass pane from the left wall, and second pane from the outside, a classic Mickey is made of three beads glued together. It's under the lower third of the pane as you face the globe. (Thanks to Gordon K., and Anastasia Stewart.)
http://allears.net/btp/images/hidden-mickey-403.jpg
3. On the outside sign for the "Little Green Men Store Command," a green side profile of Mickey Mouse is on a planet at the right upper edge of the sign for this store near Buzz Lightyear Astro Blasters. (Thanks to Steve Orme.)
http://allears.net/btp/images/hidden-mickey-404.jpg
=-=-=-=-=-=-=-=-=-=-=-=-=-=-=-=
You can find a selection of past Hidden Mickey Alerts here:
http://allears.net/btp/hiddenm2.htm
And check out our Searching Disney with Steve blog:
http://land.allears.net/blogs/stevebarrett/
= = = = = = = = = = = = = = = = = =

RATE & REVIEW SPOTLIGHT
= = = = = = = = = = = = = = = = = =
Compiled by AllEars® Senior Editor Deb Koma
In this monthly featurette, we take a look at comments made in the AllEars.Net Rate & Review section about a particular restaurant, resort, event, etc. This month we examine what AllEars® readers are saying about Walt Disney World Dinner Shows.
Hoop Dee Doo Musical Revue is probably the best-known of the WDW dinners shows, with its homespun humor and interactive floor show. Performed three times most nights at Fort Wilderness Campground's Pioneer Hall, the Hoop Dee Doo is recommended by 96 percent of AllEars.Net's reviewers, and its overall rating is 9.0. Here are some comments:
— "This was a favorite of our trip! We didn't have to ask for anything! As soon as your drink was half gone a new one appeared! Great food. Got mac and cheese without asking and it was delicious! Entertainment was wonderfully funny and they timed everything so you could eat peacefully.10-yr old son got picked to participate in the show and it was hysterical. Had deluxe dining plan and definitely worth the two credits!"
— "We did this for the first time on 4/6/13… The service was excellent, the entertainers are very good and funny, the food is good (ribs a little tough, but I think it would be difficult to make them tender when you are cooking that many), strawberry shortcake was the best we ever had! Now our nitpicks: price is outrageous. We sat on the upper section to try to save a few dollars, but still paid over $200 for the four of us… Didn't enjoy that you had to park and take an internal bus to the Pioneer Hall. Bus was crowded as it is also used for stops for the people camping there… Overall, our family enjoyed it, but I don't know that we would go again."
— "We had the Disney Dining Plan so we booked this dinner show and I'm glad we did. The food was great and so was the entertainment, for adults and kids alike!! Would definitely go back if on the dining plan again."
— "After reading all the glowing reviews I felt let down by the show and the food… The chicken was dry and the ribs were too syrupy. I did not think this was worth the money and we sat 15 feet from the stage. Will not go again."
The Spirit of Aloha Dinner Show at the Polynesian Resort's Luau Cove invites guests to enjoy a South Pacific-style luau, with traditional Polynesian music and the Hawaiian Roller Coaster Ride from Lilo and Stitch, in an open air theater. It's performed twice nightly Tuesday through Saturday. The Spirit of Aloha is recommended by 75 percent of AllEars.Net's reviewers, and its overall rating is 6.6.
— "I've been quite a few times over the years and enjoy it. The show is very good – the best part is the second half when they actually do the dances of the different islands -and the fire dancer! I still miss the characters… The food is OK."
— "When we went two years ago, the food was good, but this last time it bordered on unacceptable. I think if you have not gone before, try for the entertainment knowing it is cheesy, but do not go for the food."
— "We went in February 2013. There were 12 of us, including children aged 4, 6, 7, 8, and 12… While the food may not be the best at Disney, it was plentiful and tasty. Our waitress (one for our whole table) was superb! Most of the adults had seen the show at some point in the past, so we had more fun watching the kids, who loved it. We had several allergies at our table and they were handled professionally and courteously by the staff. It was a great evening, despite the nasty weather, and we appreciated the positive aspects."
Mickey's Backyard BBQ is also held at Fort Wilderness Campground at the Outdoor Pavilion. It is only performed seasonally on Thursdays and Saturdays. The BBQ is recommended by 60 percent of AllEars.Net's reviewers, and its overall rating is 6.5.
— "We loved it… The food was great, we thought, though our family enjoys picnic food… Everything we had tasted great and we especially liked that everything on the buffet was safe for our tree nut-allergic son. The included wine and beer was nice also… We had a great time and it is on our list of reservations to make for our next trip."
— "The food was pretty good, it was hot and they came and refilled the food so that everyone could go back for more if they wanted. Free refills on beer and wine and a nice dessert selection. The show was entertaining, would have enjoyed it much more if we had a better seat. So overcrowded, though… they need to regulate the crowds better. Too many people/kids for there to be enough room for them all to get up and dance… I didn't expect one on one time with the characters but I would have liked for my daughter to be a little close to them. Since we were fighting to see the characters you really didn't get to enjoy the meal. All of this and we just spent two meal credits (from the Disney Dining Plan)! Never again!"
=-=-=-=-=-=-=-=-=-=-=-=-
If you have attended any of these shows recently, we'd love to have your review! You can share them here:
http://land.allears.net/reviewpost/showcat.php?cat=37
= = = = = = = = = = = = = = = = = =


MONTHLY REMIND-EARS
= = = = = = = = = = = = = = = = =
EVENTS
Fourth of July:
Limited Time Magic will bring Independence Week to the Magic Kingdom July 1-7, 2013. Each night that week a 15-minute, 360-degree fireworks spectacular, "Disney's Celebrate America! A Fourth of July Concert in the Sky," will be performed. Also, Goofy, Donald and Pluto will lead a procession down Main Street, U.S.A, prior to the daily Celebrate a Dream Come True parade that features Main Street Philharmonic, Citizens of Main Street and Walt Disney's historic horse-drawn calliope. Patriotic-themed merchandise and tasty treats inspired by Americana will also be on the menu all week long.
In addition, on July 4, 2013, ONLY:
— In Epcot: Discovery Experiences at American Adventure will spotlight American history and heritage and you can meet with Disney characters adorned in patriotic dress. Live entertainment kicks off at 12:30 p.m. in the America Gardens Theatre with the Voices of Liberty Fourth of July concert, which also includes the Spirit of America Fife and Drum Corps and Disney characters. The Heartbeat of Freedom, a special tribute following IllumiNations: Reflections of Earth lights up the sky at 10 p.m. Characters in patriotic dress are on set from 11:30 a.m. to 2:30 p.m. and from 3:30 to 6 p.m. outside near Kidcot (under the porte-cochere). Voices of Liberty show times at America Gardens Theatre are 12:30, 1:45 and 3 p.m. They are also doing two sets inside the American Adventure Rotunda at 4:15 and 5 p.m. Special show times for Slippery When Wet (Sounds Like Summer concert series) on the Fourth of July are 5:15, 6:30, 7:45 and 9 p.m.
— At Disney's Hollywood Studios, the all-new "Rockin' 4th of July Celebration" will begin at the Sorcerer Hat with a DJ at 6 p.m. At 7, 8, 9 and 10 p.m., Mulch, Sweat & Shears will perform. Everything leads up to a special rock 'n roll fireworks presentation at 10:15 p.m.
Theme park hours on July 4 (subject to change without notice): Magic Kingdom, 9 a.m.-11 p.m.; Epcot, 9 a.m.-10 p.m.; Disney's Hollywood Studios, 9 a.m.-10 p.m.; and Disney's Animal Kingdom, 8 a.m.-7 p.m.
Animal Kingdom
Epcot
The Sounds Like Summer concert series is held annually at Epcot's America Gardens Theatre, featuring "tribute" bands that cover music by popular artists. Entrance to the concerts is free with paid admission to the park. The 2013 series runs from June 9 through July 27.
June 30 – July 6: Slippery When Wet (The Ultimate Bon Jovi tribute)
July 7 – July 13: Southbound and Company (tribute to Lynyrd Skynyrd)
July 14 – July 20: The Police Experience (a tribute to the Police)
July 22 – July 27: 2U (U2 tribute band)
Show times are 5:30, 6:45 and 8 p.m. (except on July 4 – show times are scheduled for 5:15, 6:30, 7:45 and 9 p.m.).
Magic Kingdom
July 11 – July 14: Artist David E. Doss will be at Uptown Jewelers, showcasing some of his most recent releases. (He will also be at Art of Disney in Downtown Disney Marketplace later in the month, July 18–21.).
Downtown Disney
July 4 – 7: Artist Larry Dotson will showcase some of the newest releases in his collection at Art of Disney in Downtown Disney Marketplace. He will also be at Uptown Jewelers in Magic Kingdom from July 15-20.
July 24 – 28: Artist Greg McCullough will be on hand for a special artist showcase at Art of Disney in Downtown Disney Marketplace from 1 to 5 p.m. and 6 to 10 p.m. each day.
July 26 – 27: Representatives from Kameleon Jewelry will be at Tren-D in the Downtown Disney Marketplace.
-=-=-=-=-=-=-=-=-=-
Don't forget to check our Events page for current updates: http://allears.net/pl/events.htm
-=-=-=-=-=-=-=-=-=-=-=-=-=-=-=-=-=-=-
REHABS AND CLOSINGS
Magic Kingdom
Fantasyland Expansion continues with the opening of Princess Fairytale Hall in 2013 and the debut of a new Disney "mountain" in the form of the Seven Dwarfs Mine Train in 2014.
Pirates of the Caribbean will be closed for refurbishment Saturday, July 27, through Tuesday, July 30.
Epcot
The Fountain View closed in March 2013 and will reopen as a Starbucks location in midsummer. The cast member costumes there will be themed to match the park's futuristic theme. The Starbucks location will both offer the full complement of Starbucks signature beverages, artisan breakfast sandwiches and a wide selection of baked goods, including muffins, scones and specialty treats.
http://land.allears.net/blogs/dnews/2012/11/starbucks_locations_at_magic_k.html
Spice Road Table, a new waterfront eatery, will be open by year-end at the Morocco Pavilion in Epcot's World Showcase. The new restaurant will have indoor and outdoor seating, and will feature small plates and refreshments inspired by the cuisine of the Mediterranean. More enhancements to the pavilion and news on Spice Road Table will be released as menus are finalized.
California Grill closed for an extensive renovation in February 2013. The restaurant is slated to reopen late summer and will be sporting a new look.
The 14th floor rooms and suites of the Contemporary Resort are closed for refurbishment. Some renovations planned for these suites include: a hard and soft goods refurbishment (things like bedspreads, linens, furnishings, etc.); improvements to the concierge lounge that will capitalize on the sweeping views of Cinderella Castle, nightly fireworks and the Seven Seas Lagoon or Bay Lake; enhancements to the corridors and elevator foyer. The new room design and in-room amenities will be reflective of high-end suites at all deluxe Disney Resorts. The health and wellness concept that was mentioned last year will not be included on that floor or within the suites; however, most of the design concepts previously shown for these suites will be incorporated. The refurbishment is expected to last through late summer 2013 (dates are subject to change).
Senses – A Disney Spa at Disney's Saratoga Springs Resort is now accepting reservations for treatments. The two-story facility is still under construction, but once open will house 10 treatment rooms, a co-ed relaxation room, two lounges, and whirlpool and steam rooms, along with many other amenities. To book a treatment, call 407-WDW-SPAS (407-939-7727).
Cirque du Soleil's La Nouba at Downtown Disney West Side will not be performed July 23.
Downtown Disney is undergoing a multi-year transformation into Disney Springs, which will treat guests to more shopping, dining and entertainment amid open-air promenades, springs and waterfront charm. Disney Springs will feature an eclectic and contemporary mix from Disney and other noteworthy brands, from boutique shops to unique flagship anchor stores. Disney Springs will double the number of shops, restaurants and other venues for guests to explore, resulting in more than 150 establishments. Drawing inspiration from Florida's waterfront towns and natural beauty, Disney Springs will include four outdoor neighborhoods interconnected by a flowing spring and vibrant lakefront. In addition to a new gateway with a signature water tower and grand entry, the destination will feature:
— The Town Center , which offers a mix of shopping and dining along a promenade.
— A commercial district called The Landing, with inspired dining and waterfront views.
— The family-friendly Marketplace that will continue to delight guests of all ages by combining new experiences, such as an over-the-water pedestrian causeway, along with classic Disney favorites, including an expanded World of Disney store.
— A West Side that provides an exuberant atmosphere with lively entertainment, along with a series of new elevated spaces that provide both shade and an overlook to the activity below.
The project will create an estimated 1,200 construction jobs and nearly 4,000 operational roles. New areas will open in phases. Disney Springs is expected to be complete in 2016.
http://land.allears.net/blogs/dnews/2013/03/disney_unveils_vision_for_disn_1.html
The Palm golf course is closed for a major rehab through November 16. The work will include a redesign by Arnold Palmer Course Design. For more details visit:
http://www.wdwgolf.com/2013/05/23/palm-course-to-close-june-10-2013-for-renovations-by-arnold-palmer-course-design/
-=-=-=-=-=-=-=-=-=-
A complete list of rehabs can be found here: http://allears.net/tp/rehabs.htm
= = = = = = = = = = = = = = = = =


MAGICAL MOMENTS
= = = = = = = = = = = = = = = = =
Alyssa: During our recent trip to WDW, my daughter's first, she had the opportunity to meet Pocahontas in Animal Kingdom. We were the last family to leave the meet and greet area as Pocahontas was taking a break, and she approached my 4-year-old daughter and asked if she would like to walk her out. Pocahontas then took my daughter's hand and walked with her up the winding path that had led to the meet and greet. She didn't stop there, though, she continued to walk hand-in-hand with my daughter through the park for quite a while, causing park-goers to turn and stare and point at my daughter with Pocahontas. I followed behind, taking pictures like crazy, and trying not to cry! Finally Pocahontas told my daughter "This is where I need to turn" and bent down to give her a huge hug before moving down her path. My daughter was giddy for the rest of the day and kept asking to see the pictures. Needless to say, Pocahontas is now her favorite princess! I want to thank Pocahontas for making my daughter's first trip to Disney World unforgettable; it was a moment I will cherish forever!
Marie Hall: I love reading the magical moments, so I thought I'd share this. For my daughter's 11th birthday, we got reservations at the Polynesian. Upon checking in, we were surprised by getting a complementary upgrade to a Magic Kingdom view. The cast member gave my daughter her birthday button and all was good. But it gets better. When we got into the 1st floor room, my daughter couldn't see out the patio because the bushes had grown too tall. I called the front desk and thanked them for the upgrade but we couldn't stay in the room since the birthday girl couldn't see out the windows. The cast member said she'd find us another room. It took a LONG time for them to get back to us, but when we got to the new room, it was a beautiful Magic Kingdom view, but there were balloons and a card signed by Chip 'n Dale wishing my daughter a happy birthday. The CM had noticed that my daughter was wearing her "I Love Chip 'n Dale" shirt when we had checked in! THAT'S why we keep going back to Disney over and over!
Amy Vance: My husband, two kids and I were on a January 2009 Walt Disney World vacation. On our last full day, we went to Animal Kingdom for rope drop. As soon as we got off the bus, my husband felt horrible pains in his side. He tried to walk off the pain and relax while the kids played at the playground. We decided to head to First Aid. The staff there was wonderful! The nurse took one look at my husband as he was trying to sit in a chair in the waiting room and asked if he'd ever had kidney stones. Since he had six years earlier, she strongly suggested that he let her call an ambulance to take him to Celebration Hospital. The kids started crying when they heard this. Within minutes of the nurse calling the ambulance, Megan, a Guest Relations cast member, was there. She helped me calm the kids and talked to the paramedics. She also arranged for another cast member, Shelly, to drive us to the hospital behind the ambulance. Shelly had me write down my name and address and told me that by the time we got back from the hospital, we would have four park tickets waiting for us at any Guest Relations window that would be valid whenever we could come back to the parks, even if it wasn't for a few years. My then 7-year-old daughter realized that she wasn't going to get what she wanted most at the Animal Kingdom that day, a bucket of popcorn. She loves Disney's popcorn and was collecting the buckets. The Animal Kingdom bucket (in 2009 each park had its own popcorn bucket) was the only one that she didn't have. Shelly gave us a card with Animal Kingdom's phone number and said to call when my husband was released and if they could, they would send someone to pick us up. My husband was treated in the emergency room and the kidney stone diagnosis was confirmed. He spent the next few hours on IV pain medication and fluids. When he was released, he had to get two prescriptions filled at the hospital pharmacy. While we were waiting, I called Animal Kingdom and was told they would send someone right away. Jamie arrived quickly and as he loaded everyone into the van, he handed my daughter an Animal Kingdom bucket of popcorn with a note attached that read, "For Your Collection." She was so thrilled. It was such a small thing, but it was such a big deal to her. She will never forget the Disney Magic the cast members created for her. It made tears come to my eyes after such a difficult day — still does today as I type this. It is amazing how such a small gesture can mean so much. We had so many wonderful Disney cast members make a difficult day easier.
-=-=-=-=-=-=-=-=-=-=-=-=-=-=-=-=-=-=-=-=-
We just bet you have a story to tell about an unforgettable moment during your Disney vacation! Please send your favorite memory for inclusion in a future AllEars® to: allearsnet@yahoo.com
Thank you all for sharing!
-o-o-o-o-o-o-o-o-o-o-o-
Editor's Note: This story/information was accurate when it was published. Please be sure to confirm all current rates, information and other details before planning your trip.