February 2017 Walt Disney World Bits and Bites
Feature Article
This article appeared in the January 31, 2017 Issue #906 of ALL EARS® (ISSN: 1533-0753)
Editor's Note: This story/information was accurate when it was published. Please be sure to confirm all current rates, information and other details before planning your trip.
= = = = = = = = = = = = = = = = =


STEP BACK IN TIME
= = = = = = = = = = = = = = = = =
by Joan L. Feder
AllEars® Contributor
We hunt through our archives for this monthly featurette, which looks back at the history of Walt Disney World and The Walt Disney Company. This month we turn our attention to the storied career of one of Disney's most unique characters: the incomparable Mr. Toad.
On February 2, 1955, "The Wind in the Willows" was broadcast as part of the first season of the Disneyland anthology show. Choosing to show this particular cartoon was no accident. Mr. Toad's Wild Ride, based on The Wind in the Willows, was going to be one of the inaugural attractions at Disneyland's opening day on July 17, 1955.
Disney's The Wind in the Willows was based on a children's book by Kenneth Grahame, published in 1908. Due to the constraints of World War II, Disney made it a featurette instead of a full-lenth film. In it, Toad's latest obsession is his newfangled motorcar. When initially planning Disneyland, the related attraction was going to be a rollercoaster, but Walt Disney nixed that idea in favor of a dark ride that would make guests feel as if they were speeding along with Toad on one of his frenzied motorcar outings.
Mr. Toad's Wild Ride is located in Disneyland's Fantasyland. Originally, after climbing aboard a two-passenger motor car, there was a 90-second adventure with squealing turns, loud horns, and police whistles. As part of a 1983 update, a new longer track was laid and additional scenes were added. Passengers now wind up condemned to prison and then in a cartoon version of Hell. A dragon appears, but luckily he begins to choke, allowing guests to escape.
Mr. Toad's Wild Ride was also an opening day attraction at Walt Disney World's Magic Kingdom on October 1, 1971. While similar to the California ride, it had some major differences. This version had two separate loading areas, and larger ride vehicles. The feel of the attraction was the same, though, and it included sudden turns and narrowly avoided obstacles. Florida's Toad Hall closed forever on September 7, 1998.
Despite the ride's closure, J. Thaddeus can still be found at the Magic Kingdom. Mr. Toad's Wild Ride was replaced by The Many Adventures of Winnie the Pooh in 1999, and in that attraction, you can spot a picture that shows Owl receiving the deed to his house from none other than Mr. Toad. A bit further on, on the floor, there is a picture of Mr. Toad's friend Moley tipping his hat to Pooh. Also, in Liberty Square, in the upper left of the Haunted Mansion's pet cemetery is a statute memorializing Mr. Toad.
Many still lament the loss of Toad Hall in Florida, but Mr. Toad's Wild Ride is still running in Disneyland. Also, you can find a miniature version of Toad Hall along the Storybookland Canal Boat ride. If you are willing to travel even further, you'll find Toad Hall at Disneyland Paris. It is not an attraction, but rather a restaurant that serves some British specialties. No, they don't have toad-in-the-hole, but you can get a mean order of fish and chips.
= = = = = = = = = = = = = = = = =


HIDDEN MICKEYS ALERT
= = = = = = = = = = = = = = = = =
Steve Barrett, author of the Hidden Mickeys books and webmaster of HiddenMickeyGuy.com, explored Kidani Village at Disney's Animal Kingdom Lodge to admire a few subtle but indelible Hidden Mickeys — indelible because they're etched in rock and likely to stay around a while! The following three Hidden Mickeys are in the Samawati Spring pool area.
1. A large classic Hidden Mickey, tilted slightly to the right, is impressed in the rock wall behind the waterfall in the children's water play area near the Samawati Spring pool. It's in the middle of the photo. (Thanks to Keri Madeira.)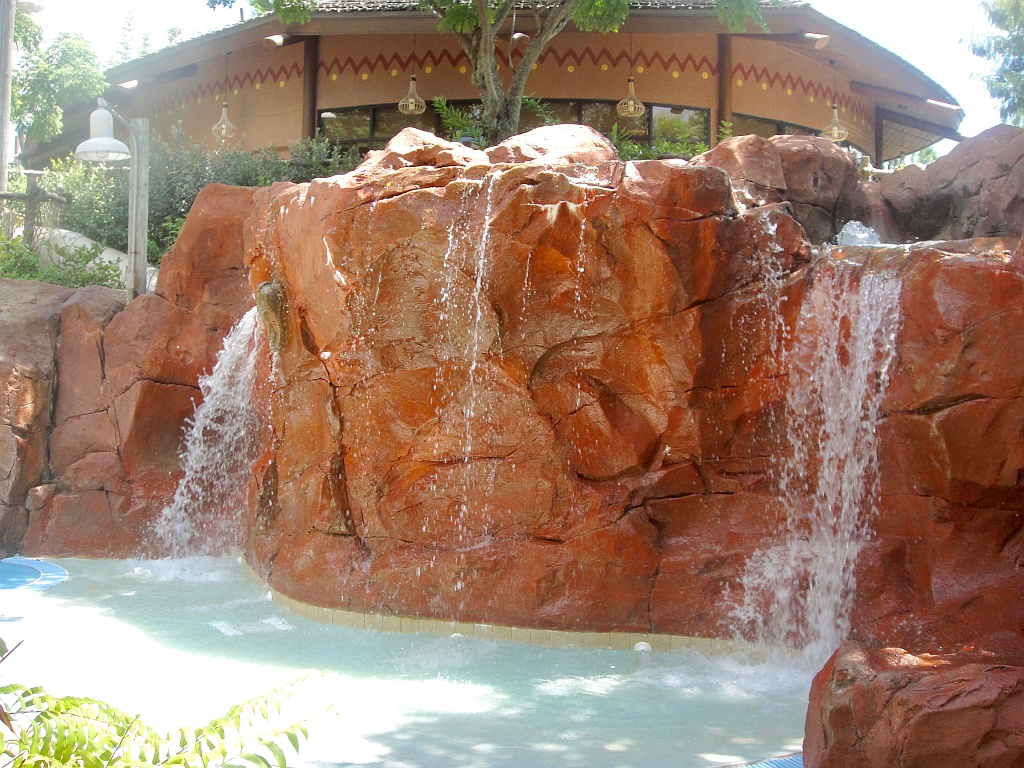 2. To the left of the waterfall, a classic Hidden Mickey, tilted 45 degrees to the left, is impressed in the rock at the left of the exit opening of the water slide in the children's water play area near the Samawati Spring pool. (Thanks to Keri Madeira.)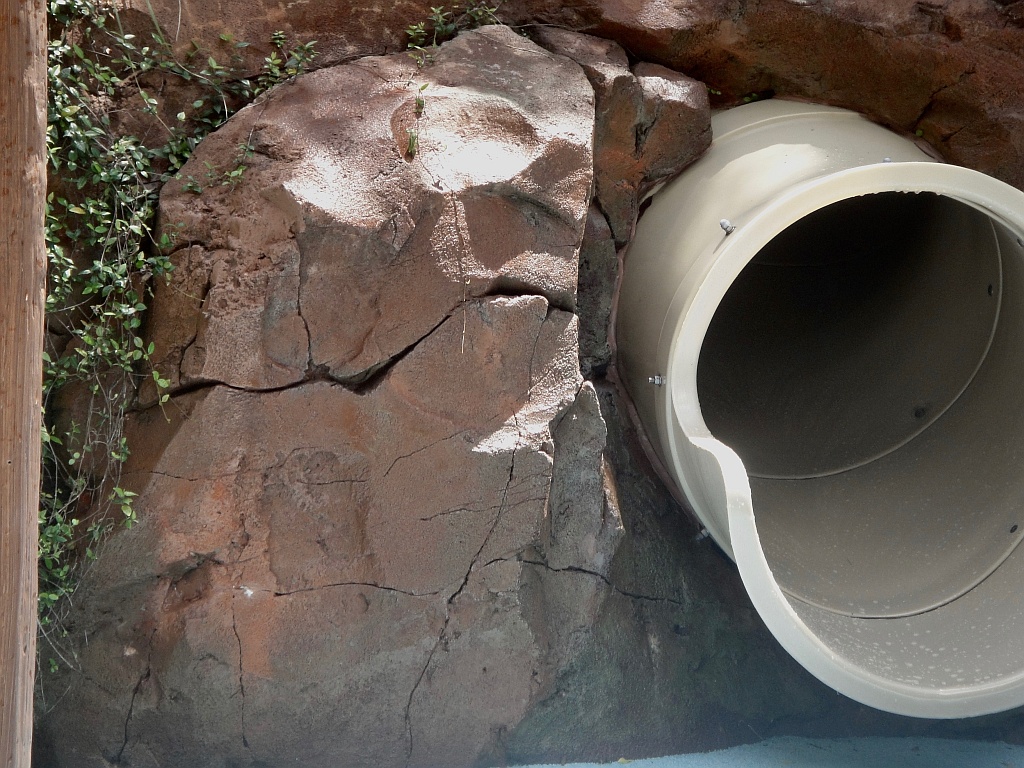 3. To the right of the waterfall, a classic Mickey, tilted almost 90 degrees to the left, is impressed in the rock wall behind a bench and near the right end of the wall. (Thanks to Keri Madeira, and Michael Cross.)
=-=-=-=-=-=-=-=-=-=-=-=-=-=-=-=
You can find an archive of past Hidden Mickey Alerts HERE.

And check out our latest Searching Disney with Steve blog.
= = = = = = = = = = = = = = = = =


SOUVEN-EARS
= = = = = = = = = = = = = = = = =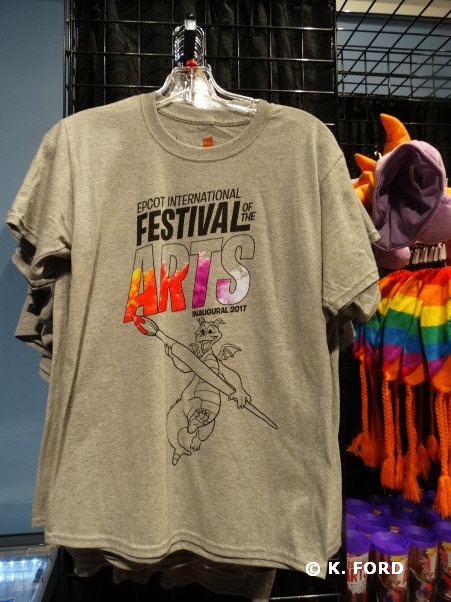 Our occasional featurette on shopping around the World returns this week with an entry from our staff writer and "A Mom and the Magic" blogger Kristin Ford.
We're halfway through the new Epcot International Festival of the Arts, which means you have three more weekends to shop for the new festival-specific merchandise!
First: where to shop. You'll have to go to Epcot, of course, because that's where the festival is taking place. Inside the theme park, you'll find the complete line of festival merchandise at Mouse Gear and Art of Disney. You'll also find most items at Innoventions East (at the end of the Animation Academy) and in a kiosk in front of the American Adventure, both of which are locations that are not publicized in the Festival Passport. In addition, guests may find a few festival-branded Souven-EARS at Odyssey Festival Showplace.
Now for the goods, or should I say goodies? There are three Festival of the Arts T-shirts, all priced at $29.99 plus tax. My favorite is the purple shirt with a design of a serious-looking Figment posing in a gilded frame as an obvious replica of a fine arts masterpiece. I'm not a Figment collector, but this shirt made me smile each time I saw it. The other T-shirts come in light gray or white and feature Figment in a playful pose with an oversized paint brush.
There is a fourth option available only to Walt Disney World passholders: a colorful T-shirt design of Spaceship Earth that does not include Figment (except for a small image on the sleeve). It, too, sells for $29.99.
That same playful Figment design appears on the oh-so-popular Tervis Tumblers with purple lids for $19.99, large coffee mugs for $14.99, and basic beige tote bags for $19.99 each. Plus, there are official Epcot International Festival of the Arts posters that are already safely packaged in cardboard tubes for $50.
I did not spot any collectible trading pins, which seemed strange, but you can get a cute Figment masterpiece magnet (there are four different choices) by purchasing the Figment's Brush with the Masters scavenger hunt for $6.99 (plus tax). Purchase locations are Pin Central (behind Spaceship Earth) and Disney Traders or World Traveler (at the start of the World Showcase promenade). In addition, organizers have displayed festival logo merchandise with other Figment "souven-EARS,", such as winter stocking hats and huge character hats that are sure to be conversation starters.
Happy shopping!
= = = = = = = = = = = = = = = = =


MONTHLY REMIND-EARS
= = = = = = = = = = = = = = = = =
Weekends through February 20 — Epcot International Festival of the Arts — Combining visual, culinary and performing arts from around the world, the first-ever Epcot International Festival of the Arts will create a global masterpiece for six inspired weekends. Held Fridays through Mondays starting Jan. 13 through Feb. 20, 2017, the Festival will feature new art each week.
-=-=-=-=-=-=-=-=-=-
Check our Events page for a full schedule of upcoming events.
-=-=-=-=-=-=-=-=-=-=-=-=-=-=-=-=-=-=-
Animal Kingdom
Kali River Rapids is closed for refurbishment through February 13, 2017.
Disney's Hollywood Studios
The Cover Story shop on Hollywood Boulevard in Disney's Hollywood Studios is closed for refurbishment until March 23, 2017.
Magic Kingdom
Walt Disney World Railroad is closed for refurbishment through February 16, 2017. While it is undergoing refurbishment, The Magic Behind Our Steam Trains Tour will be suspended through February 28.

Hall of Presidents is closed for an extended refurbishment through June 29, 2017.
Fantasia Pool will be closed for refurbishment February 6-10, 2017.
Piano Pool is closed through February 3, 2017. Guests can use the Calypso Pool near Melody Hall during this refurbishment.
Stormalong Bay Pool Slide is closed for refurbishment through February 10. The pool remains open.

Beach Club Tidal Pool (leisure pool) will be closed February 20-22, 2017.
The BoardWalk Garden Pool (leisure pool) will be closed February 13-15, 2017.

Community Hall Pool (the BoardWalk Villas leisure pool) will be closed February 27 – March 1, 2017.
The resort rooms are undergoing a "hard goods refurbishment" that will continue for some time into 2017.
Sandcastle Pool is closed for refurbishment through February 24, 2017.

NOTE: In an ongoing effort to improve the quality of facilities and offerings, Disney's Old Key West Resort will be undergoing a wholesale refurbishment starting in Spring 2017. This refurbishment is expected to be completed in 2019.
Resort rooms will undergo a "hard goods" refurbishment through May 7, 2018.
Alligator Bayou North Pool will be closed for refurbishment from February 13 through April 7, 2017.
Paddock Pool Water Play Area is closed for refurbishment through February 24, 2017.
The Walt Disney World Swan and Dolphin
The resort is currently undergoing the largest renovation in its 25-year history. The Dolphin room renovations are currently scheduled to be completed by the end of 2017. In addition, starting in the spring of 2017 the Dolphin lobby will undergo a $12 million re-design. When finished in the fall of 2017, the new lobby will be completely transformed into a sleek, contemporary space and will feature new dining and beverage options. The lobby re-design is the final stage of the $140 million renovation project.

Grotto Pool is closed through February 15, 2017.
Wilderness Lodge and Boulder Ridge Villas
General resort refurbishments and construction work in multiple areas will continue until 2017. Some pathways and the nature trail will be unavailable at certain times.

Hidden Springs leisure pool, resort beach, playground and recreation fire pit are unavailable.

Cub's Den Children's Activity Center is closed now through 2017.

Roaring Fork and Trout Pass Pool Bar at Wilderness Lodge will close for refurbishment beginning February 2017. During this time the new Geyser Point Pool Bar & Grill will serve breakfast, lunch and dinner. Territory Lounge will also offer a continental-style breakfast featuring gourmet coffees, pastries and a yogurt parfait.
The Yacht and Beach Club Convention Center is undergoing expansion and renovation now through February 1, 2018.
Admiral Pool (leisure pool) will be closed February 22-24, 2017.
Typhoon Lagoon water park is closed through March 11, 2017 for its annual refurbishment.
Disney Springs
Fulton's Crab House is due to reopen February 4, 2017, with a new concept and name, Paddlefish.

Read HERE for more on Disney Springs.
-=-=-=-=-=-=-=-=-=-
A complete list of known rehabs can be found HERE.
= = = = = = = = = = = = = = = = =


MAGICAL MOMENTS
= = = = = = = = = = = = = = = = =
Each month, we like to share a few heart-warming Magical Moments brought to us by the amazing Disney cast members!
Claire F.: We were visiting Hollywood Studies with my Frozen-obsessed 3-year-old daughter and her 2-year-old brother. We planned on seeing the 4 p.m. performance of "For The First Time in Forever," but a longer-than-expected bathroom break (isn't that always the way with toddlers?) put us at the gate at 3:59 p.m., and the cast member told us, "I'm sorry, but the next show is at 5 p.m." My daughter, in her Elsa shirt, Elsa jacket, Elsa skirt, and Elsa mouse-ears, instantly burst into tears. As I tried to comfort her, I didn't notice that the cast member was on her walkie-talkie. A few seconds later, she said, "Don't worry, Princess, you don't have to be sad any more." Next thing we knew, another cast member came around the corner saying, "Right this way, Princess!" She led us around the building to a back entrance and showed us to a front-row seat just as the show was beginning. It was truly magical and absolutely made my daughter's trip!
Tammy: A few years back, we were taking a cruise on the Carnival Dream, when we became "shipwrecked" on St. Maarten for five days when the backup engine failed. While a great adventure, it also meant our planned follow-up trip to Disney World was delayed, and our one reservation at Chef Mickey's would be missed. Luckily, internet and phones were free of charge for the duration of our stay, so we got in touch with a wonderful agent at Disney World who had heard about our cruise ship adventure. When we told her that we had to regretfully cancel our ADR, she found some pixie dust and got us into a restaurant we couldn't get into when booking a few months prior, 'Ohana, not only during prime seating time, but also at the best table in the house! This is the one vacation we still talk about fondly, with the magic of Disney being the icing on the cake!
Marge Wellek: I was shopping at the Magic Kingdom's Emporium when the Dapper Dans walked in, heading off to take a break. They spotted a couple wearing Happy Anniversary buttons and stopped to serenade the wife while her husband happily recorded it. Their private concert was so special to witness and so kind of them.
-=-=-=-=-=–=-=-=-=-=-=-=-=-=-=
We just bet you have a story to tell about an unforgettable moment during your Disney vacation! Please send your favorite memory for inclusion in a future AllEars® via our Contact Us page. Thank you all for sharing!
-o-o-o-o-o-o-o-o-o-o-o-
Editor's Note: This story/information was accurate when it was published. Please be sure to confirm all current rates, information and other details before planning your trip.