TOURING
AT A GLANCE...
--Animation Academy
--Courtyard Gallery
--Sorcerer's Workshop
--Art of Animation Gallery
--Turtle Talk with Crush
Disney Junior Dance Party!
Five & Dime
Red Car News Boys
Red Car Trolley
--Francis' Ladybug
Boogie
--Princess Dot Puddle
Park
Wilderness Explorer
Ceremony
Inside Out Emotional Whirl (Coming in 2019)
Jessie's Critter Carousel (Coming in 2019)
ENTERTAINMENT
SPECIAL EVENTS
OTHER THEME PARKS
2010 Disney's California
Food and Wine Festival

Sweet Sundays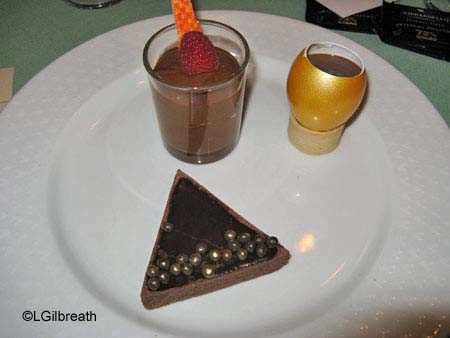 Sweet Sundays
Festival Showplace
Sunday, April 18, 2010
by Laura Gilbreath
Guest Pastry Chef
Jean-Marc Viallet
Executive Pastry Chef
Disneyland Resort
Menu
Breakfast Buffet
Assortment of Breakfast Pastries
Seasonal Fresh Fruit
Mediterranean Vegetable Quiche
Country Potatoes
Sausage Links
Wines
Iron Horse Fairy Tale Cuvee
Magicale Brachetto
Desserts
Brioche French Toast Creme Brulee
Caramel Apple Charlotte, Brittany Cookie
Trio of Chocolate Desserts
The popular Sweet Sundays event returns to this year's Disney's California Food and Wine Festival. They are held on Sunday mornings in the Festival Showplace with a different pastry chef (or chefs) featured each week. Following a light breakfast buffet the chef demonstrates the preparation of three different desserts, and attendees receive full-size servings of each to try. Sparkling wines are also available. The cost is $70 plus tax, including tip. The venue accommodates only 60 guests - all six sessions were sold out by opening weekend, with several selling out weeks before the Festival began.
This year the Sweet Sundays event has been moved to the Festival Showplace. Last year this event was held outside at the Golden Vine Winery, which, while it was a lovely setting, presented some challenges with the elements - the wind blew things over, leaves dropped into food or wine glasses (that happened to me), and some tables were in the hot sun. Holding it indoors was a big improvement both in terms of the environment and the logistics - the demo kitchen they had set up looked to be roomier and better-equipped. We also didn't have to contend with noise when the High School Musical show went by - that was very distracting in the past.
| | |
| --- | --- |
| | |
The April 25 date was not actually on the schedule when the Signature Events initially went on sale - it went up a while later. We hadn't originally planned to attend because we were scheduled for the one the following weekend but when I saw that the guest chef was going to be the Executive Pastry Chef for the Disneyland Resort it piqued my interest. I was a little disappointed in the event we attended last year because I found the desserts to be rather simplistic and pedestrian, but I figured the Executive Pastry Chef would treat us to something pretty special, and I was right.
This year seating at the tables is pre-assigned, which seems to be based on when you booked the event, and so there's no need to arrive super early to get a better table. Check-in is at the table outside the Festival Showplace, where you receive a card with your table assigment - one card per party. They began seating us at 10:30.
This year they are seating us at round tables instead of in straight rows like last year. But they only seat the half of the table that faces the stage, so no one has to sit with their back to the chef. The tables seat six and there are 10 tables. We were at table 8, which was towards the back, but we could still see fairly well. The chef wore a microphone, so there was no problem hearing him.
Each place setting had a selection of stainless flatware, two champagne flutes, three wrapped Ghirardelli chocolate squares and the all-important recipes. And also a pencil if you wanted to take notes.
As we were seated we were told we could visit the buffet at our leisure, and that it would be available until 11:30. The buffet was set up in the back of the room. The buffet also benefited from the move indoors - we could serve ourselves, unlike last year where cast members served us, and kept the food covered otherwise. The buffet line was initially pretty long but it moved quickly since we could use both sides and it was self-service. Off to the side was another table where tea, coffee and juice was available - our server handled water and the alcoholic beverages.
I was pleased that they were serving both the Iron Horse Fairy Tale Cuvee and the Magicale Brachetto again this year. The Fairy Tale Cuvee is a white sparkling wine, while the Magicale is a lightly sweet sparkling red wine, both made exclusively for the Disney company. We could only have one of them at a time, but our server was very good about coming around and re-filling whichever we wanted when our glass was empty. I have to admit that I had only the Magicale - I enjoy that one so much!
The event began with the introduction of our host, Tiffany. She looked really familiar - Lee reminded me that we'd seen her presiding over the Junior Chef session the day before. I hope we were as well-behaved as her 3-11-year-old audiences!
The guest pastry chef was Jean-Marc Viallet, Executive Pastry Chef for the Disneyland Resort. With the exception of the Napa Rose, he oversees ALL of the desserts for all of the restaurants in the parks and the three hotels. He told us that they had just opened a new, modern central bakery for the resort last year, where they turn out anywhere from 6-1/2 to 8 MILLION pastries per year. (Which doesn't count things like churros that they get from an outside vendor!)
One thing that he mentioned is that they had just finished developing the desserts for the World of Color show, including a no sugar added cupcake - so apparently there will be some kind of a premium dessert experience associated with that.
Chef Viallet said that he'd developed recipes that we could make at home which didn't have 25 different steps to them...and while that was true, they all had multiple components to them, so they were somewhat complex. Maybe a little challenging for some, but not so much that you'd say "I could never make that!" I thought that was about the right level - that's the kind of thing I want to see at an event like this, and not just some cookie or brownie that I can easily make at home.
Chef Viallet was a very entertaining speaker and interspersed his demonstration with lots of stories both about working at the resort and at previous jobs. It's obvious that he loves his job, and he says that he never stops learning. Throughout his presentation we were welcome to ask questions - Tiffany circled the room with cards so we could write them down and then she would ask them (since she also had a microphone.)
The first dessert was Brioche French Toast Creme Brulee. I mentioned the "multiple components" to each dessert - this had the brioche French toast, the creme brulee, and the four berry compote to put on top. The creme brulee was cold set and not baked, so it was not quite as thick as I like it, but it was still creamy and had a wonderful flavor. I didn't take any notes about this one, though the recipe notes that you can use Hawaiian bread rather than brioche, and I think that would be very good.
The next dessert was Caramel Apple Charlotte, Brittany Cookie. This was another multi-part dessert. First he sauteed the chopped apples in butter and brown sugar - once that's done he suggested that to impress your guests you can flambe it in French apple brandy. :-) The next part was the caramel, which he made by melting sugar, then adding some butter and cream. (Making caramel just from sugar is one of those things I haven't had the nerve to try, but he really made it look easy!)
Finally he prepared the mousse - this was a mousse made with egg yolks and gelatin sheets, and I find those interesting since you have to cook the eggs without curdling them (but to a high enough temperature to kill any bacteria), and there's some art to that. He did suggest techniques for recovering the mousse if it did cook too much - strain it or run it through a food processor. And to instantly stop the cooking, throw in some ice cubes.
The mousse and apples are put into a bar-shaped silicon mold and then frozen. He called silicon cookware the best pastry invention in the last 10-15 years. He cautioned us that it is not designed to be sprayed with cooking spray, though - that will gum it up and make it less flexible.
With the multiple components to this and the first dessert it took him about an hour to prepare them, and he was running a bit behind schedule So he skipped the preparation of the Brittany Cookies. Someone asked about that, and he said it was a shortbread cookie with about equal parts of butter and flour.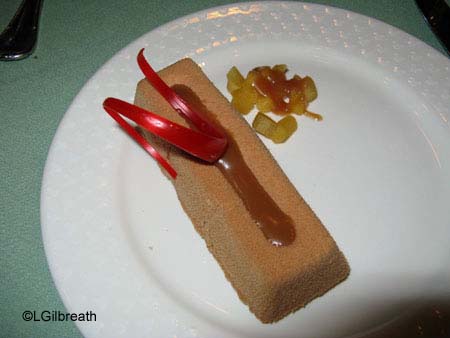 When we got our desserts it was obvious that he'd skipped another step as well - there was this lovely soft velvety-textured layer on the outside. Lee asked about that, and Chef Viallet said it was a chocolate velvet spray - 50% chocolate and 50% cocoa butter that was sprayed on the outside of the frozen mousse bars after they were unmolded. I was surprised when he said it was chocolate because I didn't taste chocolate at all. I would've like to have seen him demonstrate that.
By this time it was almost noon, and the event was supposed to end at 12:30, so I was very concerned that he wouldn't have enough time for the final dessert, which I knew would be my favorite: A Trio of Chocolate. I was thrilled because it was going to be not just one chocolate dessert, but *three*! (In the past these Sweet Sundays chefs haven't seemed to get that it's all about the chocolate - but he did!) In the interest of time he had to rush through these three faster than I would have liked.
The first was the Chipotle Pot de Creme - he asked how many of us had tried chocolate flavored with chile peppers and was surprised when most of us raised our hand - guess he didn't realize that that's fairly common in the last few years. This was really a very interesting presentation - it was served in a golden egg shell! Though it was something they had purchased and not made themselves. One thing no one had considered was the size of the utensils we had - they were much too big to fit into the opening. But we didn't let that deter us - I used the end of the spoon, other people used their knives. The dessert was smooth and chocolatey with just a hint of heat from the chipotle pepper.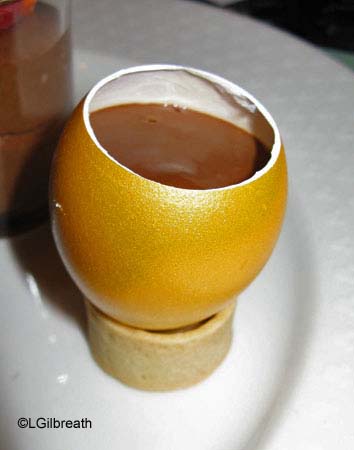 Next was the Chocolate Ganache with Raspberry Puree. I think people are impressed by the term "ganache" and don't realize that it is ridiculously easy - it's just cream, chocolate and maybe some flavoring. This was served in triangular tart shells (I know that those were a LOT harder to make than the ganache!) and topped with chocolate pearls, which were crisp puffed chocolate bits dusted with edible gold powder. It looked very elegant.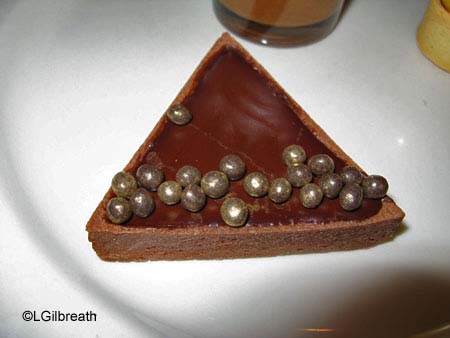 Last but not least was the French Chocoate Mousse, which was light and smooth and very chocolatey. This is made with egg yolks and whipped egg white - he cautioned us to "be careful how you whip your white" - use completely clean utensils and bowls and don't whip it either too much or too little. When folding it into the chocolate mixture don't over mix it or it will lose that light, airy quality.
The event ended just about 12:30, but Chef Viallet stayed around for a while afterwards talking to guests and posing for photographs.
This was a terrific presentation and I really enjoyed it. The desserts were interesting and beautifully presented, but not so complex that they seem impossible to make. It was also educational in showing us some different types of equipment and cooking techniques. Much more the type of thing that I am looking for in one of these events than the one that I attended last year. I thought it was worth the money, but maybe I'm not the best judge - give me three chocolate desserts and several glasses of Magicale and I'm happy!
= = = = = = = = = = = =
RELATED LINKS
= = = = = = = = = = = =
Food and Wine Festival General Information
2010 What's New and Touring Tips
2010 Festival Menus and Prices
2010 Food and Wine Weekends Photo Gallery


If you have comments or tips to share with others about Disney's California Food and Wine Weekends, please email us. Thank you.