December 2011 Walt Disney World Bits and Bites
Feature Article
This article appeared in the November 29, 2011 Issue #636 of ALL EARS® (ISSN: 1533-0753)
= = = = = = = = = = = = = = = = =


STEP BACK IN TIME
= = = = = = = = = = = = = = = = =
by Debra Martin Koma
AllEars® Senior Editor
We rummage around in our archives for this monthly feature, which indulges in a bit of nostalgia, taking you back in history for a glimpse of Walt Disney World and the Disney Company through the ages. This month, we share a snapshot of what Walt Disney World was like in December 1994, through the eyes of a Disney novice — namely, me.
That's right, I didn't make my first visit to Walt Disney World until 1994 — I was, um, 30-something, and my son was just 2-1/2. My husband needed to make a business trip to Orlando and suggested we tag along. At first, I scoffed, but then I caved — and I really didn't know what I was getting into. And what's worse? It was 1994, so I wasn't on the internet, and I did very little research before the trip. (I know, shame on me!) Yet we managed to have such a fabulous time. We must have, right? I'm still going back again and again, nearly 20 years later. As I sift through my souvenirs and photos, I thought maybe you'd be interested to see just a few of the things that I think have changed the most since my first visit.
I booked the trip the old-fashioned way — over the phone! Here's what my confirmation looked like — remember these? I was so excited when I received it in the mail — the SNAIL mail!
http://allears.net/ae/images/confirm.jpg
When we checked into our resort, Caribbean Beach, here's the room key they gave us:
http://allears.net/ae/images/roomkey.jpg
And here's what our tickets looked like: http://allears.net/tix/94-4dayMKC.jpg
No, we didn't have the admission put on the room key — I didn't know you could do that then. Actually, I'm not sure you COULD do that then.
We spent our first night at Downtown Disney, and took our son to his first character meal at Chef Mickey's. No, I'm not crazy, Chef Mickey's was actually at Downtown Disney then, actually Disney Village Marketplace, approximately on the site of the Rainforest Cafe. Here's Alex as he met Mickey for the first time (at right). And here's the souvenir we got to take home with us:
http://allears.net/ae/images/chefm.jpg
Looking at the receipt, seems I had the meatloaf that night — dinner came to $42.48, including tip. Even then, not exactly inexpensive!
As you may remember, in 1994 Mickey Mania was the parade du jour in the Magic Kingdom — to this day, it remains one of my faves. Here's what it looked like, complete with Christmas decorations in the background:
http://allears.net/tp/mk/mmania1.jpg
(You can reminisce some more about the Mickey Mania parade here: http://allears.net/tp/mk/mmania.htm )
One night, we ate dinner at the Castle. It's funny how the mind plays tricks on you — if you had asked me, I would have sworn it was Cinderella's Royal Table then. I didn't remember that the restaurant was still King Stefan's Banquet Hall until I saw this old crown menu among my souvenirs:
http://allears.net/ae/images/kingstefan.jpg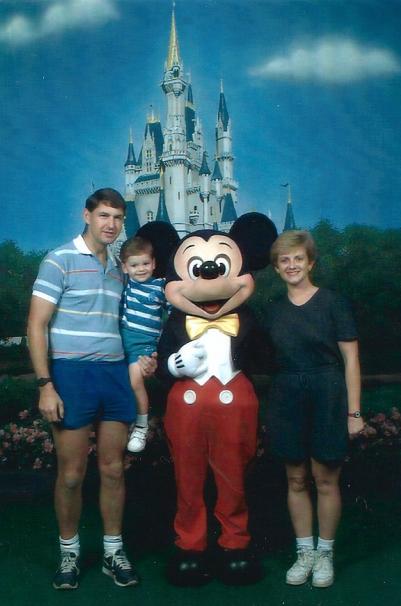 We spent a lot of time in Mickey's Starland that trip — it was just the right size for a 2-1/2 year-old to explore. It's a little bittersweet to think that not only has Mickey's Starland gone, but so has its successor, Mickey's Toontown Fair. This was just one of the pint-sized houses that used to populate the land: http://allears.net/ae/images/starland.jpg
Considering I didn't know what I was doing that trip, I somehow knew to book a number of character meals. We even managed to have breakfast at 1900 Park Fare — here's the button they gave us:
http://allears.net/ae/images/gfbutton.jpg
I don't think they do that any longer, do they? It was a nice touch. What struck me most, though, as I looked through these photos, is how different the Grand Floridian's Gingerbread House was — see the photo at the top of this featurette! Then compare it to last year's house here:
http://land.allears.net/blogs/allearsteam/2010/11/gingerbread_house_at_grand_flo.html
Finally, one other change — back then, Disney had a partnership with American Express, and offered something called the "White Glove Treatment." If you booked using your American Express card, you received a few extra perks. One of them was a complimentary session with Disney photographers at Downtown Disney. Here's the family portrait we got, which still graces my refrigerator. (And please, no comments on my husband's shorts — it was the '90s after all.)
It's great to take a stroll down Disney Memory Lane now and then, but I'm sure many of you have memories that extend back even further than my 17 years. Care to share a photo or two? We'd love to see it! Send your photo (just one or two, please don't inundate us!) to allearsnet@yahoo.com — and be sure to put "Memory Lane" in the subject line!
= = = = = = = = = = = = = = = = =


BY THE NUMBERS
= = = = = = = = = = = = = = = = =
Miles of garland, ribbon, twinkling lights and glitter transform Walt Disney World Resort into a winter wonderland during the holiday season. Here's a sample of what guests will experience:
— 1,300 decorated trees throughout property
— 10 miles of twinkling rope lights in the Osborne Family Spectacle of Dancing Lights at Disney's Hollywood Studios
— 150 tractor-trailer truckloads of decorations for 24 resorts, 4 theme parks, Downtown Disney and other locations
— 15 MILES of garland strung and 1,314 wreaths hung
— 300,000 yards of ribbon and bows draping over Christmas trees across property
— 8.5 million lights strung throughout Walt Disney World Resort (100 percent of the lighting used for holiday décor is LED)
— 11 countries dressed for Holidays Around the World at Epcot World Showcase
— More than 800 performers each night during Candlelight Processional at Epcot, along with more than 200 guest choirs during the entire run of Candlelight Processional
— A Christmas tree in Magic Kingdom with a base 25 feet wide
— One 70-foot-tall tree takes center stage in Disney's Contemporary Resort entrance lobby featuring nearly 35,800 white LED lights
— One 16-foot-tall gingerbread house at Disney's Grand Floridian Resort & Spa baked with 1,050 pounds of honey and involving more than 160 hours of decorating
— One life-size gingerbread carousel at Disney's Beach Club Resort featuring ponies made of chocolate and fondant, giant candy cane poles, handcrafted poinsettias and hand-painted portraits of famous Disney characters
— 100 percent chance of snow flurries during Mickey's Very Merry Christmas Party, taking place on select holiday evenings in Magic Kingdom
= = = = = = = = = = = = = = = = =


HIDDEN MICKEYS ALERT
= = = = = = = = = = = = = = = = =
Steven Barrett, author of the Hidden Mickeys books and webmaster of www.HiddenMickeyGuy.com, alerts you to a few classic (three-circle) Hidden Mickeys at Walt Disney World and Disneyland:
1. In Disney's Hollywood Studios, in a wall display along the entrance queue of Star Tours, the silhouette of R2-D2 appears several times in a continuous video loop of moving shadow figures. At one point, R2-D2 sprouts satellite ears that rotate into round "Mickey ears" for a few seconds. (Thanks to Imercado, Glenn Peeters, and Brian Patterson.)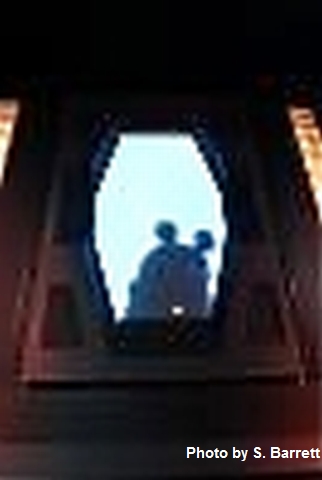 http://allears.net/btp/images/hidden-mickey-347.jpg
2. In Disney's Hollywood Studios, in the "Wizard of Oz" set of The Great Movie Ride, several groups of flowers, among them three large blue flowers above a hut at the middle left of the room, form acceptable classic Hidden Mickeys. (Thanks to Sharon Dale, Mandy Newby, Alex, Grace Walter and Gracie, Leila Beikmohamadi, David Hartzell, Matt Mellarkey, Jennifer, and Sara Pirraglia.)
http://allears.net/btp/images/hidden-mickey-346.jpg
3. At Big Thunder Ranch in Disneyland, California, behind a fence to the left of the Ranch Cabin, you can see a huge pile of leaves and horseshoes. Three horseshoes at the upper right of the pile are positioned to resemble a classic Mickey. (Thanks to Emily W., Henry Macall, Pinky, Nicholas Fleming, Rosemary & Neil [FindingMickey.com], Karen Goodcell, Bradly Behmer, and Laura Wright.)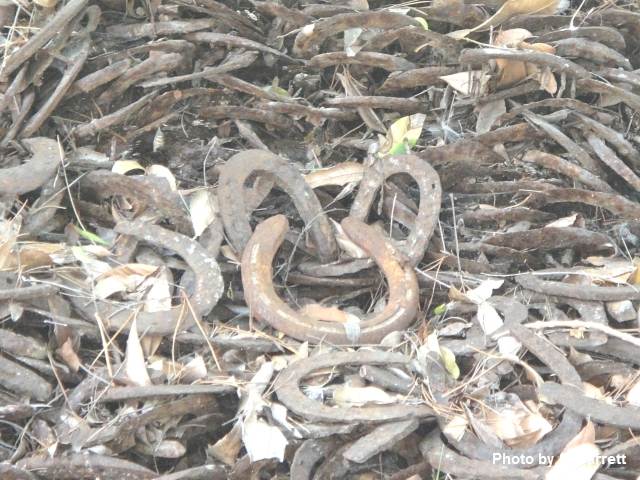 http://allears.net/btp/images/hidden-mickey-345.jpg
You can find a selection of past Hidden Mickeys Alerts here:
http://allears.net/btp/hiddenm2.htm
= = = = = = = = = = = = = = = = =


VEGAN TIPS
= = = = = = = = = = = = = = = = =
by Emily Woesthoff
General Manager for BabyCakes NYC at Downtown Disney
A vegan's ideal Future World will consist of plenty of tempeh, kale, and almond milk for the masses. In Epcot's Future World, you can taste a sampling of soda from around the world, but what if you're looking for a filling yet quick option for a vegan lunch? Chances are, Sunshine Seasons is where you want to be. Ah, the former home of the quintessential healthy eating attraction, Kitchen Kabaret (RIP) — surely they will have a decent vegan option or two here! The Oak-Grilled Vegetable Flatbread Sandwich features grilled eggplant, zucchini, and hummus, and is a great vegetarian option. To get it veganized, you're going to need to do some work! First, alert the server that you need the item made dairy-free and egg-free. Chances are, a chef will be beckoned from the depths of The Land to come speak with you. Basically, the cheese will need to be omitted (obviously), the bread will need to be swapped out for a pita, and the hummus will need to be exchanged for a vegan hummus (their standard hummus is not vegan). Your choices for sides are either a bag of potato chips or potato salad. Don't shy away from the potato salad, it's actually vegan, and not too shabby either! This filling, quick-service option comes in under $9, and is a wonderful way to wait out your Soarin' Fastpass within The Land. Enjoy this veggie veggie sandwich (fruit fruit) and think fondly of Bonnie Appetite!
Missed previous Vegan Tips from Emily? We're compiling them here:
http://allears.net/din/vegantips.htm
= = = = = = = = = = = = = = = = = =

RATE & REVIEW SPOTLIGHT
= = = = = = = = = = = = = = = = = =
Compiled by AllEars® Team Member Cathy Bock
In this monthly featurette, we take a look at recent comments made in the AllEars.Net Rate & Review section about a particular restaurant, resort, event, etc. This month, we examine what AllEars.Net readers are saying about Wilderness Lodge, one of Walt Disney World's deluxe resorts.
Wilderness Lodge has an average rating of 8.9 and is recommended by 94% of reviewers.
From recent reviews:
Rooms: "rooms are not overly large"; "view was fantastic"; "it was clean, cool and spacious for two!"; "tidy and clean each day of our stay"; "rooms are beautiful and large enough for my family of three"; "room was always clean"; "did not feel crowded at all even with 2 queen-size beds"; "smaller than any other deluxe resort"; "dusty and floors not swept"; "daughter is 5'7" and son is 5'6" — too tall for these bunkbeds"; "door to balcony hadn't been cleaned in quite a while and the corners of the room were rather dusty"; "noise level was unbelievable in the room"; "beds were not terribly comfortable".
Resort staff: "we were treated to the level of customer service a guest at a deluxe resort should receive"; "cast members and mousekeeping were excellent"; "every CM we encountered was extremely pleasant"; "staff couldn't have been friendlier and helpful"; "Mousekeeping was just ok"; "CMs went out of their way to be nice"; "CMs were very friendly".
Resort amenities: "quiet pool was welcoming in the warm weather"; "seeing the water parade at night was really nice"; "pool has a lot of activities for young children"; "laundry facilities were fine"; "only real negative is the parking situation — very difficult to find a spot"; "pool was great after a long day at the park"; "nice playground"; "well stocked shop in the lobby area"; "many entertainment options throughout the day for kids".
Transportation: "boat transportation perfect in getting to and from the MK"; "waited no less than 45 minutes to get a ferry one evening"; "loved the options for transportation – particularly the boat"; "something they need to work on"; "buses were great during our stay"; "boat to MK was very convenient".
Food: "food choices on site are all great"; "food and service at Artist Point were top notch"; "Roaring Fork is OK for a quick service"; "fast-food options at Roaring Fork is limited"; "ate breakfast at Whispering Canyon and it was good"; "Roaring Fork had several different options than the traditional nuggets/pizza fare"; "Roaring Fork was a great place to get a quick bite"; "Whispering Canyon is everything you read about it, great!"
Other Comments: "resort is beautiful"; "the lobby is of course spectacular"; "simply made our vacation a truly lasting memory!"; "lobby and exterior are breathtaking"; "very little Disney sights and sounds"; "great for the price"; "would stay again"; "probably try a different resort next time".
If you have recently stayed at Wilderness Lodge, or any Disney resort, we'd love to have your reviews, too!
You can find Rate & Review here: http://land.allears.net/reviewpost/
= = = = = = = = = = = = = = = = = =


MONTHY REMIND-EARS
= = = = = = = = = = = = = = = = =
EVENTS
Epcot
The Candlelight Processional, a Disney tradition now in its 41st year, is a moving presentation of the Christmas story in readings by a celebrity narrator and music by a Mass choir and 50-piece orchestra. This event takes place in the America Gardens Theatre in World Showcase in Epcot. This year, the Candlelight Processional begins November 25, 2011, and runs every evening until December 30. Shows are approximately 40 minutes. Each evening there are three shows — 5, 6:45 and 8:15 p.m. The tentative schedule of those who will appear in November as narrators for performances of Epcot's 2011 Candlelight Processional:
— December 1: Michael W. Smith
— December 2-3: Geena Davis
— December 4-6: Edward James Olmos (6:45 p.m. & 8:15 p.m. shows only on December 4)
— December 7-9: Isabella Rossellini
— December 10-12: Neil Patrick Harris
— December 13-15: Lorraine Bracco
— December 16-18: Chita Rivera
— December 19-21: Trace Adkins
— December 22-24: Susan Lucci
— December 25–27: Blair Underwood
— December 28-30: Marlee Matlin
Magic Kingdom
Mickey's Very Merry Christmas Party – Tickets on are now on sale for 2011's Mickey's Very Merry Christmas Party, a special event that takes place on certain nights in the Magic Kingdom. Mickey's Very Merry Christmas Party evenings, which run from 7 p.m. to midnight, allow guests to enjoy a special night of holiday entertainment in the Magic Kingdom that includes: Castle Dream Lights; Mickey's Once Upon a Christmastime Parade featuring Santa Claus; special Holiday Wishes Fireworks; Celebrate the Season Castle Stage Show; snow on Main Street, U.S.A.; complimentary hot cocoa and cookies. Dates are: December 2, 4, 6, 7, 9, 11, 13, 14, 16, and 18 (December 18 is SOLD OUT!).
http://allears.net/tp/hol_mk.htm
Castle Dream Lights: Donning their holiday best, Cinderella and friends share a dream-come-true, light-the-night moment with Magic Kingdom guests as Cinderella Castle transforms into a shimmering "ice palace" with 200,000 white lights each evening through January 3, 2012.
Disney's Hollywood Studios
The Osborne Family Spectacle of Dancing Lights at The Streets of America at Disney's Hollywood Studios will glow with millions of dancing lights and animated displays starting at dusk November 10, 2011–January 7, 2012. Twirling carousels, melodic angels, colorful wreaths, marching toy soldiers and Santa and his reindeer move to high-energy music and 3-D effects, creating a dazzling symphony for the senses.
Animal Kingdom
King Louie and Baloo lead a rousing musical cavalcade through Disney's Animal Kingdom November 8 through January 3, 2012, during Mickey's Jingle Jungle Parade. Also, Santa Goofy's Holiday Village at Camp Minnie-Mickey will feature carolers spreading holiday cheer and Santa Goofy and friends greeting guests for photo opportunities, November 10 through January 7, 2012.
Downtown Disney
The Festival of the Season — Santa Claus will meet with children and pose for pictures daily at the Marketplace through December 24 at Santa's Chalet.
D23 – The Official Disney Fan Club
D23's Magic and Merriment at Walt Disney World is adding another night this year. This annual holiday tradition celebrating the spirit of the season will be held December 9-10 and December 11-12. Details and ticket sales will be announced on the D23 Website: http://d23.com
Walt Disney World Swan and Dolphin is offering special rates this holiday season, along with a number of special Christmas activities. Santa and Mrs. Claus will be making appearances at the resort on the following dates: December 2-3, 8-10, 15-17 and 22-23. On select nights, Mrs. Claus will choose a family to help her light the poinsettia Christmas tree in the Dolphin Lobby. The Walt Disney World Swan will also be featuring a chocolate Santa made from more than 1,286 lbs. of chocolate! Other activities include cookie decorating, choir performances, classic Christmas movies on the in-room entertainment, and the Holiday Hideout (which features arts and crafts, Wii sports matches, bingo, other games and more) and the Elf Tuck-in service, for which one of Santa's elves will read a story and tuck children into bed. Rates start from $149 per night. Call 888-828-8850 and mention promo code SANTA or visit www.santasfavoriteresort.com to book online.
New Year's Eve happenings around the World:
— Magic Kingdom will host the "Wishes" nighttime spectacular with a holiday overlay at 8:30 p.m. and "Fantasy in the Sky" at 11:51 p.m.
— Epcot's "IllumiNations: Reflections of Earth" features a salute to the new year at 7 p.m. and 11:42 p.m.
— Disney's Hollywood Studios features "Fantasmic!" at 6:30 and 8 p.m., with the popular "Lights! Camera! Happy New Year!" fireworks display at midnight.
— At Cirque du Soleil, all guests attending the December 31 performances will receive a limited-edition Walt Disney World/Cirque trading pin. Shows are at 6 p.m. and 9 p.m. For pricing contact 407-WDW-SEAT.
— At Narcoossee's restaurant (Disney's Grand Floridian Resort & Spa) there will be a four-course dining experience for $149, plus DJ, balloon artist and special fireworks viewing at 8:30 and 11:51.
— Atlantic Dance Hall at Disney's Boardwalk Resort offers a special-ticket New Year's Eve party from 8 p.m.-2 a.m. with video DJ Tony Zapulla.
— DISNEYQUEST! Tickets went on sale November 17 for a special New Year's Eve event to be held at DisneyQuest Indoor Interactive Theme Park on December 31, 2011 from 8 p.m. to 1 a.m. Enjoy unlimited access to DisneyQuest games and attractions, family fun, food and a DJ dance party in the atrium — complete with party hats, noisemakers and confetti blast at midnight. Advance-purchase tickets are $42.25 plus tax (for ages 3 and up). Tickets are $51.64 plus tax (for ages 3 and up) on the day of the event. You can purchase tickets at the DisneyQuest box office, all Walt Disney World guest relations locations, on Disneyworld.com or by calling 407-W-DISNEY.
http://allears.net/tp/nyeve.htm
=-=-=-=-=-=-=-=-=-=-
Don't forget to check our Events page for current updates: http://allears.net/pl/events.htm
-=-=-=-=-=-=-=-=-=-=-=-=-=-=-=-=-=-=-
REHABS AND CLOSINGS
Magic Kingdom
Epcot
Yakitori House in Epcot's Japan pavilion closed for refurbishment August 10 and will reopen on or about December 16, 2011.
Disney's Art of Animation Resort
The first wing of the Disney's Art of Animation Resort will open on May 31, 2012, as construction on the 25th resort hotel at Walt Disney World continues on schedule. Located near Pop Century Resort, the new resort will offer 1,120 family suites (including a bedroom and living room) themed after "The Lion King," "Cars" and "Finding Nemo" animated films, as well as 864 guest rooms inspired by "The Little Mermaid." The current opening timetable has the "Finding Nemo" wing opening May 31, the "Cars" wing in late July, and "The Lion King" wing in late September. The final wing, themed after "The Little Mermaid," will debut in late 2012. Although the resort is still several months away from opening, it's already set to break records by planning the largest swimming pool at the Walt Disney World Resort (aside from our water parks). This pool will be located in the "Finding Nemo" wing, and will measure 11,859 square feet. The resort also will feature two other pools and a children's water play area. Disney's Art of Animation Resort will be a "value" category of lodging, with nightly rates similar to Disney's All-Star Resort and Disney's Pop Century Resort.
http://land.allears.net/blogs/dnews/2011/10/disneys_art_of_animation_resor_2.html
Disney's Contemporary Resort
Disney's Port Orleans-Riverside Resort
Royal Guest Rooms are now under construction in the Magnolia Bend section of the Port Orleans-Riverside resort. Opening in early spring 2012, the Royal Guest Rooms allow princes and princesses of all ages to stay where Disney royalty have stayed. Guests find regal touches left behind by some of their favorite Disney characters — fiber optics special effects above ornately decorated beds, gold and crystal accents, custom linens and drapes, and in-room art and details including Princely banners and Princess friends. The 512 Royal Guest Rooms start at $189 per night, and are booking now, for stays early in 2012.
Disney's Grand Floridian Resort
The spa at the Grand Floridian Resort and Spa closed on September 19, 2011, for 18 months as part of a planned renovation at the resort. Disney has not shared details about the project, but there has been speculation that Disney Vacation Club units will be built near the spa. During this downtime, enhancements are also being planned for the spa. As an alternative, you can purchase spa services at Disney's Saratoga Springs Resort & Spa. If you are staying at the Grand Floridian or the Polynesian Resort and you book a spa treatment at Saratoga Springs Resort & Spa, complimentary transportation will be provided for you. Note that the health club at Disney's Grand Floridian Resort & Spa is still open. In addition, the Ivy Trellis Beauty and Barber Shop remain open in the main building of the Grand Floridian.
Blizzard Beach water park closed October 30 for its annual refurbishment. It is expected to reopen December 3.
Typhoon Lagoon water park will be closed from December 4 to March 17, 2012, for its annual refurbishment.
Downtown Disney
Construction has begun on Splitsville, a 50,000-square-foot upscale entertainment center that combines bowling with billiards, dining, music and nightlife. To make way for this experience, RIDEMAKERZ, currently located on the West Side, will move to the Marketplace. On Pleasure Island, some buildings have been removed, but plans for the site are being reevaluated, which means construction on the previously announced Hyperion Pier has been delayed.
http://disneyparks.disney.go.com/blog/2011/07/downtown-disney-update/
A complete list of rehabs can be found here: http://allears.net/tp/rehabs.htm
= = = = = = = = = = = = = = = = =


MAGICAL MOMENTS
= = = = = = = = = = = = = = = = =
Tracy Borden: Our family went to Disney when our daughter, Karly, was 3-1/2. This was her very first trip to WDW. We were walking through Main Street, USA when Karly saw a line to meet Snow White near Town Hall. She was so excited. We walked up to the line only to be told that Snow White had to leave to meet the 7 Dwarves. My daughter was very sad. Then a cast member asked her if she would like to meet someone very special and to meet them inside of Exposition Hall in 10 minutes. So we went to the Hall and waited and Belle came to see Karly! She asked if she was Karly, and Karly, very shyly, said yes. Belle said that she had been waiting to meet her and would she mind if Belle took a picture with her? Karly didn't know what to say. Belle came to see her? Wow, she was so excited. I was so excited that this cast member was able to make a little girl feel so special by bringing Belle to her for a visit.
Elizabeth Schechter: Not all the magic moments happen inside the parks. We recently took our 4-year-old son to Winter Summerland for his first ever game of miniature golf. We had a blast — this really is a great way to experience some fantastic Disney Imagineering for not a lot of money! At the end of the game, I picked up a couple of candy canes, and asked the attendant about the souvenir balls that are mentioned on some of the websites I used to research the courses, telling him that it was my son's first time playing. He apologized and told us that the program had been discontinued in favor of not raising the rates. Now, I can understand that, and applaud them on the decision to keep things reasonable for the customer. My son insisted on eating his candy cane immediately, so we sat down at one of the picnic tables while he ate. A few minutes later, the attendant came over, sat down with us, told us that they still had a few souvenir balls for special occasions, and presented one to our son. It was such a sweet gesture I was almost in tears! Thank you to Bob, who made a little boy's first golf outing a magical experience for the whole family!
Steve Knapp: My family likes to observe as many details as we can when we visit the parks. One misty evening in Animal Kingdom, we were wandering the paths around the Tree of Life, trying to pick out as many animals as we could, when a cast member approached and told us he likes to do the same thing. He then told us that there were better viewing areas in some of the old queue lines that have been closed off now due to the dropping popularity of It's Tough to Be a Bug. He offered to take us into this area and then pointed out many of the carvings that we would never have seen had we not been taken there. A cast member of Tough to Be a Bug saw us and she used a flashlight to help us see the carvings better. She then took us inside and pointed out some of the hidden details, including one additional creature: a Hidden Mickey!
-=-=-=-=-=-=-=-=-=-=-=-=-=-=-=-=-=-=-=-=-
We just bet you have a story to tell about an unforgettable moment during your Disney vacation! Please send your favorite memory for inclusion in a future AllEars® to: allearsnet@yahoo.com Thank you all for sharing!
We've also compiled a collection of photos from readers sharing their Magical Moments via digital images in the latest Wandering the World — this week featuring special haircuts from the Harmony Barber Shop:
http://allears.net/tp/wander/wander.htm
-o-o-o-o-o-o-o-o-o-o-o-
Editor's Note: This story/information was accurate when it was published. Please be sure to confirm all current rates, information and other details before planning your trip.