Ch-ch-ch-changes at the 2018 Epcot Food and Wine Festival
by Debra Martin Koma
AllEars® Editor
Feature Article
This article appeared in the September 11, 2018 Issue #990 of ALL EARS® (ISSN: 1533-0753)
Editor's Note: This story/information was accurate when it was published. Please be sure to confirm all current rates, information and other details before planning your trip.
Ever since I first visited the Epcot International Food & Wine Festival it has been my very favorite annual event at Walt Disney World. I look forward to sampling all the tasty treats from around the globe and seeing celebrity chefs, as well as trying my hand at new experiences and learning new techniques and tips.
This year was no different, even though I must say that I didn't find many of the special ticketed offerings that enticing. Don't get me wrong — there are plenty of fun events, like the Mexican Tequila Lunch and the Parisian Breakfast, but I've done them before. Maybe I'm getting a little jaded after years of festing, but nothing "wowed" me enough to convince me to pay extra for it. Never mind, that meant I was able to take advantage of other festival offerings, and stop to smell the roses — and the rose' — a little more often.
When I write my annual Food and Wine Festival review, I try to focus on what's new, but the emphasis this year for me was much more on what's changed. Like what? you ask.
For one thing, all of the festival activities this year take place in Epcot. There are no signature dinners or other events being held at resort or Disney Springs restaurants, as in years gone by (although some venues, like Wine Bar George at Disney Springs, are hosting their own independent food and wine events concurrent with the festival).
A lot of the other changes are in the Festival Center itself. This year, there is only one large event stage, and it is the home for many of the ticketed events like the Beverage Seminars, Culinary Demonstrations, Food and Beverage Pairings, Cheese Seminars, and Mix It Make It Celebrate It! Other events, such as the Party for the Senses and Sunday Brunch with a Chef are held at World Showplace, the large event pavilion located between France and the United Kingdom in World Showcase.
Another thing that's different in the Festival Center is the addition of several Global Marketplaces, which means more areas for sampling food and drink — and these are in air-conditioned comfort. Previously, there was just one place to dine in the Festival Center — Intermissions Cafe. This has been transformed into the Shimmering Sips Mimosa Bar, serving up several new takes on the traditional brunch eye-opener. Right next to it, in the space that usually is reserved for festival merchandise, is Craft Drafts, with a selection of brews. This new location takes the place of the Craft Beers marketplace that was usually housed in the Odyssey, next to the Mexico pavilion. (That location is not being used at all this festival season.) Shoppers, don't worry — the Festival Center still hosts a large shop, The Stockpot, vending festival-themed merchandise.
The "From the Bean to the Bar" chocolate exhibit by Ghirardelli has returned again this year, as have the delightful chocolate creations crafted by Disney pastry chefs — you won't believe the Toy Story Land and Black Panther displays, or the Leopard, lounging on his tree branch. What skill! But the Seasons of the Vine film that used to run on a continuous loop in the old "Making of Me" theater is no more. Instead that space is being used as the pick-up location for the Annual Passholder magnets and cutting boards.
Other little changes I noticed as I meandered around the festival for four days:
— In the Festival Center you'll find that the selection of wines being sold by the bottle in the Wine Shop is greatly reduced from previous years, I'd estimate maybe even by half. But you can now sample wines by the glass in that area, and also grab a bite to eat. In addition, the Wine Shop highlights a large selection from the "Disney Family of Wines," with vintages from the vineyards of Disney Legends Kurt Russell (GoGi wines), Fess Parker and Fred MacMurray among others.
— The miniature railroad village in the Germany pavilion, which is usually decorated to reflect the festival, was just plain and unadorned.
— There's no Tasting Sampler package offered this year. The sampler allowed you to purchase a badge that had little coupons for eight samples around the marketplaces — and it could be a very good value if you used it wisely.
Despite these changes, I still had a great time eating my way around the Global Marketplaces. This year there are 35 new marketplace dishes and 70 new non-alcoholic beverages, cocktails, wines and beers, including seven festival-exclusive brews. Obviously, I didn't get to all of them — I was only there four days and I AM only one person, after all — but I did have the opportunity to go around with some friends so I feel like I tasted enough that I can make a few informed recommendations.
Of the new food items I tried, I absolutely loved the New Brunswick Slider with its horseradish cream and crispy fried onions — I'd say it was worth the $5.75, it was so good. My last-year favorite Piggy Wings (Flavors from Fire) weren't as yummy as I remembered them, but are definitely worth a try. Also returning, the grilled lamb chop with mint pesto and potato crunchies (Australia), beer-braised beef with bacon (France) and the curry beef (Thailand) still have my vote as top tastes.
I'm not much of a dessert lover, usually preferring savory over sweet, but I did enjoy a few bites of the Quesito (Islands of the Caribbean) and the Lamington (Australia), both perennial festival favorites.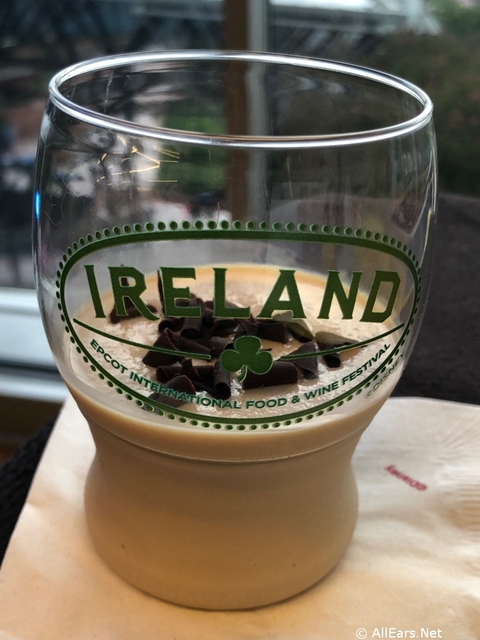 As for my favorite beverage this year, well, I would be remiss if I didn't tell you to go directly to the Ireland marketplace — do not pass GO, do not collect $200, just collect a Guinness Baileys Shake. It is an absolutely delicious mix of Baileys Irish Cream and Guiness, but you don't taste the dark ale, just the creamy goodness of the Baileys. Yes, it's expensive — $10.75 — but you do get to keep the cute glass it comes in!
Although there were a lot of things that changed at the festival this year, my personal list of festival DON'Ts stays the same as always:
— DON'T try to eat your way around the Global Marketplaces on the weekend, if you can at all avoid it. Local residents join vacationers at the festival during the weekend and the crowd levels skyrocket. If you can visit Monday through Thursday your chances of having a much more relaxed experience improve greatly.
— DON'T try to do it all. Take the time to enjoy some of the unscheduled offerings, some of them free of charge.
— DON'T walk more than you have to, especially on these really hot, humid September days. Study the weekly guide and the Festival Passport, both of which are available at the park entrances and most shops, to get a general idea of what you want to see or do daily.
— DON'T overindulge, and that goes for both food and alcoholic beverages. Take a dining partner along with you to share your menu items, and drink more water than alcohol. You'll thank me later.
— DON'T overspend. Consider purchasing a special Disney Gift Card, a debit card that attaches to your wrist with a stretchy band. Load that up with your budget amount (a minimum of $15) and when it's done, you're done. (Note that if you're on the Disney Dining Plan, you can also use snack credits to pay for most of the food and non-alcoholic beverage items.)
And one last thing that remains unchanged, my one big DO. DO ENJOY the Epcot Food and Wine Festival. For all of its changes over the years, it is still my favorite annual event at Walt Disney World. I hope you love it as much as I do!
============
VITAL INFO
============
The 23rd annual Epcot International Food and Wine Festival runs daily through November 12, 2018. Entrance to the Festival is included with your Epcot park admission, but there are a number of special events that are an additional charge. Many events are already sold out, but some openings remain. To make reservations, contact 407-WDW-FEST (407-939-3378) or, for certain events, book online by visiting Walt Disney World's official Food and Wine Festival pages.
============
RELATED LINKS
============
Food and Wine Festival Primer, AllEars® Issue #783 — For the first-time Festival-goer. Deb Koma's "Festival Basics" may be a few years old, but most of the tips and pointers still hold true today.
And the rest of our Epcot International Food and Wine Festival coverage (with more to come!):
— First Tastes of the Festival
— First Photos from the 2018 Epcot Food and Wine Festival
— Global Marketplace Menus for 2018 Epcot Food and Wine Festival!
— Listing of Gluten/Wheat-Friendly and Vegetarian Marketplace Items
— Make Moqueca – and Other Festival Dishes – at Home!
— 2018 Food and Wine Festival Merchandise and More!
— Everything Else That's New for the Epcot Food and Wine Festival
— Eat to the Beat Concert Series Complete Lineup Announced
Help other AllEars® Readers plan their trips:
— Take the AllEars.Net 2018 Epcot Food and Wine Festival Survey! (You can see the results so far HERE.)
— Rate and review the other special Festival events.
-o-o-o-o-o-o-o-o-o-o-o-
Editor's Note: This story/information was accurate when it was published. Please be sure to confirm all current rates, information and other details before planning your trip.