Water Parks
Tours and
Special Experiences
Sports-Related
Activities
Community/
Gatherings
Other Fun Things
SeaWorld Orlando
Writers' Corner
Orlando Area
Information
Archives
Margaret Kerry:
Tinker Bell as Icon
by Debra Martin Koma
ALL EARS® Senior Editor
Sometimes you get lucky - you're in the right place at the right time. And lucky I was back in early December when I had the chance to sit down and chat for a few hours with Margaret Kerry, the original reference model for Disney's beloved character Tinker Bell.
Kerry was in Orlando for a number of public appearances, brought to town by the NFFC (National Fantasy Fan Club, a club for Disneyana enthusiasts) and its president Kendra Trahan. We met at the Beach Club, which was all decked out for the holidays, and a hungry Kerry asked if we could stop for a bite somewhere. We wandered over to the resort's new Beach Club Marketplace, where, in what I was soon to learn was her uniquely childlike way, Kerry ordered a Smucker's Uncrustable, a molded peanut butter and jelly sandwich, for herself, which she deemed just "perfect." After finding a quiet and comfy spot in the Beach Club Villas' library-like Breezeway, we spent a delightful two-plus hours getting to know the woman who was really Tink.
Now a sprightly 76-1/2 years old (and, as she told me, "Don't you forget it, Kiddo!"), Kerry considers herself lucky, as well. Back in the early 1950s, she was a beautiful dark-haired young dancer/actress with some modest success in film and television, having started acting when she was about 4 in the "Our Gang" comedies. In fact, she had a role in "If You Knew Susie" in 1948 with the Hollywood legend Eddie Cantor who, by the way, gave the young Peggy Lynch her new, more sophisticated stage name. She had just finished a stint as an assistant dance director for the movie "I'll Get By," when her agent called her with an interesting proposition: Would she be interested in auditioning to be a model for an animated character?
"I thought, 'How do you audition for something like that?'" recalls Kerry. "I worked up a three-and-a-half-minute pantomime to a 45 rpm record and pretended to fix breakfast, dropping eggs, closing the refrigerator door with my foot, things like that. I did it for (animator) Marc Davis and (director) Gerry Geronimi and afterward they asked me if it would be 'convenient' for me to come back next Tuesday. Convenient for ME? No one had ever asked me that before! They chose ME! And then they added I should bring my bathing suit!"
Kerry duly reported for work the following Tuesday at 10 a.m. and spent the next six to eight months working on a "cold, dark and dank" soundstage acting out the movements and attitude of one of Disney's most enduring characters. Davis would tell her to pout or walk, and Kerry would respond, usually capturing the essence of the little pixie to the animator's satisfaction in one or two takes.
"It was not pleasant, walking around the soundstage in my bathing suit all day," Kerry notes, adding that it did have its redeeming moments. "One day, Buddy Ebsen (the popular dancer/actor of the day who went on to play Jed Clampett on TV's "The Beverly Hillbillies") came by the soundstage. And two or three times Walt himself stopped by. I introduced myself to him one day, probably said something pert, and told him that I'd gone to school with his daughters -- one was older, one was younger than me. He surprised me when he said, 'Yes, they liked you!'"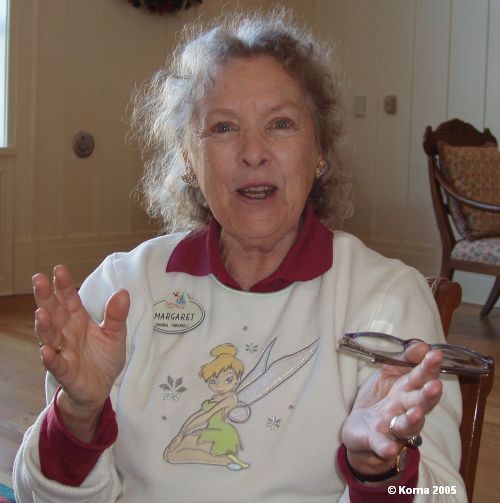 After seeing the finished product, "Peter Pan," when it debuted in 1953, Kerry promptly moved on with her life, not fully realizing the impact her celluloid alter ego would have on her audience. She provided the female voices in the 1959 cartoon series "Clutch Cargo," as well as a few other animated shows. (As an aside, she can also be heard as the voice of the redheaded mermaid in "Peter Pan.") She also supplied various voices for the animated "The New Three Stooges" show, and can be seen in many of the live-action segments that open and close the 139 episodes.
It wasn't until the 1990s that Kerry discovered just how beloved Tinker Bell had become.
Her children had heard reports on various television entertainment shows that Tinker Bell was modeled after the legendary Marilyn Monroe. Kerry says her kids didn't like that at all and went to Disney Archivist Dave Smith to set the record straight. Then came the chance for Kerry to go out and meet Tinker Bell's public.
"I went to a Hollywood collectors' show with 20 copies of one photo of myself," she recalls, a twinkle in her pale blue eyes. "When I got there, I saw people were lined up out the door, waiting for ME! I signed more than 150 autographs that day. That's when I found out how Tinker Bell has touched people over the years."
Today, it's not unusual for fans to share with her how Tinker Bell, with her determined spirit, has been their role model as they have dealt with an illness or other challenge in their lives.
"Tinker Bell's spunky and independent -- people recognize themselves in her, and I don't think I've ever met a fan who wasn't adorable," she laughs, touching a hand to her wispy now-white hair. "When people tell me how much Tinker Bell means to them, I'm just delighted. How could I complain about being known for such a character? For me, it's fabulous!"
This character, though, is far from resting on her laurels. In addition to her appearances around the country, Kerry is hard at work on an autobiography, "Tinker Bell Talks: Tales of a Pixie-Dusted Life," which is really close (she emphasizes the word "really") to being finished. In addition, she's somewhat of an ambassador for the Disney company, as she waxes poetic over the beauty and importance of Disney theme parks around the world.
"I got to tour Disney's California Adventure a while back, and guess who was my date? Guess! Jason Alexander!" she exclaims, clearly impressed. "The Aladdin show out there just bowled me over. And here?" she wonders aloud, gesturing around the room to indicate she means Walt Disney World. "I'm just bonkers about the architecture -- it's just gorgeous here. Why isn't this the Real World? I just wish people wouldn't take all this for granted -- it's a gift. I wish people would understand how great it is that this all happened at all. And this (Walt Disney World) wouldn't be what it is without Roy Disney."
It's no surprise that Kerry is still high on Disney -- because, in fact, she's still officially working for them. Kerry says she's been asked to "be" Tink again for an animated project due to come out in 2007.
"It's based on the new series of fairy books that's just come out," she reveals, "and there are four fairy friends, including Tink, who have to save Never Land. Each fairy has a quest, and has to learn something… But I guess I better not give away too much more!"
It would be impossible, though, to get too much of Kerry -- more than two hours of lively conversation with her goes by in what seems like an instant. Sitting in the Beach Club's Breezeway, the fading light of the day streaming in at a low angle, an impish smile plays at the corners of Kerry's mouth, and it's plain to see that the woman who WAS Tinker Bell, IS still Tinker Bell.
"You know," she starts, tilting her head to one side, "there are three blonde icons in our recent history who are recognized throughout the world -- Marilyn Monroe, Princess Diana, and Tinker Bell." Kerry pauses for dramatic effect, then laughs gently. "You're talking to an icon, Kiddo!"
RELATED LINKS:

Margaret Kerry's "Tinker Bell Talks" website

Other articles by ALL EARS® Senior Editor Debra Martin Koma