The following RADP Meet description was written by Barb aka gardenia and posted to the RADP
Well, hot diggity dawg! I'm thinkin' we had some way big fun up at the Contemporary Hotel the other night (4/23/97) :)
Lemme give y'all the cast of characters first, then on with the juicy *details*!
Sam Ault (spoilsport@earthlink.net), Republican bartender in Jacksonville.

Doug CM and the *only* person there not (yet!) on the 'Net.

KidGenie CM

Jack, LisaB, and their 3 year old Jackie (lisab@magicnet.net), Jack being a CMGeekExtraodinaire (the one who loaned me the modem and all) and LisaB and Jackie becoming fast friends of mine.

Arlen Miller (dsnyana@phoenixat.com), CM at Planet Hollywood.

Lisa Potter (potter@a-o.com), her husband Deane, kidlets Stephanie, David and Matthew, who just moved to Asheville from CT a week and a half ago.

Meli O'Girl (WebMistress@HiddenMickeys.Org) and hubbly John (jemmons@villagenet.com), who ventured down from NYC.

Bruce, Barbara, and Patrick Bailey (PhiFoFest@aol.com), who came in after our dinner, but had their dinner as we all yakked... they're from Philly.

Scott Kirsner is from Boston.

Sandy, Brett, and Lowell Thompson (witsend@gwi.net), who live on a farm in Maine.

Andrea and Kelsea McVey (squid@cyberbeach.net) and Andrea's sweet mom from Ontario, Canada... and it we celebrated Kelsea's 4th birthday :) hmmm... oh yeah...

and ME!

Oh, yes... Patt Sheahan (sheahan@agecon.purdue.edu) and her hubby Michael wanted so much to join in on the fun, but had a plane to catch! Since they were "almost" here, their photo (with Barb gardenia) just had to be included!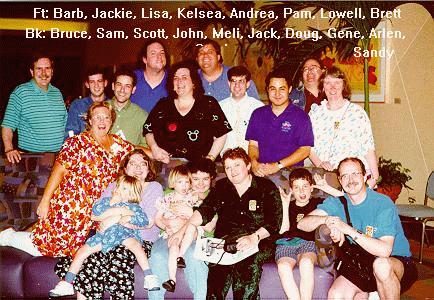 We met at the(15th floor) where we had reservations for 20 (not priority seating) at 6pm and California Grill in the Contemporary Hotel folks were right about on-time (except for Sam-the-lagger *hehe*). Our server was Walter (hand-picked by my across the street neighbor) and the consensus at the end of the evening was that Walter was a HIT! Extremely professional, served beautifully, kept glasses filled, removed plates promptly... and very genial.
There wasn't a moment of quiet once there were two ppl in the same vicinity... not the usual radp-meet lull before the storm of convo kicked in. Before we even ordered our meals, we were walking around, hugging each other and venturing out to the catwalks on either side of the hotel. Y'all know I named the catwalk-thingies the Top of the World (TotW), but did y'all know there is one on the *south* side of the Contemp? Dang! I didn't either... and I grew *up* in that hotel!
Jack (if I recall correctly) was the first one to mention that *huge* tree off in the distance... and lo and behold! we all got our first glimpses of Animal Kingdom's Tree of Life! It was a "moment." Meli and I had already been on the north side of the TotW admiring the view... and several of us did the same on the south side. Arlen had to wrangle us in saying everyone had already ordered dessert! *laugh*
Once we were settled, I let everyone know about the 7:30pm toast to radp-ers all over... and then the yakking began in earnest.
Convos ranged from where we lived and what we did there (having a plethora of computer geeks to Sandy who spins wool off her farm's sheeps!)... where everyone was staying, how long they had left at WDW... and how they faired during the storms earlier in the day (which, btw, barely fazed these hearty souls).
>Dinner was served and it was fun seeing what others had ordered. I hope that ppl will, in their Trip Reports, detail their own meal since trying to do it here would be impossible! Those of us at the east end of the table got the biggest chuckle out of Doug's dinner... some sort of Nouveau Neanderthal Dishe (<---- not a typo) deal that had a mashed potato base with a hunk 'o meat at the end of a *long* bone that was standing upright and squished into the potatoes. I *had* heard that tall food was the new deal... kinda amusing actually *seeing* it.
My food disclaimer: Nouveau stuff is an anomaly to me... my palate isn't cultured, so what I say comes with a salt lick as far as my meal goes.
The Chef and I had chatted beforehand regarding my vegan diet (no animal products at all... no dairy or eggs, either), so was given a highlighted menu showing what foods were available to me and how the Chef could alter them.
I ordered an asparagus-spinach soup (made without cream) that was yummy as well as pretty. The main dishes all had stuff in them I didn't like (even with the modifications) so I ordered a salmon salad without the salmon and a warm artichoke salad. The non-salmon salad was yummy... a vinagrette dressing with greens that weren't lettuces and some blush and white blanched beets. The folks around me not recognizing the beets either, each of us playing "Guess the Veggie"... but Sandy was got the ding ding ding since they were beets.
The artichokes on the other hand... well, I don't know... it's kinda embarrassing even... but I *have* eaten artichokes before... but these were... um... *crunchy*! I removed the outer layer... these *were* the hearts as far as I could tell (and I certainly didn't want to ask anyone if these were the scrape-'em-off-with-yer-teeth kind 'cuz I *like* to have thought I already knew they *weren't*)... and all I kept thinking was they were artichokes al dente! I returned them. * hanging head in shame* As far as I could see, I was the only one who returned anything. For dessert I had a yummy plate of fresh strawberries... and poured my remaining warmed amaretto over it. Mmmm!
The 7:30 toast was sweet... we thought of everyone around the World (and world) and how much radp means to us all... and we raised our glasses... to RADP! Don't think anyone had rum, Eureka... but once Sam got there, he had enough different liquors I am *sure* he had some rum in *something*! *laugh* I toasted with amaretto in a heated snifter. *swoon*
MeliGirl and I each had a virgin frozen orange daiquiri...dunno if hers was virgin or not... but mine was. I sent mine down the table so everyone could at least taste and say they knew what one tasted like. The Asian couple at the table next to the west side of radp-ers liked the look of the daiquiri so much, their server came and asked me what it was! Someone said, "Hey, gardenia! You are well on your way to getting the Frozen Orange Daiquiri back on the menu at WDW!" One can only hope. *laughing smile* Btw, the drink is made with orange juice and sour mix... your preference whether you want orange sherbet and/or rum added.
The desserts were delicious-looking... confections in soufflés, laced sugars, and sculpted chocolate. My own personal thought for others like myself who are palately-challenged (or budget minded!) might be to consider CA Grill for dessert and a glass of wine... it's all I would have if I went there again.
We sang to sweet Kelsea who was having the *best* time (and continued to do so until she ran out of steam around midnight) playing with Jackie. The girls were not only adorable, but also a delight.
Arlen came supplied with goodies for everyone... handing out this week's Eyes & Ears (the newspaper for CMs) and *fab*ulous Empress Lilly buttons (highlighting their [former] breakfast). Woo Hoo! Thankee much, Arlen! Deb Wills generously sent me stuff to hand out... a nice coupon for 50% off an EPCOT Flower & Garden Festival poster as well as some coupons for free beaver tails (!) in Canada (yeah yeah, get yer mind outta the guttah... it's a pastry treat)... thanks Deb! The non-Floridians got the beaver tail coupons and Sandy the farmer got the poster coupon. I also had an extra commemorative Eyes & Ears (with the WWoS on the cover) that I gave to the person who was from the furthest destination... Andrea from Ontario.
When the bill came, we had been given the 20% discount (not with the food and wine card, but a general CM discount, which was okay since we didn't have *that* much alcohol... remember, Sam wasn't there yet (hehe)) and it started at around $390 or so and went down to $315 or so (Jack took care of the $$ stuff... thank the *heavens*!... even having brought copious amounts of billery & coinery change so ppl who had big ($) bills didn't have to bug Walter about it)... not bad for so many folks!
We left 20%+ (Made my heart sing!) Walter later told me we were a *fantastic* party and I was more than welcome to bring any other groups up there for dinner. *whew!* *laugh*
After dinner, we "retired" to the lounge... continued chattin' while we waited for the fireworks to start. About 9:10pm or so, we all sauntered out to the Top of the World... breezy and *cold*!
Cold?!? Did I use *that* word again?!? Why, YES! I *did*! I now have *witnesses* and goose-bumped impressions that it *does*, indeed, get *nippy* in Orlando every once in awhile. Y'all better put that part in your Trip Reports! *I* was prepared and had a sweater. *laughing smile*
We squished against the railing overlooking the MK in her colorful night splendor... someone pointing out Hale-Bopp... faded but still miraculous. Then, behind us, the full moon was a'rising... a gelatinous mass bewiggled and scattazzled by the low low mists that couldn't make up their minds whether they were clouds or merely fog. The gods having dunked our moon into a deep saffron flavor that, as she rose, dripped into the sea, leaving the unfettered luminescent disk which, surely, guided much of the evening's pleasures.
We all ooo'd and ahh'd appropriately over the fireworks which, for me, didn't have *nearly* the dramatic effect because there was no *musical* accompaniment. Gene went to ask them to turn it on and apparently it *was* on, but so low we couldn't hear it down at the end of the catwalk. I *know* they can turn it up because I have had them turn it *down* before when I was out there alone and didn't want blaring Captain & Tenille intruding on my thoughts. I weighed missing my new friends over whether I wanted louder music... I chose the friends.
Once the fireworks were over, we waited, still yakking, for elevators so we could move downstairs to the dock to watch the Electrical Water Parade/Pageant (whatever... the lighted pretty thingies).
Down on/at the dock of the Bay (Lake), we weregiggling and laughing kidlets making up stories and guessing songs as the lighted pretty things did their stuff. It was nippy on the dock, too... but we managed. *smile*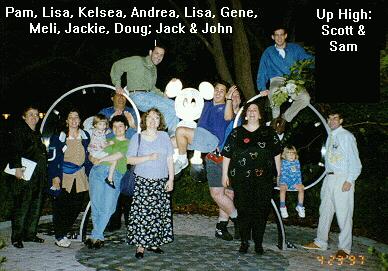 I showed everyone where I used to sunbathe with the Crisco coating... it now being *water*... that beach used to extend quite a ways beyond the round pool... making it easier access to what wasn't even then Treasure Island (now Discovery Island)... and that beach the very same that taught me the deee*light* of those frozen orange daiquiris garnished with a slew of orange slices.
Hardly winded, the gang traipsed *back* up the escalators as I showed off the 2nd floor that had recently been the gallery of families everywhere who were invited to use tape to describe their WDW experience by my Tape Art friends Michael and Erica ('nother post)... and in the far, ancient past had been the very site of my Homecoming and Prom Dance dealie-gigs... back when schools could afford to rent-a-room at the Contemp.
We lighted at the Outer Rim on the 4th floor Concourse... able to view the monorail's elevated stature... (where a *very* animated discussion regarding a certain monorail photograph that was *widely* seen but *never* discussed and the why's and wherefore's and how to's of its existence ensued)... and where, too, Sam, with the help of those in his vicinity (my own self included), picked his Babe o' the Day.
So, it's late and getting later.. all through the evening people had come and gone as their needs arised... leaving a scant 11of us (Jack, LisaB, Jackie, Andrea, Kelsea, Andrea's mom, LisaP, Gene, Scott, Doug, and me) chatting in two groups that flowed around... smiling, laughing, gently ribbing each other about posts, occupations, and obsessions. (!)
Collectively exhausted by 12:30am, the Guests and CMs alike needing to arise early (their knowing a sleepy day awaited) and tho' nary a one of us wanting the evening to end... we reluctantly said our good-byes (upstairs and outside)... and closed those car, those camper, and those hotel doors on an exquisite and most beautiful night.
Barb aka (TDC) gardenia -- from person to person... oh, yes... what a *wondrous* world we are creating!