Sunday, December 7 - Tower of Terror
The festivities continued with a 5pm ride of the Tower of Terror. Over 30 folks gathered on Hollywood Blvd to take the PLUNGE together!

Meli Writes: As we headed up Sunset Boulevard to the Hollywood Hotel, I finally spied the mystery guest, the one NO ONE knew about except Debbie and gardenia: Laura Gilbreath (Tigger) and her husband Lee. I was so happy to see Laura and everyone else that I spent the next half-hour or so just smiling. I was smiling so much, Rusty said to me, "Cheer up, ok?" Which made my smile even more!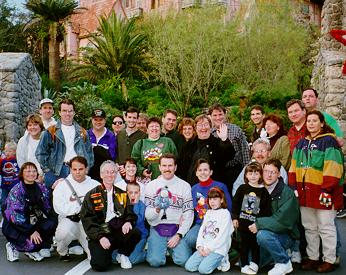 Kneeling: Lucy O'Donnell, Rusty Wyatt, Deb Wills, Brian Spencer, Larisa O'Donnell, Jeff Spencer, Susan Spencer, Katie Spencer, Katharine Warner, Caleb Warner, Lee Zimmerman.
Standing Row: Regina Seaner, Bob Seaner, Mike Conners, Brian O'Donnell, Rob Olsan, Sam Ault, Kenny Cottrell, Karen Harland, Chad Wilson, Pam Kratz, Eureka, Jim Freeman, Ira Brickman, Andrea McKenna, Paul McKenna, Susan Provda, John Emmons.
Mysteriously missing from the photo but later found inside the Hollywood Hotel are Laura Gilbreath and Meli Emmons!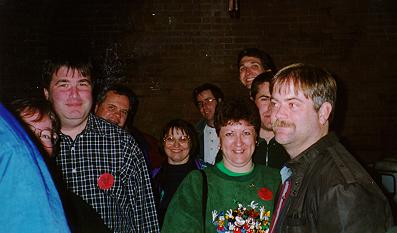 We were waiting in a line of about 25 minutes. For some reason we had a terrible time getting a count of how many people were there -- even after Kenny, Rusty and I took turns standing on the concrete walls to get a better view. Here are some RADP'ers preparing for the PLUNGE! Eureka, Jim, Brian, Lucy, Michael, Ira, Karen, Chad and Kenny.

Meli writes: We heeded Kenny's advice and took the left line outside, but turned right at the split in the boiler room (after the library). We were all just laughing and having a good time while in line.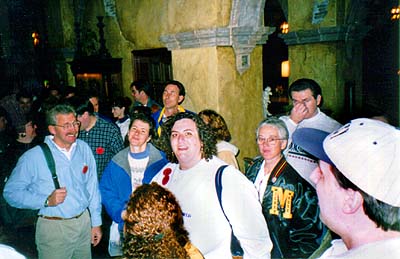 Regina Seaner writes: I was especially glad when everyone decided to meet and ride the Tower of Terror before dinner Sunday. Hanging in my office is a Tower of Terror photo from a previous trip to WDW, and I would look at it and think, "Wouldn't it be neat to know who each of those people are?" Another Disney wish fulfilled--you've all got the place of honor on my bulletin board now. I only post to RADP a few times a month, but I read the group every day and was happy to share such a momentous event with you all!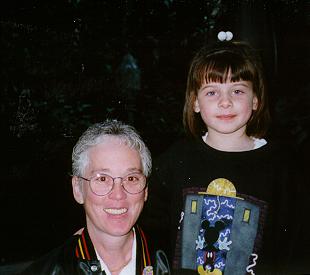 Katherine Warner promised me last May, that if I rode Tower of Terror with her, she'd hold my hand and help me be Brave. This is one of the most fearless 5 year olds I have ever met....and sweet too! Not only did she help me, but also Laura Gilbreath (Tigger) who was riding TOT for the first time.
Laura writes: I had never ridden it before, but Deb and Pam and I had ridden it virtually (we even have a picture to prove it! :-) ), and here was our chance to do it together for real. The line moved quickly and before I knew it we had a whole elevator full of radp'ers, and I was in the back row between Deb and Lee. Woo hoo! It was a little scary, but fun, and I enjoyed it.
We filled an entire elevator and part of a 2nd one.
Karen writes: Off to the group ride at ToT! And meeting our mystery guest, Tigger! She actually bounced for us! Meeting Laura and Lee was so special for all of us! The line into the ToT was full of hilarity, and giggling. And once again, I got the jump seat! Thank you Meli-icious!!! The photo is priceless, beyond all words..... Karen is in the green sweatshirt -- back row dead center!
Here's Eureka, Rusty and Susan -- Back from our trip to the Twilight Zone....and boy did I get harassed for taking the photo while we were still in the elevator!
Now, who's ready for dinner????