Water Parks
Tours and
Special Experiences
Sports-Related
Activities
Community/
Gatherings
Other Fun Things
SeaWorld Orlando
Writers' Corner
Orlando Area
Information
Archives
A Conversation with
Kerri MacPherson
2008 Walt Disney World Ambassador
by Editor-in-Chief, Deb Wills
November, 2008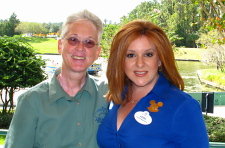 There are many things that might make a Disney Cast Member feel good -- like watching the delight on a person's face as they enter the Magic Kingdom for the first time, or seeing a young child meet his or her favorite character. But there is one thing guaranteed to bring a smile to a Cast Member's lips, and that is meeting one of the Disney Ambassadors.
Just what are the Disney Ambassadors?
The Disney Ambassador program was originally established by Walt himself. His goal was to select a special cast member to help him with public duties, as the theme park grew and the demands for appearances became too much for him alone. At that time, the job of the Disney Ambassador was to act as a goodwill representative of Walt to the media and the community. Over the years, though, the program has evolved. Now the responsibilities of the Disney Ambassadors have become a mixture of representing the face of Disney to the media, the community and to the Disney Cast Members.
Individuals named as Ambassadors accept a year-long assignment, with responsibilities ranging from hospital visits and appearances with Disney characters to participating in community outreach events and academic incentive programs. They'll travel to Disney destinations around the globe, host VIPs at the Walt Disney World Resort, and that's just the beginning.
I recently had the honor of talking with one of the 2008 Walt Disney World Ambassadors, Kerri MacPherson, who hails from Massachusetts. (The other 2008 Walt Disney World Ambassador is TC Newman.)
Kerri has been with the Disney Company for the last 8 years but began in the College Program in 1994. Her experience with Disney began with selling Mickey bars on Main Street. She was also chosen as one of eight Americans hosting 75 International Students from around the world. Kerri has sold Disney Cruise Line vacations and been involved in resort sales and services. The lessons learned from all of those positions, plus her experience as a preschool teacher, gave her many of the tools necessary to become a successful Disney Ambassador.
"Persistence is key with this company, " Kerri explained. As a finalist for the 2007 Ambassador position, she was disappointed when she wasn't selected. Who wouldn't be? But she assessed all the feedback she got along the way and decided to return and apply for the 2008 program... and she was selected.
Kerri is no stranger to community work and its rewards, but she was clearly deeply affected by visiting children in the hospital when she shared with me some of those experiences. She and fellow Disney Ambassador TC Newman were asked to go on a national tour of several hospitals along with two special friends. "We were humbled to do this," Kerri explained. "I'd knock on the hospital room door and introduce myself. Then I'd say, 'I have a friend with me, if you have a second.' " And she'd open the door and in would walk in Mickey and Minnie Mouse.
"Everyone -- all generations -- would just tear up, parents would start looking frantically for the camera. But this isn't the theme park where you only have a few seconds. Minnie can stay here with you for a while."
Another highlight of this past year was being part of the Dream Squad, especially when she assisted in awarding two different Cast Members with a stay in Cinderella Castle. Time and time again Kerri talked about how important it is for the Ambassador to be there for the Cast Members.
"Our Cast Members really love to see us out and about. When the Cast Members see us, and allow us to really 'gush on them,' it really helps," she noted. "Cast Members make the magic look seamless, and are part of the Disney family. They are emotionally tied into what we do. As an Ambassador we want to make sure to say thanks. It's one of the most gratifying things about being an Ambassador."
While Cast Members know who the Ambassadors are, guests aren't always sure. Sometimes they want to trade pins, and often request to trade for the special Ambassador pin. "That one is not for trade," Kerri smiled. "I worked very hard for that pin!"
Later in the day, both 2008 Ambassadors Kerri and TC were hosting the Chalk Artist Awards Ceremony as part of Downtown Disney's Festival of the Masters.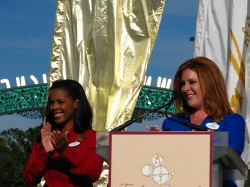 As her year as Ambassador concludes, I asked Kerri to share with me something she learned about herself this year, something that surprised her.
"I wasn't ever in the moment and I wasn't a good listener," she said. "Before, my mind would listen and then think about everything else I had to do. We may give a five-minute presentation, but the event is two hours long. The rest of the time is spent talking with folks. People feel it if you aren't connected with them, and I never want someone to feel a disconnect. Now, I feel I am very much in the moment and I am sharing the moment and feeling the moment with the person."
To those Cast Members who have thought about being an Ambassador or simply going to the introduction meeting to learn more, Kerri offered this advice: "If you have a passion for this company, for cast members, community, for talking, do it. It's about spreading the magic and specialness that is Disney."
The 2009 Disney Ambassadors were recently announced, so Kerri now finds herself easing out of her ambassador role. She admitted it's a bittersweet time as the year winds down. "It was a very fast year," she added. "I am very proud of what we've done to leave a legacy behind us. I am proud to have become part of the Ambassador family."
What's next for Kerri? "I am always looking toward a lifetime career at Disney. I would love to facilitate and be part of the next generation of Disney cast members, whether that is college program, cast services, building that incredible guest services that we are known for and being part of that being able to live on. I can already see the next generation coming in... late teens, early 20s. Passing it on to the next generation is key."