Water Parks
Tours and
Special Experiences
Sports-Related
Activities
Community/
Gatherings
Other Fun Things
SeaWorld Orlando
Writers' Corner
Orlando Area
Information
Archives
Mombasa Marketplace
Animal Kingdom
Glo's Souven-EARS

A long time ago in a land far far away, there was a young woman (well, young in spirit anyway!) who searched Walt Disney World for unique and special souven-ears to share with her friends at AllEarsNet™. Months passed and no one received any news from the intrepid shopper and many folks speculated as to whether the shopper met with an untimely demise.
Fear not, your souven-ear shopper has been back in the shops and is at her keyboard bringing you news from the gift shops in Disney's Animal Kingdom.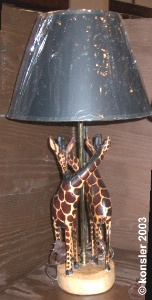 If you're looking for something a little more unusual, something a little out of the ordinary, the Animal Kingdom is the place to look. Even many of the Disney logo items found in this park are different and unique. If you're looking for something without a Disney label, something interesting and a treasure for your home, this is one park you should not overlook.
At the Mombasa Marketplace you'll find The World's best selection of "Indiana Jones" type hats as well as wonderful wooden animal sculptures ranging in size and price from tiny, tiny to very grand ($1-$75+). There is even a lamp (left) with two carved and painted giraffes on the base with a black shade ($95). The perfect accessory for an office or library. You'll also find many other examples of native African art including, ceremonial shields, animal masks and tribal figures. Too esoteric? You can also find wonderful sets of placemats, napkins and coasters ($34), carved wooden kitchen utensils ($8) and picture frames ($15-$28).
If you like color, you'll love the beautiful Penzo African pottery from Zimbabwe. Each piece is hand painted and the production is very limited, making Penzo very collectible. There are pieces available for every budget ($28-$250+).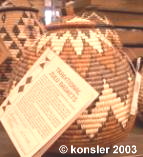 If simplicity in art is what you like, you'll love the traditional Zulu Baskets ($90, at right). Each basket comes with card that explains the basket's traditional use, the design pattern symbols, materials used and the name of the individual who created it. Although Zulu artistry has often focused on the creation of weaponry; shields, clubs and spears, Zulu baskets, fashioned by the Zulu women, are known and collected all over the world.
The Mombasa Marketplace also has a nice selection of South African wines for sale, both whites and reds, including the cleverly named Fairview "Goats Do Roam ($18)," a blend of Pinot Noir, Shiraz, Cinsault, Grenache, Carignan, Gamay Noir and Mourvedre grapes. This lovely wine goes well with medium weight foods like salmon, roasted chicken, duck, stews and lamb.
Before heading off to the next gift shop in the Animal Kingdom to see what interesting things we can find there, I think I'll sit and have a glass of the Goats Do Roam, relax a bit and contemplate the beauty of this particular park.