Water Parks
Tours and
Special Experiences
Sports-Related
Activities
Community/
Gatherings
Other Fun Things
SeaWorld Orlando
Writers' Corner
Orlando Area
Information
Archives
Mary Poppins and D23 in Chicago

D23 Special Events

by Guest Writer Bret Caldwell
When one thinks of Chicago, one might think of strong winds, gangsters, and more recently some questionable politics (Blagojevich ring a bell?). But if you've done your research, you'll also know it has amazing architecture, restaurants and great theatre. Prime examples: The Second City, Steppenwolf theatre company, and the Goodman theatre. Apparently Disney was aware of this, and they selected Chicago as the first stop of the North American tour of Disney''s Mary Poppins musical, which began back in mid-March. Good luck struck twice for Chicago Disney and theatre fans, as D23 also selected Chicago, along with NYC, as a location for an exclusive Mary Poppins theatre experience.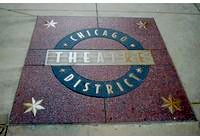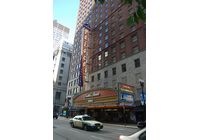 As a Chicagoland D23 member, I was fortunate to attend this sold out event on June 24, 2009. Since I know many weren't able to attend, I thought I'd try to share a little bit of the magic by sharing the experience here as best I can.
The event took place at the Cadillac Palace theatre in Chicago's theatre district. The Chicago production has an amazing cast to rival any East Coast production, including Ashley Brown, who originated the title role in the Broadway production, and Gavin Lee, who originated the role of Bert in both London and New York.
D23 members paid the face value for prime seating ($133, incl. handling), but received additional complimentary benefits including a 2-Disc Mary Poppins Special Edition DVD, a coupon for 20% discount on show merchandise, and a special "behind-the-scenes" experience following the show.
When I arrived, I picked up my ticket and a coupon for a free souvenir program (included with prime seating), and I headed over to a separate D23 table in the lobby where I flashed my D23 card and was welcomed by the theatre staff in charge of the event. They gave each D23 member the DVD and coupon, and let us know that we should remain seated at the end of the production to wait for instructions regarding the behind-the-scenes experience.
As I'm surely not qualified, I have no intention of reviewing the evening's production, but I will say that the D23 seats were amazing.  Since I purchased my tickets relatively late, I was in the last row of D23-related seats, which put me in the center seat of the 9th row of the center Orchestra section. For me, it was definitely a premium location ? a perfect distance from the stage to take in the whole production.?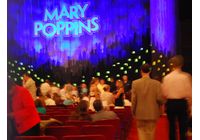 I will also say that the production was superb.? With a full orchestra, plus an amazing cast and sets, it showed no signs of being a traveling production.  It's also worth mentioning to anyone completely unfamiliar with the production, as was my case, that although there are some similarities between the play and the movie, there are countless new experiences, storylines and songs to keep you entertained throughout.
At intermission the 20% off coupon was burning a hole in my pocket (those Disney marketing guys sure are clever), so I checked out the merchandise counter and proceeded to save a bit of money. It may be interesting to some Disney pin traders to learn that they sell a four different lapel pins, which cost me $4 a piece after discount. They appear identical to pins traded in the parks, including the Disney trademark and Mickey Mouse pin backs. Aren't they nice?
Throughout the show I assumed that there were hundreds of D23 members filling the seats around me, but when the show finished and the crowds started to exit, most of the seats were emptied.  I soon found that there were only about 40 D23 VIP guests. (I also later found out from a friend in New York that there were around 15 D23 members at the simultaneous Broadway event) Clearly these were limited capacity events.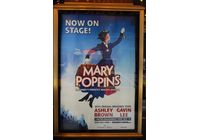 After everyone left we were escorted to a downstairs area in the theatre and told to wait a moment.  It was a large area with plenty of elbow room for everyone. After a few minutes nine casually dressed people, who could have been evening workers for all I could tell, came down the stairs and joined our group. It took me a moment to realize that these were the actors we'd just seen on stage. Part of my confusion was probably due to them looking 10-20 years younger than on stage, and my disbelief that they had changed and cleaned up so quickly. I focused as they introduced themselves. The group included Ashley Brown and Gavin Lee (yeah D23!), as well as Ellen Harvey (played Miss Smythe the evil nanny), Wendy James (Mrs. Brill), Abigail Droeger and Christopher Flaim (Jane & Michael Banks), and several other main and supporting actors.
We then had about 15 minutes of casual question and answer with the cast. Unfortunately we were not allowed to take photographs during any of the Q&A session. At first we were shy, until one D23 member simply thanked the cast for doing such a wonderful job. Ashley replied with a quick-witted, That's not a question, which had us all laughing and put us at ease.
Over the next few minutes, the cast shared stories of their favorite scenes. Gavin mentioned that after performing his role for almost five years his favorite scenes are the simpler scenes, like Go Fly a Kite. We learned that Supercalifragilisticexpialidociousis clearly nobody's favorite, as it is just as difficult to learn and perform as one might imagine especially for some supporting cast that might have to learn 4-5 different choreographies so they can change roles each show, if needed. Can you imagine? Yikes!?
I asked a question to Abigail (12) and Christopher (13) about how they got into acting and landed their roles.? I was shocked to hear that this was Abigail's seventh major theatrical production, including one that toured internationally. Perhaps the most charismatic of the entire group (and, yes, Ashley IS very charismatic ;-) ) was Christopher as he described how he landed the role of Michael Banks. He shared the story of how his mother brought him to the casting call for the role in the hopes of teaching him a life lesson in humility, since she knew he didn't have a chance. But even though he had no prior major theatrical experience, he won that battle with mom! Fortunately fame seems to wear very well on him as he was humble, articulate and very funny.
Toward the end of our discussion Gavin answered an interesting question about the tour. He shared with us that the North American tour production is nearly identical to the Broadway show except that the house set is slightly smaller so that it can fit on some of the smaller stages. But all of the costumes, props, and amazing effects (yes, even those amazing ones if you've seen it, you know which ones I mean) are identical.
After several more questions, our time was up and the cast headed back to the dressing room, and we picked up our belongings. ?I did manage to organize the D23 members for a quick group photo. Not surprisingly if you mention to a bunch of Disney fans that you want to take a photo for Allears.net, they all become very interested. ;-)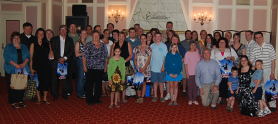 As we headed upstairs and toward the exit many of us chatted about the event, D23, and of course, Disney in general. As I was saying goodnight to some D23 members in front of the theatre, I noticed Ashley walking toward us with her dog, along with Gavin and Ellen. I gestured a lame thumbs up and casually said thanks for the great evening to them. They replied Thanks, smiled, and continued on their way. Although a bit delayed, I took out my camera for a far off photo of them as I imagined Mary Poppins, Bert and the evil Nanny headed off on a new adventure. Somehow it seemed an appropriately intimate ending to a special D23 evening that was practically perfect in every way.