Water Parks
Tours and
Special Experiences
Sports-Related
Activities
Community/
Gatherings
Other Fun Things
SeaWorld Orlando
Writers' Corner
Orlando Area
Information
Archives
Magic Meets
Disney Fan Meet
Magic Meets is a Disney fan gathering held every year since 2004. Each year it has grown in attendance and popularity. In 2007, the number of attendees was capped at 500.
It's an incredible day of magic and fun as only Disney fans can share.
Meet some of your favorite Disney webmasters and guide book authors.
All Ears® has been a proud sponsor since 2005.
All Ears® Reports about Magic Meets:
---
Saturday, July 14, 2007
2007 Magic Meets Reports
Deb's Blogs
Getting Ready for Magic Meets - 7/2/07
Magic Meets Pre-meet Setup - 7/12/07
Thursday Afternoon Reports - 7/12/07
Friday Morning Update - 7/13/07
Friday Evening Update - 7/13/07
Saturday Update - 7/14/07
The Magic of Meets - 7/24/07
Mike Scopa's Blogs
Friday Morning Report - 7/13/07
The Excitement Builds - 7/13/07
The Ultimate Block Party - 7/19/07

---
SATURDAY, July 9, 2005
---
July 11 2005
WOW! What do you say after you spend an entire day at an event filled with 160 Disney fans, lots of laughs, great stories and excitement! Meeting all of you was a thrill for Linda and I and the whole event was just great!
I want to thank Fred Block and his family (Renee, Julia and Haley) for organizing an outstanding event! They went over and above to ensure everyone had a wonderful time! From the table decorations and giveaways, to the great Mickey balloons, the Guest Speakers, the games, to the all important donation to the Starlight Starbright Foundation - it was simply awesome! You are super Fred and I was honored to be a part of such a wonderful gathering!
I got to meet many great folks for the first time and also see a number of friends I haven't seen in a while. It was also cool to put names and faces together of folks who have been AllEarsNet.com fans for years!!!
People came into the registration area to check in, get their wrist bands and some goodies (like copies of Cara Goldsbury's, The Luxury Guide to Walt Disney World). In the registration area was a table filled with all kinds of cheese to munch on until the doors opened. You could see the faces light up as they entered the ballroom and spotted the Mickey ballons, Disney Posters, and tables filled with goodies. The stage was filled with Disney items that would be given away later in the program. Every child received a special Disney gift and there were lots of drawings for prizes as well.
Colleen and the entire registration crew rocked! These ladies had it down pat and got everyone processed efficiently! They helped throughout the event as well and we couldn't have done it without you!
My It's a Small World Moment was when I heard someone say "You went horseback riding with me!" I looked up to see Kate, who was on the same Puerto Vallarta Horse Back Riding Excursion that I was just about 5 weeks ago when we sailed the Disney Magic. That was pretty cool! Plus I got to meet her super parents and younger brother.
On the right side of the room, myself, Louis Mongello, The Walt Disney World Trivia Book, Len Testa (Unofficial Guide), and John Rick (Central Jersey Pin Traders) had tables set up. There were lots of goodies and tickets for giveaways later in the meet.

The event began with an introduction by Fred. Huge kudos to him for keeping us on schedule the entire day! No small feat when you have so many speakers, a full meal, and just 5 hours!
John Rick, Central Jersey Pin Traders, began by talking about the history of pin trading at WDW and explaining ways to display your pins. It was wonderful meeting John and Shelia this weekend. Just wish we had more time to chat...that seemed to be the prevailing theme all weekend. So many people to talk with and there never seems like there is enough time. (John I hope you are able to come to MouseFest!)
Fred asked me to start the giveaways. Jennifer and Dave Marx, from Passporter Press, were unable to attend, but sent along 10 packages each filled with one of their books (PassPorter WDW and PassPorter's Field Guide to the Disney Cruise Line) and lots of goodies, like pins, a luggage tag and much more! I also took the opportunity to discuss a new book in the Passporter family, Passporter WDW For Your Special Needs written by myself and Debra Martin Koma. We had copies of the prepublication first draft as well as flyers and bookmarks availble at our table. Many folks were very interested in the book!
Next was Mrs. Maryland from the Starlight Starbright Foundation. What a gracious person who traveled a long way. I was particularly moved when Fred presented the $500 check to Mrs. Maryland. A portion of everyone's ticket fee went to the donation. It was a very special moment that everyone in the room could share!!!! Talk about Pixie Dust!!! It was very moving!
Len Testa, from the Unofficial Guide, was up next. He had everyone laughing with his talk!!! I think everyone wanted to sign up and work for the Unofficial Guide by the time he concluded his talk. Len answered questions and offered his thoughts on everything from Magical Express to which is the least crowded day at the Magic Kingdom!
Lisa, IASW Rider, had created some Where in the World Are You riddles! She and Fred did a great job with them and there was some great prizes too.
I spoke after Len and briefly discussed how I came to know who Walt Disney was and a little about the website and newsletter. I also told everyone that I am a 19.5 year breast cancer survivor and thanked everyone who over the last 4 years have enabled me to raise over $25,000 for the Avon Breast Cancer Crusade. I wasn't sure why I started talking about that, but it seemed like I should. After all the talks were done several ladies came over to me and thanked me for saying that I was a survivor. They shared very personal stories -- I was very moved and honored that you talked with me. You know who you are and I thank you from my heart and wish you only the best!
I spent most of the time in a Q & A session which had some really great questions! Of course, it helped that I brought some "bribes" along - Disney Character Plush key chains! When I got stumped on "What is your least favorite ride", Len came to my rescue by shouting out "The Ride Home!" Thanks Len, I won't forget that one!
Lou Mongello (WDW Trivia Book) then spoke and led a trivia contest, 2 for adults and 1 for the kids. He did a great job and kept things moving. He also had the questions displayed on the screen so everyone could see them!
Fred concluded the official portion of the event by thanking everyone for coming and announced next year's meet date of July 15, 2006!!!
John, Lou, Len, Fred and I all stayed around to talk with folks afterwards. The unofficial portions of the event went close to midnight between those of us in the dining room and those in the room the hotel opened for folks who wanted to pin trade or just talk.
It was an incredible time! Thank you Fred and everyone who made it happen! I"ll see you all there next year!
July 9, 2005
3:30 p.m.
More speeches/giveaways:

1:30 p.m.
Speakers at the Meet:
---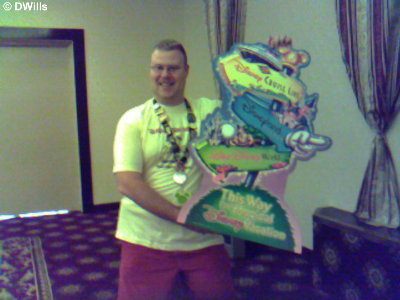 8 a.m.
In just a few short hours the 2nd annual Disney Fans meet will begin in Allentown, Pa. Organizer Fred Block (shown left) has done an outstanding job pulling everything together.
We arrived in Allentown last night in just over three hours. Upon entering the lobby of the Crowne Plaza hotel, I saw John "Towncrier" and moments later, Fred. A huge bus arrived at the same time we did so it was a bit crazy in the lobby.
Fred found his contact who let us take the meet boxes straight to the ballroom. That was wonderful!
We met Fred and family (wife Renee, daughters Julia and Haley) for dinner. Had a great time sharing stories and getting to know each other better. As we stood up to leave, I saw Tracy and Jack Cherry and went over to catch up. I've known Tracy a long time and it was great to see her again.
We headed to the lobby to gain access to the ballroom and found Lou Mongello (WDW Trivia). A little set-up here and there in the ballroom and lots of talking. Soon it was 11:30 p.m. and we all realized we better get some sleep.
This morning we'll have breakfast with Fred, Lou, and John (Central Jersey Pin Traders). Then it's off to the ballroom to set up and get the event rolling!
See you later today!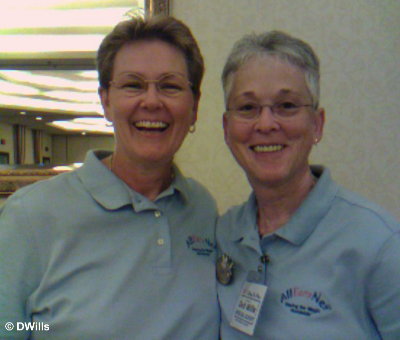 AllEarsNet's Deb Wills (left) and Linda Eckwerth setting up for Allentown Meet.