Water Parks
Tours and
Special Experiences
Sports-Related
Activities
Community/
Gatherings
Other Fun Things
SeaWorld Orlando
Writers' Corner
Orlando Area
Information
Archives
Allentown, Pa.
July 9 2005
Disney Fans' Meet
DEB'S PHOTOS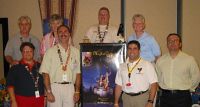 Front Row: Janice, Rick, Lou, Len
Back Row: Janice's Husband, Shelia, Fred, Deb
*****
My apologies to the few folks who were "blurred out", I used photo stitch to tie this together.
*****
Individual Photos which comprise the large photo!

Please help identify folks in ANY of the photos below!
If you do NOT want your or your child's photo online - let us know



First row: Gail and Sue
2nd row:
Last row: Lisa, John Rick, John McElwee (Charade)




First row: Joann McGarvey
John - Towncrier back right with grey shirt; Ron Dittes

Len Testa, Marion, Deanna and Lou Mongello, Artie, Julia Block
You didn't think we actually blew up all those balloons, did you?
Foreground: Deanna Mongello. Standing: Shelia Rick, Fred, Artie and Len

Table Setups: Cinderella Castle Plate, Cookies by Design Gift Basket, Disney Coffee

The room was almost ready!

Renee Block looks on as Deanna and Lou Mongello set up

Registration Area

Marisa,
Colleen (Tiggerwannab) , Jen (blueeyes101817) and Brittany(Fletchermem0rial)

Linda and Deb ready the AllEars.Net table

Shelia and John Rick, Central Jersey Pin Traders

The Stage with Giveaways
The Event Begins!

Check-in Table

Marisa, Colleen, Jen and Brittany

Getting settled at a table

Mr. Incredible, er I mean Mr. Majestic (Fred Block)

Deb greets AllEarsNet.com readers at the table!

Talking about the upcoming Special Needs book!

Deanna Mongello at the WDW Trivia book table (Lou is in the background)

Lou Mongello talks Disney trivia!

Valerie aka ASTRYD, Len, Deb

Lisa aka IASW Rider

Doris Burns

Lousie, Deb and Linda

Fred gets things rolling!

John Rick talks pins!

Frank, Deb, and Kelly

Deb reads from the upcoming book, Passporter WDW for Your Special Needs

Lisa draws a winning ticket for a Passporter WDW book and Goody bag!

We have a winner! Actually there were 10 winners who received a Passporter Guide Book and Goody bag!

Fred gives a check for $500 to Mrs. Deborah Wright, of the Starlight Starbright Foundation. A portion of each person's ticket fee was part of the donation!

Mrs. Deborah Wright and the Block Family: Julia, Fred, Renee and Haley

Mrs. Maryland International spends time talking with attendees at the event!

Frank Rossello on left

Len tells what it's like to be on the Unofficial Guide Team

How about a show of hands.. Who wants my job?

Deb tells the story of how AllEarsNet.com began

Lou explains the rules of the Trivia Contests

And here's the first question....

Doris, Gail, James, Artie

The Kids got their own round of trivia too!

Kate and Kathryn




Sharla Whalen

Ellen, Deb, Bob, Kate
(The Pattersons)

Fred helps Deb with the AllEarsNet.com Giveaway Baskets


We have a winner!

And another winner!

John Rick gaveaway an adult and child pin lanyard (full of pins)!

Tony took time off from work to stop by and say hello!
Join us Next Year - July 15, 2006!!!