WHAT IS MOUSEFEST? -- For the past 7 years, Disney fans from around the world who frequent the Usenet newsgroup Rec.Arts.Disney.Parks (RADP) have had periodic, informal get-togethers at Walt Disney World and also in their own locales to get to know one another "in real life." This has included an ever-growing annual holiday gathering in Orlando. Many other Disney fans who have connected through other Disney-related websites and message boards have also gathered at Walt Disney World, and other locations, to share their love of the Most Magical Place on Earth.
But imagine if you can a gathering that encompasses ALL these groups... a gathering that unites the enormous family of Disney enthusiasts from all walks of life, from all backgrounds, from all over the country, from all over the globe! Imagine all of these people convening at Walt Disney World for a short Disney cruise, followed by several days of fun and merriment, special meals, events, and an all-round spirit of Mickey Mania! Now you've imagined MouseFest 2003!
The Scrapbook of MouseFest 2003 Follows...
Other information--
Memories of MouseFest 2003 - Deb Wills & Debra Martin Koma
Mouseplanet's Mike Scopa Writes About MouseFest 2003
RADP8 - Around the World in 8 Days
(includes MegaMouseMeet Group Photo!)
Read more about MouseFest 2003




SUNDAY, NOVEMBER 30, 2003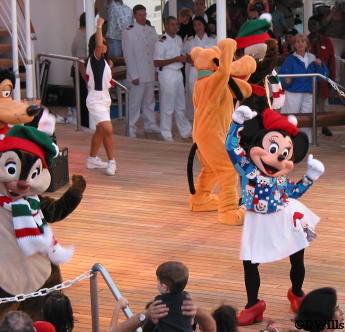 MouseFest 2003 Kicks Off November 30th! There's is nothing like a Disney Cruise Line Sail Away Party to get you in the mood! Nearly 100 cruisers including AllEarsNet.com™ founder Deb Wills, Passporter Guidebook authors Jennifer Watson and Dave Marx, Hidden Mickey's Field Guide Author Steve Barrett and WhatWouldWaltDo.com founders Alison and Tom Keaney were all aboard the Disney Wonder for the official start of MouseFest 2003! "Crusin' MouseFest 2003" magnets were handed out at the Sail Away Party which folks used to decorate their cabin doors! In addition to the ship's personal navigator, all cruisers received a MouseFest Navigator too, courtesy of Jennifer and Dave.
MONDAY, DECEMBER 1
Some folks opted to see Disney's latest movie, The Haunted Mansion, while others joined in the Hidden Mickey Hunt. Steve Barrett, equipped with his laser pointer, lead the Hidden Mickey Tour on the Disney Wonder. Steve also lead Hidden Mickey Tours at all 4 theme parks during the MouseFest land portion! We had to "Look Down for these Mickeys", Look Up to spot these Mickeys and find the Mickey hiding on the teacup!
TUESDAY, DECEMBER 2ND
PassPorter's Wonder-Full Treasure Hunt -- Hosted by Jennifer and Dave, this fun hunt took contestants all around Deck 9 as well as other areas of the ship. Folks scoured the Disney Wonder to find little details and collect a few things along the way. Questions like: Where was the Disney Wonder constructed to what do the 3 Signal Flags beside the Quiet Cove Pool spell were asked. Points were also awarded for collected items such as a Personal Navigator, coffee stirrer and shore excursion information sheet. The Prize for the Best Individual Score went to Maggie Andrelczyk and Best Team Score to Joanne Ernest and David Ernest.
WEDNESDAY, DECEMBER 3RD
One of the best parts of a Disney Cruise is the day at Castaway Cay. Disney's private island is so beautiful! So, where else but Castaway Cay would you find adults shoveling sand?? Passporter Guide *Belle hosted a Sandcastle Building Contest. There were 2 categories; the Disney category winners were Jennifer and Dave and the Creative category winners were Brant Wigginton and Andrew Ernest (shown in the photo). Later in the day, a special reception was held for cruisers who booked through MouseEarVacations.com.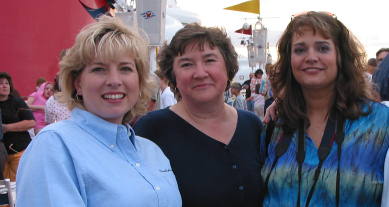 Special thanks to MouseEarVacations.com for putting together the MouseFest 2003 Group Cruise, Annette, Vickie and Stephanie! Extra special thanks to Annette for all her hard work in making this a most memorable enjoyable cruise!
THURSDAY, DECEMBER 4
This was a travel day for most folks....either from Port Canaveral or from hundreds of different towns across the world.
FRIDAY, DECEMBER 5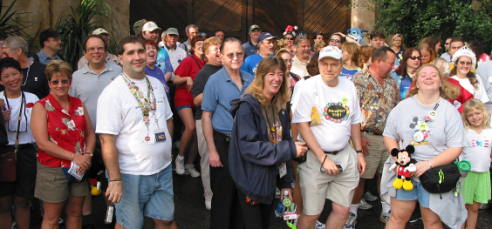 4th Annual Kilimanjaro Safari Meet - After last year's "rainout", over 100 folks traveled to Africa to enjoy an early morning Safari ride. Hosted by Deb Wills, members from a variety of Disney communities were in full force including All Ears™, RADP, the DIS, and Disney Dollarless. Also braving the wilds were Bob Sehlinger and Len Testa of the Unofficial WDW Guide book! (More Kilimanjaro Meet Photos coming soon)
4th Annual Kali River Rapids Meet - As Wet as you Want to Be! MickeyMom hosts this annual event. "There were 10 of us riding (and it was a chilly morning) and 12 folks were at the meet. Disney Dean and Lori got the wettest. Larry (MickeyMom's husband) stayed dry for once."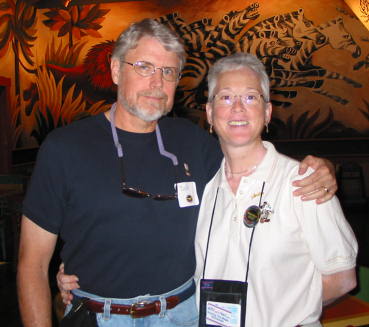 All Ears™ Ask the Experts - A special gathering at Pizzafari hosted by AllEarsNet.com founder Deb Wills and the Unofficial WDW Guide Book Bob Sehlinger. After brief introductions, Deb and Bob opened the floor for questions... ok.. we bribed some folks with free Disney trinkets to get the questions started -- and a great hour of conversation followed. Over 90 attendees entered a drawing for some special prizes that included items from the October WDW Press Event and a Pal Mickey!
Walt's Birthday Safari Treasure Hunt - Jennifer and Dave outdid themselves again with this fascainating photo treasure hunt. From Asia to Africa the group sought to match photos with real life locations. The Individual winner was Brant Wigginton and the Team Prize went to Nate Stokes and LauraBelle Hime.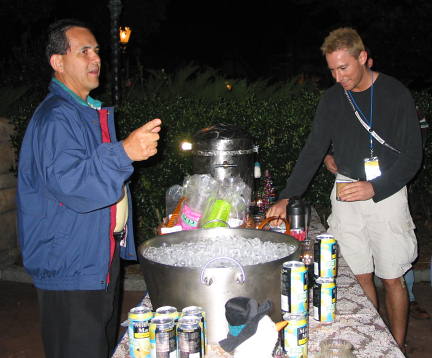 Special IllumiNations Dessert Party - warm coffee and lots of great desserts in addition to a private viewing area for IllumiNations made this special MouseEarVacations.com event extra special!
SATURDAY, DECEMBER 6
3rd Annual Future World Morning Marathon: Journey to the Center of Spaceship Earth! Hosted by Catherine and Lori, attendees started out riding Mission: SPACE (a new addition this year), then went on to the Test Track Drive-Thru, Spaceship Earth Roulette and finally Ice Station Cool-down!
Catherine recounts: We had 21 riders for Mission: SPACE first thing in the a.m. No discernible wait in line. They got us into the preshow room and showed us the movie, then could not load us into the pods. Eventually we were moved to another preshow room where we were coincidentally joined by 3 more RADP riders for 24 riders in all. About 20 minutes after we entered the line we actually got onto the ride.
I skipped Test Track because the delay on Mission:SPACE had seriously thrown off my groove. Some people went and rode it anyway.
Nearly froze to death taking down guesses for Spaceship Earth Roulette at the tip board. We ended up with 37 riders who made guesses. The ride didn't stop again (it's a real anticlimax when it doesn't stop, that's two years in a row it's happened, or not happened as the case may be). Ben won the game for picking "ride doesn't stop" and got a pair of red Mickey Mouse suspenders. Nobody picked "ride doesn't stop" on the second sheet, so Ben was our only winner.
The Beverly Chugging (at Ice Station Cool) degenerated into Beverly Gulping, slurping and spilling contest. Michael from the DISboards won the official contest by doing eight shots in the least time. Margaret then came forward and did nine extracurricular shots. Bob and Arlene from Disney Dollarless did 10 and 11 shots each. John from the DISboards tried to do 12 but didn't make it. A guy named Jimmy finally downed 13 shots of Beverly just to prove he could. All participants ran for the restrooms.


Mega Mouse Meet - The first gathering of it's kind in recent memory to bring together Disney Internet Communities, Webmaster/founders and WDW Guide book authors in one place! Over 450 folks attended the MegaMouse Meet and were able to meet over 25 author and website representatives! The "Special Guests" began the morning with a breakfast at Tubbi's Buffeteria before meeting hundreds of Disney enthusiasts! Near the conclusion of the meet, Jennifer Watson and Dave Marx gathered everyove for one whuge group photo for the cover of Passporter WDW 2005! (More on the MegaMouseMeet next week!)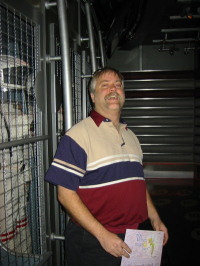 To Boldly Go... Kenny's 300th Mission Space! - One of the unadvertised, yet heralded events of the weekend, was RADP'er extraordinare Kenny Cottrell going on his 300th ride on Mission Space. The Cast Members were even more excited than Kenny and gave him a "Where Magic Lives" Certificate!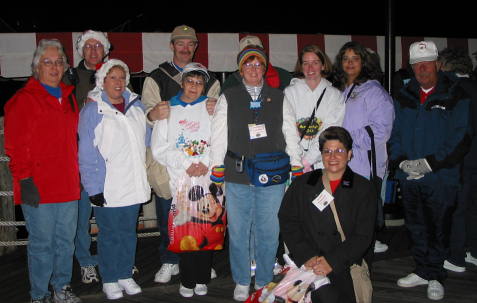 IllumiNations Cruises - Celebrating the 6th year of this sold-out event, MouseFest crewed several boats Friday through Monday to the International Gateway for a special viewing of IllumiNations: Reflections of Earth! The pontoon boats cruised the waterways for nearly an hour before settling under the International Gateway bridge in Epcot to watch the fireworks and laser show. It was a very chilly night, with temps dipping down into the low 40s or high 30s, but the boats provided warm blankets, while some of the cruise hosts provided, well, something else in the line of "warmer-uppers." The spirit was lively and congenial.
SUNDAY, DECEMBER 7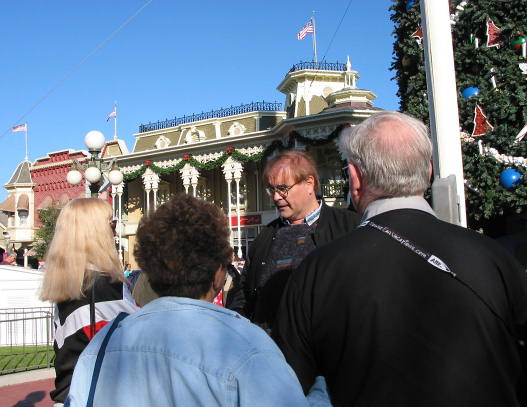 Magic Kingdom Jim and Jim Tour - Writer Jim Hill and Disney historian Jim Korkis led 2 incredible walking tours of the Magic Kingdom! Learn the importance of the "language of vision". Hear the stories of the people who made the dream come true. Whether you have been in the park once or a hundred times, discover the thrill of experiencing the park with a different perspective.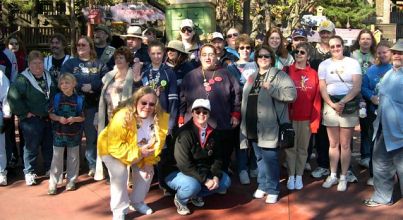 5th Annual Frontierland Meet - No annual meet would be complete without riding the Mountains of Frontierland hosted by Jan, Tracy and Charlotte! This annual event begins at the Briar Patch!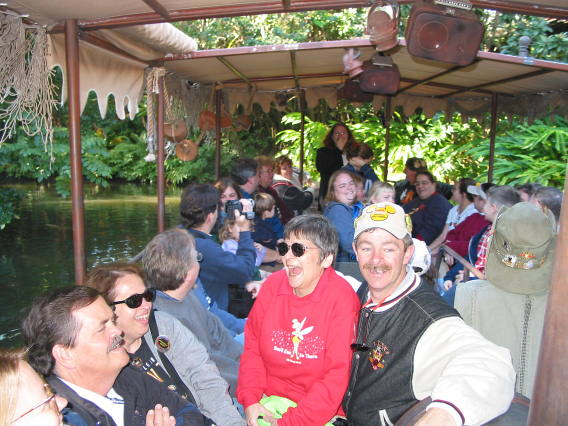 Pirates and Jungle Cruise - Climb aboard to tour many sights not often seen my mortal man! We had an impromptu Pirates meet just before the Jungle Cruise in which we did overload a boat and it was stuck for a few moments on the first drop. I had "dead men tell no tales" reverberating in my head for hours! Hosted by MickeyMom, the Jungle Cruise meet had 49 folks crammed onto one Jungle Cruise boat to the delight of everyone involved!
MONDAY, DECEMBER 8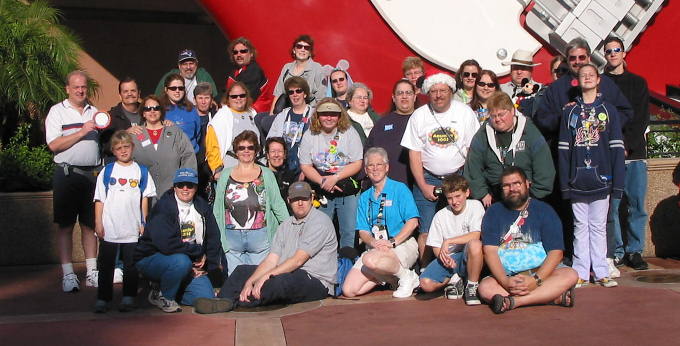 Tower of Terror and Rock N Roller Coaster - Tracy, Jan and Chalotte hosted another of our annual events! 35 folks took the plunge on the Tower of Terror and then looped the loops on the Rock N Roller Coaster.


AdultsatWDW.com Pin Meet - a small but dedicated group of pin traders gathered to show off their treasures and trade for more the meet. A few lucky folks received a special AdultsatWDW pin from hostess Rose Folan!
Great Move Ride Meet - Patti hosted a terrific Great Movie Ride meet. We only had a few rows of "civilians" in the car with the Mousefest-ers, and I'd venture a guess that they'll never have a ride quite like that ever again. Thanks to Michael for being a great guide and for figuring out right from the beginning that there was a group on his tram that might give him trouble! Could it be the number of people sticking their ams out of the tram immediately after he said "keep your arms and feet inside the vehicle at all times" that gave him the first clue?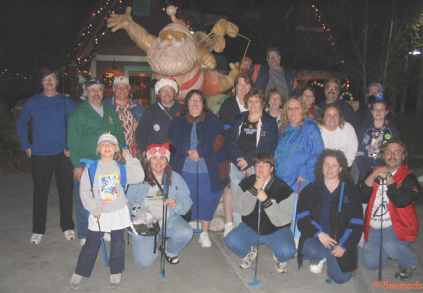 Fantasmic! and Jolly Holiday at the Links - MickeyMom stood in as hostess for Bianca (we missed you!) were 10 folks watch the show. Then most of us went on to play mini-golf with the rest of the gang at Winter-Summerlands course. That was a blast - we stayed so late that we closed the place and didn't go to the Adventurer's Club!