Disney World, the Dining Plan and a Diet
by Laura Schmitt
AllEars® Columnist
Feature Article
This article appeared in the April 1, 2014 Issue #758 of ALL EARS® (ISSN: 1533-0753)
Editor's Note: This story/information was accurate when it was published. Please be sure to confirm all current rates, information and other details before planning your trip.
(Disclaimer: The following column is not meant to serve as medical advice. It is simply one person's experiences and opinions on dining while eating health-consciously at Walt Disney World. For medical advice specific to your needs, please consult your medical professional.)
Disney Dining Plan + Diet = Doom? Despair? No, it doesn't have to! DDP + Diet can = Delight!
So you're on a diet and you're facing the Disney Dining Plan. These concepts contradict each other at every turn. Say you've been working hard to maintain your health, your heart and your figure, but your upcoming trip to the Most Magical Place on Earth is giving you pause. Do you log an extra hour of working out each day? Do you go without and/or skip meals? Please don't! You can certainly find healthy choices on the Disney Dining Plan! Using the standard DDP, I will walk you through my recommendations for ordering delicious and more nutritious options to keep you feeling fit and fantastic as you tour the parks.

The standard dining plan offers one Table Service meal, one Quick Service meal and one Snack each day. Many people report that this is more than enough food for the average day, as servings are often quite generous. By starting with a healthy breakfast in your room, or at your resort, you can step out the door on the right foot. Begin your day with a healthy head start by eating a bowl of oatmeal (buckwheat, quinoa and rice, or other quick packet of choice) with two tablespoons of dried nuts, water, and a piece of fruit. If you're bringing food with you, and you lack access to a grocery store, consider bringing easy-to-grab items such as dried fruit, nuts, granola bars with a high fiber and protein content and lower sugar content. When picking a granola bar or cereal look for protein and fiber to be high and sugar to be low. This is more important than low calories for sustaining the energy you need to start your day. A bar that delivers 4 grams of fiber, 7 g protein and 5 g sugar is a much better ratio than a bar that comes with only 1g fiber, 1g protein, and 9g of sugar. Also, pack some easy-to-take-with-you apples, oranges, bananas, or other fruits and vegetables of choice. Many hotel rooms offer refrigerators and/or microwaves that will allow you to keep a variety of items on hand. Get your tea, coffee, or juice, but make sure you get plenty of water in the first part of your day. Carrying a filtered water bottle and refilling as you go is a great way to stay hydrated and to avoid the soda temptation.
Using your quick service credit for lunch may leave you longing for some fried chicken, hamburgers, and hot dogs. In fact, you may not even realize that there are so many other options for you in the counter service world at Disney! I have found healthy options all over every Disney property, and while I can't list every restaurant here, I'll give you some examples to show the way. If you're looking for lunch in the Magic Kingdom, head over to Pecos Bill's and instead of grabbing a burger and fries, ask for a veggie burger on a whole grain bun and corn on the cob (no butter) as a side. Journey over to the toppings bar and load your veggie burger up with tomatoes, pickles, and onions to give it a little pizazz.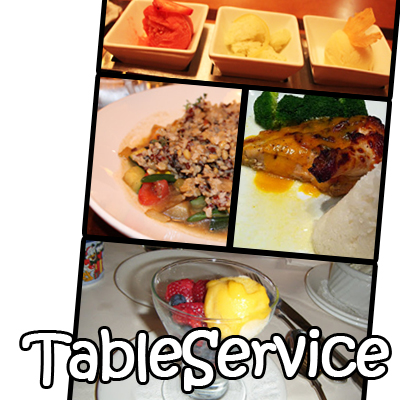 Instead of a cake or cookie dessert, opt for a strawberry yogurt or applesauce. For the kids in your group, consider a turkey sandwich on whole grain bread with carrots and grapes instead of fries and cookies. Again, drink plenty of water! Not a fan of veggie burgers? Head over to Cosmic Ray's for rotisserie chicken (don't eat the skin) or a turkey sandwich served with apple slices and mango gelato (no sugar added) for dessert. Yum! Looking at the AllEars.Net Menu pages, you can investigate your counter service options before you head out for the day to ensure that you make smart choices that suit your taste preferences.
Snack credits can be a lifesaver during a hot day in Walt Disney World. While I generally go for fresh fruit, vegetables, or pickles from the carts in the parks, a frozen fruit juice bar (I've seen pineapple, strawberry, and orange) can be found almost anywhere you go on property. This cool treat is just the refresher needed! If you're hungrier, however, use that snack credit for a serving of fruit, vegetables or nuts. Or, enjoy the frozen fruit bar and then snack on one of those healthy granola bar options you're carrying with you. I've seen such a variety of offerings, there is surely something for everyone. The trick is to look for the carts with the fresh fruits and veggies instead of stopping at the ice cream or churro cart first. Disney maps can give you guidance on where to locate fresh produce in the parks. Finally, a note about beverages is crucial. Instead of grabbing a soda on a hot day, refresh your body with water and you'll feel much better for it! If plain old water is too boring, consider adding a powdered drink mix vitamin supplement packet once a day, or similar products with stevia-based sweeteners with flavors that suit your taste preferences.
By the time you sit down for supper at the reservation you've prearranged, you are tired and oh so hungry! What an appetite you can work up touring a Disney park. I have found that nearly every restaurant has such wonderful options for those of us looking to maintain good health while traveling. Grilled chicken, fish, vegetarian dishes, salads. Asking for steamed broccoli or a salad with an oil/vinegar dressing on the side is a fantastic option. Looking for specific examples? At Coral Reef I chose a beautiful salad mixed with tomatoes, beans, and vinegar dressing topped with tilapia. For dessert, fresh berries and a scoop of Rice Dream ice cream. Brown Derby offers a mango sorbet with berries that is my favorite dessert on property. The Wave, in the Contemporary, has a dessert sample of three small sorbets made in house, which is another fun way to try something new while on vacation. Every resort we have dined in offers something special. A moderate resort with a great option was the Caribbean Beach. When we dined at Shutters, I enjoyed a grilled chicken with a tower of steamed rice, steamed broccoli, a Jamaican-inspired sauce, and a sorbet dessert. The Wave offered a vegetarian stew that was hearty and healthful. My children typically order side salads in place of fries and grilled chicken when we visit sit-down restaurants. Don't forget, limit your servings of bread at the start of the meal to one serving, and go sparingly on the olive oil or butter. You'll have so much wonderful food coming, the bread filler is not likely to be required.
Perhaps that all sounds good, but it doesn't help because you're facing a buffet. Fear not! When I dine at buffets on property, I just LOVE the options. Typically, I load up on greens and salads. There are so many fantastic salads at places like 1900 Park Fare and Crystal Palace. Now, I'm not talking a pile of greens with dressing spooned over it. Instead, I'm talking of clever blends of spices and oils with vegetables that you may not attempt at home. I'm talking about flavor combinations that only the Disney chefs can deliver! Look for salads with clear dressings and avoid dishes heavy in creams and cheeses. If the fish is covered in a sauce, you can ask for yours to be brought out without. If sorbet is not an option on the dessert bar, ask if it is a request that can be accommodated to help you stay on diet.
We have tried so many fantastic meals over the years, and while I wish I could list every option, it would end up far too lengthy. Besides that, the chefs are frequently updating menus to add even more creative options. Trust me when I say that not only do you have plenty to choose from on the dining plan, you have wonderful flavors within the choices available.
The trick to staying on a course of eating that makes you feel great is to stick to the healthy options that ARE there. Avoid the sodas, ice creams and fried foods, and feel great as you enjoy being pampered by Disney chefs and cast members. By doing a bit of research on the AllEars.Net Menu pages before you go, you can make sure you find your favorite flavors, and don't hesitate to ask if a chef can do a modification on a dish to make it healthier for you! I never eat foods containing dairy or gluten (our family has some allergy concerns) yet I still find plenty of options everywhere we go.
Of course, for those of you who are NOT interested in watching what you eat while you're celebrating your magical vacation, enjoy your treats, snacks, and Disney magic as well! There is truly something for everyone in a Walt Disney World vacation.
=-=-=-=--=-=-=-=-=-=-=-=-=-=-=
ABOUT THE AUTHOR:
Laura Schmitt and her family of four travel to Disney each year for the fun, food and memories. Laura is a freelance writer, an avid Disney World enthusiast, and a certified nutrition educator.
=-=-=-=--=-=-=-=-=-=-=-=-=-=-=

RELATED LINKS
Special Dietary Needs at Walt Disney World:
http://allears.net/din/special.htm
Other articles by Laura Schmitt for AllEars®:
-- Tips for Little First-Time Fliers, AllEars® Issue #661, May 22, 2012
-- A Walt Disney World Family Finds Magic in California, AllEars® Issue #642, January 10, 2012
-- We Were Not Disney People... But We Are Now! AllEars® Issue #470, September 23, 2008
-o-o-o-o-o-o-o-o-o-o-o-
Editor's Note: This story/information was accurate when it was published. Please be sure to confirm all current rates, information and other details before planning your trip.