March 2013 Walt Disney World Bits and Bites
Feature Article
This article appeared in the February 26, 2013 Issue #701 of ALL EARS® (ISSN: 1533-0753)
Editor's Note: This story/information was accurate when it was published. Please be sure to confirm all current rates, information and other details before planning your trip.
= = = = = = = = = = = = = = = = =


STEP BACK IN TIME
= = = = = = = = = = = = = = = = =
by Debra Martin Koma
Senior Editor
Each month, we rummage around in our archives for this featurette, which indulges in a bit of nostalgia, taking you back in history for a glimpse of Walt Disney World and The Walt Disney Company through the ages. This month, we take a look at the evolution of the Downtown Disney Marketplace:
The "Lake Buena Vista Shopping Village" (as the Marketplace was originally called) opened for business 38 years ago this month -- on March 22, 1975! In fact, it was Cinderella who cut the ceremonial ribbon and declared the Lake Buena Vista Shopping Village open. The original "shopping village" was promoted as a "restful shopping atmosphere similar to a New England seaside village." A wine cellar, a tobacco shop, a pharmacy, a pet store, and small kiosks in which craftspeople made candles, pottery and candy were among the places doing business at the new shopping center.
The area evolved, and over the first five years added such places as the Empress Lily riverboat (now Fulton's Crab House), the Village Pavilion's Pooh Place, Great Southern Crafts and Lillie Langtry's Photo Artist. Among the 31 different shops and restaurants eventually populating the shopping area: Village Spirits, with vintage wines, liqueurs and imported beers; Village Restaurant, which featured lunch and dinner overlooking the Buena Vista Lagoon; Posh Pets; Port of Entry clothes, furniture and curios from around the world; and Pottery Chalet, which had fine crystal, china, stoneware and lawn statuaries.
Four of the eateries located in the shopping center were named after characters: Donald's Dairy Dip; Goofy's Grill, Minnie Mia's Italian Eatery and Chef Mickey's (which moved into the Contemporary Resort in 1995).
The area underwent several name changes over the years. In 1977, it was known as the "Walt Disney World Village" and in the 1980s it was rechristened "Disney Village Marketplace." In 1989 Pleasure Island opened adjacent to the once-quaint shopping village.
The 1990s saw a large expansion at the Marketplace, with the addition of a number of "chain" restaurants and shops, including the Rainforest Cafe and the Lego Imagination Center. On September 7, 1997, the Village Marketplace was renamed Downtown Disney Marketplace.
Today, the Marketplace comprises more than 20 venues, with everything from the Rainforest Cafe to the ultimate Disney merchandise store, World of Disney. There is a full-service Guest Relations located between Team Mickey's Athletic Club and Ghirardelli Ice Cream and Chocolate Shop, and the Waterside Stage, across from World of Disney, occasionally has live entertainment. Kids love the Magical Water Fountain near Once Upon a Toy. There is also a smaller play fountain near Disney's Days of Christmas. Also for kids is the Marketplace Carousel and Marketplace Train Express, located on either side of Disney's Pin Traders.
Here's a bit of trivia: The Annual Village Wine Festival, which began in 1986, led to the eventual inception of Epcot's International Food and Wine Festival 10 years later.
Do you have any photos or memories of the early days of Lake Buena Vista Shopping Village and the Marketplace over the years? Send them along to allearsnet@yahoo.com!
Deb Wills shared some of her earliest memories of the Marketplace in a blog a few years ago:
http://land.allears.net/blogs/debwills/2011/08/the_walt_disney_world_village.html
And thanks to Jack Marshall, we've recently updated our Marketplace page:
http://allears.net/btp/dd_market.htm
= = = = = = = = = = = = = = = = =


HIDDEN MICKEYS ALERT
= = = = = = = = = = = = = = = = =
Steve Barrett, author of the Hidden Mickeys books and webmaster of www.HiddenMickeyGuy.com, highlights a few more Hidden Images in the New Fantasyland. Don't miss these new hidden surprises in the "Under the Sea - Journey of The Little Mermaid" attraction!
1. On the right side along the outside Standby entrance queue, a classic Mickey made of impressions is at the top right side of a rock that sits in the middle of the small lagoon in front of the waterfall. (Thanks to Mike Beckerman.)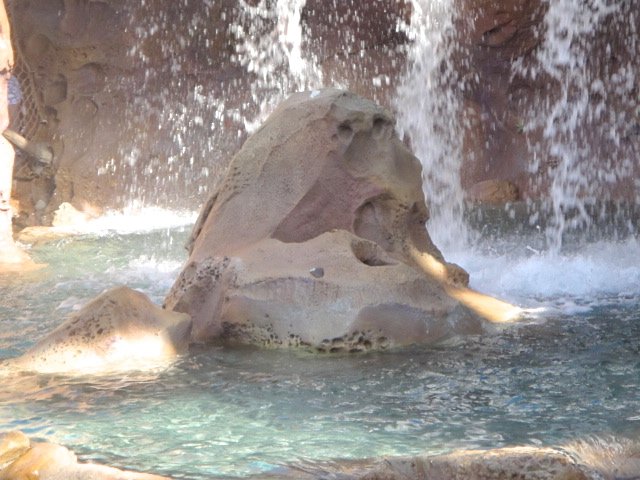 http://allears.net/btp/images/hidden-mickey-390.jpg
2. Along the left side of the inside Standby entrance queue, a classic Mickey tilted to the left is formed by holes in the rock above some bottles on a table. (Thanks to Lynette Huey, David Moore, and Chloe Charette.)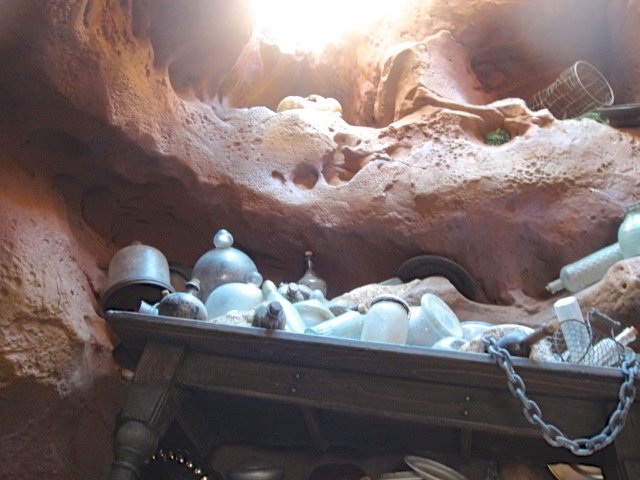 http://allears.net/btp/images/hidden-mickey-391.jpg
3. At the left side of the outside Standby entrance queue, a Nautilus submarine impression is in a rock wall behind a small pond. When you reach a fence on your left strewn with ropes and nets, look back to your left and study the rear rock wall near the waterline. First spot the round porthole that resembles an eye; the nose of the submarine points to the left.
http://allears.net/btp/images/hidden-mickey-392.jpg
You can find a selection of past Hidden Mickeys Alerts here:
http://allears.net/btp/hiddenm2.htm
And check out our Searching Disney with Steve blog:
http://land.allears.net/blogs/stevebarrett/
= = = = = = = = = = = = = = = = = =

RATE & REVIEW SPOTLIGHT
= = = = = = = = = = = = = = = = = =
Compiled by AllEars® Team Member Cathy Bock
In this monthly featurette, we take a look at recent comments made in the AllEars.Net Rate & Review section about a particular restaurant, resort, event, etc. This month, we examine what AllEars® readers are saying about breakfast at the Akershus Royal Banquet Hall, which is located at the Norway Pavilion at Epcot.
Akershus breakfast is an all-you-can-eat character meal featuring the princesses. AllEars® reviewers give it an average rating of 8.5 and it is recommended by 95% of reviewers.
From recent reviews:
Food: "food here was excellent"; "bounty of food both at the table (eggs, bacon, potatoes) as well as up at the buffet (fruit, fish, muffins & other pastries)"; "enjoyed the hot items that were brought to our table"; "meal was very good"; "it would be cool to add more Norwegian elements to the food"; "loved the fruit, cheese, cooked meat, and pastry selection on the buffet"; "egg is not good on the family style platter but I love the cheesy potatoes and my daughter enjoyed the sausage and bacon"; "is very very good": "food was AWESOME!"
Characters: "Princesses were amazing"; "princesses stayed for pictures and talked to my girls"; "4-year-olds that were with us were in awe and loved the princess parade!"; "granddaughter loved the princesses"; "characters who rotated the room were very pleasant"; "Princesses are great, they really try to interact with the little ones."
Service: "staff there is always so nice"; "waitstaff are very attentive"; "service was great"; "server noticed DD bday button & brought out a cupcake to her"; "waiter was fantastic"; "nice if not amazing service."
Atmosphere: "atmosphere of the castle was beautiful and not overdone"; "it was crowded, so hard to get good photos with the princesses since I was stuck against a wall and couldn't get out"; "one thing I did not like was the princess parade, maybe because of our seat".
Overall: "a highlight of our trip"; "is not cheap"; "Love that the picture is included with the price of the meal"; "even better experience than I expected"; "a very enjoyable meal"; "a must-do character dining next time we travel with the grandchildren."
Breakfast Menu: http://allears.net/menu/menu_psb.htm
Lunch Menu: http://allears.net/menu/menu_norl.htm
Dinner Menu: http://allears.net/menu/menu_nor.htm
If you have recently eaten breakfast at Akershus, we'd love to have your review!
http://land.allears.net/reviewpost/showcat.php?cat=34
= = = = = = = = = = = = = = = = = =


MONTHLY REMIND-EARS
= = = = = = = = = = = = = = = = =
EVENTS

St. Patrick's Day will be celebrated at Downtown Disney Pleasure Island and Raglan Road Irish Pub & Restaurant on March 8-10 and March 14-17. More than 10 top Irish bands will perform during the festivities. On March 8-10 from 6 to 11 p.m., The Willis Clan, which merges Irish roots with other music genres, will perform at Raglan Road. Nova Celtic, with its own twist on popular Irish music, will appear on a nearby outdoor stage. Beginning March 14 and 15 from 6 p.m. until 1 a.m., and continuing March 16 and 17 from noon until 1 a.m., it's a "Mighty Festival" at Raglan Road, with Irish bands and pro dancers performing on several stages indoors and out. Also on tap: a mighty selection of beers, food by Irish celebrity chef Kevin Dundon, face painting, stiltwalkers and St. Patrick's Day memorabilia. Highlights of the celebration across Pleasure Island will include:

-- Performances by The Willis Clan, Girsa, Three Dollar Band, Nova Celtic, The Farrell Bros., Celtic Wave, Johnny & Justin, Wyndbreakers, Raglan Road house band Creel and Albannach

-- World-famous U2 tribute band Elevation, playing Saturday and Sunday

-- Renowned Irish dancer and choreographer Ronan McCormack of the original Riverdance cast, leading Irish Dance Workshops Friday through Sunday and distinguished Dublin-born multi-instrumentalist Declan Masterson, leading Irish Music Workshops

-- The Raglan Road Dancers, seven full-time champion dancers, performing daily

-- "The Electric Ceili," (kay-lee) Sunday evening, bringing together a host of Irish musicians and dancers
Guests can order from the Raglan Road and Cooke's of Dublin popular food and drink menus throughout the event. There also will be additional food offerings across Pleasure Island. On Saturday, March 16 and Sunday, St. Patrick's Day, Raglan Road seating will be available on a first-come, first-served basis. Access to select entertainment on March 16 will include a $5 cover charge; on March 17, the cover is $10. Raglan Road reservations can be booked on March 14 and 15 by calling 407-938-0300. For more information visit http://www.raglanroad.com/st-patrick-s-festival
Epcot
20th Epcot International Flower & Garden Festival: March 6 through May 19, 2013. This year at the festival, topiaries of the Fab Five -- Mickey Mouse, Minnie Mouse, Goofy, Pluto and Donald Duck -- will welcome Daisy to their Epcot front-entrance barbecue. In addition, there will be a number of new topiaries in the park, including Mike and Sully from Disney-Pixar's "Monsters Inc." on the walkway from Future World to the park's World Showcase. A new "Cars" playground based on Radiator Springs will bring Lightning McQueen and Mater to life in topiary on the Test Track Walkway. The opening weekend Flower Power Concert Series at America Gardens Theatre will present former Monkee and fan favorite Micky Dolenz ("I'm a Believer") March 8-10. Returning programs include daily hands-on gardening seminars and HGTV celebrity presentations. The festival, including all gardening programs and exhibits, is included in regular Epcot admission.
Flower Power Concert Series for 2013 (lineup subject to change):
-- March 8-10: Micky Dolenz
-- March 15-17: Chubby Checker & The Wildcats
-- March 22-24: The Guess Who
-- March 29-31: Nelson
-- April 5-7: The Turtles featuring Flo & Eddie
-- April 12-14: Paul Revere & the Raiders
-- April 19-21: The Village People (New to the festival this year!)
-- April 26-28: The Orchestra, featuring former members of ELO and ELO II
-- May 3-5: Tommy Roe (New to the festival this year!)
-- May 10-12: Herman's Hermits starring Peter Noone
-- May 17-19: Starship starring Mickey Thomas
Guests at the 2013 Epcot International Flower & Garden Festival can visit the Land of Oz, based on the upcoming Disney film Oz The Great and Powerful, in the form of an original interactive play area, which is open now. There are carnival games in a circus-themed area with red-and-white tents, plus fun photo opportunities. The "Land of Oz Play Area" features play equipment adorned with giant flowers, The Great and Powerful Oz's crashed hot-air balloon, and more. Guests can also wander through the "Oz Movie Garden," spotlights lush, unusual plants inspired by the Land of Oz. Read Kristin Ford's blog about the new play area here:
http://land.allears.net/blogs/kristin-ford/2013/02/ozthemed_play_structures_open.html
For the third year in a row, the Festival is being presented by HGTV. Personalities from HGTV and DIY Network shows will once again be on hand to meet visitors to the festival. New to this year's festival are HGTV and DIY stars like Florida's own David Bromstad (HGTV Design Star, ColorSplash, Design Star All-Stars); Egypt Sherrod, new host of HGTV's Property Virgins; Sara Peterson, editor-in-chief of HGTV Magazine; Design on a Dime's Casey Noble; Chris Lambton from Going Yard; and Chris Grundy from DIY Network's Cool Tools. The complete lineup, subject to change, is:
March 8-10 -- Chris Lambton, Going Yard
March 15-17 -- Chris Grundy, DIY Network's Cool Tools
March 22-24 -- Egypt Sherrod, host of Property Virgins
March 29-31 -- Brandon Johnson, My Yard Goes Disney
April 5-7 -- Meg Caswell, Meg's Great Rooms
April 12-14 -- Jason Cameron, DIY Network's Desperate Landscapes and Man Caves
April 19-21 -- Sara Peterson, Editor-in-Chief, HGTV Magazine
April 26-28 -- Carter Oosterhouse, Million Dollar Rooms
May 3-5 -- Casey Noble, Design on a Dime
May 10-12 -- Dan Faires, HGTV.com, DanMade
May 17-19 -- David Bromstad, HGTV Design Star, ColorSplash, Design Star All-Stars
http://allears.net/tp/ep/fg13/epcot-HGTV-presentations-2013.htm
Also, this year the festival will feature a number of special food and beverage items, in locations especially created for the event. The Garden Marketplace will have culinary creations ranging from smokehouse barbecue and shrimp with grits and Zellwood corn to sweet "frushi" made with fresh fruits and coconut rice. The Garden Marketplace will also serve specialty drinks like Hot Sun Tomato Wine from Florida Orange Groves Winery and Dole Whip with Spiced Rum, as well as non-alcoholic drinks like Frozen Desert Violet Lemonade and Wild Berry Slush. In addition there will be special marketplaces, similar to those featured around World Showcase during the Epcot Food and Wine Festival, which will include Florida Fresh at World Showcase Promenade, Smokehouse Barbecue and Brew at American Adventure courtyard, Primavera Kitchen at Italy, Hanami at Japan and eight others. Beverage specialists will also be serving brews and beverages at the food marketplaces and at Fruits by the Glass and Pineapple Promenade.
http://allears.net/tp/ep/fg13/epcot-flower-and-garden-festival-food-and-beverages-2013.htm
The Kinsey Collection, housed in the American Heritage Gallery in Epcot's American Adventure, is an exhibit of more than 40 pieces of art, artifacts, books, sculptures and documents. It will officially open on March 8, 2013.

Disney Design Group Artist Thomas Scott will make a special appearance at Disney's Pin Traders in the Downtown Disney Marketplace on Friday, March 1 from 5 to 7 p.m. to mark the release of the third edition 2013 Poster Art inspired Disney pin.
Disney Dreamers Academy with Steve Harvey and Essence Magazine: Entering its sixth year, Disney Dreamers Academy continues its mission to inspire and fuel the dreams of teens and help them prepare for the future. Each year, 100 students are selected to participate in hands-on, full-immersion workshops related to career paths ranging from animation to zoology. Each participant learns important skills such as communication techniques and networking strategies. The teens, along with a parent or guardian, will be at the Walt Disney World Resort March 7-10 to participate in this once-in-lifetime, innovative, outside-the-classroom educational and mentoring program.
http://land.allears.net/blogs/dnews/2013/02/disney_dreamers_academy_announ.html
-=-=-=-=-=-=-=-=-=-
Don't forget to check our Events page for current updates: http://allears.net/pl/events.htm
-=-=-=-=-=-=-=-=-=-=-=-=-=-=-=-=-=-=-
REHABS AND CLOSINGS
=-=-=-=-=-=-=-=-=-=-
Magic Kingdom
Splash Mountain is closed for enhancements and will reopen on March 19, 2013.
Fantasyland Expansion: The ongoing Fantasyland expansion project continues with the opening of Princess Fairytale Hall in 2013 and the debut of a new Disney "mountain" in the form of the Seven Dwarfs Mine Train in 2014.
The Magic Kingdom's Main Street Bakery closed for refurbishment in January 2013 and will reopen as a Starbucks in early summer. The cast members there will wear a costume consistent with the early 20th century look and feel of Main Street, U.S.A. The Starbucks location will offer the full complement of Starbucks signature beverages, artisan breakfast sandwiches and a wide selection of baked goods, including muffins, scones and specialty treats.
http://land.allears.net/blogs/dnews/2012/11/starbucks_locations_at_magic_k.html
Epcot
Boardwalk Resort
Luna Pool closed January 28, 2013 until sometime in March 2013. A shuttle will take Boardwalk guests to Stormalong Bay at the Yacht and Beach Club during the Luna Pool closure (check with front desk for details).
The BoardWalk Bakery is undergoing renovations now through April 26, 2013. The renovation will include a new entrance, queue area, and refillable mug station. When the bakery reopens, the menu will include soups, sandwiches, and salads. During the closure, some bakery goodies will be sold from a temporary tent set up outside on the boardwalk. You'll find the tent located between the BoardWalk To Go kiosk and BoardWalk Joe's Margarita Bar. The temporary location will offer a limited selection of pastries, sandwiches, snacks, and drinks, and will be open from 6:30 a.m. to 11 p.m. The Belle Vue Lounge, off of the hotel's main lobby, will still be open for continental breakfast as usual. For guests who are using refillable mugs, you'll still be able to pick up the mugs at the temporary tent location, or at Seashore Sweets, located adjacent to the Bakery. Guests can refill their mugs at the temporary location from 6:30 a.m. to 11 a.m. daily. After 11 a.m., refills will be available at the Boardwalk Pizza Window until midnight. Guests can also refill their mugs during these hours at Belle Vue Lounge, Seashore Sweets, and Leaping Horse. (Note also that Leaping Horse is also closed during the scheduled pool renovation through early March.)
Contemporary Resort
California Grill closed for an extensive renovation in early February 2013. The restaurant is slated to reopen late summer and will be sporting a new look and menu.
http://land.allears.net/blogs/dnews/2013/02/a_preview_of_the_new_californi.html
The 14th floor rooms and suites of the Contemporary Resort closed for refurbishment in January. Some renovations planned for these suites include: a hard and soft goods refurbishment (things like bedspreads, linens, furnishings, etc.); improvements to the concierge lounge that will capitalize on the sweeping views of Cinderella Castle, nightly fireworks and the Seven Seas Lagoon or Bay Lake; enhancements to the corridors and elevator foyer. The new room design and in-room amenities will be reflective of high-end suites at all deluxe Disney Resorts. The health and wellness concept that was mentioned last year will not be included on that floor or within the suites; however, most of the design concepts previously shown for these suites will be incorporated. The refurbishment is expected to last through late summer 2013 (dates are subject to change).
Saratoga Springs Resort & Spa
The "soft goods" room refurbishment at Disney's Saratoga Springs Resort & Spa continues. Accessories and linens are being replaced. The project is expected to last through spring 2013. Note that all refurbishment dates are estimates; exact project dates may vary.
http://dvcnews.com/index.php/resorts/saratoga-springs/news/1881-saratoga-springs-room-refurb-details
The spa at Disney's Saratoga Springs Resort temporarily closed for renovation. It will reopen in the summer as Senses - A Disney Spa at Disney's Saratoga Springs Resort.
Blizzard Beach closed in January for its annual rehab, which will run through March 16, 2013.
A complete list of rehabs can be found here: http://allears.net/tp/rehabs.htm
= = = = = = = = = = = = = = = = =


MAGICAL MOMENTS
= = = = = = = = = = = = = = = = =
Krystal Lane: Our favorite moment of the trip was my 2-year old meeting Cinderella. She was so kind and talked to my son about one of his favorite characters, Buzz. She told him they have dinner dates at the castle and he flies around the room. At the end of the visit, she leaned over and gave my son a big kiss on his cheek and left prints from her lipstick. He fell in love at that very moment I believe. That's all he spoke about that day, telling everyone, including other cast members, and still does to this day. Whenever he sees a castle, be it book, TV, or even a tall church that he thinks looks like a castle, he will speak of his kiss. He points to his cheek with a great big smile and says, "Aww, Cinderella kissed cheek." Something we will never forget.
MaryAnn Romagnano: I am very passionate about Walt Disney World. I took my children as often as money and time allowed when they were young. Now my children are grown and have their own busy lives. We usually plan to have photos taken in front of Cinderella Castle on our first day. So as we posed for the PhotoPass photographer on our latest trip, I felt a tap on my shoulders. I turned to find my son and daughter-in-law waiting to surprise me. I was overwhelmed. The photographer who had taken the picture was in on the surprise, too! She had been waiting for us and posed us just right so the surprise came off without a hitch. It was truly a magical moment for me.
Ann Sepersky: While staying at the Art of Animation resort, my daughters enjoyed the daily lessons in animation from Jason, the Animator. It gave my older daughter more confidence in her drawing abilities and they were so proud to show me what they'd drawn. Jason is more than just an Animator, though. He was a superhero to my daughter. One afternoon, while walking into the building, she was stung by a bee. She burst into tears, and the front desk staff was quick to offer me an ice pack and cream for her sting. Jason just happened to be in the lobby area. He saw her, and came over to find out what was wrong. He got down to her level, talked gently, and calmed her, made her laugh. Then he asked us to wait just a minute. Moments later he appeared with a stuffed "Squirt," the character he'd taught her to draw the day before. He offered the stuffed animal to help her forget the bee. She hasn't stopped talking about Jason and Squirt, but she hasn't even mentioned the bee sting again. He truly went above and beyond and turned an unfortunate situation into a magical moment for her, and us!
-=-=-=-=-=-=-=-=-=-=-=-=-=-=-=-=-=-=-=-=-
We just bet you have a story to tell about an unforgettable moment during your Disney vacation! Please send your favorite memory for inclusion in a future AllEars® to: allearsnet@yahoo.com
This month we also have a collection of readers' magical moments captured in photographs -- Kids and Characters! See them in our photo feature, "Wandering the World":
http://allears.net/tp/wander/wander.htm
Thank you all for sharing!
-o-o-o-o-o-o-o-o-o-o-o-
Editor's Note: This story/information was accurate when it was published. Please be sure to confirm all current rates, information and other details before planning your trip.