July 2011 Walt Disney World Bits and Bites
This article appeared in the June 28, 2011 Issue #614 of ALL EARS® (ISSN: 1533-0753)
= = = = = = = = = = = = = = = = =


STEP BACK IN TIME
= = = = = = = = = = = = = = = = =
by Debra Martin Koma
AllEars® Senior Editor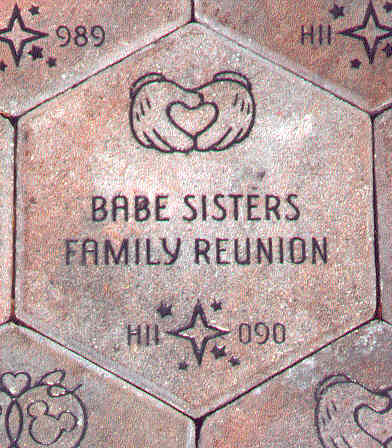 We rummage around in our archives for this monthly feature, which indulges in a bit of nostalgia, taking you back in history for a glimpse of Walt Disney World and the Disney Company through the ages. This month, we take a look at the "Walk around the World Bricks," those hexagonal stones that pave the walkways in front of the Magic Kingdom, and along the paths to the Transportation and Ticket Center and over to the Contemporary and Polynesian Resorts.
The program, which started in 1994, offered Disney fans a chance to purchase a brick paver that would be engraved with personal information (e.g. names, hometown, date you wished to commemorate) and one of several designs, then placed around the Seven Seas Lagoon, along a walking path starting at the Magic Kingdom. The path eventually stretched east from Magic Kingdom to the Contemporary, basically following the monorail track. It also extended west toward the Grand Floridian but dead-ends before it reaches the resort. In addition, there are bricks located at the Transportation and Ticket Center and over to the Polynesian Resort.
Each brick has a serial number, such as W00-250 or E00-250. The letter that precedes the numbers determines which path the brick is on: W for West of the Magic Kingdom, E for East, C for the Contemporary, H for the Transportation and Ticket Center, and P for the Polynesian. The numbers give the general area on the path. The last three digits (those after the hyphen) are unique identifying numbers. The bricks are not necessarily placed in numeric order. (The above two numbers belong, respectively, to Michael Eisner and his wife, and Roy Disney and his wife.)
In addition to the brick, purchasers were given a certificate of authenticity, signed by Roy Disney, with an image of the brick and its location. Original bricks cost around $85. By January 1998, Walk Around the World Bricks started at $96 ($86 with a discount via the now-defunct Magic Kingdom Club). There were also special 25th Anniversary Granite Bricks that cost $225, which were located at the TTC. Bricks were guaranteed to be maintained by Disney for at least 10 years.
Sales of the bricks were discontinued early in 2000, most likely to make way for the Millennium Celebration's new program, "Leave a Legacy," which allowed visitors to have their images preserved on pillars located at the entrance of Epcot. (The Leave a Legacy program is now also discontinued, although the pillars in Epcot are scheduled to remain in place for quite some time.)
And an interesting side note: Cast Members at the former Dixie Landings and Port Orleans Resorts chipped in to buy eight Walk Around the World bricks in memory of the children who died in the Oklahoma City bombing of April 19, 1995. Seven of the bricks form a circle with the eighth one in the middle, about midway between the bus stop at the Magic Kingdom and the Contemporary.
Do you or your family have a Walk around the World Brick? Some friends and I do!
http://allears.net/tp/mk/bricks.htm
= = = = = = = = = = = = = = = = =


HIDDEN MICKEYS ALERT
= = = = = = = = = = = = = = = = =
Steven Barrett, author of the Hidden Mickeys books and webmaster of www.HiddenMickeysGuide.com, informs you of a few Hidden Mickeys to check out the next time you visit World Showcase in Epcot:
1. At the Disney Traders store near Showcase Plaza, you can spot small classic Mickeys in Duffy Bear's pawprints on postcards in the outside windows.
http://allears.net/btp/images/hidden-mickey330.jpg

2. At the Outpost between the China and Germany pavilions, three of the short wooden posts at the corner closest to the bridge form a classic Mickey. (Thanks to Jason Gall.)
http://allears.net/btp/images/hidden-mickey331.jpg

3. Watch the Fife and Drums Corps performance in The American Adventure pavilion. Along with the black classic Mickeys on the drums, a small blue classic Mickey decorates the smaller snare drum; it's traced on a blue banner on the right rear middle of the drum. (Thanks to Denise, and Sharon Dale.)
http://allears.net/btp/images/hidden-mickey332.jpg
You can find a selection of past Hidden Mickeys Alerts here:
http://allears.net/btp/hiddenm2.htm
= = = = = = = = = = = = = = = = =


VEGAN TIPS
= = = = = = = = = = = = = = = = =
by Emily Woesthoff
General Manager for BabyCakes NYC at Downtown Disney
This Vegan Tip comes to you in response to a request from a very special reader (no, it's not me... or my mom), but it is about something very near and dear to my heart: BabyCakes NYC!

As many of you know, the Downtown Disney location opened in November as the bakery's third outpost (there is a location in Downtown Los Angeles and, of course, the flagship shop in New York City). The bakery is located in the Downtown Disney Marketplace in between T-Rex (look for the big dino-skeleton) and the LEGO Store (look for the mini building block re-creation of scenes from Snow White and the Seven Dwarfs) in a building that is marked Fresh A-Peel and Pollo Campero on the outside (sign coming soon!). Fear not my friends, the bakery has a dedicated kitchen that separates its confections from the other items made in the building. It also has a dedicated counter space to maintain the allergen-friendly claims that the bakery makes.

Just what are those allergen-friendly claims, you might ask? Not only is the bakery completely vegan but also totally gluten-free as well! And, get this: The desserts do not contain refined sugar. They are sweetened with either unrefined sugar or agave nectar. For those of you with nut allergies, many recipes contain coconut (classified as a tree nut by the FDA). Additionally, the flours used are packaged on equipment that also packages almond flour, hazelnut flour, and soy flour. However, the machines are power washed in between runs and the first 30 pounds of each run are not packaged for sale. You can have a look at the bakery's website, www.babycakesnyc.com for a list of all of our ingredients and allergen claims. Better yet, you can always email our Downtown Disney location directly (dtd@babycakesnyc.com).

An assortment of cupcakes, doughnuts, cookies, loaves, and brownies are served up on a daily basis. You can also follow the bakery on Twitter (@DTDBabyCakesNYC) to see daily flavors and specials. I hope to see you there soon!
Missed previous Vegan Tips from Emily? We're compiling them here:
http://allears.net/din/vegantips.htm
= = = = = = = = = = = = = = = = = =

RATE & REVIEW SPOTLIGHT
= = = = = = = = = = = = = = = = = =
Compiled by AllEars® Team Member Cathy Bock
In this monthly featurette, we take a look at recent comments made in the AllEars.Net Rate & Review section about a particular restaurant, resort, event, etc. This month, we examine what AllEars® readers are saying about breakfast at The Crystal Palace, located in the Magic Kingdom.
A character meal featuring Pooh and his friends, the Crystal Palace breakfast has an average rating of 9.0 and is recommended by 98% of reviewers.
From recent reviews:
Food: "food was good"; "due to our late seating the food was apparently not replenished as it should have been"; "buffet offerings have decreased considerably"; "food was very good"; "food was tasty and there was plenty of choice"; "huge selection of breakfast foods and VERY good too"; "food was excellent -- loved the stuffed French toast on the kiddie table!"; "frittata, Pooh's puffed French toast, sausage, & strawberries w/ cream were stand-outs to me"; "Pooh French Toast was a highlight! The rest of the offerings are standard steam table/buffet fare"; "food was excellent".
Characters: "not all characters came, kids were disappointed"; "got excellent pictures of the girls with all 4 characters and their interaction with them was excellent!"; "came around quickly and we got some great photos"; "they were very cute with my elderly parents"; "characters (Pooh and Tigger) were on their best behavior and I was greeted warmly by Tigger!"; "character interaction was good"; "spent a good amount of time with the kids and posed happily for all pictures"; "got to see all of the characters once, and a few twice"; "4-year-old was in hog heaven with all of the characters".
Service: "server was prompt and attentive"; waiter was SO friendly!"; "waitstaff are all great"; "staff are also less attentive in clearing plates or offering beverage refills"; "staff was GREAT"; "cast members are helpful in taking pictures"; "our server was excellent"; "server gave us an anniversary card signed by all the characters, very sweet"; "had to wait about 20 minutes for our table"; "service was very fast and efficient".
Atmosphere: "it gets a little noisy"; "beautiful restaurant and the character topiaries are really cool".
Overall: "a must-do for us on every trip"; "recommend this restaurant for anyone"; "great way for families to start their day at the park!"; "only negative I would say is that the entire party has to be there to sit"; "great way to start the first morning of the holiday"; "recommend this place for breakfast only if you can get an early reservation where you wouldn't have to worry about them running out of food!"; "there are better character breakfasts".
If you have recently had breakfast at the Crystal Palace, we'd love to have your review!
http://land.allears.net/reviewpost/showproduct.php?product=60&cat=36
= = = = = = = = = = = = = = = = =


MONTHY REMIND-EARS
= = = = = = = = = = = = = = = = =
EVENTS
4th of July/Independence Day Events:
-- The Magic Kingdom will present "Disney's Celebrate America! A Fourth of July Concert in the Sky." This patriotic fireworks spectacular pays homage to the hopes and dreams of America's forefathers, and will light the skies at 9 p.m. on July 4. For guests who would like to begin the Independence Day celebration early, the show also will be presented July 3 at 9 p.m. Theme park hours on July 4 (subject to change without notice) are 9 a.m.-11 p.m.
-- At Disney's Hollywood Studios, traditional Fourth of July fireworks take on a different spin when Mulch, Sweat, and Shears perform for the all-new Rockin' 4th of July Celebration! The show takes you on a musical road trip across America that will highlight each region's contribution to rock and roll. Fireworks, lighting and special effects -- backed by the driving live rock and roll of Mulch, Sweat, and Shears -- combine to bring a new twist to celebrating Independence Day. Showtime July 4 is 9:45 p.m. Before or after the show, you can also see Disney's Fantasmic!, which will be performed twice on July 4, at 9 and 10:30 p.m. Theme park hours are 9 a.m.-10 p.m. (subject to change without notice).
-- At Epcot, IllumiNations: Reflections of Earth will be enhanced with "The Heartbeat of Freedom," an overture of traditional Americana themes displayed in a pyrotechnic and laser light event. The July 4 show is at 10 p.m. In addition, Epcot guests may hear the Voices of Liberty 4th of July Concert and participate in meet-and-greets with Benjamin Franklin, Betsy Ross and Disney characters in patriotic attire at American Adventure. Theme park hours are 9 a.m.-10 p.m. (subject to change without notice).
-- There are no fireworks at Disney's Animal Kingdom, however park hours on July 4 are 9 a.m.-8 p.m. (subject to change without notice).
Animal Kingdom
July 27 - International Year of the Forest Celebration
Epcot
The Sounds Like Summer Concert Series of tribute bands continues in America Gardens Theatre in World Showcase. The line-up (subject to change):

--June 26-July 2: Slippery When Wet - The Ultimate Bon Jovi Tribute
--July 3-9: Little Queen - The Music of Heart
--July 10-16: Frontiers - A Tribute to Journey
--July 17-23: Karin Lawson - A Tribute to Janet Jackson
--July 24-30: 2U - A Tribute to U2
Show times are 5:45, 7 and 8:15 p.m. nightly, except for July 4, when show times will be 5:15, 6:30, 7:45 and 9 p.m.
Downtown Disney
Walt Disney World Passholders and Disney Vacation Club Members are eligible to attend the "Sizzling Summer Sale" at the World of Disney store at Downtown Disney Marketplace on Saturday, July 23, 2011 from 6:30 to 9 a.m. Select merchandise will be on sale for up to 75 percent off. In addition there will be special door busters, surprise markdowns and more. A valid Passholder ID and government issued photo ID must be presented to enter World of Disney store for the early shopping opportunities.
http://psc.disney.go.com/eventservices/artofdisneyparks/event/wdw_sizzling_summer_sale_2011.html
ESPN Wide World of Sports
ESPN RISE Games will be held July 13-26, 2011 at ESPN Wide World of Sports Complex. The ESPN Rise Games are a weeklong, multi-sport event that feature the premier high school talent in the country in basketball, football, lacrosse and soccer, while youth athletes participate in football, baseball, basketball, field hockey, lacrosse, and track & field.
AllEars® Team Meets:
-- July 8, 2011, at 8 a.m. -- It's a TWEET-UP! Follow Deb Wills, Deb Koma and Jack Spence as they cruise around Bay Lake and the Seven Seas Lagoon with Sammy Duvall's Watersports Centre! Follow @AllEarsNet and @AllEarsDeb on Twitter for all the fun, including a live video stream (weather and technology permitting)!
-- July 8, 2011, from 2 to 3 p.m. -- Take to the shade in the heat of the day with The Debs at the Animal Kingdom Lodge's Sunset Lounge overlooking the Sunset Savanna. The lounge is off the main lobby, to the left past the reception desk.
http://allears.net/btp/teammeets.htm
=-=-=-=-=-=-=-=-=-=-
Don't forget to check our Events page for current updates: http://allears.net/pl/events.htm
-=-=-=-=-=-=-=-=-=-=-=-=-=-=-=-=-=-=-
REHABS AND CLOSINGS
Animal Kingdom
Primeval Whirl is closed for refurbishment through September 14.
Magic Kingdom
The Fantasyland Forest development in the Magic Kingdom has meant the closure of several Magic Kingdom park areas in 2011. Mickey's Toontown Fair's last day was February 11, 2011. Work is now well under way on transforming the area into the new Storybook Circus section of Fantasyland. http://allears.net/tp/mk/fant_expansion.htm
For more details and an artist's renderings of the new Fantasyland, read the official press release here:
http://land.allears.net/blogs/dnews/2011/01/largest_expansion_in_magic_kin_1.html
The Enchanted Tiki Room (Under New Management) at Magic Kingdom, which has been closed since a fire early this year, is now being renovated to more closely resemble the original version of this attraction, originally called Tropical Serenade. The shows former winged hosts, Jose, Fritz, Pierre and Michael, will once again take center stage. This Walt Disney World attraction has been entertaining guests since the theme park's opening day on October 1, 1971. Tropical Serenade became The Enchanted Tiki Room (Under New Management) in 1998, with the addition of Iago (from Aladdin) and Zazu (from The Lion King). The renovated show will debut at Walt Disney World around August 15.
http://land.allears.net/blogs/dnews/2011/05/enchanted_tiki_room_to_transfo_1.html
The Frontierland Shootin' Arcade will be closed for refurbishment June 13 through September 30, 2011.
The Firehouse Gift Station in Magic Kingdom will close on July 10, 2011. Specific plans for the Firehouse have not yet been announced, but the building exterior will remain the same. In addition, patches from local firehouses will still be accepted for display at the Firehouse when it reopens. In the interim, you can take these patches to Magic Kingdom's City Hall.
Disney's Art of Animation Resort
Disney's Port Orleans-Riverside Resort
Royal Guest Rooms are now under construction in the Magnolia Bend section of the Port Orleans-Riverside resort. Opening in early spring 2012, the Royal Guest Rooms allow princes and princesses of all ages to stay where Disney royalty have stayed. Guests find regal touches left behind by some of their favorite Disney characters -- fiber optics special effects above ornately decorated beds, gold and crystal accents, custom linens and drapes, and in-room art and details including Princely banners and Princess friends. The 512 Royal Guest Rooms start at $189 per night, and are booking now, for stays early in 2012.
A complete list of rehabs can be found here: http://allears.net/tp/rehabs.htm
= = = = = = = = = = = = = = = = =


MAGICAL MOMENTS
= = = = = = = = = = = = = = = = =
Each month we share reports of guests at Walt Disney World and Disneyland experiencing special Magic, which we call "Magical Moments":
Tanya Durham: I had the opportunity to take my 9-year-old son, Jarod, to Walt Disney World to celebrate his 10th birthday. We left his dad and three other siblings at home, and it was our special trip. The second day we were there, we were eating breakfast at the Tusker House and a Disney cast member came up to our table and asked if we would like to be in the Jammin' Jungle Parade that afternoon. Apparently, four families are chosen each day to be in the parade. Jarod was ecstatic! So about an hour before the parade, we got to go "backstage" and prepare, then we were on the very first jeep with Rafiki. We met so many nice people and the experience was so great! It was truly a birthday present he will never forget (and neither will I)!
Tami Nutt: We visited Magic Kingdom back in December in search of my son's favorite character: Peter Pan. We soon learned that Peter was not making appearances at that time. On our most recent trip, we were determined to find Peter! A cast member informed us that Peter would be by the carousel a few times that afternoon, so we checked with Guest Relations to find out the times Peter was scheduled to visit. The next time was at 1:45 p.m. and it was already 1:15, so we headed toward the carousel determined to find the elusive boy! To our surprise, Peter was already there, but we soon learned he had to leave for a while to perform in the Castle show. So we waited. As Peter returned, a crowd quickly filled the queue behind us. Peter exclaimed, "I know you! You were here when I left!" We replied that we wanted to meet him, so we simply waited for his return. He stated, "Well, you waited for me for 15 minutes, so it's only fair that I spend 15 minutes with you!" He sat on the ground and paid full attention to my son for what seemed like an hour, but was probably closer to five minutes. He personalized the autograph in my son's book, asked him about his school, his home, and what he likes to play, and took several pictures with him. My son was awestruck -- he could barely respond to any of the questions, but definitely gave Peter some big hugs and high-fives!
Dave F.: My wife and I decided to bring the kids down to WDW in September 2009, then decided to bump it up early. We went in February, but the kids didn't know. My wife and I were talking one day not paying much attention to the "ears" around us, and our 15-year-old overheard us. We thought the cat was out of the bag, so there went the surprise. Our son had a genetic disorder so it was hard to understand him at times when he talked. As we were getting ready for our trip, our 8-year-old daughter asked where we were going, and my wife explained to her that we were going to the Daytona 500. So for two weeks, my daughter thought we were going to the "Daytona 5000" (Daytona 500). The day to leave came and we were all packed up. My son kept saying, "Sissy surprise Disney World, Sissy surprise Disney World." We thought the cover was blown, but my daughter said, "I know Jordan, we are going in September." Little did she know, we were on our way to WDW. So for our 14-hour drive all we heard was, "Sissy surprise Disney World," from our son. As we crossed into Florida we thought our daughter would figure it out, but with our son telling her and the big Disney signs, she still didn't get it. Once we got close enough, we told her we weren't heading to Daytona and she started to cry until she saw the WELCOME to Disney World sign. Then she was surprised, and our son was saying "see Sissy surprise Disney World." Only thing missing was the video camera was charging, so we didn't get to get her reaction on camera. Also that was our last trip to Disney as a whole family, our son passed away from his disorder that November. So I was glad we bumped up our trip, if we had waited we would not have made it for that last time. Jordan loved WDW since the first time we had come down with the Make-A-Wish Foundation. His favorite ride was "it's a small world" and his favorite show was the Festival of the Lion King. Each time we visit the ride or see the show, it reminds me of this trip.
-=-=-=-=-=-=-=-=-=-=-=-=-=-=-=-=-=-=-=-=-
We just bet you have a story to tell about an unforgettable moment during your Disney vacation! Please send your favorite memory for inclusion in a future AllEars® to: allearsnet@yahoo.com Thank you all for sharing!
-o-o-o-o-o-o-o-o-o-o-o-
Editor's Note: This story/information was accurate when it was published. Please be sure to confirm all current rates, information and other details before planning your trip.