June 2010
Walt Disney World Bits and Bites
Feature Article
This article appeared in the May 25, 2010 Issue #557 of ALL EARS® (ISSN: 1533-0753)
= = = = = = = = = = = = = = = = =

STEP BACK IN TIME
= = = = = = = = = = = = = = = = =
Ever wonder what Walt Disney World was like way back when? We rummage around in our archives for this monthly feature, which takes you back in history for a glimpse of Walt Disney World through the ages. This month we go back to 1996!
Did you know that there was once a Pocahontas and Friends Character Breakfast? It was held at the Wilderness Lodge in Artist Point and opened on June 17, 1996. Joining Pocahontas was Captain John Smith, Meeko and Governor Ratcliff. Breakfast was "all-you-care-to-eat" and began with orange juice, coffee and fresh pastries. Next came scrambled eggs, cinnamon French toast, multi-grain pancakes, breakfast potatoes, bacon and sausage. Breakfast cost $13.50 for adults and children ages 3-11 were $8.25.
While we couldn't find an exact end date to the breakfast, it only lasted through 1997 or so. Beginning in 1998, Pooh and Friends were the featured characters at breakfast until 2001.
Do you have any photos of the Pocahontas and Friends Character breakfast at Artist Point? We'd love to put them in our archive. Please send them to allearsnet at yahoo dot com . Please understand we can't guarantee that all photos will be published.
= = = = = = = = = = = = = = = = =


HIDDEN MICKEYS ALERT
= = = = = = = = = = = = = = = = =
Steve Barrett, author of the Hidden Mickeys books and webmaster of www.HiddenMickeysGuide.com points out a few subtle Hidden Mickeys at Walt Disney World:

1. Inside The Seas with Nemo & Friends Pavilion, in the waiting room for "Turtle Talk with Crush," a tiny classic Mickey is in the pink and brown coral in the first window painting to the right as you enter the room. At the lower part of the painting, the Mickey is left of the third tallest (leftmost) blue tube, about one quarter of the distance up the side of the tube. Mickey is slanted to his right. (Thanks to Donna McMurrey.)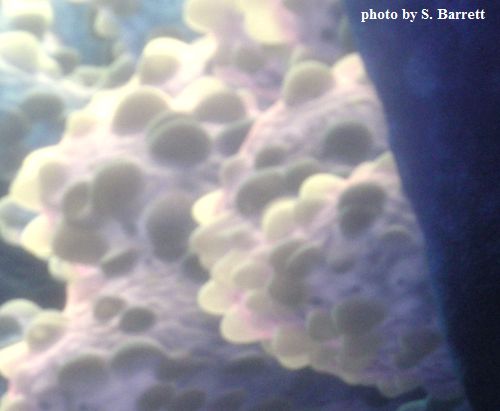 2. A classic Mickey is in the mosaic mural on the right wall outside as you enter the Land Pavilion. Find the word "LAND" on the mural and look slightly above and to the right about six feet or so to a reddish plateau. Just above the left side of the flat upper part of the plateau are three jewels, a green "head" and two reddish "ears," that form Mickey. (Thanks to Skip, Susan and Jack Stinson.)




3. At Saratoga Springs Resort, partial classic Mickeys are in the left side of the gate to the Grandstand pool and on the back gate next to the restrooms. (Thanks to John Koerber, Susan McPherson, and Jessica Levenson.)
= = = = = = = = = = = = = = = = =


BOARDWALK
ENTERTAINMENT

= = = = = = = = = = = = = = = = =
by AllEars® Reader Laura Schmitt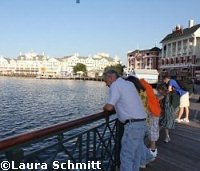 Well, one thing we learned early on our first Disney trip was that magic is in every moment, and sometimes, it's lurking where we least expect it. After our supper, our group made its way to the Boardwalk. I had never been to the Boardwalk and, to be honest, I had no desire to go to the Boardwalk. ESPN club...no thanks. Large groups of people just milling around...nope. Well, the Boardwalk turned out to be other than what I had expected. We walked slowly, looking at the signs, shops, the water and view. We stopped and leaned over the rail to enjoy the view of the pirate ship slide, the boats going back and fourth, Epcot in the distance. Everything looked lovely.
The girls, their uncle, and dad all stopped to try a couple of carnival games. No one won, but everyone had fun. For the girls, this was the first time they have played these types of games, and they got such a kick out of the experience.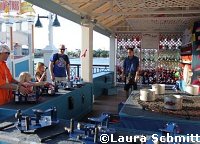 We all went into a fairly large Disney store, and looked around. We weren't really LOOKING for anything, in particular, just browsing. The girls traded pins with the cast members, and Bella found another baby princess for her collection. We were having a low key, lovely time. We went back out to and stumbled onto a magician right outside the door. Bean LOVES magic, so she was happy to see some tricks up close and personal. Well, if there is anything she loves more than magic, it's acting, theater, and hamming it up for a crowd. After a short time, she was called upon to be the new Magician's assistant. She was able to participate for quite a long time, and if you didn't know better, you would have thought she was part of the act. She played into every gag, stunt, and trick, and the audience was growing in numbers, and growing with laughter.
Just an hour earlier, she was showing us her own magic tricks at dinner! So, here she was, having a magic moment of her own on a leisurely stroll around the Boardwalk. It wasn't planned, it wasn't in my Disney Guide Book, it wasn't on the "list of things to do" or "attractions to see", yet here she was, all smiles and beaming to be having such a great time, and such a great memory. We all soaked up the fun and happiness of the moment.
So, the thing that I learned early on in the first trip was to go with the moment because sometimes, those little off the path insignificant surprises were among the most memorable and fitting. And it just further proves to me how Disney packages some of that pixie dust for everyone. They truly do. Just being there, away from work, obligations, cooking, the house... just being enveloped in time with my family in our happy place -- well, what could be better?
(Laura Schmitt lives in Iowa with her family where she practices as a Certified Nutrition Educator with study in holistic nutrition. In addition, Laura is a published author, public speaker on nutrition with a special emphasis on dietary restrictions, autism diets, and eating for wellness. Laura's favorite place to get away with her family is Walt Disney World, where they cater to the family dietary needs beautifully.)
= = = = = = = = = = = = = = = = =


MONTHLY REMIND-EARS
= = = = = = = = = = = = = = = = =
EVENTS
Summer Nightastic! - Shimmering shining Disney magic lights up the parks beginning June 6 and running through August 14.

The joyous sights and sounds of the Main Street Electrical Parade return to the Magic Kingdom. The parade will be led by Tinker Bell, who will wave from aboard a new float.

"Summer Nightastic Fireworks Spectacular," will also fill the night sky with vivid colors and brilliant visual effects set to a backdrop of whimsical music.

There will also be a dance party featuring high-energy music played by DJs.

http://land.allears.net/blogs/dnews/2010/03/main_street_electrical_parade_1.html
Star Wars Weekends - According to the Disney Parks News Blog, guests can expect a lot of surprises this year, celebrating the Star Wars movie series and the animated TV series The Clone Wars with special shows, presentations and memorabilia. The celebrity hosts for each weekend will be Jeremy Bulloch (Boba Fett from Empire Strikes Back and Return of the Jedi) and Ashley Eckstein (Ahsoka from The Clone Wars).

-- June 4 - 6 -- Billy Dee Williams, Ray Park and Dave Filoni
-- June 11 -13 -- Ray Park, Peter Mayhew and James Arnold Taylor

http://allears.net/tp/mgm/m_starwars.htm

Summer Nightastic! - Beginning June 6, t he Twilight Zone Tower of Terror will feature surprises for unexpecting guests with new lighting effects created especially for Summer Nightastic! In the courtyard of the Rock 'n' Roller Coaster featuring Aerosmith, DJs will spin sizzling summer tunes at the "Rock N' Glow Dance Party."
Epcot
The annual Sounds Like Summer concert series is held at Epcot's America Gardens Theatre, featuring "tribute" bands that cover music by popular artists. Admission to the concert series is free with paid admission to the park. The series runs from June 12 through July 31. The 2010 schedule is (subject to change):

-- June 12 - June 19: Stayin' Alive (Bee Gees)
-- June 20- June 26: Hotel California (Eagles)
-- June 27 - July 3: Karin Lawson - A Tribute to Janet Jackson

Showtimes are 5:45, 7 and 8:15 p.m. nightly, except July 4 shows which are scheduled for 5:15, 6:30, 7:45 and 9 p.m.
Expedition Everest Challenge - Animal Kingdom - June 12; Click here for official information from Disney's ESPN Wide World of Sports

The ESPN Wide World of Sports Grill has been designated an official viewing location for the upcoming 2010 FIFA World Cup. The month-long global soccer tournament will be telecast live on ABC, ESPN and ESPN2 from South Africa on the ESPN Wide World of Sports Grill's large high-definition screens. In addition, the ESPN Wide World of Sports Grill will offer special viewing parties running for the Round of 16, quarterfinals, semifinals and third-place match (June 26-July 10), which will include guaranteed seating to view the matches and an all-you-care-to-eat buffet featuring buffalo wings, hot dogs, seasonal fruit, build-your-own salads, a nacho bar, desserts and non-alcoholic drinks all for $19.99 per person, per game (plus tax). The event kicks off on June 11, with open seating for breakfast and lunch available at the ESPN Wide World of Sports Grill running through June 25. A special viewing area will be available for the championship match July 11. Reservations can be made by calling 407-WDW-DINE or by visiting espnwwos.com.
AllEars® Disneyland Meet June 11. Meet Deb Wills and Laura Gilbreath in Disneyland! http://allears.net/btp/teammeets.htm
Orlando Gay Days: This is event is NOT affiliated with the Disney Company in any way. It has been happening in the Orlando area since 1991. AllEars is not affiliated with the event, however we list it here so that you know when it is happening. http://www.gaydays.com
Don't forget to check our Events page for current updates: http://allears.net/pl/events.htm
-=-=-=-=-=-=-=-=-=-=-=-=-=-=-=-=-=-=-
REHABS AND CLOSINGS
Construction for the Fantasyland expansion has begun, necessitating the closing of several existing Magic Kingdom areas. Pooh's Playful Spot playground, Ariel's Grotto Character meet-and-greet and Scuttle's Landing have closed. Pooh and Tigger will appear in Town Square on Main Street, U.S.A. Enchanted Grove will now be open in Fantasyland for Extra Magic Hour mornings offering coffee and muffins. The Fantasyland pretzel cart will be located near Dumbo the Flying Elephant. Frozen Coca-Cola products will continue to be available at The Lunching Pad in Tomorrowland. During this expansion, classic Fantasyland attractions, including "it's a small world," Peter Pan's Flight, Mickey's PhilharMagic, Snow White's Scary Adventures, Cinderella's Golden Carrousel, Dumbo the Flying Elephant, The Many Adventures of Winnie the Pooh, and Mad Tea Party, will remain open.
Via Napoli, the new 300-seat restaurant/pizzeria being constructed in the Italy pavilion in Epcot, is slated to open in September. Disney has released an artist's rendering of what the new structure will look like when it's completed. Via Napoli wil be a full service pizzeria. The construction will create a whole new look, the area has been extended back another 50-60 feet and there will be a new piazza. In Europe there is often one building with different facades out front and that's what you will see in Via Napoli. The 3 pizza ovens are inspired by the 3 famous volcanoes in Italy: Mount Etna (Sicily), Stromboli (Aeolian Islands), and Mount Vesuvius (near Naples). The 3 oven "mouths" where the pizzas go in are inspired by Italy's Park of Monsters sculptures. Very thin crust pizza and when it's ready it will be served quickly and hot.


Cantina de San Angel at the Mexico pavilion in Epcot has closed for a significant refurbishment and expansion until September 2010. The company that operates the restaurants in the Mexico pavilion, San Angel Inn, LLC, plans to open Hacienda San Angel on the site, a new 400-seat waterside restaurant and quick service food location "specializing in the freshly baked culinary flavors of Mexico." The restaurant will have indoor and outdoor seating. It will be a dual purpose, flex restaurant. There will be 150 seats outside and 250 seats inside. During lunch the Cantina (quick service) is very busy, but there is not as much seating as desired. Therefore a portion of the sit down restaurant will be blocked off for Cantina guests to also enjoy the air conditioning. Around 4pm, the Cantina will still be working, but the whole inside will open as the full working table service restaurant. None of the seats will have backs to the windows so you can enjoy the lagoon and IllumiNations.

During the refurbishment, the San Angel Inn Restaurante and La Cava de Tequila, located inside the Mexico pavilion, and the Taqueria Del Lago, located alongside the promenade, will still be open for Mexican dining.

Honey I Shrunk the Audience closed on May 9 to make way for Captain EO, which is due to open in July 2, 2010.
Work will begin this spring on a new feature pool in the Paddock area of Disney's Saratoga Springs Resort & Spa, building on the resort's turn-of-the-20th-century, upstate New York theme. Plans call for the new pool, scheduled for completion in mid-2011, to replace the Paddock area's 1,100-square-foot quiet pool with a 3,300-square-foot zero-depth-entry pool, a 146-foot water slide, a 1,600-square-foot wet-play area, an expanded pool deck spanning more than 11,000 square feet and, for hungry swimmers and sunbathers who'd rather not make the trip across the lake to Artist's Palette, an on-site, quick-service-dining location.

http://land.allears.net/blogs/dnews/2010/03/new_feature_pool_at_disneys_sa.html
The Breathless II is unavailable until further notice due to unforeseen maintenance issues. If you have an existing reservation you will be contacted to reschedule if possible.
A complete list of rehabs can be found here: http://allears.net/tp/rehabs.htm
= = = = = = = = = = = = = = = = = = =


GIVE A DAY. GET A DISNEY DAY.
= = = = = = = = = = = = = = = = = =
Even though the program has reached its goal of recruiting 1 million volunteers and is not taking any additional applicants, we'll be sharing reports of guests who have experienced special Magic as part of the "Give a Day. Get a Disney Day" program:
Jgmj4: Our daughter, Alexandra, came up with the idea to conduct a bake sale to raise funds for Critter Camp Animal Sanctuary in German Valley , Illinois. The day before the sale, we spent about 10 hours baking goodies to sell, then the next day we sold all of our treats, making more than $200! We went to various stores and purchased items from Critter Camp's Wish List, then delivered all of the needed items. It was wonderful because our minivan filled to the top! It was amazing to see all that Beth (who runs the facility) does every single day for these rescued animals! There were rescued animals everywhere, all with wonderful "homes" set up appropriately for their needed environment. We got a wealth of knowledge, things we never knew and probably would never have known if we hadn't met Beth and her critters. It was such a memorable and humbling experience, one we are so grateful to have had, and one we will never forget. Can't wait to do it again!
Merci Hale: My four boys (ages 6 - 12) and I volunteered at an animal shelter in our area. It was about a 40-minute drive from our home, but it was one of the only options for children six years old and up. We walked the dogs for an hour. It was snowing, the roads were icy (there were no sidewalks to walk the dogs for most of the walk) and we were freezing. Then we got to go inside and fill humidifiers and feed and water the cats. This is a 'no-kill shelter' and they had a least 50 cats -- most free roaming. My 6-year-old feel in love with the cats and now asks all the time when he can go back and see 'his new friends'. Even though this was difficult in the beginning, it was very worth it. I asked the people at the shelter if this had been a good experience for them and they said they had over 500 volunteers in the month of January. They were so pleased and overwhelmed. They said this was the cleanest the shelter has ever been sinced it opened!
Debbie Wills (not to be confused with AllEars.Net's Deb Wills!): I volunteered at The New London Theatre in Snellville, Georgia, for the production of Pump Boys and Dinettes. As a part of the volunteer experience, volunteers were offered a chance to see the final dress rehearsal at a discounted price. It is a great show. I also received a free t-shirt of my choice of a previous production to wear on my volunteer night. On my volunteer night, I cleaned bathrooms, swept the theater and lobby and sold snacks at the concession stand during intermission. I will be volunteering at The New London Theatre again. I got more out of the experience than I could ever imagine.
-o-o-o-o-o-o-o-o-o-o-o-
Editor's Note: This story/information was accurate when it was published. Please be sure to confirm all current rates, information and other details before planning your trip.