March 2010
Walt Disney World Bits and Bites
Feature Article
This article appeared in the February 23, 2010 Issue #544 of ALL EARS® (ISSN: 1533-0753)
= = = = = = = = = = = = = = = = =

STEP BACK IN TIME
= = = = = = = = = = = = = = = = =
Ever wonder what Walt Disney World was like way back when? We rummage around in our archives for this monthly feature, which takes you back in history for a glimpse of Walt Disney World through the ages. This month we return to March 1997.
Disney's 220-acre Wide World of Sports Complex officially opened in March 1997 with a dozen baseball and softball fields, 12 lighted tennis courts, a track-and-field complex, six basketball courts, a golf driving range and six sand volleyball courts.
The Atlanta Braves and Cincinnati Reds played a Major League Baseball spring training exhibition on March 28, 1997 in the official grand opening event at Disney's Wide World of Sports Complex as the Braves began their spring training association here. Two-sport star Deion Sanders, then the Reds' lead-off hitter and starting centerfielder, recorded the first hit, stole the first base and scored the first run in Champion Stadium at Disney's Wide World of Sports Complex history. Former Braves slugger Fred McGriff hit the first home run, as the Braves won 9-7 in front of a capacity crowd of 10,000.
Champion Stadium at Disney's Wide World of Sports Complex is one of the most popular spring training ballparks in Major League Baseball. Sports celebrities and entertainers are often part of the experience, as many have taken the mound for ceremonial first pitches in front of sellout crowds. Some of the famous names who have thrown first pitches include: Super Bowl XL MVP Hines Ward, Tracy McGrady, NASCAR legend Richard Petty, actors Cuba Gooding Jr. and Matthew McConaughey, Derrick Brooks, Chicago Cubs Hall of Famer Ernie Banks and football coach George O'Leary.
EDITOR'S NOTE: February 25-26, 2010, the WWOS will officially be renamed ESPN Wide World of Sports. Deb Wills and Deb Koma will be on hand to report from the Grand Reopening ceremonies. In addition, we will also be covering events at Disney's Hollywood Studios for ESPN The Weekend. Watch for our live coverage on Twitter and Facebook, as well as the AllEars® Website.
= = = = = = = = = = = = = = = = =


FLOWER AND GARDEN
FESTIVAL FUN FACTS

= = = = = = = = = = = = = = = = =
More than 500,000 plants, trees and shrubs will be planted for this year's 17th annual Flower and Garden Festival at Epcot. Here are some other fun facts about this year's event, which starts this March 3 and runs through May 16, 2010.
-- 250,000 of those 500,000 plants are annual blossoms installed for the festival.
-- 30 million blooms blanket the park throughout the festival, which runs 75 colorful days.
-- More than 70 Disney character topiaries represent the largest collection of Disney character topiary in the world. Included are classic film stars like Mickey Mouse, Minnie Mouse, Donald Duck, Daisy Duck, Goofy, Pluto, Cinderella and Tinker Bell.
-- At 14 feet tall, Goofy is the tallest character topiary ever created.
-- 44 "flower towers" of impatiens line Innoventions Plaza.
-- 600 native butterflies represent up to 10 species at Fawn's Butterfly House, a gazebo-type screened enclosure filled with lush plants where guests can view the colorful butterflies.
-- The festival's weekend Flower Power concert series includes 11 artists and groups with 126 Top 40 hits, including 16 No. 1 songs. This year's musical hit-makers from the 1960s and '70s include Jose Feliciano, Paul Revere & The Raiders, David Cassidy, Tony Orlando, Herman's Hermits Starring Peter Noone, Davy Jones, and Chubby Checker & The Wildcats.
For more Fun Facts on the Flower and Garden Festival visit: http://allears.net/tp/ep/fg10/fg10_b.htm
= = = = = = = = = = = = = = = = =


HIDDEN MICKEYS ALERT
= = = = = = = = = = = = = = = = =
Steve Barrett, author of the Hidden Mickeys books and webmaster of www.HiddenMickeysGuide.com brings you a few Hidden Images from Disney's Hollywood Studios. Check them out!
1. A silhouette of Roger Rabbit is in an outside window of the Hollywood & Vine Restaurant. Face the restaurant entrance and look to an upper left window. (Thanks to Sharon Dale, Elton Hughes and Jill Sullivan, and Michael Nemeroff.)
http://allears.net/btp/hm281.jpg
2. Inside the Star Tours Gift Shop, at the "Build Your Own Lightsaber" station, a classic Mickey is on the front lower right panel. It's formed by bullet holes with surrounding black burn marks as the "ears" and a center raised circle as the "head." (Thanks to Tony Garon.)
http://allears.net/btp/hm282.jpg
3. Inside Walt Disney: One Man's Dream, in one of the last scenes before you reach the theater, four Hidden images are to the left of the Animatronics robot. Donald Duck is on a coffee mug on a desk to the far left, and Mickey Mouse is near Donald on a glass with pencils. Mickey is also on the top of a Pez dispenser and on another coffee mug. (Thanks to Lea Ann.)
http://allears.net/btp/hm283.jpg
= = = = = = = = = = = = = = = = =


SOUVEN-EARS
= = = = = = = = = = = = = = = = =
Our featurette on shopping for "Souven-ears" returns this month with a few entries from Orlando-local and shopper Laura Wickell: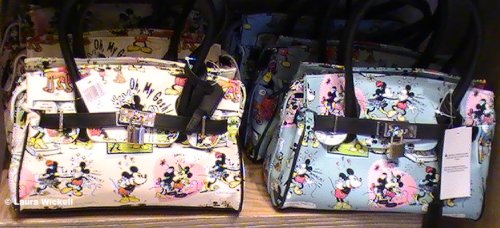 I've been shopping! I found some great gift ideas in the Magic Kingdom: Purses and bags! There are some great shoulder bags decorated with Mickey heads and arranged in a geometric pattern ($42.95 for the large size and $34.95 for the smaller size) available in several colors. There's also a cute purse featuring a cartoon of Mickey and Minnie arguing and making up (also available in various colors) for sale for $28.95. Finally, there's a multi-colored, all-purpose Mickey Mouse tote bag in a very generous size for $15.95. (These bags are available at many locations around Walt Disney World, but I found them at Sir Mickey's.)
I also recently stopped in at the World of Disney at Downtown Disney Marketplace. Have you caught the Vinylmation bug yet? The collection of these little plastic Mickey-shaped figures is growing. They have a wide selection of themes, from clear to "urban," to Muppets, as well as make-your-own, and they come in two sizes: 9 inches ($39.95) and 3 inches ($9.95).
Also some shopping tips: There's a new 100 percent cotton throw featuring Mickey and Minnie, available for $15.95 with a purchase of $40.00 or more. Also a reminder: Passholders can receive a 20 percent discount at select stores until March 1, 2010.
= = = = = = = = = = = = = = = = =

MEET THE ALLEARS® TEAM
= = = = = = = = = = = = = = = = =
Please join us at one of our upcoming Meet & Greets -- we love getting to know our readers! We' ll have AllEars® logo merchandise for everyone (while supplies last).
-- Saturday, February 27 at Disney's Hollywood Studios: Join Deb Wills, Jack Spence and Mike Bachand at our first official AllEars® meet for 2010! It's ESPN Weekend AND Extra Magic Hour Morning at the Studios. Find us at the ABC Commissary from 8:30 - 9:15 a.m., and oh! BYOB -- buy your own breakfast/beverages.
-- Friday, March 5 at Epcot's Land Pavilion: In addition to Deb Wills, Jack Spence and Mike Bachand, Mike Scopa and Steve Barrett will also be on hand for this meet. Grab a FastPass for Soarin' and then join us in the Sunshine Seasons seating area. At 9:45 a.m. we will get in the FastPass line for Soarin'. It's another BYOB -- buy your own breakfast/beverages.
-- Tuesday, March 9 in the Magic Kingdom: Join AllEars® Team Members Deb Wills, Deb Koma, Mike Bachand and Jack Spence at 9:45 a.m. at the Boat Dock in Liberty Square for a trip on the Liberty Square Riverboat's first trip of the day!
We look forward to seeing you soon!
Stay up-to-date on future AllEars® meets by visiting: http://allears.net/btp/teammeets.htm
= = = = = = = = = = = = = = = = =


MONTHLY REMIND-EARS
= = = = = = = = = = = = = = = = =
EVENTS

Epcot's Flower & Garden Festival Begins! March 3 - May 16, 2010. The festival will showcase a number of new features this year, including an expanded and relocated, futuristic-themed Butterfly House in Future World West, a new Victory Garden, an expanded Pixie Hollow Fairy Garden, and a Pirates Adventure Zone next to the Germany pavilion.
The tentative list of performers for the Flower Power Concerts to be held on weekends during the upcoming Epcot International Flower & Garden Festival this March 3-May 16 has been updated again. The current list for March, subject to change, is:

-- March 5-7 - Jose Feliciano
-- March 12-14 - Paul Revere and the Raiders
-- March 19-21 - David Cassidy
-- March 26-28 - Starship Starring Mickey Thomas
EDITOR'S NOTE: Don't miss DizneyMike Bachand's Sneak Preview of the topiaries and other 2010 Flower and Garden Festival displays in his latest blog entry:
http://land.allears.net/blogs/michaelbachand/2010/02/2010_flower_and_garden_festiva.html
2010 Disney's Princess Half Marathon: March 5-7, 2010 -- AllEars.Net's Mike Scopa is running in the half marathon; Deb Wills is running the Royal 5K that weekend as well.
Major League Baseball returns when the Atlanta Braves suit up for their 14th exhibition season at Walt Disney World Resort in March 2010. The first week of games include the New York Mets, Pittsburgh Pirates and Washington Nationals. For full schedule visit: http://disneyworldsports.com
A number of national Cheer and Dance Team Championships will be held at the ESPN Wide World of Sports and elsewhere around Walt Disney World in the coming weeks. As a result, a section of Disney's Hollywood Studios' Television parking lot will be blocked off beginning January 28 to make room for the competition tent. Some of the upcoming events include: February 27 - 28 and March 5 - 7, 2010 Contest of Champions Nationals; March 12 - 14, National All Star Cheerleading Championship.
=-=-=-=-=-=-=-=-=-=-
Don't forget to check our Events page for current updates: http://allears.net/pl/events.htm
-=-=-=-=-=-=-=-=-=-=-=-=-=-=-=-=-=-=-
REHABS AND CLOSINGS
Magic Kingdom
Sometime in 2010, Mickey's ToonTown Fair will close to make way for the Fantasyland Expansion!
Epcot
Cantina de San Angel at the Mexico pavilion in Epcot has closed for a significant refurbishment and expansion until fall 2010 (reopening is tentatively set for late September, but could change). The company that operates the restaurants in the Mexico pavilion, San Angel Inn, LLC, plans to open on the site a new 400-seat waterside restaurant and quick service food location "specializing in the freshly baked culinary flavors of Mexico." During the refurbishment, the San Angel Inn Restaurante and La Cava de Tequila, located inside the Mexico pavilion, and the Taqueria Del Lago, located alongside the promenade, will still be open for Mexican dining.
Disney's Hollywood Studios
The Backlot Tour at Disney's Hollywood Studios is closed now through March 27, 2010.

The Studio Catering Company at the Studios is being refurbished. It is expected to reopen on March 22, 2010.
Blizzard Beach - closed for annual refurbishment January 10 - March 20, 2010.
The Breathless II boat will be unavailable until further notice due to unforeseen maintenance issues. If you have an existing reservation you will be contacted to reschedule if possible.
A complete list of rehabs can be found here: http://allears.net/tp/rehabs.htm
= = = = = = = = = = = = = = = = = =


GIVE A DAY. GET A DISNEY DAY.
= = = = = = = = = = = = = = = = = =
Each month in 2010, we'll be sharing reports of guests experiencing special Magic as part of the "Give a Day. Get a Disney Day" program:
Mary Jarvis: My friend and I volunteered at our local CAPA (Child Abuse Prevention Association) in their Thrift Shop. What a fun day and experience. We worked sorting and tagging clothes, etc. It opened our eyes to many new opportunities that people in our area can help with and the reward of knowing we were helping abused children was enough - but the bonus of being able to spend a day at Disney is amazing. My friend has never been to Disney World and this will give us a mini-vacation. What a wonderful idea from Disney and what a great opportunity for people to give of themselves. Thanks to CAPA and the people that work so hard to make this such a great organization.
Kristy Lee: It took me three days worth of tries to finally get through both the Disney website and the Hands on Network website to get fully signed up. We packed food boxes for needy families in the community and surrounding area. It was the most fun I have had in a long time. It was also the best exercise I have ever had. We spent four hours with a short break about every 45 minutes packing canned and bagged goods into boxes and some paper grocery sacks when we ran out of boxes. During the breaks, we were given snacks and taken on tours of the warehouse. At the end, we were told that what we did in four hours would have taken their normal small group three days to do. We put together enough food to feed about a thousand families. It was a great opportunity and I met some really nice people. I have already signed up for more information with the local United Way to be notified of other opportunities and I have signed up for their orientation at the end of this month. I look forward to participating in many other ways to help out the community.
Wikiwikifish: What a GREAT program! We completed our volunteer opportunity with Project Linus on 1/9/10. We received our vouchers on 1/13/10! After the sluggish start the program had trying to get folks registered and signed up for volunteer opportunities, what a great comeback! So, let us issue this challenge to our fellow Disney enthusiasts - give a day, then give another day. By this, we mean several things-- First, continue to give to your community through the new friends you made during Disney's promotion. And second, donate your Disney day to someone who has never been or may never get the chance to go without such a gift. Our family cannot think of a better way to share the Disney magic.
Melissa Williams: I was in WDW Feb 8-15. I went to the MK on that Friday to redeem my volunteer certificate for the FastPass option. Unfortunately I was not able to redeem it for the FastPass because I had not actually "paid" for my admission to the park. I used a complimentary ticket from my parents who are Cast Members. They needed to scan both my volunteer certificate and my admission ticket, this is how we found out this information. To redeem the volunteer certificate for any other option than the free ticket, I had to have paid to get into the park. I guess I just didn't read the qualifications on the certificate correctly. I was a little disappointed that I couldn't use the FastPass option, but I decided to just donate my ticket to one of the designated charities.

I did get an "Honorary VoluntEAR" button with Miss Piggy and Kermit on it to wear. Many Cast Members the rest of the weekend said to me "Thank you for volunteering!" which was very nice. When we went to Pizzafari to eat in the AK a CM told us they had a special table designated for people with the button to sit at, but it was already taken when we arrived. Also at the Canada Pavilion in Epcot a CM in the gift shop had me sign a special guest book for VoluntEARS. They might continue to add little perks like that throughout the year. I thought they were a nice touch!
-=-=-=-=-=-=-=-=-=-=-=-=-=-=-=-=-=-=-=-
Send your Give a Day, Get a Day stories to: allearsnet@yahoo.com
-o-o-o-o-o-o-o-o-o-o-o-
Editor's Note: This story/information was accurate when it was published. Please be sure to confirm all current rates, information and other details before planning your trip.