July 2009
Walt Disney World Bits and Bites
Feature Article
This article appeared in the June 30, 2009 Issue #510 of ALL EARS® (ISSN: 1533-0753)
= = = = = = = = = = = = = = = = =

STEP BACK IN TIME
= = = = = = = = = = = = = = = = =
Ever wonder what Walt Disney World was like way back when? We rummage around in our archives for this monthly feature, which takes you back in history for a glimpse of Walt Disney World through the ages. This month we revisit three major milestones at Walt Disney World.
First, 10 years ago FASTPASS was introduced at the Magic Kingdom. FASTPASS has changed the way people tour the parks. The computerized system has gone through several major changes since its introduction. In fact, during the first few months, ANY plastic card with a magnetic strip would get you a FASTPASS! Today, the system is much more sophisticated and helps minimize wait times at the major attractions.
The other milestones bring us to Disney's Hollywood Studios where two major attactions opened during the month of July. The Tower of Terror opened on July 22, 1994, and Rock 'n' Roller Coaster Featuring Aerosmith opened on July 30, 1999. These two attractions were the premiere attractions at the Studios until Toy Story Mania opened last year. However, for thrill ride enthusiasts, Sunset Boulevard is still where all the action takes place.
Rock 'n' Roller coaster features a high-speed launch of 0 to 60 mph in 2.8 seconds, three inversions, two rollover loops and one corkscrew -- all firsts for a Walt Disney World attraction when it opened.
The latest version of the Tower of Terror, introduced in 2002, offers ride sequences that are unique and random. It's the first Disney attraction in the world to offer random experiences and the first where the attraction actually determines the ride sequence.

= = = = = = = = = = = = = = = = =
D23:
MARY POPPINS
IN CHICAGO
= = = = = = = = = = = = = = = = =

by Bret Caldwell, Guest Writer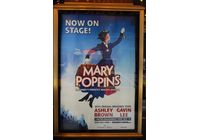 When one thinks of Chicago, one might think of strong winds, gangsters, and more recently some questionable politics (Blagojevich ring a bell?). But if you've done your research, you'll also know it also has amazing architecture, restaurants and great theater. Prime examples: The Second City, Steppenwolf Theatre Company, and the Goodman Theatre. Apparently Disney was aware of this, and they selected Chicago as the first stop of the North American tour of Disney's "Mary Poppins" musical, which began back in mid-March. Good luck struck twice for Chicago Disney and theater fans, as D23 also selected Chicago, along with NYC, as a location for an exclusive Mary Poppins theater experience. As a Chicagoland D23 member, I was fortunate to attend this sold-out event on June 24, 2009. Since I know many weren't able to attend, I thought I'd try to share a little bit of the magic by sharing the experience here as best I can.
Read the rest of Bret's D23 experience here: http://allears.net/btp/d23_poppins0609.htm
= = = = = = = = = = = = = = = = =


NEW DESSERT PARTY
= = = = = = = = = = = = = = = = =
by Amy Warren Stoll
AllEars® Guest Columnist
(photos by Jack Marshall)

AllEars® team member Jack Marshall recently invited me to go with him to the new fireworks dessert party at the Magic Kingdom. Or was that The Tomorrowland Terrace Dessert Party, The Wishes Dessert Party, or The Magic Kingdom Dessert Party? The name is still in a bit of flux, but the cast member I spoke to this morning me assured me that if you say something that includes the words fireworks, dessert, and Magic Kingdom, they'll figure it out. I hadn't given much thought to attending one of these. But when Jack asked, I remembered his unfortunate zebra dome incident. I knew it was best for him to have a chaperone at all events involving multiple desserts. So, who was I to refuse?
Jack had called 407-WDW-DINE earlier in the week to make our reservations. He provided his credit card information, and paid the cost in full at that time. ($17.99 guests ages 10 and over, $9.99 for ages 3-9.) I asked him to provide me with his credit card information, too, but he's smarter than he looks. We read later that reservations could also be made through Guest Relations, our WDW Resort concierge, or at any Table Service podium. At the time of this writing, though, WDW-DINE could not confirm that reservations for the dessert party could be made at the Table Service podiums. Walk-up bookings are also taken when space permits.
For the rest of Amy's impressions on the Dessert Party: http://allears.net/tp/mk/dessertparty1.html
= = = = = = = = = = = = = = = = =


HIDDEN MICKEYS ALERT
= = = = = = = = = = = = = = = = =
Steve Barrett, author of the Hidden Mickeys books and webmaster of www.HiddenMickeysGuide.com, brings you a few cool hidden images from Epcot.
1. Along the Living with the Land ride, a green garden hose is coiled into a classic Mickey to the right of the boat, about halfway through the fish farming section. Cast members usually place this Mickey image every morning. You can also spot this hose on the Behind the Seeds Tour. (Thanks to Roberta Blackburn, Sharon Dale, Lynette and Emily Huey, and Melissa and Jacob Forbes). http://allears.net/btp/hm257.jpg

2. At the miniature train exhibit in the Germany pavilion, Donald Duck is standing on a second floor balcony of the farthest building to the left as you face the exhibit from the lakeside promenade. (Thanks to Adam Fanjoy, Chris and Cathy Sutherland, and Joe Tanzillo). Let's see if this image lasts a while. The Mickey Mouse figure standing in a window of the castle at the rear of the train exhibit is likely gone for good. http://allears.net/btp/hm258.jpg
3. In the Tin Toy exhibit at the rear of the Japan pavilion, a tiny classic Mickey hole is on a red ladybug origami image that hangs on the right side of a cabinet display, just inside the right inner entrance door. (Thanks to rjf1423). Likewise, we'll see if this Hidden Mickey sticks around a while. http://allears.net/btp/hm259.jpg
See archived Hidden Mickey Alerts here: http://allears.net/btp/hiddenm2.htm
Read Steve's blog at AllEars® Blog Central: http://allearsnet.com/blogs/stevebarrett/

= = = = = = = = = = = = = = = = =


MONTHLY REMIND-EARS
= = = = = = = = = = = = = = = = =
EVENTS
FOURTH OF JULY:
Magic Kingdom will kick off the Fourth of July celebration the night before (July 3) with Disney's Celebrate America! - A Fourth of July Concert in the Sky at 9 p.m. Disney's Celebrate America! - A Fourth of July Concert in the Sky will also dazzle Magic Kingdom guests at 9 p.m. on the Fourth of July. Magic Kingdom will feature a performance of the SpectroMagic nighttime parade at 10:30 p.m. Park hours are 9 a.m.-11 p.m. on July 3-4.

In the meantime, Disney's Hollywood Studios guests will be treated to a 9 p.m. performance of Fantasmic! Park hours on July 4 are 9 a.m.-10 p.m.

At Epcot, a holiday-inspired IllumiNations: Reflections of Earth bursts above World Showcase Lagoon at 10 p.m. Park hours on July 4 are 9 a.m.-10 p.m.

Disney's Animal Kingdom - No fireworks here (we wouldn't want to disturb the animals' rest). Park hours on July 4 are from 9 a.m. to 7 p.m.

http://allears.net/tp/fojuly.htm
Magic Kingdom
Swearing In Ceremony: In a stirring celebration of citizenship, more than 1,000 immigrants will gather on Main Street, U.S.A. July 3 to be "sworn in" as American citizens. And as the country kicks off Independence Day weekend, these brand-new Americans will attend a premiere performance of the newest Walt Disney World attraction, a re-imagined Hall of Presidents, now featuring a lifelike Audio-Animatronics figure of President Barack Obama.

http://land.allears.net/blogs/dnews/2009/06/celebrating_citizenship_1000_i.html
Epcot
Sounds Like Summer concert series, which features tribute bands at America Gardens Theatre in Epcot, has revised its schedule somewhat. Concerts, which are included in regular Epcot admission, are nightly at 5:45, 7 and 8:15 p.m. (except July 4, when show times will be 5:15, 6:30, 7:45 and 9 p.m.). The current lineup (subject to change):

June 29-July 8: Slippery When Wet -- A Tribute to Bon Jovi
July 9-17: 52nd Street - A Tribute to Billy Joel
July 18-26: The Sounds of the Supremes-- A Tribute to the Supremes
July 27-August 2: 2U --A Tribute to U2
August 3-9: Petty Theft -- A Tribute to Tom Petty
Disney's Wide World of Sports
The inaugural ESPN RISE Games presented by Target will take place July 19-25, 2009, at Disney's Wide World of Sports Complex. The week-long event will be anchored by three invitation-only, elite high school sporting events: the AAU 17-under Boys Basketball Super Showcase, the Under Armour High School Softball All-American game, and a new high school football event -- Champion Gridiron Kings -- a 7-on-7 competition featuring skill position players. The event will also feature competitive youth sports: baseball (10U, 11U and 12U), basketball (10U, 12U and 14U), field hockey (14U, U16 and 19U) and track & field (14-18). The ESPN RISE Games are expected to welcome 4,000 student athletes. Team enrollment for the event's open basketball, baseball, field hockey and track and field programs is available. Additional information on the ESPN RISE Games presented by Target is available at www.espnrisegames.com.
Downtown Disney
Precious Moments Doll Maker Linda Rick will be at the Uptown Jewelers, Main Street U.S.A., July 3-5, 2009. Rick will make a special appearance and sign of some of the latest releases from Precious Moments, including their Americana themed dolls from 9 a.m. to 11 p.m. each day.
Don't forget to check our Events page for current updates: http://allears.net/pl/events.htm
-=-=-=-=-=-=-=-=-=-=-=-=-=-=-=-=-=-=-
REHABS AND CLOSINGS
Magic Kingdom
Space Mountain is closed until November 21, 2009 for refurbishment.

Tomorrowland Transit Authority will be closed through August 24, 2009.

The Hall of Presidents is closed for rehab through July 1, 2009.

The Heritage House Shop is closed until July 1, 2009.
In July and August, Spoodles on the Boardwalk will undergo some minor kitchen renovations in anticipation of its conversion to Cat Cora's new restaurant, Kouzzina , which is due to open later this fall:
-- July 1 through mid-August: Spoodles breakfast will not be offered. During this time, breakfast will be served daily at Flying Fish Cafe, 7:30 - 11 a.m.
-- July 6 through August 1: A buffet dinner menu will be served at Spoodles. A la carte offerings will NOT be available at this time.
-- August 2 through mid-August: The restaurant will be closed completely for dinner. For advanced reservations during the closure, try Captain's Grille at Disney's Yacht Club Resort or Flying Fish Cafe. Same-day walk-up dining also might be accommodated at ESPN Club or Big River Grille & Brewing Works.

All dates are subject to change. The official grand opening date of Kouzzina has not yet been determined.
Bay Lake Tower at Disney's Contemporary Resort will open on August 4, 2009.
-=-=-=-=-=-=-
A complete list of rehabs can be found here: http://allears.net/tp/rehabs.htm
= = = = = = = = = = = = = = = = =


MAGICAL MOMENTS
= = = = = = = = = = = = = = = = =
Each month we share reports of guests at Walt Disney World and Disneyland experiencing special Magic, and also special celebrations as part of the "What Will You Celebrate?" program.
Stacy Dale: What Magic Disney World brings. On our recent trip to Disney we spent a good bit of time in Epcot. On one of these days, the kids were finishing up their Kim Possible fun and we started to head over to Test Track by way of Mexico. As we strolled along, we noticed a security guard standing inside the small beach area of the lagoon. Of course, being curious, we stopped to see what was happening, maybe a rabbit, a big fish, a bird or a turtle - who knew what we were going to experience? There was a beautiful turtle there strolling around in a hurried way as if she were looking for something. Looking for something she was, a good soft spot in the sand where she could dig a nest to lay her eggs. Needless to say, we didn't make it to Test Track because we stayed to watch one of the most amazing acts of nature. What an awesome sight and of all places, what an awesome place for it to happen. Disney World is the most magical place on Earth, you just never know what you will experience!
Lisa Edmonson (and Paul Tully): My sweet boyfriend proposed at Artist Point during our recent trip to Walt Disney World. We got "Just Engaged" pins the next morning, and everywhere we went, we were wished warm congratulations. At several of our signature dining restaurants, we received congratulations cards signed by numerous cast members from those restaurants. The card from Jiko included wishes in the cast members' native languages. The card from Le Cellier included best wishes from cast members with their home cities or provinces. We also received several celebration desserts to share and at Le Cellier, glasses of champagne with a slice of strawberry. I know the restaurant cast members are really busy, and their taking time to decorate and sign cards for us was really touching. Our trip was already so magical together, and the extra efforts of the cast members really added to the magic!
April Leline: We just returned from our first Star Wars Weekend experience at Hollywood Studios! It was amazing for my two boys who are huge fans! We waited in line to meet many of the characters. You waited in one line near the Star Wars store and you took your chances on meeting Luke Skywalker, Princess Leia, or R2-D2. My boys really wanted to meet Luke. As we got closer to the front of the line Princess Leia was still signing autographs. Just as we went up to meet with her, Luke came up from behind us! The looks on my children's faces were priceless! So we got family photos with Luke and Leia! Talk about the right place at the right time! The force was certainly with us at that magical moment!
Lori Bennett: We visited Walt Disney World during the rainiest trip ever last week (May 16-22). Rather than be upset about shows or parades being cancelled, we decided to gear up for the weather as best we could and enjoy touring a Disney that was wetter than we'd ever seen it. As a result, we found ourselves in Frontierland in the Magic Kingdom, determined to have our semi-annual checkers game, no matter what. If you've never noticed, there is a checkers table set up in front of the Shootin' Arcade, and for the past eight years my husband and I have made time to play a game on each trip. And for the past eight years I've lost -- every single game. Fast-forward to this trip, two grown adults laughing like fools in front of the checkers table in the downpour. We actually had to pour the water off each checker before we could move it. The rain must have been lucky for me because lo and behold, I actually started to win! Toward the end of the game, a cast member noticed us and came over. I was jumping up and down with excitement that I might actually win this time, and the cast member was cheering along. After I won (FINALLY after all these years), the cast member asked me to come inside the shop for a minute where he gave me a magical moment certificate and an "I'm Celebrating" button, to which he added "winning checkers!" It was a perfect end to my husband's winning streak, and a wonderful way for that cast member to turn a gloomy, rainy day into a magical moment.
Send your Magical Moments to: allearsnet@yahoo.com
-o-o-o-o-o-o-o-o-o-o-o-
Editor's Note: This story/information was accurate when it was published. Please be sure to confirm all current rates, information and other details before planning your trip.