A long, long time ago there was a quiet, tranquil pond outside the sleepy little Florida village of Vineland. The pond was called Black Lake; it was surrounded by struggling vineyards which gave the nearby village its name, some mature orange groves, a few old cherry orchards and swamps. Lots and lots of swamps!
Farming was always a struggle in central Florida so it must have seemed like a miracle when a mysterious buyer started optioning and buying large tracts of swamp, grove and orchard in 1964. I'm sure that most of those hard working farmers were thrilled to have the opportunity to retire in comfort!
On November 15, 1965 Florida Governor Haydon Burns made the big announcement; the Disney Corporation had bought up over 30,000 acres of land, about 48 square miles, and planned to build "the greatest attraction in the history of Florida."
Construction began in 1967 and the sleepy area around Black Lake has never been the same! Bulldozers, back-hoes and cranes were busy everywhere. New canals were dug and soon did their jobs draining the swamps. New roads and highways were built, new hotels sprung up, new stores and shopping centers took shape, all in anticipation of the tourism boom that Disney's new Magic Kingdom would create.
And it certainly was a boom. The Magic Kingdom opened on October 1, 1971 and only 8 years later, on October 22, 1979 they welcomed their 100 millionth guest. It was still only one theme park, but it was already the most popular tourist destination in the world!
But let's skip back to Black Lake, and let's take a look at the area within a mile of the lake. One of the first things Disney management did was rename the lake, they called it Lake Buena Vista, in honour of Buena Vista Street where Disney's Burbank studios and headquarters are located. And Lake Buena Vista is still there, not far from Hotel Plaza Boulevard, just behind the Wyndham Lake Buena Vista Hotel. It is connected by canal to its man-made sister lake, Village Lake, which is now the focal point for Disney's shopping and entertainment district.
It didn't take long after the Magic Kingdom opened in 1971 for the world's richest mouse to realize that many of his guests were leaving the Disney resort area to shop, dine or be entertained somewhere else. Mickey took quick action to plug that financial leak!
The new Disney shopping area, Lake Buena Vista Shopping Village, opened March 22, 1975. Guests at Walt Disney World could stay in the 133 town homes or the 60 tree house villas at the nearby Buena Vista Club.
Two years later, in 1977 Lake Buena Vista Shopping Village was renamed Walt Disney World Village.
The earliest printed information I have is an article from the February 1981 issue of Walt Disney World News pictured below. It gives some examples of the shopping and dining that was available in those early days.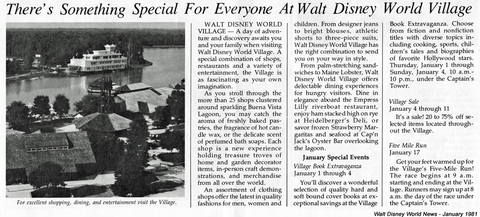 Click on the image to see a larger, easier to read version.
My earliest recollection of the area dates back to a trip in about 1979 when we enjoyed dinner and Monday Night Football in the upper deck bar in the Empress Lily, which we now know as Fulton's Crab House. My memories of the shopping are a bit vague, but that evening was my first experience with Florida's "love-bugs" and I remember them quite vividly!
Here are a few brochures that will give you a sampling of what guests could enjoy back in those early days. (Don't forget to click on the images)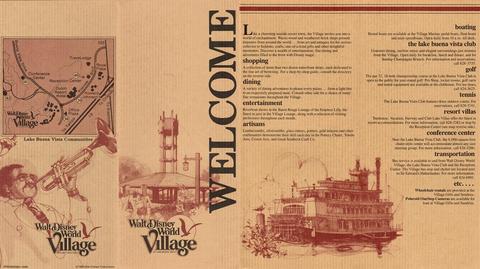 1982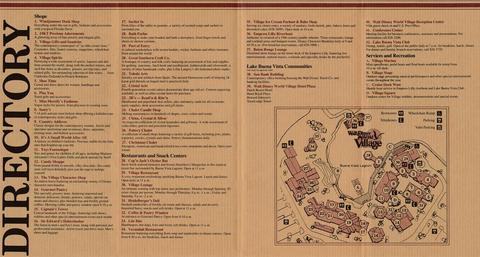 1982

1984
1984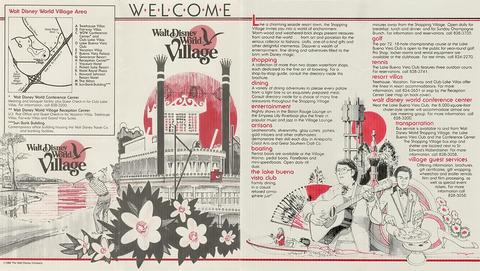 1987
1987
In 1989 there were some big changes. The area was renamed once again; it became Disney Village Marketplace and a newly developed area called Pleasure Island opened May 1, 1989. Pleasure Island featured night clubs, restaurants, a dance hall and a variety of other entertainment geared toward adults.
1990
Did you ever dance the night away at Mannequins or stomp your feet at Neon Armadillo?
Every night was New Year's Eve at Pleasure Island! Frankie and the West End Boys played most nights on the outdoor Waterfront Stage and revelers danced the night away!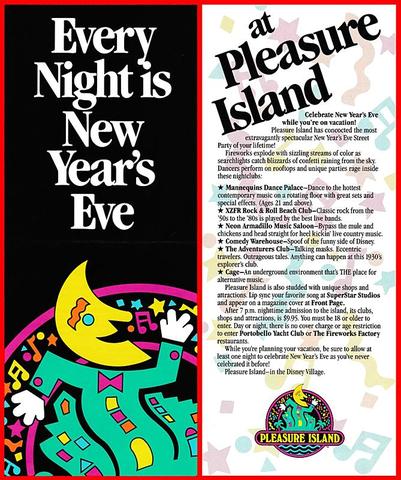 1990
Two of the most popular venues in the new area were The Adventurer's Club and The Comedy Warehouse, both of which developed groups of extremely loyal followers.
1991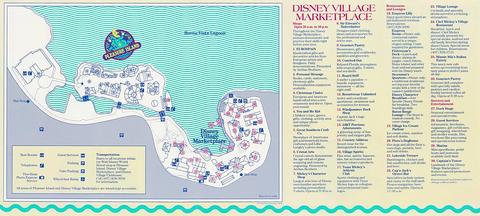 1991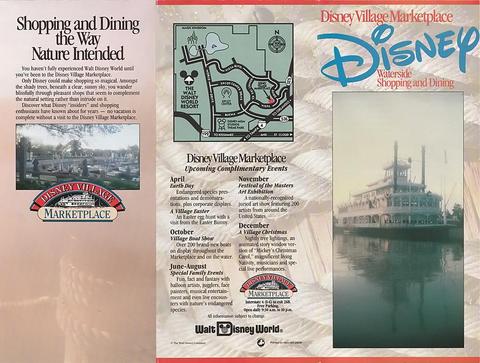 1992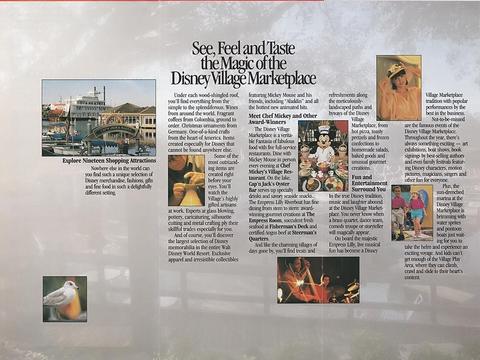 1992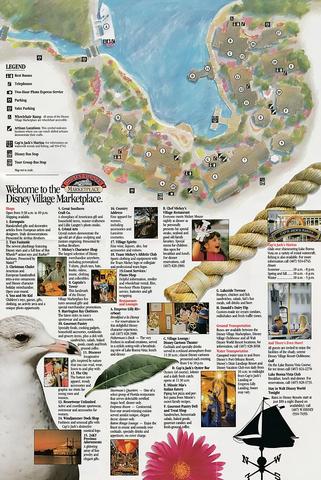 1992
1993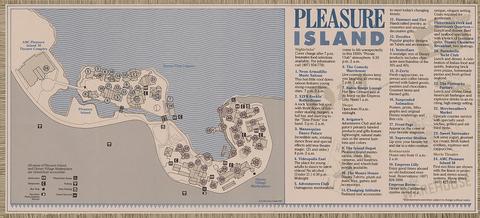 1993
I wish I could pick up a few of the cels that they used to sell in the early '90's at Suspended Animation!
In June 1995 a further round of enhancements was announced. Disney Village Marketplace and Pleasure Island would be joined by a third entertainment zone to be known as West Side. The three areas would be known collectively as Downtown Disney. West Side officially opened September 15, 1997 and included a new theatre built specifically for the Cirque du Soleil show La Nouba, a Virgin Megastore, Rainforest Café, Planet Hollywood and Disney Quest. The House of Blues followed just a few months later.
Christmas 2000
Downtown Disney was a vibrant area during the first few years of the 21st century, on the east side the Marketplace shops were busy each and every day then Pleasure Island and the West End would come to life at night!
Sunday mornings were, and still are, a busy time at The House of Blues; their Gospel Brunch is a hand-clappin' toe-tappin' good time!
2001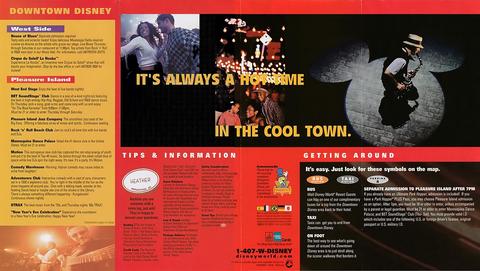 2001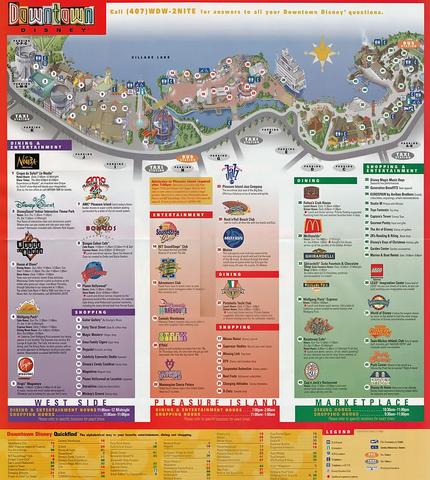 2001
Then after a few years things began to falter a bit in Pleasure Island. It seemed that the adult-themed area was having difficulty sustaining itself in the middle of a family-themed vacation area. One by one the restaurants and bars grew quiet and shut down.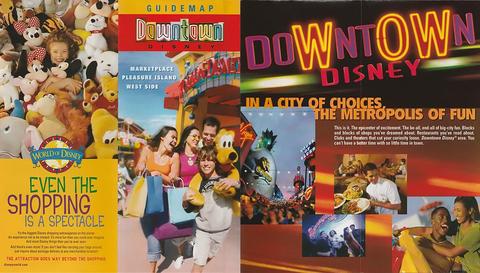 2005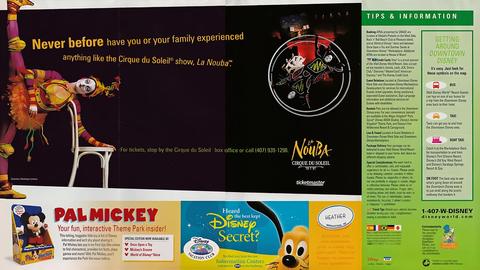 2005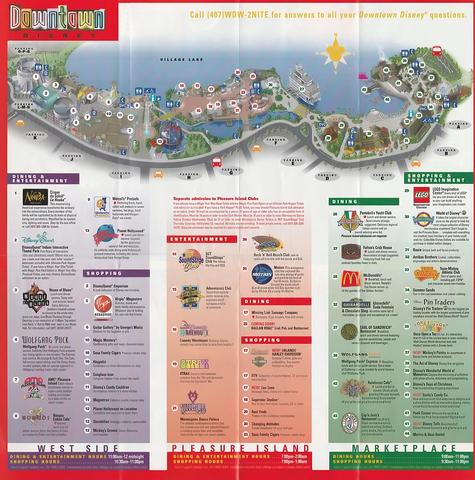 2005
The Adventurers Club and The Comedy Warehouse carried on the longest, but eventually they too closed permanently, on September 27, 2008. Disney announced the complete shut-down of Pleasure Island "to make room for additional family-oriented entertainment".
And then Pleasure Island sat dormant for a long time. A very long time! It took almost 5 years for new plans to materialize. During that 5 year period the only signs of life on Pleasure Island were at Fulton's Crab House and Raglan Road.
2012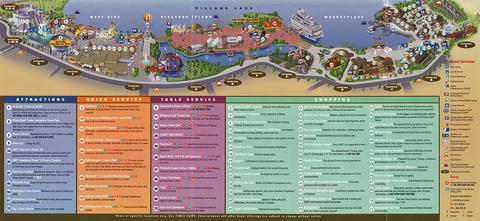 2012
The guide maps of the era designated a large portion of Pleasure Island "For future enjoyment"
Finally, on March 14, 2013 "Disney Springs" was announced, to include 2 multi-level parking garages and 150 new tenants in four distinct districts:
– The Marketplace
– The Landing (formerly Pleasure Island)
– Town Center
– West Side
Work on the areas being redeveloped for Disney Springs has been ongoing since 2013 and most of the venues in those newly developed areas are now open . . . but I have yet to see them! My wife Carol was there about a month ago and she has assured me that I will like what I see.
So that's a brief history of how that quiet, tranquil little pond known 52 years ago as Black Lake has become surrounded by hotels, restaurants, theaters, night clubs and all the other infrastructure needed to sustain the largest and busiest tourist destination in the world. Buses, cars and trucks speed past, moving people and merchandise on new highways; boats transport tourists through the rivers and canals that lace the resort area; planes and helicopters pass constantly overhead; there's even a balloon for sightseeing. Black Lake has seen a lot of change in those five decades!
Carol and I will be pointing our motor home south and heading back to our happy place in just a few weeks. I plan to spend some quality time exploring Disney Springs while we're there. Once we get back home I'll be sure to share my impressions and some pictures with you.