STK joins the exciting new dining, shopping and entertainment district at
Walt Disney World Resort
Lake Buena Vista, Fla. (May 25, 2016) – The ONE Group Hospitality, Inc. ("The ONE Group") is pleased to announce that STK Orlando officially opened its doors today at Disney Springs in Walt Disney World Resort at Lake Buena Vista, Florida.
The new location is the 11th STK worldwide, and at more than 14,000 square feet, is the largest to date. Featuring rooftop dining with scenic views, the restaurant boasts both indoor and outdoor seating on two levels, a bistro, bar, private dining room and a fire pit. With a sleek and contemporary design, STK is known for its high-energy fine dining experience.
"We are thrilled to enter the Orlando market, especially at a premier destination like Walt Disney World," said Jonathan Segal, CEO of The ONE Group. "Strategic relationships, as well as great real estate, will remain integral to our growth plans as we expand our company footprint, and with an additional nine STK restaurants currently in development, we are excited to bring the STK experience to new cities across the globe."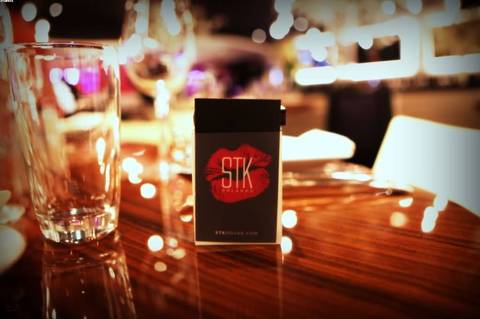 At STK Orlando, menu items with a local focus will join signature dishes that have become STK favorites across the world. STK Orlando Executive Chef, James O'Donnell, says he plans to source ingredients from Florida-based farms whenever possible, especially seasonal fruits, produce and seafood.
"Roughly twenty-percent of STK Orlando's menu will be exclusive to the Disney Springs location, including opening-day items such as Florida grouper, seared tuna and chili rubbed rack of lamb," said O'Donnell.
STK is anticipating a dinner-only service from May 25th through May 30th with lunch beginning on May 31st.
Hours for lunch at STK Orlando will be 11:30 a.m.to 3:30 p.m. daily, dinner from 5 p.m. to 11 p.m. Sunday through Thursday and 5 p.m. to midnight Friday and Saturday. For reservations call 407.917.7440.
STK Orlando celebrated its grand opening party in style as more than 500 invited guests and members of the media were welcomed into the area's newest hotspot. Styled with "Vintage Hollywood" in mind, the party-goers were treated to STK's unique blend of energy, excitement and first-in-class cocktails and cuisine.
The party was dialed up to a fever pitch as a surprise flash mob performed a choreographed routine to Justin Timberlake's "Can't Stop The Feeling" throughout the entire two-story restaurant. Guests sampled a variety of STK's favorite bites including Lil' BRGs, Crispy Rock Shrimp and Chili-Rubbed Lamb Chops while sipping on STK signature cocktails such as the Cucumber Stiletto, Not Your Daddy's Manhattan and Smokeshow.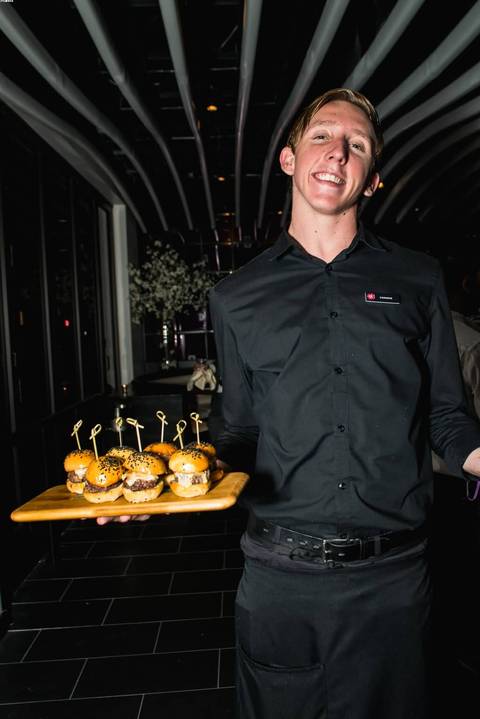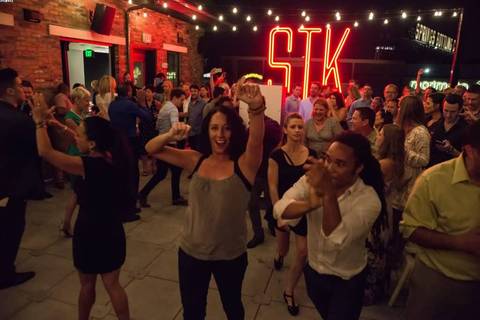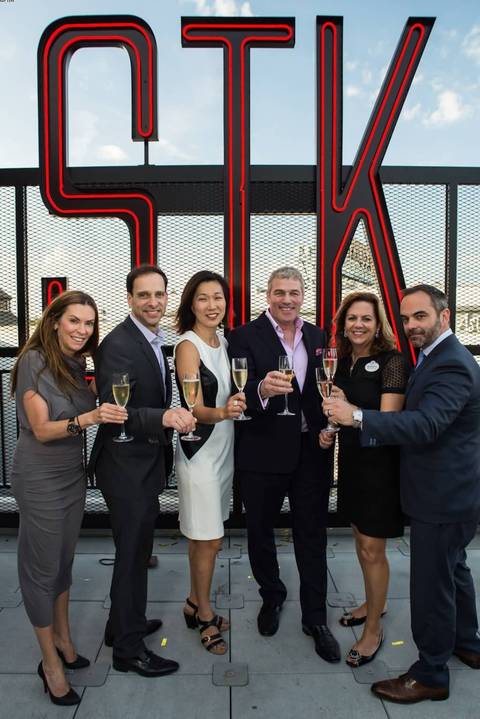 About STK
STK is a unique concept that artfully blends the modern steakhouse and chic lounge into one, offering a dynamic, fine dining experience with the superior quality of a traditional steakhouse. STK distinguishes itself by focusing on the social experience with a sleek, contemporary design and an in-house DJ who creates an infectious, high-energy vibe. The menu features reimagined classic American cuisine with signature dishes like bite-sized Lil' BRGs made with Wagyu beef, Lobster Mac & Cheese, and, of course, the highest quality steak. STK defines the modern fine dining experience with incredible food, world-class service and the perfect atmosphere. STK has locations in New York City, Washington DC, Miami, Chicago, Atlanta, Los Angeles, Las Vegas, London, and Milan with additional locations coming soon to Toronto, Austin, San Diego, Denver, Ibiza and Edinburgh. For more information about STK, please visit www.stkhouse.com.
About The ONE Group
The ONE Group is a global hospitality company that develops and operates upscale, high-energy restaurants and lounges and provides hospitality management services for hotels, casinos and other high-end venues both nationally and internationally. The ONE Group's primary restaurant brand is STK, a modern twist on the American steakhouse concept with locations in major metropolitan cities throughout the U.S. and Europe. ONE Hospitality, The ONE Group's food and beverage hospitality services business, provides the development, management and operations for premier restaurants and turn-key food and beverage services within high-end hotels and casinos. Additional information about The ONE Group can be found at www.togrp.com.