I used to fantasize that unbeknownst to me, my parents had bought land in Florida during the 1950s. And when Disney was buying up acreage for Walt Disney World in the 1960s, they somehow missed this small parcel of land my folks owned. And when my parents passed on, I would discover I now possessed land directly beneath Cinderella Castle. As part of the settlement with Disney, I would request millions of dollars. I would also demand a luxurious suite at the Grand Floridian be transformed into my new home and I would be allowed to live at Disney World year round. Unfortunately, when my parents died, I did not find any secret deed hidden in a strongbox. Sigh.
But my fantasy is not dead. I can still live at Walt Disney World year round — just as soon as I win the lottery. My new dream is called Golden Oak — a new community at Walt Disney World.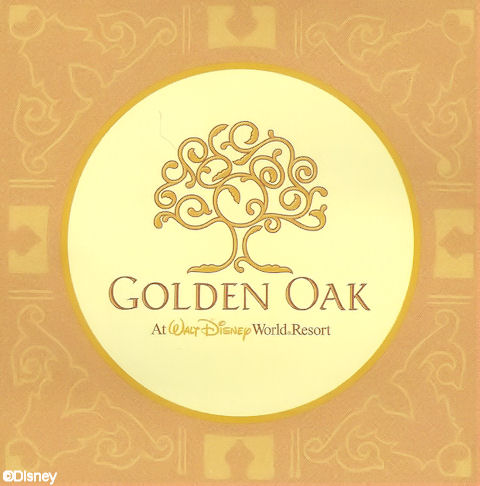 Golden Oak is located at the north end of Disney property and the entrance is off of Vista Boulevard (just east of the Fort Wilderness Campground). The 980 acre community (when finished) will feature the world's largest Four Seasons Resort (444 guest rooms) surrounded by approximately 450 single-family luxury homes. Connecting the various neighborhoods and the hotel will be recreational pathways, footbridges, parks, and gardens, all surrounded by undisturbed natural forest. The master-plan was developed by Walt Disney Imagineering. Although Disney will maintain the day-to-day operation of the community, the land was de-annexed from Reedy Creek and residents will be part of Orange County. Homes and lots are purchased with full ownership. Prices range from $1.5 million to $8 million.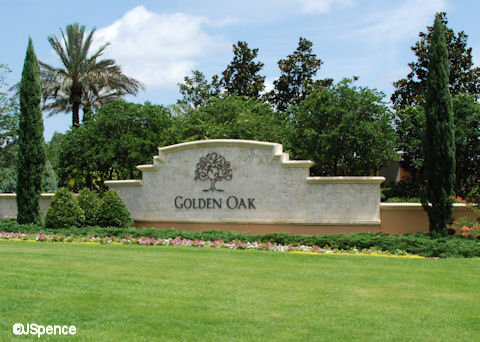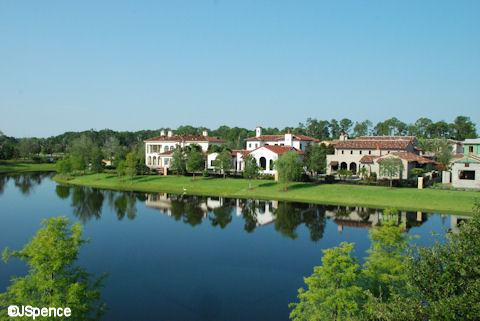 In an effort to let Disney fans across the country know all that Golden Oak offers, a small number of media folk were invited to experience the well-appointed lifestyle this community provides. I was honored to be included in this group. And I have to tell you, I was impressed by what I saw.
Our visit began at the sales office. Like most such facilities, a topographical map greets prospective buyers as they enter the building. Here we could easily see what Disney has planned for this new community. Current home sites and future developments are all laid out in meticulous detail. But what really set the Golden Oak sales office apart from other communities are the Disney photographs and paintings that hang on the walls, emphasizing the connection between Golden Oak and Walt Disney World.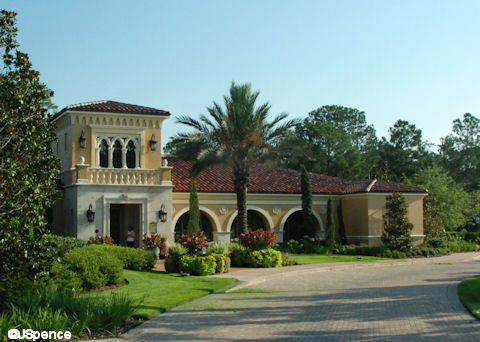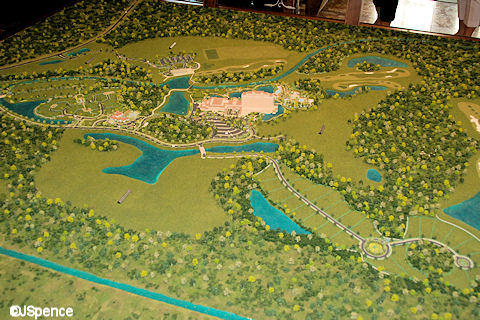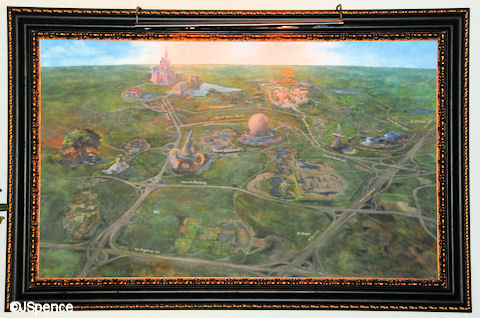 Our group was introduced to Page Pierce who is part of the Golden Oak team. He spent several minutes explaining to us some of the perks of living in this upscale community.
When buying at Golden Oak, homeowners will receive a special ticket that entitles the Passholder and four additional guests admission to all of the Walt Disney World theme parks and water parks. Additional ticket perks include:
No blackout dates
Extra Magic Hours
Park hopping
Free parking
But who cares about free parking when Golden Oak offers Home-to-Park shuttle service? And I'm not talking about a big diesel bus that continually circles the community. I'm talking about a mini-coach that arrives at your doorstep at a predetermined time and transports you and your guests directly to your desired location on property. All it takes is a phone call to Residence Services and you're set.
Your park admission ticket is provided free of charge for the first three years. After that, the tickets can be renewed. (Prices were not quoted.)
Here are just a few of the other perks offered to homeowners of Golden Oak. Some of these are included in your monthly fees, others are at an additional cost.
Golden Oak residents receive Disney Park merchandise discounts of up to 20 percent. Home delivery is also provided. Dining and golf reservations can be made via Residence Services. Need your house cleaned? All it takes is a phone call.
Need your house decorated for the holidays? The same people who so beautifully adorn the theme parks and hotels at Christmas will be available to custom design your own yuletide decorations. Once again, all it takes is a phone call to Residence Services.
Of course, we wouldn't want any unsightly trashcans out on the street come collection day. So each house will have a designated area near the home where the trash men can access your garbage in a more "civilized" manner.
Golden Oak residents will also be invited to exclusive in-park events. For example, breakfast might be served at the France Pavilion before World Showcase opens. Or during the Food & Wine Festival, an executive chef might provide a private cooking demonstration.
Golden Oak residents will also have a club house known as Summerhouse.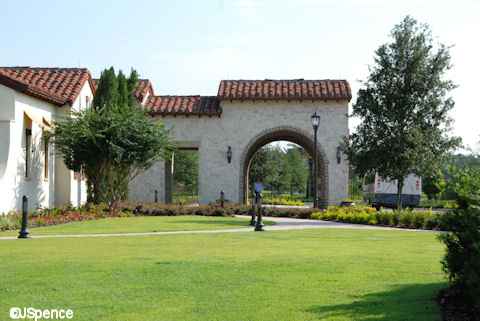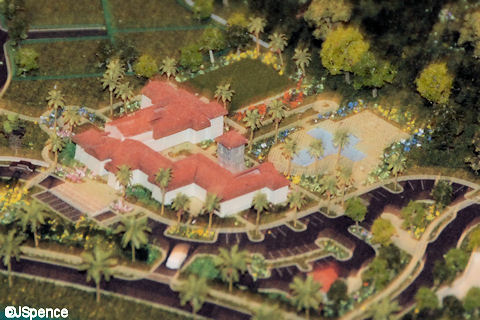 Although almost complete, Disney is still finishing up some of the interior details of Summerhouse and we were asked to refrain from taking pictures inside the building. So I'll do my best to let you know what to expect from this beautifully decorated and appointed structure.
When guests enter the main lobby, an electronic display will detail all of the current Golden Oak activities and times. Nearby are two "concierge" desks. Here, highly knowledgeable Disney cast members will be on hand to answer questions, make reservations, or plan your entire vacation.
A private dining/conference room seats 12 and can be reserved for family meals or high-level business meetings. State-of-the-art electronics will offer the ability to video-conference with associates from around the world. The table is round and has a large lazy susan in the middle for the passing of food or business documents. (The table was big enough to conjure up thoughts of King Arthur.)
A small kitchen sits adjacent to this room and is accessed via sliding panels that feature a reproduction of a "Sleeping Beauty" background piece painted by Disney Legend, Eyvind Earle. Other, Disney art adorns the rest of the room and if you see a piece that strikes your fancy, it can be reproduced and hung in your home.
Summerhouse also features a lounge and dining room. These two facilities will be staffed by Four Seasons and offer upscale and healthy choice meals. Also available are a heated pool, fitness center, and a family/game center. Residence Services will host a number of seasonal activities and parties throughout the year.
Summerhouse is beautiful. I'm very sorry that I can't share pictures with you because any description I might give would fall short. But let me assure you, the rooms are all comfortable and inviting. It's obvious that quality has been woven into every aspect of this building's design. Yet at the same time, there is absolutely nothing stuffy or formal about the décor. Summerhouse is a place where anyone would feel right at home.
Seven local construction companies have been selected to build the custom homes of Golden Oak. Each is noted for superior quality and craftsmanship and has a reputation for providing high customer satisfaction. Prospective home buyers can design their new dwelling from the ground up, or select from several, ever changing spec houses.
During my visit, our group toured four homes. Instead of taking you on a tour of each one by one, I've decided to present these houses on a room by room basis. This way, you'll be able to do comparisons of styles and offerings.
Exterior
In order for the neighborhoods to maintain continuity, the exterior designs have been limited to a select few architectural styles. Yet within these styles, a great many choices are available so no home will look like its neighbor. Golden Oak will feature old-world Mediterranean and Caribbean architecture with Venetian, Dutch, and Tuscan design influences.
Lots range in size from ½ to ¾ of an acre. All outside landscaping is included in the price and is maintained by the homeowner association Current homeowner dues run a little over $5K a year.
Faux finishes are not allowed on any exterior surface. If a house is to be covered in rock, it must be real rock. When brick is called for, it must be actual brick. All gutters are to be made of copper. The driveways are covered with pavers or other special surfaces. You won't find any concrete or asphalt leading up to the garage.
Each home will feature a special medallion next to the front door. The owner's name will grace the upper portions of this crest.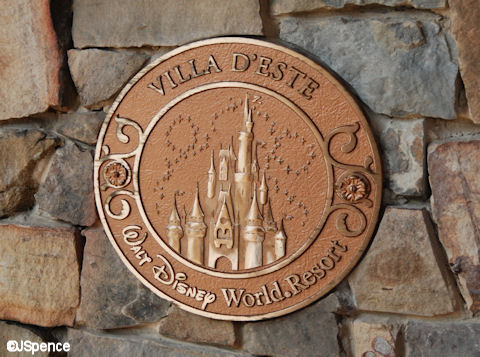 Here are front exterior shots of the four homes I toured.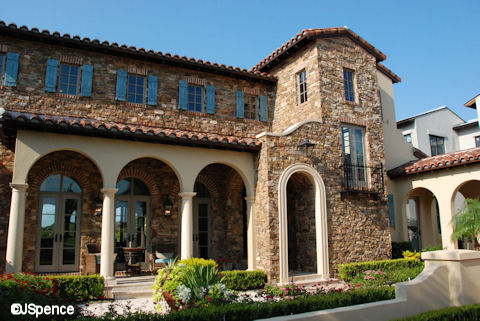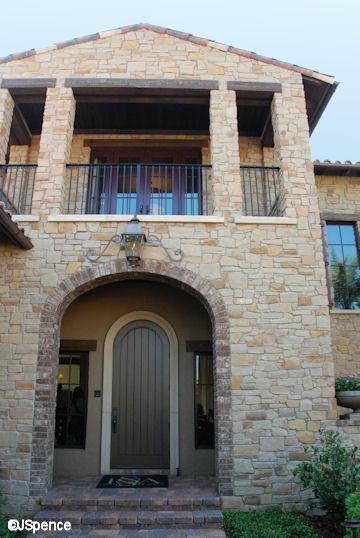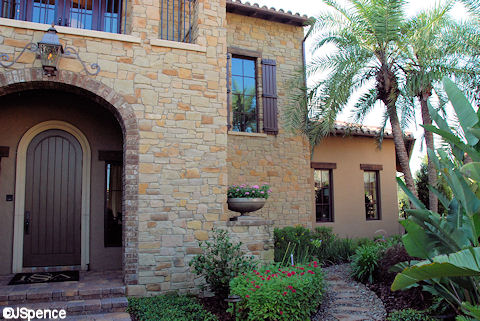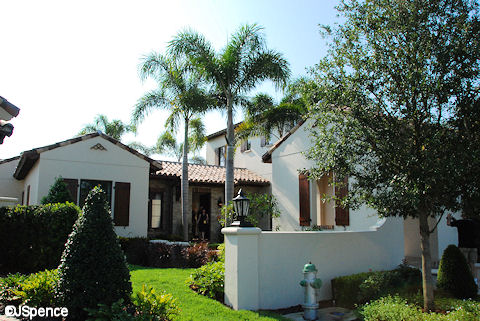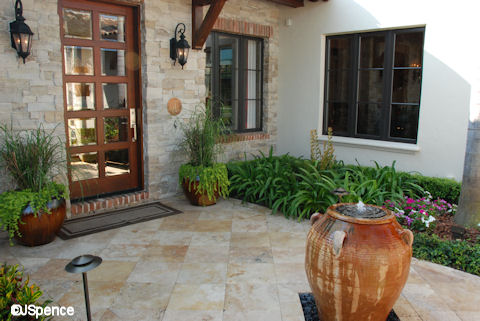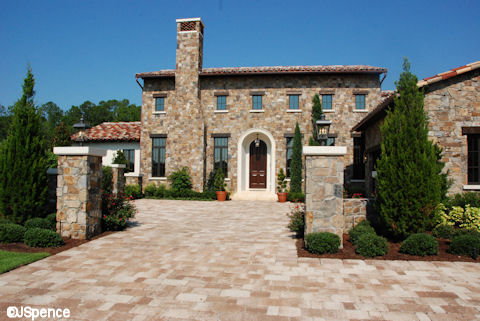 Kitchens
Many who move to Central Florida are dismayed to learn that natural gas is not available for cooking and heating. If you want to cook by flame, you must have a propane tank positioned next to your house or buried underground. Because of this, most folks opt for electric cooktops as this is the simpler option. But Golden Oak did not settle for this solution. They arranged for pressurized natural gas to be piped to each and every home.
Custom cabinetry is also standard at Golden Oak. In many cases, the Sub-Zero refrigerator (or comparable brand) and dishwasher will be hidden behind matching cabinet doors.
You won't find any laminate in a Golden Oak kitchen or bath. Granite, marble, or other upscale surfaces are the countertop of choice.
Want a built-in espresso machine? It's a snap. Need a water faucet above the cooktop? Sure, why not? If you want it, these builders can probably provide it.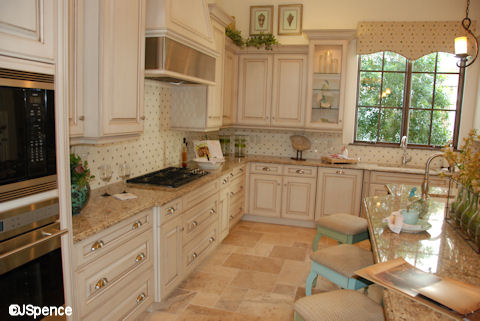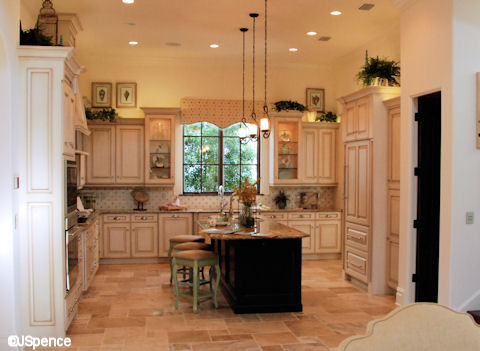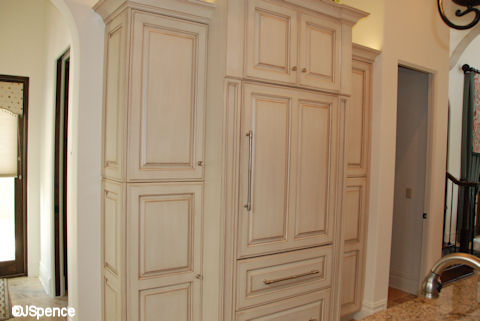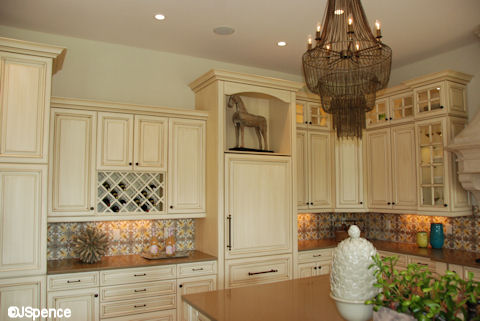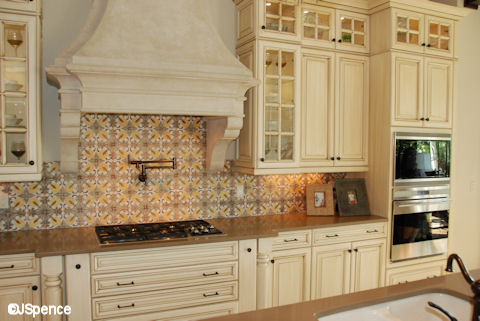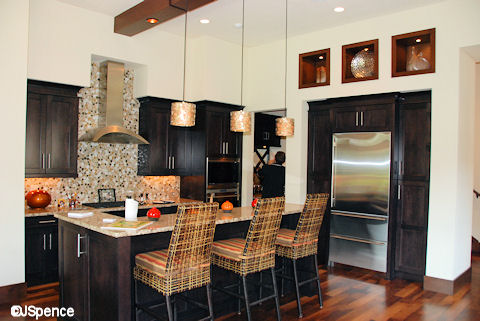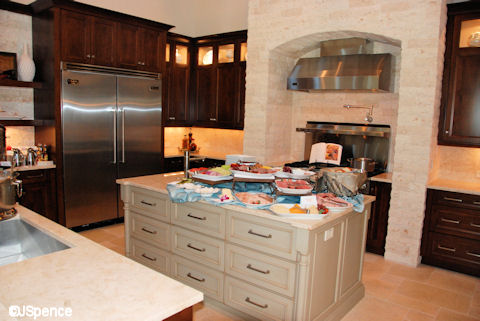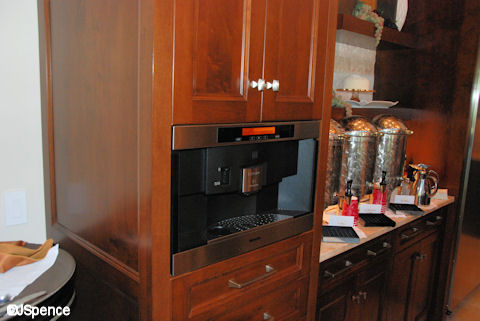 Living Room & Dining Room
Of course, music can be piped into every room of the house if that's your desire. And state-of-the-art security systems are the norm – complete with TV monitors in selected rooms. Would you like to control the thermostat, lights, pool temperature, music, or other household functions from your computer or iPad? Not a problem. The wiring and technology are available.
In Florida, many homes have large sliding glass doors that fit neatly out of sight in pockets when open. This allows homeowners to open up their houses for "outdoor" living. At Golden Oak, these doors can be automated so they open and close with a flick of a switch.
Almost every room has been electronically outfitted to accommodate wall-mounted flat-screen TVs with recessed openings for cable and electrical connections.
The living and dining rooms are large. The designers realize that these homes will be used for entertaining and don't want residents to feel crowded.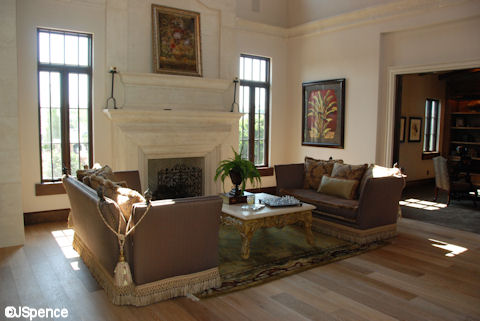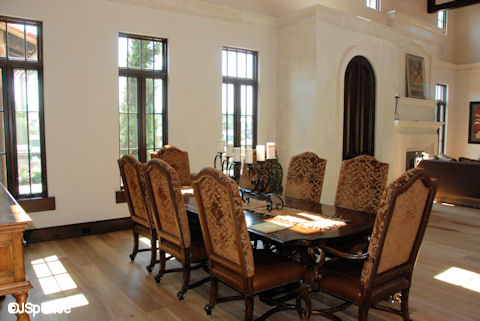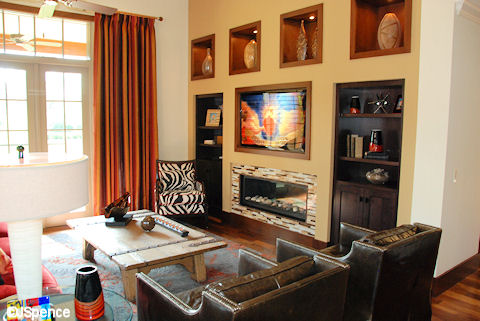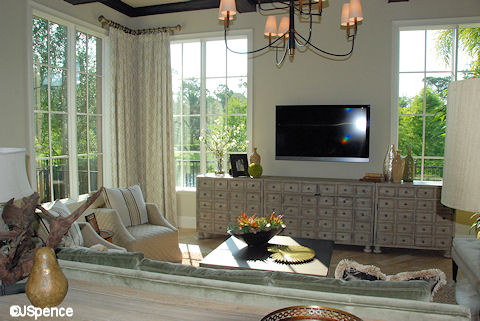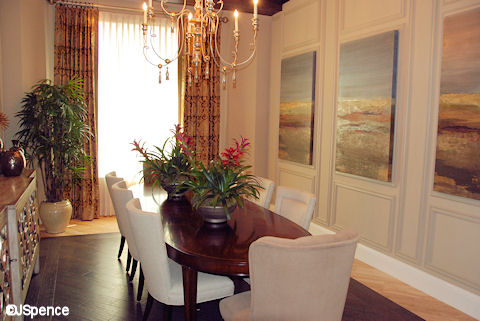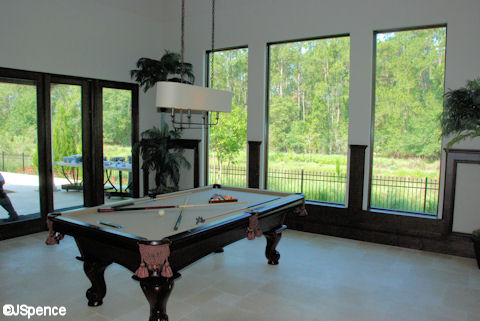 Bedrooms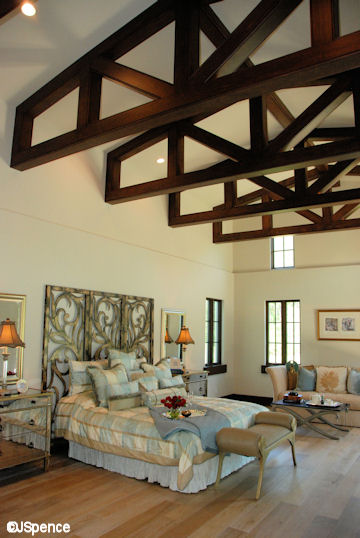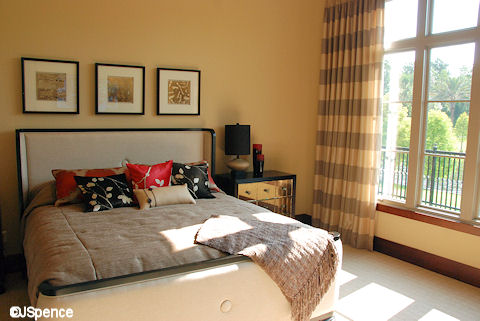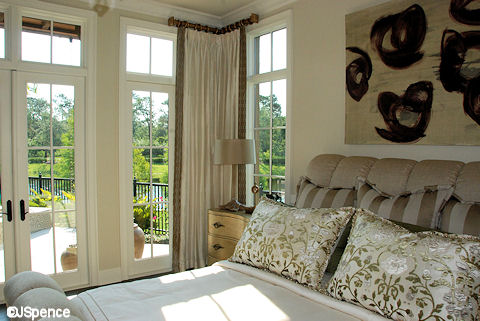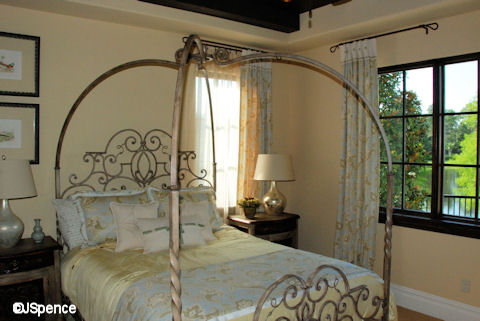 Wine Cellar
The term wine "cellar" is somewhat of a misnomer. We don't have cellars in Florida. The high water table prevents this. But a couple of the homes did have dedicated rooms for storing your favorite vintage.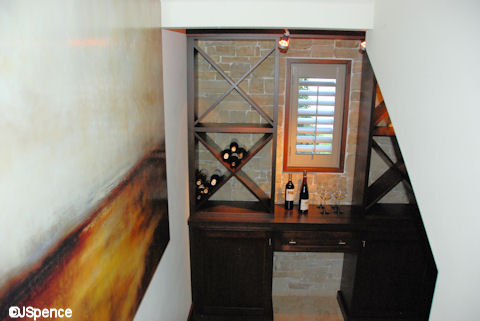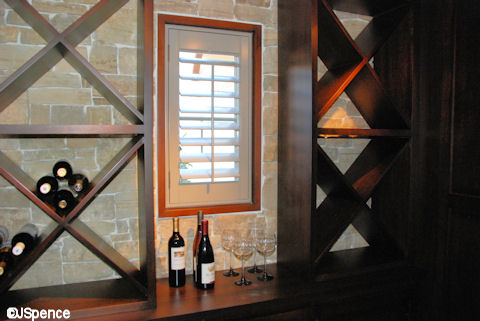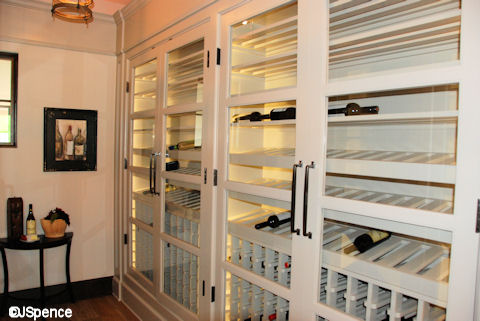 Ceilings and Light Fixtures
If your house is typical, the ceiling is either smooth or has a knockdown or a popcorn texture. Although some of the rooms within the Golden Oaks homes have traditional knockdown surfaces, some are far more imaginative and artistic. And you won't find any "glass-and-brass" chandeliers hanging over a dining room table. The light fixtures here are well thought out and exhibit quality.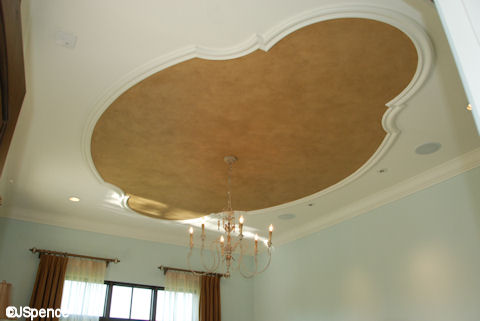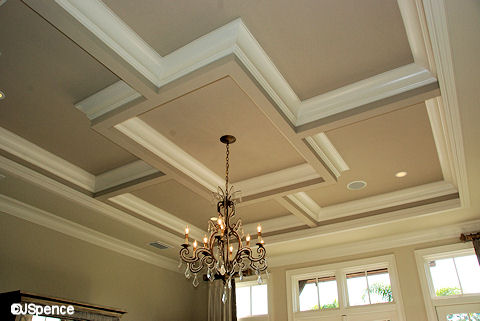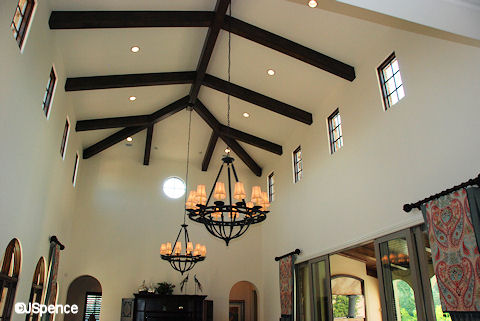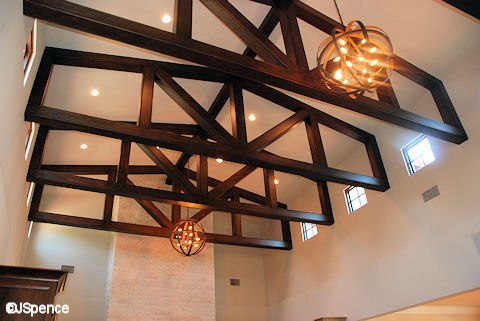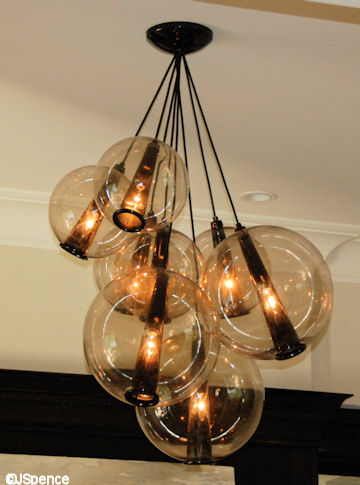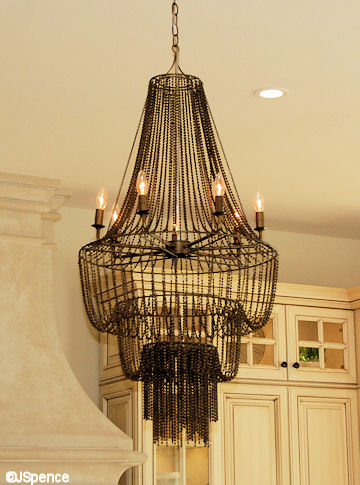 Switches
Even the light switches are special in these homes.
Staircases
Three of the homes featured a second story. Of course, the staircases here required more than simple carpeting. Wooded steps with tiled or marble risers provide a creative walkway to the upper level.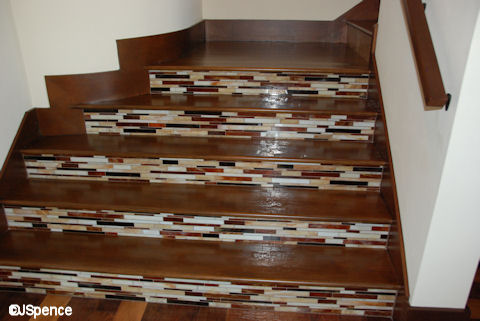 Master Bath
One of the requirements of Golden Oak is that every bedroom have its own, full bath. So a five-bedroom home would have five-and-half baths. The half-bath is the guest "powder room."
In several of the models, there were his and hers water closets in the master bath. No more arguments as to whether the seat is left up or down. One bath featured a bidet.
The showers in the master baths were also large and some offered multiple controls to adjust the several shower heads. The showers were definitely big enough for two (or more).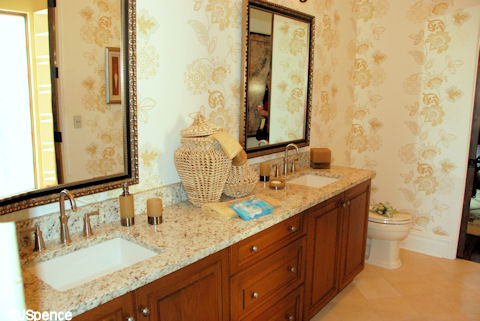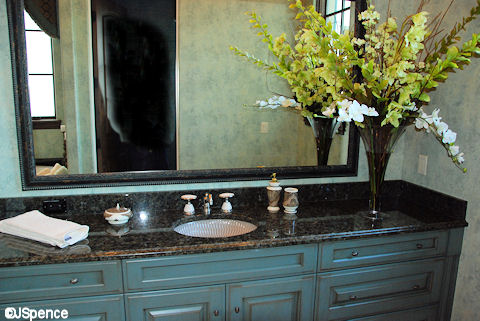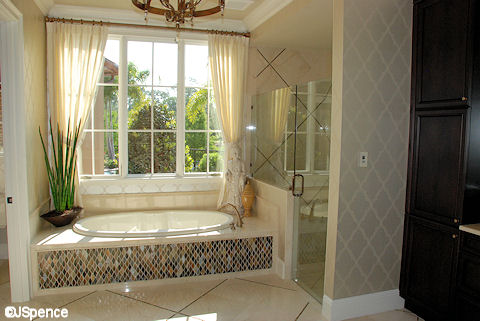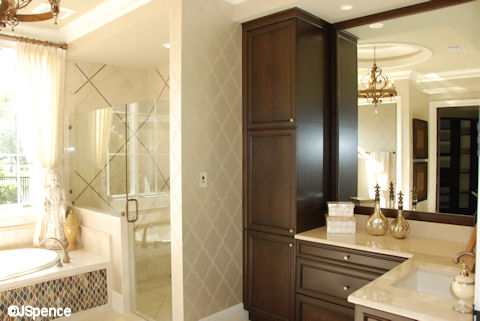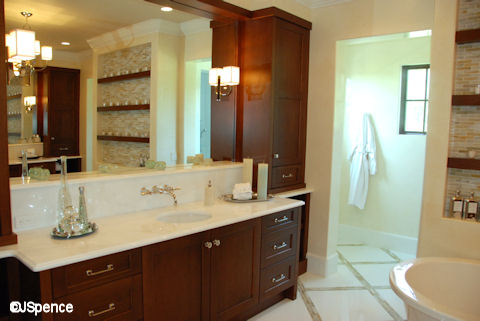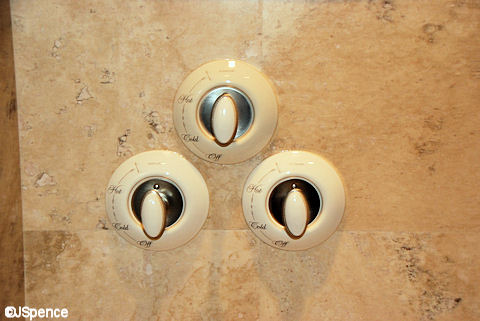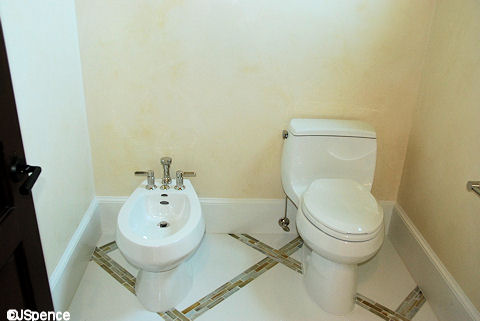 Closets
The master bedroom closets are bigger than most people's bedrooms. All were furnished with cabinets, drawers, hanging space, and shoe racks. One closet even had an area dedicated to the hanging of men's neckties.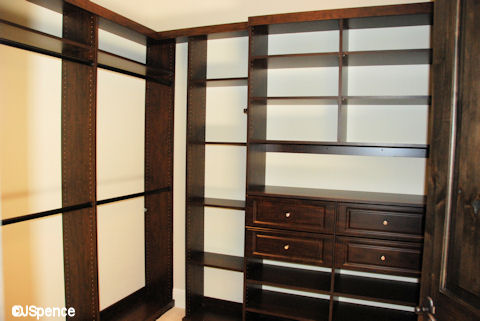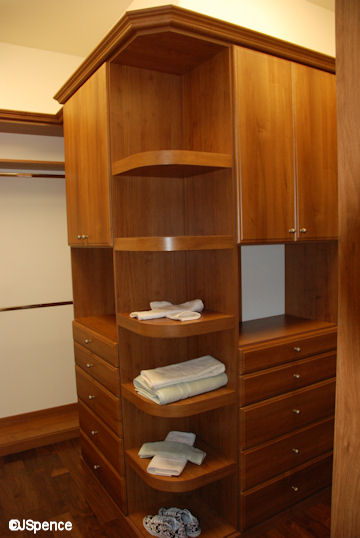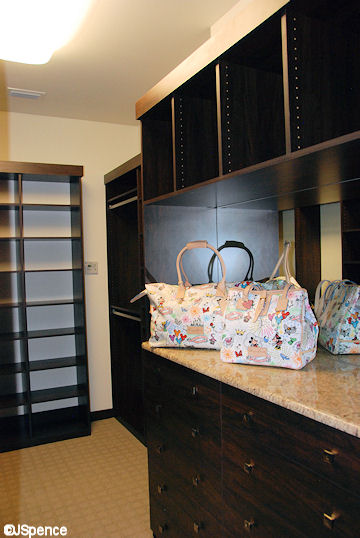 Outdoor Living
Florida is all about outdoor living and this fact hasn't been forgotten at Golden Oak. All of the homes featured large covered lanais, swimming pools, outdoor kitchens, outdoor televisions, and outdoor fireplaces or fire pits. Some even offered retractable screens that lowered and rose with the flick of a switch.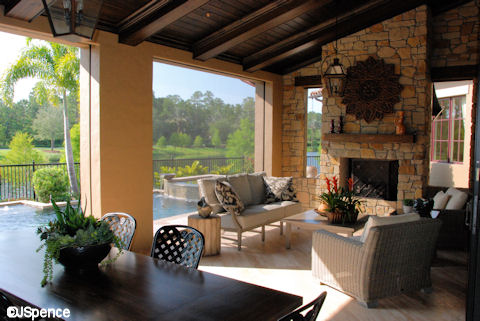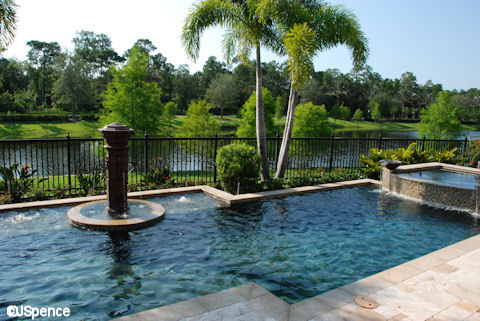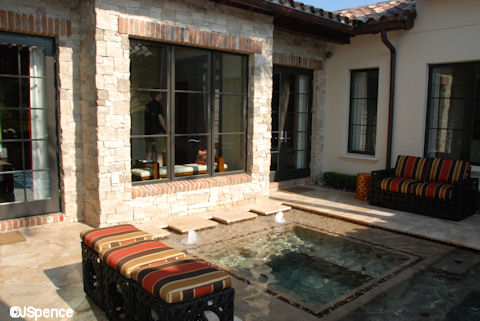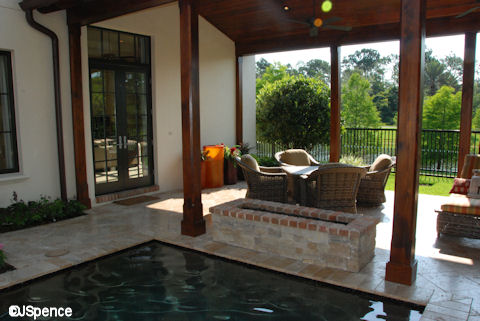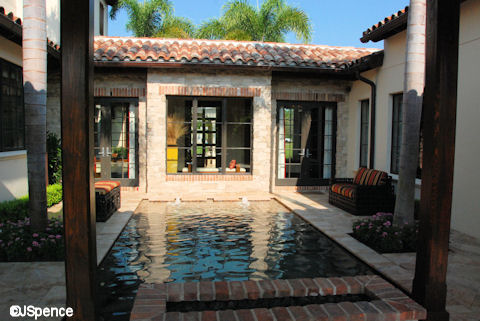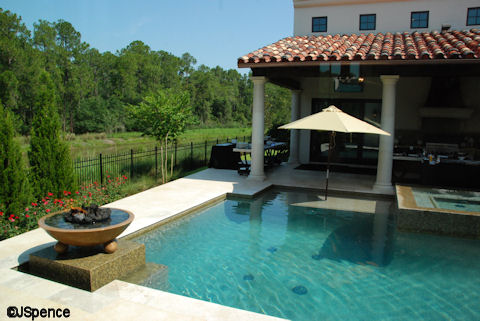 The various neighborhoods of Golden Oak will surround the Four Seasons Resort. Many of the services and facilities of this upscale hotel will be available to Golden Oak residents. However, the guests of Four Seasons will not have access to Golden Oak so there will be no "tourist" traffic driving up and down your street. Four Seasons is currently scheduled to open sometime in 2014. Current estimates predict that Golden Oak will be selling homes for the next 8 to 10 years.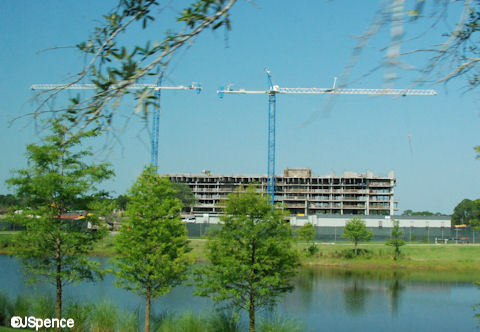 Disney is fully aware that the vast majority of the people who buy at Golden Oak are planning on using these houses as vacation homes for themselves and their guests. Although there will be a few year-round residents, most will only spend a portion of the year at Walt Disney World. When home owners are away from Orlando, all they have to do is call Residence Services to arrange for their house to be made ready for friends and family.
I will be honest; Disney wined and dined me for three days during my visit. Did this affect my opinion? Not really. Although enjoyable, the lavish attention I received really wasn't necessary to garner a good review. The community of Golden Oak could sell itself. How could someone not be impressed with the community, the homes, and the Disney services offered?
But Disney pulled out all the stops for my visit, not so much as a way to win me over, but to vividly illustrate the lifestyle that is available at Golden Oaks and at Walt Disney World if you have the means to afford the very best. For example, we were treated to a buffet breakfast poolside at the last house we visited. Cold cuts, fruit, rolls, and breakfast drinks were served in the kitchen while out by the pool, two buffet tables had been set up to offer us an array of meat products (including filet mignon), eggs, potatoes, an omelet station, and a pancake station. We sat at tablecloth covered tables while the wait staff cleared our plates, brought us seconds, and refilled our drinks. The weather was perfect, the atmosphere sublime, and the views outstanding. Even a McDonald's hamburger would seem special with this type of service and surroundings. Once again, all it would take for a resident to arrange such a gathering at Golden Oak is a simple call to Residence Services. Disney's "Special Events" team would take care of the rest.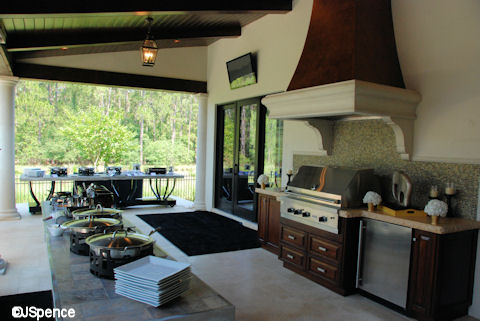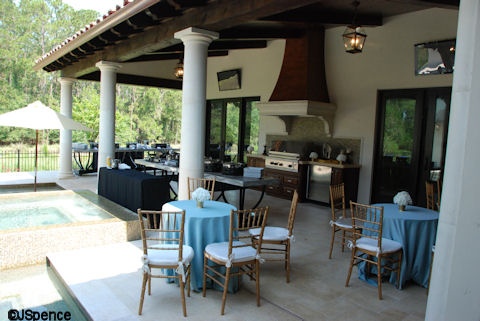 I know your next question is, "Can I visit Golden Oak?" The answer is yes. However, you cannot just stop by and say, "I want to take a look around." You must call in advance and make an appointment. But before you do, I would strongly suggest taking a look at their website. Here you'll find a wealth of information that I've neglected to tell you and more about appointments. The Golden Oak website is: www.disneygoldenoak.com
So how did this multimillion dollar community get its name?
In the mid-1950s, Disney needed a location to film "The Adventures of Spin and Marty," a serial about two boys attending a western-style summer camp. This 25-episode drama was to be part of the "Mickey Mouse Club" television show. Scouts scoured Southern California and eventually found the perfect parcel of land off of Placerita Canyon Road in northwestern Los Angeles County, about an hour's drive north of the Disney Studios in Burbank. The setting was perfect for a multitude of productions as it included streams, a lake, meadows, oak groves, and rolling hills. Walt was so enamored with the area that he bought 315 acres in 1959 for $300K. Over the years, subsequent purchases of the adjacent parcels brought the total property up to 827 acres. The name "Golden" Oak Ranch refers to the mini-gold rush that occurred nearby in the 1840s.
Over the years, scenes from many Disney and non-Disney movies have been filmed here. Some of the Disney productions include: Old Yeller, The Parent Trap, Toby Tyler, Follow Me Boys, and The Shaggy Dog. More recent movies include: Princess Diaries II, The Santa Clause, Pearl Harbor, and Pirates of the Caribbean II & III.
If you watch the original "The Parent Trap" there is a scene where Mitch Evers (Brian Keith), Vicki Robinson (Joanna Barnes), and the twins (Hayley Mills) are getting ready to leave on a camping trip. If you look closely at the pickup truck they are riding in, you can see "Golden Oak Ranch" printed on the truck's door.
Disney still owns Golden Oak Ranch and is currently in the process of transforming a portion of this land into a high-tech motion picture production center. Soundstages, mill shops, offices, outdoor sets, and a commissary are all part of the grand, multimillion dollar plan. When construction is complete, it will be possible to create an entire movie or TV show from beginning to end at this facility.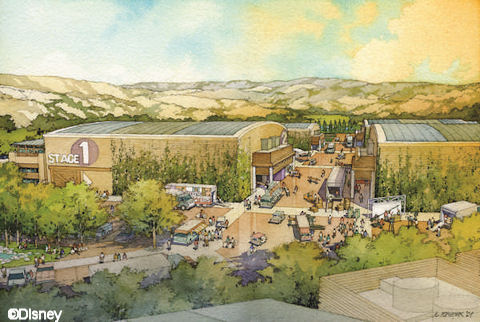 The name "Golden Oak" can also be seen in the Magic Kingdom. In Frontierland, "Golden Oak Outpost" serves fried chicken sandwiches, chicken nuggets, fries and drinks.
In conclusion, I would like to thank all of the Disney cast members who provided me with this marvelous opportunity to visit Golden Oak at Walt Disney World. I was treated like royalty and I appreciate all of the effort that so many individuals took to make my experience here so memorable.
And just so you know, since my parents didn't buy any land in Central Florida during the 1950s, I've added Golden Oak to my "must have" list when I win the lottery.