Here we are with another day at sea.
Michael and I are sitting on lounge chairs on deck 9 facing the beautiful blue Pacific.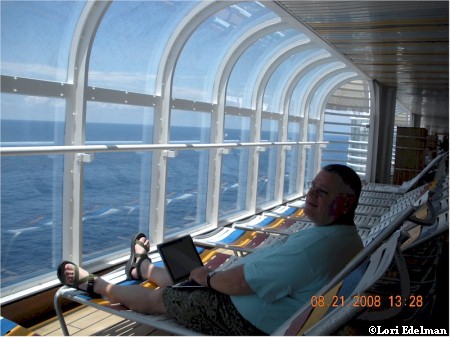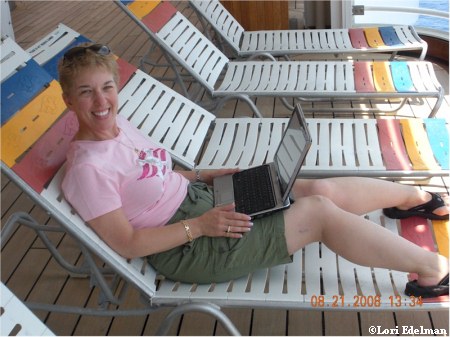 I just read through many messages forwarded to me from Deb. Thank you so much! You're making me cry again.
Can I tell you something? After my "intro" blog was posted, I was feeling a little uncomfortable. I've been reading various internet sites and following newsgroups for years and years. Anyone remember rec.arts.disney??? I read, but I rarely post. This blogging was really putting myself "out there" which is out of my comfort zone (again).
Then, it occurred to me. I drive a custom painted PINK car (a MINI, of course). How can I possibly be concerned with standing out? There are more people in the Pacific Northwest that recognize me than I care to think about! (I've included a photo; note the Disney princess antenna ball and my license plate – MNI MSE.)
Anyway, thank you all for your thoughtful notes from Australia, New York City, and many places in between. Amazing.
Hey, I just missed a great photo op at the adult pool. It was Stitch! Just as I was about to snap my photo someone stepped in front of me. Oh well. Next time.
This morning first thing Michael and I both got some exercise. He got going earlier than me and had a pleasant power walk on deck 4. I waited to join the Run/Walk 5k group that met in Preludes. I thought we might run or walk as a group, but we all just did our own thing. I managed 1-1/3 miles today – half walking, half running.
I'm definitely still recovering from last night's two bottles of wine. That was probably not too smart, but it was soooo good. I still can't get over the whole Palo experience. We're on the waiting list for another dinner. Crossing my fingers that they call!
We played bingo again this morning. Apparently, my luck has run out although Michael won another travel wallet and a piece of art work. We had tickets for the margarita tasting this afternoon, but it conflicted with another bingo which Michael and Aaron really want to attend. Fortunately, we were able to exchange our tickets for another tasting later next week.
As for me, I'm thinking a nap or maybe a dip in the pool this afternoon sounds good. I suppose I should read a few pages of Harry Potter, but right now that seems like work. Check out the photo with Aaron and Captain Bingo aka Pikey! He is aware of LOTS of folks from the DIS boards that are onboard and they are trying to get the word "tangerini" on the internet; you know, google it up! Now, I'm just not sure if that's tangerini or tangerineee or tangeriney! By the way, that would be the color of the card for the 2nd bingo game.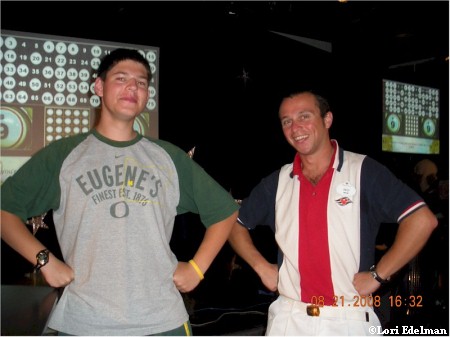 So, let me tell you about cleanliness on the Disney Magic. Many of you probably recall news stories about flu viruses on cruise ships taking out significant numbers of travelers. I think it may have happened on one Disney cruise, too. Well, Disney passes out sanitary hand wipes to each and every person as they enter any restaurant for every meal. Plus, they hand them out when you re-board the ship from any excursion. Each bathroom (including those in the staterooms) has instructions posted on the most effective way to wash your hands. I have to say, I'm pretty impressed! I thought Disney did a great job before!
The silent auction bidding opened today. I have my eye on a very cool poster from Fantasyland with "It's a Small World" characters. It brings back fond memories. As a little girl I remember skipping down the very wide "aisle" heading towards Small World at Disneyland holding hands with my dad. He would always wonder why everyone seemed to have a long face (maybe it was the heat?). He always wore a smile and whistled a happy tune when we were at Disneyland. Come to think of it, he smiled and whistled most of the time no matter where we were. I do miss him.
Anyway, back to the silent auction. For anyone that traveled on many of the early Magic & Wonder cruises, you may remember that they handed out trading cards featuring the ships, the plays, the Oceaneer clubs, etc. In an auction on a prior trip we were able to buy a custom framed set of all of those cards.
This afternoon we have a Castaway Club event at the Goofy pool. Did I mention that this cruise has 2036 return guests? The most return guests of any Disney cruise to date! We were each given a "Castaway Club Challenge" card with quiz questions like find a crew member that was part of the opening team of DCL (Captain Tom!) and find fellow cruisers that have sailed more than 10 times.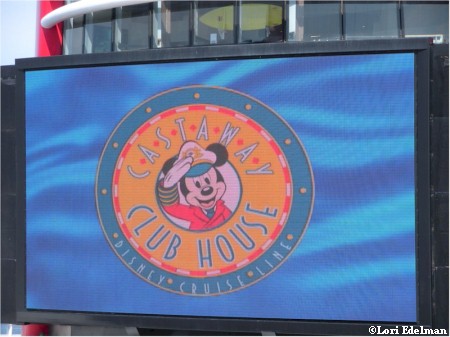 We were lucky enough to meet Barb and Tony who are on their 63rd sailing! Can you believe it? I thought they might not have made many trips to WDW since they must always be at sea. Wouldn't you know they live near Celebration! Anyway, it was fun chatting with them. Oh , the only bonus question for adults was to find someone that sailed on an inaugural voyage! Yeah! That one was easy! We were on both!!!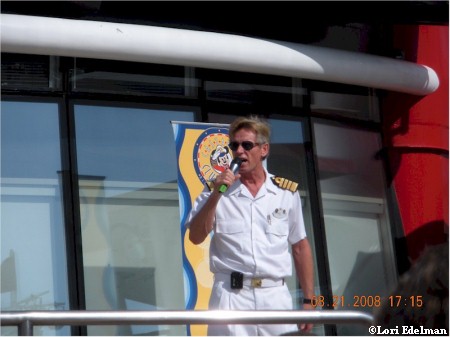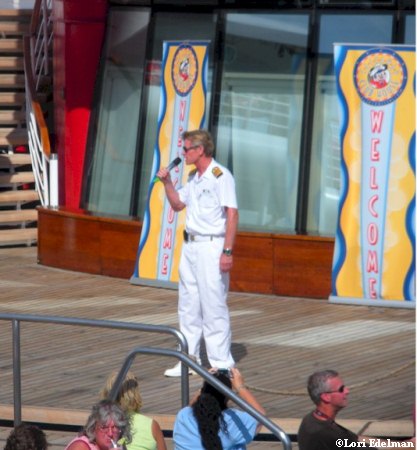 Now we'll get ready for dinner. We're back in Lumiere's with a French menu. Right now we're in the stateroom watching "Snow Buddies" on TV and a storm brewing outside.
Before dinner we chose to go to Studio Sea for a rousing round of "Who Wants to be a Mouseketeer." Several folks got a chance in the hot seat; a 7-year-old girl won the grand prize! I was impressed; she needed very little assistance from Mom.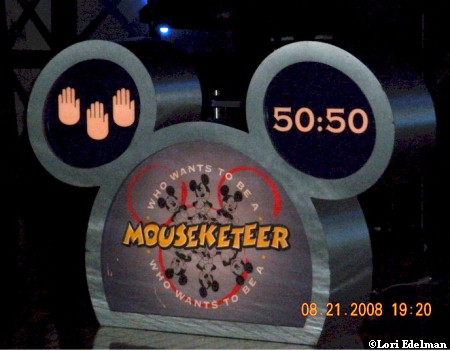 As I mentioned we were in Lumiere's.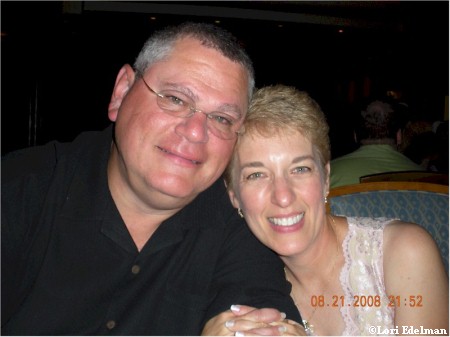 Aaron was thrilled to get his escargot. And, for my dear friend, Jim, check out this crème brulee. Nice, crusty brown top!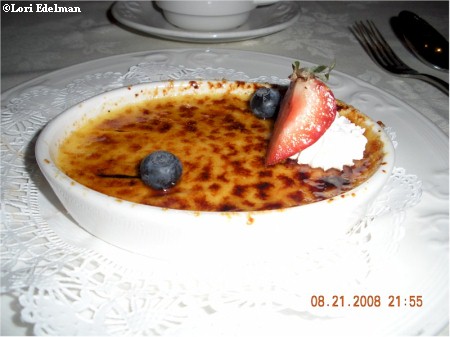 The real highlight of this evening however was our special guests: Beauty and the Beast! One of my most favorite princesses.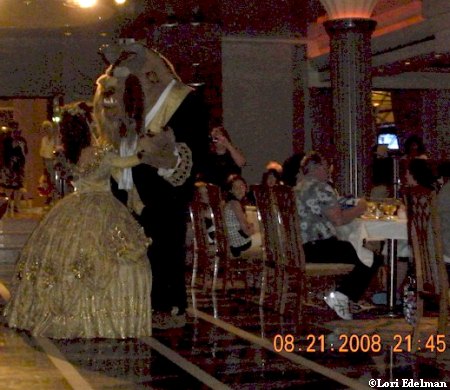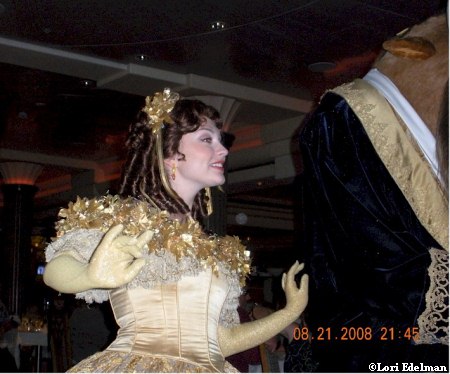 Well, everyone thanks once again for all of your kind notes. Enjoy!
You can send a comment to Lori via our Blog Contact Us Form. Be sure to select General Blog Comments and we'll foward them on to Lori.