Toddling the Magical Seas
by Jonathan "The Voice" Dichter
AllEars® Guest Columnist
Feature Article
This article appeared in the July 10, 2012 Issue #668 of ALL EARS® (ISSN: 1533-0753)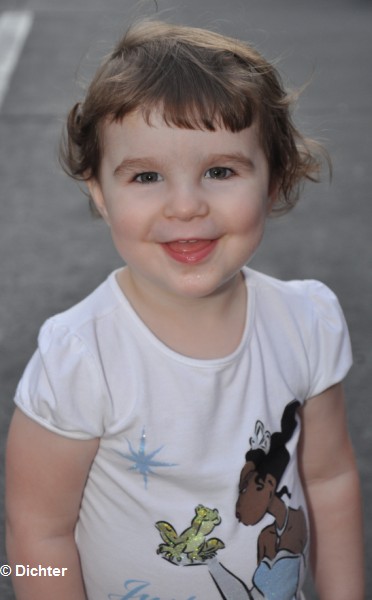 Those of you who have been reading my articles for some time will remember that we like to take our toddler Elizabeth on a variety of Disney trips. This year we have a new one to add to our passports. We were fortunate enough to take a seven-night cruise (Western Caribbean) on the brand spanking new Disney Fantasy. I've learned a variety of things about cruising with a toddler that I want to share with you, like always. And like always, I'm going to give you my top 10 tips for cruising with a little one.
Tip #1. Splurge if you can. Here's what I mean by this. We were lucky enough to have been booked into a one-bedroom family suite (Thanks, Mom!). It comfortably slept four of us (me, my wife, Elizabeth, and my mother). But, most importantly, it gave us access to the concierge lounge. And what an amazing benefit this lounge was for us.
Instant check-in. Instant soft drinks. Instant milk. Instant snacks. And the concierge hosts get to know your children by name within an hour. They make special events that much MORE special for them. (BIG props to Julia, Kameisha and PJ.) They help you book your shore excursions and keep up with the mayhem that can ensue onboard what is essentially a moving resort hotel.
Which reminds me — if you're worried about motion sickness, DON'T be. My wife is terribly sensitive to motion sickness, but we didn't use the patches or any medication. You barely feel the boat moving. It's literally like being in a hotel. On water. A LARGE hotel. So don't worry about it. Occasionally you'll feel a lurch, but that's it.
Tip #2. Know the itinerary. Don't be upset if the ports aren't for you. On our cruise we stopped at Grand Cayman, Costa Maya, and Cozumel. Visit the dolphins at Grand Cayman, if you can. I swam with them — NICE!
Believe it or not, we didn't get off the boat on Costa Maya or Cozumel days. >Part of the reason was an injury. In case you were wondering, yes, the ship DOES have a fully functional infirmary with doctors, nurses, and an X-ray machine. My wife rolled her ankle coming back onto the tender ship at Grand Cayman. From port to ship to infirmary and back to our room after being examined, diagnosed, and treated: under one hour. And they charge the care to your room and then give you the paperwork to send to your insurance company at home.
But let me tell you, getting around the ship with a wheelchair is HARD. Which brings me to Tip #3.
Tip #3. Know the layout of the ship. If you want to do the Midship Detective Agency interactive game, and you're staying Forward, don't just take the nearest elevator down to Deck 2 or 5. You'll have to go through stateroom hallways, which, by the way, are nearly impossible to navigate with a wheelchair. Ask any crew member and he or she will give you the best possible method of getting from Point A to Point B. It's not always the way you think, but it'll save you time — minutes or even a half-hour!
Tip #4. Invest in a baby leash. I know, I know. You don't want to be those parents who keep their kid on a tether. Trust me. It's easy for a kid to break away and RUN. And there are lots of unrestricted stairs, pools, water features, and more that are dangerous for a toddler. So if she'll stay in your arms, or hold your hand, you're fine. If not, try the child tether. Walk her around. You'll feel better about it.
Tip #5. Expose your toddler to anything you can in advance. We decided to dine at Remy and Palo on this trip and to make use of the "it's a small world" nursery. The nursery had an open house on the first day of the cruise, and we missed it. I wish we hadn't. When we first dropped Elizabeth off there for Remy night, she was kind of panicked. "Where am I? Why am I here? Where are Mommy and Daddy going? Who is this strange woman?"
But you know what? They settled her down quickly (within about 10-15 minutes) and FOUR princesses came in to keep them company while we had dinner. How bad of an evening is that? Everything else we tried to show her in advance, and she had no problems — except for the kid who sprayed her with water in the Nemo splash area. Him she didn't like.
Tip #6. Expect changes in your toddler. You might recall from my last article that Elizabeth loved the pool at Bay Lake Towers. So we expected her to love the pools on the cruise. NOT SO.
First of all, she wanted to be in the pool with Daddy. Which was the Quiet Cove adult-only pool. She had NO interest in the pools with the other kids. So that means that we loved the beach, right?
WRONG. She hated the sand. Hated the ocean. And hated everything that was "beach"-y. Except our cabana on Castaway Cay. She liked the fresh water Daddy kept dumping on his head from the shower. That was it.
Tip #7. Take time for yourselves. Yes, being with a toddler is fun, but it isn't EVERYTHING. Use naptime. Switch off. Go to the spa. Go in the Quiet Cove pool. Have the nursery do their thing and have dinner at Palo (so nice!). Look — you're cooped up on a ship. It's a HUGE ship, but you're still basically cooped up — for seven days. Find a way to take care of yourself or you're going to snap.
Tip #8. Babies Travel Lite. What is it? Do you REALLY want to pack diapers and pull-ups for a week? Plus your wipes, swim diapers, squishies, cereal bars, sammies, goldfish, and whatnot? NO WAY. It's heck getting that stuff packed. So Disney Cruise Line has teamed with Babies Travel Lite. It's essentially an online baby warehouse of awesome. We made our order 10 days prior to travel and it was there inside our stateroom when we arrived. Fewer things to worry about!
Tip #9. Shows — not movies. At least for Elizabeth. Every night after dinner there is entertainment in the Walt Disney Theatre. Some nights it's a great show like Disney's Believe, or Aladdin, and some nights it's a first-run movie, like Disneynature's Chimpanzee. The shows were loud — musical, bright… and fun. And Believe even made me a little teary.
Elizabeth LOVED these shows. Sat riveted.
Chimpanzee? Not so much. It was too loud, there was not enough music, not enough brightness. And after 45 minutes, she'd had it. We had to take her out.
This really begins to sum up the most important tip for cruising with a toddler. And I think you deserve this one — it's my honest opinion.
Tip #10. Wait, if you can.
Yes, cruising is fun. But it's expensive, especially on Disney Cruise Line. For many families this might be a once-in-a-lifetime cruise. And the one thing we kept saying over and over again was, "If only Elizabeth were a year or so older… "
Now, obviously, your kid is your kid, and only you know them best. But if they're not potty-trained and not yet 3 years old, they miss out on a LOT. And as such, they stay with YOU a lot, which means that you miss out on a lot. If you're going to spend that kind of money and time on a family vacation like a cruise, maybe you should wait until your family as a whole can take advantage of it. Because you don't want your magical cruise to have any "if only's" in it.
But what if you can't wait? What if your once-in-a-lifetime is NOW? Then by all means ENJOY YOURSELVES. And use these tips to minimize the "if only"-ing. Because there's one thing I've come to learn and believe in my heart: the TRUE Disney Magic lies in the love of your family… and spending time together. So go do it with all you can.
I'll see ya on the seas!
= = = = = = = = = = = = = = = =
ABOUT THE AUTHOR: Jonathan "The Voice" Dichter — the Happiest Daddy on Earth — is a blogger, podcaster, writer, lawyer, magician, husband, daddy, and proud DVC owner. For three years he co-hosted the All About the Mouse Disney Podcast as "the Mayhem" to Bryan Ripper's "Magic". He serves on the executive committee for the Pacific Northwest Mouse Meet. He has completed six Disney Half Marathons, and will be returning to WDW later in 2012 to complete the Wine and Dine Half Marathon. You can read about his race training, weight loss, and charity raising efforts at his blog: http://voiceofmousetunes.blogspot.com — or email him at Grizzpyre@yahoo.com.
===============
RELATED LINKS
===============
Toddling around the World with Your 2-Year-Old: http://allears.net/ae/issue648.htm
How to Enjoy Walt Disney World with Your 1-Year-Old: http://allears.net/ae/issue581.htm
When Should I Take My Child to Disney? http://allears.net/ae/issue541.htm
Infant and Toddler FAQ: http://allears.net/pl/infant.htm
Childcare FAQ: http://allears.net/pl/childfaq.htm
-o-o-o-o-o-o-o-o-o-o-o-
Editor's Note: This story/information was accurate when it was published. Please be sure to confirm all current rates, information and other details before planning your trip.