Toddling Around the World: WDW with Your 2-Year-Old
by Jonathan "The Voice" Dichter
Feature Article
This article appeared in the February 21, 2012 Issue #648 of ALL EARS® (ISSN: 1533-0753)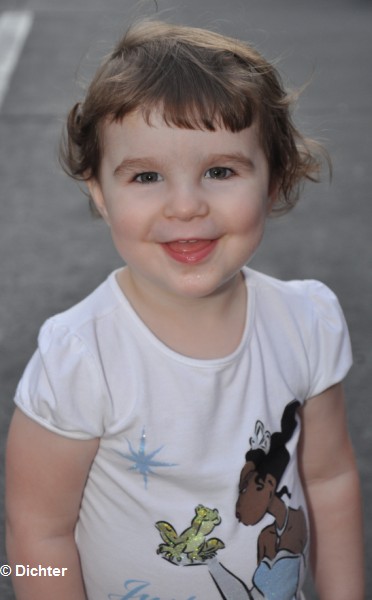 If you're a regular reader of AllEars®, you might remember that a little over a year ago, my wife and I took our daughter Elizabeth to the World for her first birthday, and I shared our experiences here (AllEars® Issue #581, http://allears.net/ae/issue581.htm).
Well, we recently went back when she was about 26 months old — and what a difference a year makes! I want to yet again share some of the highs, lows, and my top 10 tips for to traveling with a toddler to Walt Disney World. The best way to do this is going to be just to tell you how the trip went.
After a decent five-hour flight on Alaska Airlines, and a smooth Magical Express ride, we checked in at the Bay Lake Tower with no issues. We really want to make sure our kid is safe on our trips, so the first thing we did? We used plastic outlet covers to cover every outlet at kid height. While we were doing this, Elizabeth (who runs now) ran around the room, tripped on the carpeting, and smacked her head right into a chair. Within moments it had blossomed into a goose egg the size of a small orange. We completely panicked.
Tip 1: Don't panic. Pick up your hotel phone and call emergency services. Reedy Creek Fire Department is Disney's own on-site paramedic unit. Within two minutes, we had a shift manager and security in the room calming us down while we watched Elizabeth (who had now stopped crying) playing on the floor with stickers. About three minutes later, the medics were there. They were friendly, comforting and evaluated her for free. Told us that they thought she was fine, and that if we wanted, we could have her x-rayed. They'd give us a ride to the ER, also free of charge.
When I complimented the manager on their service and how well we were treated, he told me there was nothing extraordinary about it. This was their Standard Operating Procedure.
We finally all fell asleep and slept in later than we'd planned. Which brings us to…
Tip 2: Learn to expect the unexpected — and roll with it. You know how at home, things are always a little up in the air because you never know how your little person is going to be? Same thing at Disney. So just be OK with it. Be willing to change your plans and not go commando-style through the parks. Sleep in. Try something new. We tried several new things. And I'll tell you all of the things we tried.
Tip 3: Have you tried the pool with your youngster? If not, do it. Elizabeth loved the pool at Bay Lake so much! Especially since they have a little teeny-tiny slide for little teeny-tiny people. She kept sliding and sliding. In fact, we had to persuade her to leave a little later. And most importantly, it conked her out for the night afterwards.
A good night's sleep had me hopeful that the next morning we'd be enjoying our Enhanced Photo Session.
Tip 4: Did you know that PhotoPass is out of the portrait business? Now you can have family portraits taken by Disney Event Photography! You can have a longer session, with far more location choices. We had selected a nice family session in World Showcase. We'd even selected a time before the park was open, when we could end in Norway with breakfast.
But there was one problem we hadn't anticipated.
Tip 5: Know the weather, and your route to where you're headed. Here was the problem. In order to meet the photographers at World Showcase at 8:30, we needed to be at the Beach Club by 8 a.m. so we'd have enough time to walk over. And it was about 45 degrees that day. And we had to wake up and get dressed by 7 to catch a cab at 8. And when you request a cab with a car seat, make sure you request a driver who knows how to USE the car seat. We had a driver who had no idea how to use it and suggested we just HOLD Elizabeth on our laps. So after an early morning, a very uncomfortable cab ride, and a very chilly walk, Elizabeth was not her most cheerful and un-cranky. In fact, although the session was quite nice and the photos were quite good in quality, they didn't turn out well because Elizabeth was cranky, and as such, we weren't quite enjoying ourselves.
This brings me to my next tip, which is a repeat of a prior tip from my last trip, but it bears repeating:
Tip 6: Try to keep some semblance of bedtime and naptime schedules. Happy baby = happy parents. Go back to your resort in the afternoon. Everyone take a nap before dinner. It's not worth a meltdown. Trust me — avoid meltdowns. Take breaks. Go slow. Take naps. Did I mention go slow? We had a meltdown of our own when we decided that the Studios was too far from Bay Lake to go back for naptime, and we couldn't get to the Baby Center fast enough!
Something else we did was head to Mickey's Very Merry Christmas Party. Now this was totally different than our last experience at the Halloween Party.
Tip 7: Try new things all the time. On her first trip, Elizabeth was scared of characters, loud noises and parades. Fireworks still scare her, but she LOVES parades now! She even took a small nap before the Christmas parade, just so she could watch it. And for those who tell you that a kid won't enjoy the parties, ask them this: When else can you ride Dumbo twice, Pooh four times, Peter Pan twice, Small World three times, and the Carousel… all inside of two hours? It's invaluable!
Oh, one other pitfall you might have missed that you need to know about. If you're like me, I assume you're a Disney shopper. You like T-shirts, souvenirs, pin trading, and more. Well, with a 2-year-old, it's HARD.
Tip 8: Did you know that if you ask for exactly what you want, most of the gift shops in your resort can get it sent to them from the warehouse so you can purchase it there? It might take a little asking, but heading down to Fantasia gifts at the Contemporary Resort during nap time is much easier than trying to wrestle a set of Mickey ears, a hat, a T-shirt, and a fairy wand out of the hands of a 2-year-old at the Emporium who just has to have them all! Just ask — you'll be surprised what they might be able to do for you! Now, don't go overboard. Don't bring them a shopping list. That's what Disneystore.com is for. But if there's one item you just HAVE to have, and your shop doesn't stock it? Ask. You might be surprised.
In reviewing the trip, I really want to bring up another important dining tip for toddlers.
Tip 9: Try a variety of new restaurants! We did and enjoyed most, if not all, of them! Via Napoli was fun, but Elizabeth's favorite non-Princess dining had to be the Coral Reef in The Seas pavilion in Epcot. She loved watching the turtles. And then talking to Crush afterward inside the pavilion.
Which brings us to our final tip… which is the same advice I gave you last time.
Tip 10: Recognize that each toddler is different, and that each trip will be different. Just take it easy and let your toddler explore the World at her own pace. Let her make the World her own.
So, "The Happiest Baby on Earth" returned to the World, and overall had a wonderful trip. Although the "Terrible Twos" were starting to rear their ugly head, you can plan around them by knowing your toddler, planning your days, and just remembering you're there to enjoy your family. And use PhotoPass! A lot! And just have FUN. The parks aren't going anywhere.
= = = = = = = = = = = = = = = =
ABOUT THE AUTHOR: Jonathan "The Voice" Dichter — the Happiest Daddy on Earth — is a blogger, podcaster, writer, lawyer, magician, husband, daddy, and proud DVC owner. For three years he co-hosted the All About the Mouse Disney Podcast as "the Mayhem" to Bryan Ripper's "Magic". He serves on the executive committee for the Pacific Northwest Mouse Meet. He has completed five Disney Half Marathons, and will be returning to WDW twice more in 2012 to complete the Princess and Wine and Dine Half Marathons. You can read about his race training, weight loss, and charity raising efforts at his blog: http://voiceofmousetunes.blogspot.com — or email him at Grizzpyre@yahoo.com.
===============
RELATED LINKS
===============
Infant and Toddler FAQ: http://allears.net/pl/infant.htm
Childcare FAQ: http://allears.net/pl/childfaq.htm
Stroller FAQ: http://allears.net/pl/strol_faq.htm
When Should I Take My Child to Disney? http://allears.net/ae/issue541.htm
-o-o-o-o-o-o-o-o-o-o-o-
Editor's Note: This story/information was accurate when it was published. Please be sure to confirm all current rates, information and other details before planning your trip.