Tips for Making the Most of a Holiday Visit to WDW
by Alice McNutt Miller
AllEars® Feature Writer
Feature Article
This article appeared in the November 18, 2014 Issue #791 of ALL EARS® (ISSN: 1533-0753)
Editor's Note: This story/information was accurate when it was published. Please be sure to confirm all current rates, information and other details before planning your trip.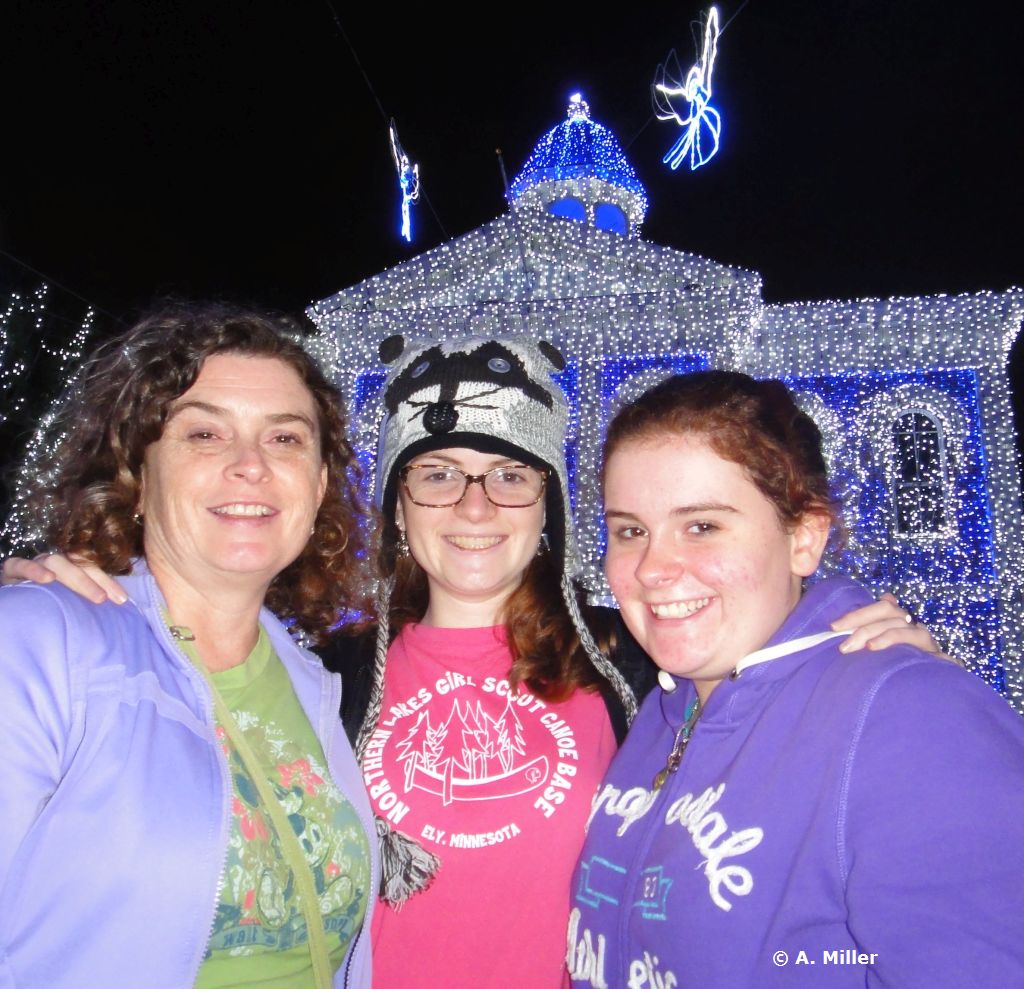 The holidays are almost upon us, and many of us have visions of sugar plums — and Mickey bars, and turkey legs–dancing in our heads. Ever since I started going to Disney World when my kids were young, I dreamed of spending the holidays in the magic of the World. The decorations are beautiful, the snacks are festive, the lights are twinkly, and I just knew that the holiday spirit would be everywhere. Disney World cranks into high holiday gear during the first few weeks of November, and the festivities continue through just after New Year's. During this magical season, Christmas trees replace pumpkins almost overnight, the Osborne Family Spectacle of Dancing Lights (or as my husband calls them, the Roy Orbison Family Lights, ugh) begin their mesmerizing twinkling, and the American Gardens Theatre in Epcot pulls in the crowds for the Candlelight Processional. It sounds dreamy
Then reality sets in. All of the guidebooks say to avoid Disney World during the holidays. The crowd calendars are as red as Santa's jacket, and lodging prices are through the roof. What is a family that wants to make new Disney-themed holiday traditions together, but doesn't want to lose their minds in their process to do? The Miller Family has been fortunate enough to spend two Thanksgivings, one Christmas and two New Year's Eves at Disney World. We are currently planning our next New Year's Eve visit. We have discovered that a visit during this very magical, but very congested, time of year, requires a slightly different approach than a visit during "regular" times. Following are 10 of our tips for surviving, enjoying and reveling in holiday splendor at Walt Disney World:
1. If you can, book lodging well in advance. If there is a particular Disney resort that you have your heart set on for your holiday visit, be sure to book early. While prices at Disney hotels don't tend to fluctuate as the holidays get nearer, availability is sure to plummet. Note that hotel prices for the Disney resorts are at their absolute highest between Christmas and New Year's, and plan well for that.
2. Last-minute decision? Don't despair. If you are not absolutely set on staying at a Disney resort, Orlando has a huge supply of hotel rooms, and there is bound to be something — even something with a reasonable price — available at the last minute, as long as you are flexible. Several years ago, we had to make a very late change to the dates of our holiday visit, and as a result were not able to find our regular DVC accommodations. We did, however, find a sweet deal at the lovely Hyatt Grand Cypress resort. While we missed "staying in the magic" it was fun to try out a new resort.
3. Book dining reservations well in advance, and look for special holiday meals and dining experiences. The parks and resorts will be jammed, and that means slim pickings for restaurants. More than at any other time of year, it is important to snag Advance Dining Reservations as close to that magical 180-day mark as possible. Look into the special dining experiences for Thanksgiving, Christmas and New Year's that Disney offers. We have done several special Thanksgiving dinners in the past, including a really fun buffet dinner with all the fixins' held at Ft. Wilderness at the Mickey's Backyard BBQ site. I have never done a Candlelight Processional dinner package, but fans of the popular holiday presentation at Epcot will have access to reserved seating for the show, which will let them avoid VERY long lines for stand-by seating. This year the Miller family will be attending "New Year's Eve at Epcot World Showcase." The event promises "New Year's Eve dinner buffet featuring classic Disney songs and dazzling set pieces." I am not really sure what that means, but it sounds like fun. I will be sure to report back! As always, check the Disney World website for up-to-date offerings.
4. If you celebrate Christmas, and will be in the World on that day, consider bringing (or sending ahead) a few decorations and gifts, especially if not being at home or at the grandparents' house for the first time might be upsetting for the kids. You may want to focus on small or experience-oriented gifts for the kids, so that you don't have to lug too much stuff with you. (Or not. If you arrive in a car, as we did on the Christmas we visited, I say bring it all!) We do always bring stockings and stuff to stuff the stockings with. (Say that three times fast!) Try to make the Christmas experience as close to what you would have at home, while injecting a bit of Disney magic, particularly if you are traveling with younger kids.
5. Consider giving your family a special Disney experience as a gift. If you have been waiting for the right time to splurge on a special Disney World experience for the family — like that backstage tour you've always wanted to take, or a visit to the Bibbidi Bobbidi Boutique — slip a "coupon" redeemable for that experience into the stockings.
6. Know that the parks will be JAMMED, especially on Christmas Day. The time we were in Disney World for Christmas, we decided to avoid the parks on that day, instead relaxing at our resort pool, and taking in some mini golf (see tip #9, below). If you do decide to go to the parks, know that they often reach capacity early in the afternoon, and guests may be turned away (even Disney resort guests, who are normally guaranteed entry). The mantra is: go early, do a few rides, take lots of pictures with the Christmas decorations, then LEAVE. (You may feel like a salmon swimming upstream, as you make your way to the exit, so keep your party together!)
7. Have a touring strategy. The Miller Family will be employing the following strategy for our upcoming New Year's trip. Now that the FastPass+ system is in full swing, we make sure to utilize the appropriate booking window (60 days for on-site guests, and the 30 days for other guests with tickets), and try to book our three FastPass+ selections starting about an hour to an hour and a half after park opening. We will plan to arrive at the park gates just a few minutes after park opening, so that most of the mass of guests has already entered, then head for some attractions that we don't have FastPasses for, and that are less likely to be the target for the most of the other guests without FastPasses. For example, at Disney's Hollywood Studios, we generally try to secure FastPasses for Toy Story, Star Tours and (now) the Great Movie Ride (never had a need for these before, sheesh). Amazingly enough we have had very good luck with heading straight for the Rock 'n' Roller Coaster, then over to the Tower of Terror, and riding both within the first hour of opening, from the Standby queues. If you still have energy after using your FastPasses, visit some of those attractions you never seem to quite get to, but that almost always have capacity. The Country Bear Jamboree, Hall of Presidents, Enchanted Tiki Room, the American Adventure and the various films in the World Showcase Pavilion in Epcot come to mind.
8. Hop the resorts to take in the holiday decorations. If you are looking for a nice alternative to fighting the park crowds, consider resort-hopping to see all of the holiday decorations. Most of the resorts are totally decked out, with decorations reflecting the theme of the resort, and some offer special snacks or experiences. My faves are: the Wilderness Lodge (for the sheer sparkle), the Contemporary (for the gingerbread house and the special cookies — try the raspberry Linzer cookie, wow!), the Boardwalk (again for the gingerbread) and the Animal Kingdom Lodge (for the wonderfully themed decorations). In years past, "sleigh" rides have been available at several resorts, including Fort Wilderness and the Port Orleans resorts. While we have never done these, they sound like tons of fun! If you don't have a car, take resort transportation to the Magic Kingdom, and hop on the resort monorail for an easy way to see all of the decorations at the Grand Floridian, Contemporary and Polynesian Village resorts. A short boat ride from the Contemporary will also take you to the Wilderness Lodge and Fort Wilderness campground. There is boat transportation to the Port Orleans resorts from Downtown Disney.
9. Mini golf. We love Disney World's mini golf courses. They are fun, well-maintained, and provide a couple of hours of family fun outside of the parks. While we enjoy both mini-golf courses, during the holidays, we would most likely choose to play at the Winter Summerland course, rather than at one of the Fantasia Gardens courses. Winter Summerland is super fun any time of the year, but the Santa theming seems particularly relevant during the holidays. If you are an Annual Pass holder or DVC member, don't forget to ask about discounts.
10. Hold an Epcot World Showcase best decorations contest. Split your family into teams, and assign several World Showcase pavilions to each team. Visit the pavilions, particularly the gift shops, and study the holiday decorations closely. Take photos, jot down a few notes about the theming, and decide which you think are the coolest. Meet in a central location and compare notes. Do site visits if necessary. Once you have all agreed on which decorations are the best, splurge on a celebratory libation, snack or both.
Don't forget to just relax and have fun with your family or travel companions. While spending the holidays at Disney World might seem like it could be stressful, with trying to secure reservations for special meals or experiences, and trying to get everyone's FastPass+ reservations to line up (OK, maybe it is a bit stressful), take a deep breath, dig out your ugly holiday sweater and your Santa hat with Mickey ears, and Let it Snow (er, Go)!
=-=-=-=-=-=-=-=-=-=-=-=-=
RELATED LINKS
Christmas Time at Walt Disney World
VIDEO: Magic Kingdom during Christmas Week
Other Articles by Alice McNutt Miller can be found in the AllEars® Newsletter Archives.
=-=-=-=-=-=-=-=-=-=-=-=-=
ABOUT THE AUTHOR:
Alice McNutt Miller is a lifelong Disney fan whose fondest childhood memories include "The Wonderful World of Disney" on Sunday nights and her first trip to Disneyland when she was 10 years old. Alice and her family are Disney Vacation Club members, and have visited every one of the Disney parks throughout the world. They live in Vienna, Virginia.
-o-o-o-o-o-o-o-o-o-o-o-
Editor's Note: This story/information was accurate when it was published. Please be sure to confirm all current rates, information and other details before planning your trip.