Planning a Trip to WDW with Babies and Toddlers
by Alice McNutt Miller
AllEars® Feature Writer
Feature Article
This article appeared in the July 16, 2013 Issue #721 of ALL EARS® (ISSN: 1533-0753)
Editor's Note: This story/information was accurate when it was published. Please be sure to confirm all current rates, information and other details before planning your trip.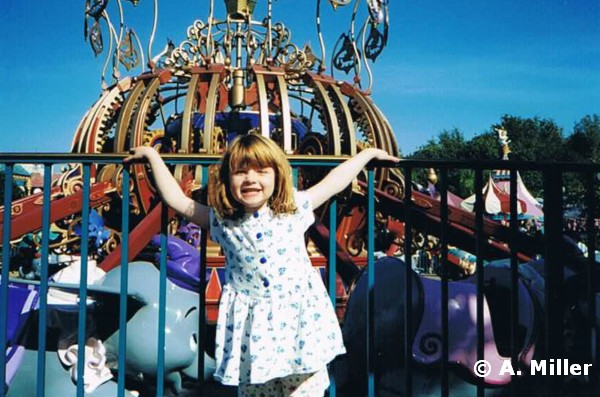 So you've decided that it is time to take Junior for his first visit to Walt Disney World. Or you've decided that YOU need your Disney fix, and you are not going to let the fact that Junior is still in a stroller and you are still toting diapers deter you. Great! Lots of families visit the World with babies and toddlers in tow, and not only live to tell about it, but have an amazing time. We took our first trip to the World when our girls were 1 and 3, and I still think it may have been our best one ever! Here are some tips for making that special trip fun for everyone.
1. Go during a slower time of year. While there is really no such thing as a "slow" period at Disney World any longer, if you have preschoolers, you can at least plan your visit NOT to coincide with normal school vacation times. Steer clear of the summer, spring break months (generally March and April), and three-day weekends. A really nice time to visit (and perhaps the only "slow" period left) would be the week after Labor Day weekend in September. School kids are back in school, neither Mickey's Not-So-Scary Halloween Party nor the Food and Wine Festival have started yet, and the weather is nice. Other times to aim for would be early December (after Thanksgiving, and before Christmas) or just about any time in January or February that do not involve holiday or runDisney event weekends. Oh, and did I mention not to go near Valentine's Day? I was there one year on the Day of Love, and it was CRAZY busy.
2. Once you have decided when you will visit, make your travel plans. I like to make hotel reservations first, to make sure I can get what I want, then find the cheapest airfare possible. There may be times, however, when an airfare deal comes along that is just too good to pass up. In this case, buy the tickets, and then find your room. Orlando has thousands of hotel rooms at all price points, and there is always availability somewhere, even if it might not be your first choice.
3. If you are flying to Orlando, try to travel in the middle of the day. Even though everyone knows (or should know) that Orlando is a family destination, flights that leave either early in the morning or in the late afternoon or early evening can be filled with grumpy business travelers who may turn the evil eye at you if your kid makes a peep. Middle of the day flights are more likely to be filled with families and leisure travelers, which can mean less stress for you if your kids get fussy on the plane.
4. If possible, plan to stay at an on-site hotel. Having access to Disney transportation is a huge plus, as is being able to return to your hotel in the middle of the afternoon for naps, a swim and/or general recharging. All Disney hotels can provide you with Pack-n-Play style cribs for the littlest Mouseketeers, and bed rails can be requested for the toddler set. Check out fact sheets and pictures for all of the Disney resorts on AllEars.Net here: http://allears.net/acc/faq_hot.htm
5. Get a hotel room with extra space for the kids. If your children want to go to sleep early, it is great to have space to let them sleep, and yet still have room for Mom and Dad to stay up to watch a movie, read or just relax until they are ready for bed. If you are staying on-site, try a one bedroom or larger Disney Vacation Club property, or snag one of the Family Suites at the All Star Music or Art of Animation resorts, each of which sleeps up to six people. Many Disney resorts also have connecting rooms, and we have often made good use of the balconies offered at most Deluxe resorts. Offsite, there are also many suite options that will offer extra space for families. Options with kitchens or kitchenettes will also allow you to prepare some meals in the room, saving time and money, and allowing parents with picky eaters to ensure that at least some meals will be stress-free.
6. Try to stick to your baby's "normal" schedule as much as possible. A happy and rested child makes for happy and rested parents. If your baby wakes up early in the morning, takes an afternoon nap, and goes to bed by 7:30 p.m., try to follow that schedule as much as possible. Arrive at the parks early, and do as much touring as you can while baby is awake. When it is time for a nap, either head back to your hotel or find a quiet place in the park where she can take a nap in her stroller. Make early dinner plans, then buy yourself a bottle of wine and settle in for the evening after your darling's bedtime. On the other hand, if your toddler won't wake up before 10:00 a.m., and doesn't want to go to sleep for the night until after 10:00 p.m., find a park that has evening Extra Magic Hours, and take advantage of that.
7. Plan meals for less busy times. Trying to get picky young eaters to eat well on vacation can be a challenge, especially if restaurants are crowded and loud. Eating a quick breakfast in your room before heading out to the parks, and planning lunch and dinner for "off" times can be a real help. If your child is an early riser, chances are he will be ready for lunch earlier than you are. Give in and have your turkey leg at 11 a.m., when many counter service restaurants open for lunch. Advance Dining Reservations for table service restaurants are also easier to get for early or late lunches or early dinners. If there is a restaurant that Mom and Dad really want to try, make your ADR for a time when you think your child will be well-rested and best able to handle sitting (relatively) still for an extended period of time. Most Disney restaurants (even the nicer ones) cater well to children, offering high chairs, kids menus, crayons and other diversions. (The exception is Victoria and Albert's at the Grand Floridian, where kids under 10 are not allowed. Even Monsieur Paul, the "fancier" of the two French restaurants in Epcot, now offers a kid's menu.) There is no charge for kids under 3 to eat from their parent's plates in most table service and buffet restaurants. Finally, carefully consider whether your baby or toddler is ready for a character meal. Some little kids actually get pretty scared by the characters, especially those that are not "face" characters (those that have a mask and don't talk). Many of the character buffets are pretty pricey, and you may want to consider saving these experiences for when the kids are older and will really enjoy them. That being said, I have been enchanted on many occasions by the reactions I have seen from babies at character meals. If you haven't already, be sure to look over all the menus on AllEars.Net here: http://allears.net/menu/menus.htm
8. Think hard about stroller options. All of the parks have daily stroller rentals, which can be a good option for toddlers, if you don't want to bring your own stroller, but they are not appropriate for babies. If you bring your own stroller, and have one of the very large Cadillac versions that are very popular these days, remember that you will need to fold the stroller on board Disney transportation. I've encountered many beleaguered "stroller dads" on resort buses who look like they are going to bust a vein just lifting these gargantuan contraptions onto the bus, then desperately try to find a place to perch without either falling over or whacking another guest with oversized wheels (brings a whole different meaning to "The Wheels on the Bus go Round and Round"). Once upon a time, smaller lightweight "umbrella" strollers could be found and were great for getting around the parks and for toting on Disney transportation. If you can get your hands on one of these, I highly recommend it. Also, if you don't want to check a stroller on the plane, there are companies in Orlando (such as AllEars® sponsor Orlando Stroller Rentals) that will rent you a stroller for the time that you visit, and will even deliver them to your hotel. AllEars.Net has some great information on stroller rentals here: http://allears.net/pl/strol_faq.htm
9. Get to know the Baby Care Centers in each park. The first thing a family should do when entering one of the theme parks is to locate the Baby Care Center on the map and make a quick visit to check it out. Each Baby Care Center provides:
Private nursing room with rocking chairs

Changing room with tables and a unisex bathroom
Feeding area with highchairs

Kitchen with microwave, oven and sink

Main room with television, table, chairs and sofa

On-site shop offering formula, baby food, juice, diapers, wipes, sunscreen, over-the-counter medications and clothing for purchase
10. Protect baby from the Florida climate. Sometimes we forget that little ones are even more susceptible to changing weather conditions than we are. Even if it's not sunny and hot, don't forget sunscreen, hats and sunglasses for your little one. Also, make sure you have plenty of water, formula, drinks, etc. to keep him hydrated in the hot weather. Always carry an extra change of clothes for baby, and sealable plastic bags for storing wet or soiled clothing. Having an extra change of clothes will give you peace of mind, and give you the freedom to let your kids get wet in a children's play area or get messy eating lunch. An extra sweater or pair of socks can be very helpful if you decide to stay to see an evening parade or fireworks. Of course there are always many cute clothing options in the shops, but those can be pricey, and may not always be immediately available.
Finally, check out the AllEars.Net Infant and Toddler FAQ page for other tips on making trips with your little ones memorable and fun! http://allears.net/pl/infant.htm
====================
ABOUT THE AUTHOR
====================
Alice McNutt Miller is a lifelong Disney fan whose fondest childhood memories include "The Wonderful World of Disney" on Sunday nights and her first trip to Disneyland when she was 10 years old. Alice and her family are Disney Vacation Club members and have visited Disney parks all over the world. They live in Vienna, Virginia.
====================
ADDITIONAL LINKS
====================
Calendar of Events:
http://allears.net/pl/events.htm
Park Operating Hours:
http://allears.net/tp/ohours.htm
Extra Magic Hours:
http://allears.net/tp/emhour.htm
And if you'd rather let someone else do the planning, consider calling Mouse Fan Travel.
-o-o-o-o-o-o-o-o-o-o-o-
Editor's Note: This story/information was accurate when it was published. Please be sure to confirm all current rates, information and other details before planning your trip.