My First Dose of Disney
by Samantha Sullivan
AllEars® Guest Columnist
Feature Article
This article appeared in the February 5, 2013 Issue #698 of ALL EARS® (ISSN: 1533-0753)
Editor's Note: This story/information was accurate when it was published. Please be sure to confirm all current rates, information and other details before planning your trip.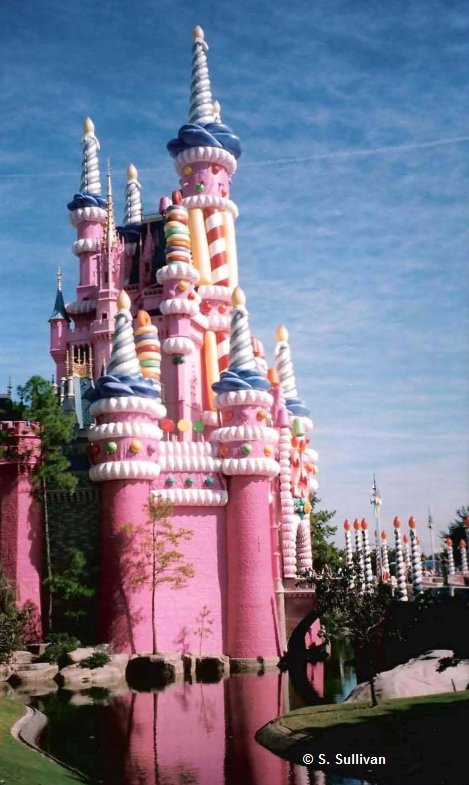 For many Disney lovers, there is something extraordinarily magical and memorable about our very first trip to a Disney park. That feeling becomes even stronger when that trip happens to be during one of Disney's larger-than-life celebrations. My first trip to the World happened to be during one of Disney's biggest celebrations to date, the 25th anniversary of Walt Disney World. With all kinds of "birthday" festivities, including a redecorated castle, a never-before-seen parade, and a number of just-opened attractions, a whole new world of entertainment could be found at Disney World that year. I was only 4 years old at the time and a part of me wishes that this anniversary could have been going on when I was a bit older. While I do remember certain details, much of what I remember is only because of seeing photos and home movies, and hearing stories from family members who do remember the details. At the same time though, I think the greatest reason that this celebration means so much to me is not only that it was my first time, but also because I was so young. At that age, everything seems to be there by magic, not by the hands of Imagineers. Those things are what made this trip completely unforgettable.
I grew up as a third-generation Disney fan. My grandmother was lucky enough to be at Disneyland on opening day. My parents went to Disney World for their honeymoon, and they raised me on Disney. It was inevitable that I would one day get to take a trip to the World. I still remember just how thrilled I was to hear that we were finally going to visit this magical place that I'd only seen pictures of all my life. We traveled with all of my cousins, none of whom had ever been to Disney World, making a very significant first for all of us.
Shortly after arriving at what was then Dixie Landings, we were off to the quintessential first stop for any Disney newcomer — the Magic Kingdom. Before we dove into the park, we stopped at the City Hall so that we could pick up our souvenir buttons, a small part of the 25th anniversary celebration festivities. I was incredibly proud of that first-timer button, wanting everyone to know that this was the most exciting day of my life up to that point.
In order to celebrate Disney World's momentous anniversary, Disney decorated Cinderella Castle in the most over-the-top way anyone could imagine. It was transformed into a giant pink birthday cake, complete with frosting, 25 candles, various candies, and a giant "25" on the front, appearing to be made of sprinkles. This was the first time that Disney had taken such a risk in altering a park icon, which in turn led to a sizable amount of negative feedback that can still be seen on Disney blogs and forums today. However, it didn't matter a bit to me that I wasn't able to see Cinderella Castle in its original form on my first trip. Looking up at the massive castle was still completely awe-inspiring. It was the sort of feeling that truly cannot be put into words. Seeing Cinderella Castle today still makes quite the impression on me, but nothing will ever compete with the first time, pink frosting, candles, and all. In fact, whenever I see photos or videos of that pink castle, I still get that warm and fuzzy feeling. You can imagine how elated I was when I discovered that this castle design had been brought back, incorporated into the new Celebrate the Magic castle projection show!
As it turned out, we entered the park right in the middle of the three o'clock parade. While the parade might have been an interesting distraction, home video footage shows that I perhaps thought otherwise. I kept trying to drag whichever family member's hand I was holding further into the park, back towards the attractions. I just wanted to see Mickey's Toontown Fair. I was young and the idea of being able to set foot in the homes of Mickey, Minnie, Goofy, and Donald was the opportunity of a lifetime. The homes were fun, but the greatest moment of our trip to Toontown was meeting Mickey in his former meet-and-greet location, the Judge's Tent. The wait was long, but so incredibly worth it. I was completely overwhelmed by the fact that standing in front of me was Mickey Mouse himself, someone I'd only ever dreamed of having the chance to see in person. Meeting the Mouse was wonderful, but it was far from the most memorable character greeting experience of our vacation.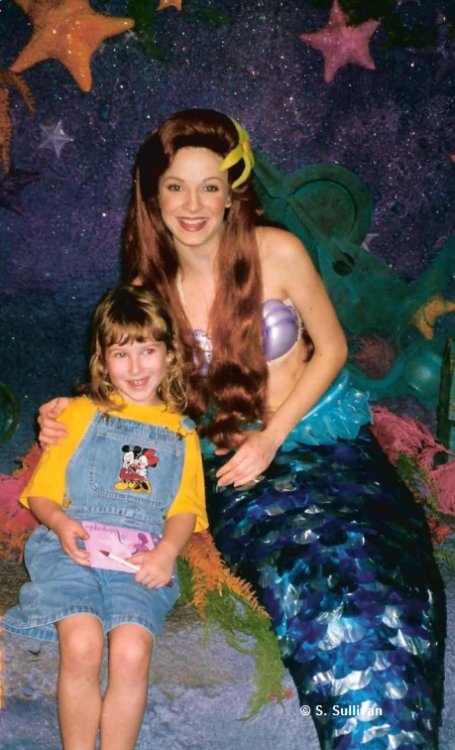 The first incarnation of Ariel's Grotto meet-and-greet area opened in 1996. The grotto was located along the defunct 20,000 Leagues Under the Sea: Submarine Voyage attraction, the area that is now home to New Fantasyland. Ariel was, and still is, my absolute favorite princess, so getting the chance to meet her was another wonderful experience! The entire thing was made better by the fact that she was a face character, meaning I could actually have a conversation with her. Of course, we just happened to see Ariel at a time when we didn't have a video camera with us, meaning that we did not have a way to capture that moment. Still, you can tell just by looking at the photo how thrilled I was to be meeting Ariel!
Now, it would seem that nothing would top meeting my favorite princess, as well as the Mouse himself. In my 4-year-old mind, that simply wasn't the case. I had grown up completely addicted to "A Goofy Movie," one of Disney's lesser-known animated films. Max Goof, Goofy's son, was, and once again still is, my all-time favorite Disney character. I was on a mission — if Max was at Disney World, I was going to see him. Sure enough, we were able to locate him in the meet-and-greet area that bordered yet another part of the old 20,000 Leagues area. This was a place where characters would rotate throughout the day, so it was not guaranteed that the character you were looking for would be there. We just got very lucky. To this day, I have never had a character experience that topped meeting Max. It was as though my favorite character, not to mention favorite stuffed animal back home, had somehow come to life, waiting for me to see him at Disney World. I remember running up to him and giving him the biggest hug my short 4-year-old arms could manage. I really didn't want to leave when our turn was over! Sadly, this is a character experience that is seldom found in the Disney parks anymore. I did encounter him once in 2010 at the Epcot Character Spot, though we did not have time to stop for pictures and hugs. If I were ever to find Max in the parks again, I can guarantee that I'd react in a way very similar to my 4-year-old self! Meeting the characters was one of the highlights of this vacation, but my most magical memory was yet to be made.
In honor of the 25th anniversary, Disney introduced the "Remember the Magic" parade, a show that paid tribute to all of Walt Disney World's returning guests, as well as those who, like myself, were visiting for the first time. This parade also introduced a first for parades at Disney World: audience participation. Those who showed up early to claim their spots could possibly be picked to take part in one of the "street parties" that would occur in certain parts of the parade route. As a child, this parade was simply incredible. All the floats appeared to be massive and were awe-inspiring. I was delighted to see all of my favorite characters making appearances in the parade. I clearly remember the dancing fish that signaled the arrival of Ariel. She was the character I was most excited to see make her way down Main Street. She was atop her giant clamshell, surrounded by Sebastian and other Under the Sea creatures. While the Little Mermaid was the float that I was most excited to see, the remaining cast of characters was just as memorable. The parade opened with the "Remember the Magic" float, a giant shimmering castle that carried Mickey, Minnie, Cinderella, Chip and Dale, and other classic characters. There was the Be Our Guest float, featuring Belle, the Beast, Lumiere, and my favorite part, all the dancing flatware. Aladdin, Jasmine, the Genie, The Carpet, and even Jafar appeared in their own float, as if coming straight from Agrabah. The cast of the Lion King made an appearance, riding down the street on Pride Rock. Finally, the parade closed out with the incredible Enchanted Forest float, featuring a plethora of Disney characters, including Alice, Mary Poppins, Pocahontas, all seven dwarfs, and the entire gang from the 100 Acre Wood.
Watching the parade was a very magical experience, but what was even more magical and memorable was that I was given the opportunity to be IN the parade. I was in the opening "Remember the Magic" street party. My cousins and I were all selected to participate, making the experience that much better. During this segment of the parade, they reenacted the ballroom scene from Cinderella, meaning that we got a chance to waltz to "So This is Love" and polka to "Bibbidi-Bobbidi-Boo" with all of the Royal Subjects, as well as Mickey, Minnie, Chip and Dale, Donald, Goofy, and Cinderella herself. At the time, I didn't understand what an incredible opportunity it was to participate in the parade. All I knew was that I was having a good time, despite the fact that I had trouble getting all the steps down! Fifteen years later, I've finally realized what a big deal it was, getting chosen to be in the parade. I still love being able to tell people that I've been in a Disney parade!
This magical trip was by no means my last; since 1997, I've made nine more trips to the World, taken a Disney Cruise, and have made the pilgrimage to Disneyland, the place where it all started. I've grown to love Disney World so much that I hope to spend a semester of college working there on the Disney College Program. No matter how many times I visit, the magic never fades. However, I don't think that anything will be able to top my very first trip. I was young enough that I believed every experience was real, no Imagineers or Cast Members required. Also, there is no way to describe the feeling of seeing Disney World for the first time. I was in such complete awe the entire trip, trying to take it all in at once. Taking such a milestone trip during one of Disney's largest celebrations took an already incredible vacation and put it over the top. I visited during the Millennium Celebration, as well as Walt's 100th Birthday celebration, but neither quite compared to the 25th anniversary. I would love to see Disney go this all-out for an anniversary again! With the 50th anniversary fewer than 10 years away, I truly hope that another larger-than-life celebration may be something that we may be seeing in the not-so-distant future.
====================
RELATED LINKS
====================
Magic Kingdom's 25th Anniversary:
http://allears.net/tp/mk/25anv.htm
Mickey's Toontown Fair:
http://allears.net/tp/mk/mk_toontown.htm
Original Ariel's Grotto
http://allears.net/tp/mk/ariel.htm
Do you have photos of the Remember the Magic Parade that we can add to our archives? Please send them to allearsnet@yahoo.com.
====================
ABOUT THE AUTHOR
====================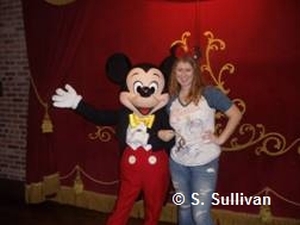 Samantha Sullivan has been a Disney fan for as long as she can remember, growing up in a family that loves it as much as she does! She's been to the World 10 times thus far and became a proud Disney Vacation Club member in 2009. While she's currently enjoying studying Strategic Communications at the University of Minnesota Twin Cities, she's hoping to spend the summer and fall of 2013 in Orlando as part of the Disney College Program. After graduation, she plans to pursue her dream of establishing a career within The Walt Disney Company.
-o-o-o-o-o-o-o-o-o-o-o-
Editor's Note: This story/information was accurate when it was published. Please be sure to confirm all current rates, information and other details before planning your trip.