March 2011 Walt Disney World Bits and Bites
Feature Article
This article appeared in the March 1, 2011 Issue #597 of ALL EARS® (ISSN: 1533-0753)
= = = = = = = = = = = = = = = = =


STEP BACK IN TIME
= = = = = = = = = = = = = = = = =
We rummage around in our archives for this monthly feature, which indulges in a bit of nostalgia, taking you back in history for a glimpse of Walt Disney World and the Disney Company through the ages. This month, we reminisce about Mickey's Tropical Revue, later known as Mickey's Tropical Luau.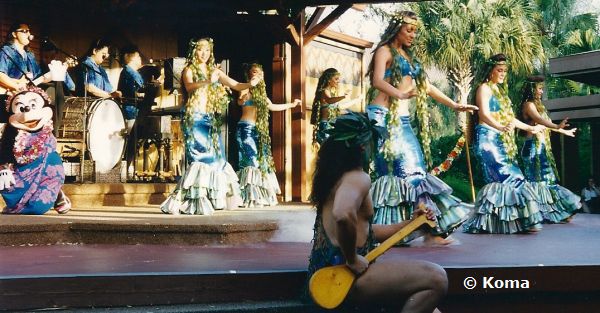 Mickey's Tropical Revue debuted at the Polynesian Resort in the mid-1980s. It was a version of the Polynesian Luau held at the resort, but geared specifically to children and featuring Disney characters. As with the luau for adults, the show entertained kids and their parents with authentic Polynesian dancers in grass skirts, traditional music and fire dancers, including a flaming baton-twirler. These performers were joined onstage by a muu-muu wearing Minnie, as well as Mickey Mouse, Chip and Dale, Pluto and Goofy, all also wearing Polynesian-style garb.
The show was held in the Polynesian's Luau Cove. Upon arrival, you were presented with a complimentary shell necklace and were entertained in the garden before dinner by ukulele players and dancers. Cast members sold "authentic Polynesian" souvenirs while you waited to enter the cove, and your party's photo was taken. Dinner was an all-you-can-eat meal, served family-style, as it is today, although the menu was slightly different. In 1987, Mickey's Tropical Revue cost $23.50 for adults; $11 for children.
The show was discontinued as of June 13, 1999. (The Polynesian's current luau dinner show, the Spirit of Aloha http://allears.net/din/luau.htm, is suitable for children, even though Disney characters are not featured in the storyline.) Here, Senior Editor Deb Koma shares a few photos from her visit to Mickey's Tropical Luau in early 1997. Do you have photos of this now-defunct dinner show? Please share them with us at allearsnet@yahoo.com!
= = = = = = = = = = = = = = = = =


ON THE SHELVES
= = = = = = = = = = = = = = = = =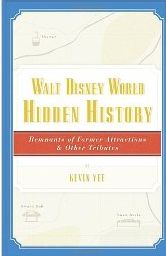 Unearthing Hidden Treasures: A Review of "Walt Disney World Hidden History: Remnants of Former Attractions & Other Tributes" by Kevin Yee
by Alice McNutt Miller
Kevin Yee has written an enjoyable guide to the "hidden history" of Walt Disney World (with a bonus chapter on "History at Universal Studios Florida"), pointing out tributes to Disney personalities, park milestones and opening dates and remaining bits of now-defunct attractions. The book is organized by theme park and has helpful appendices that include the operational dates of now-gone attractions, and the individuals listed on the various windows of Main Street USA in the Magic Kingdom. A person could easily use the book on a "live" tour through each of the theme parks, searching for these interesting historical tidbits (unfortunately, I have not been able to do this yet!). Disney Imagineers left a huge number of homages to themselves, to Imagineers who had gone before them, and to previous Disneyland and Walt Disney World attractions scattered throughout the parks. This book will lead the reader on a voyage of discovery of intertwined historical references and remembrance of things past. I found the book's descriptions of "reused" or "repurposed" items particularly interesting. Yee describes a number of animatronic figures that show up in different guises in different attractions. For instance, the ghostly old woman in the rocking chair in the Ballroom scene in the Haunted Mansion is the same figure as the grandmother in the Carousel of Progress, and many of the animatronic figures in Epcot's Spaceship Earth are copies of figures in the Hall of Presidents in the Magic Kingdom. It is a great testament to the ingenuity of the Disney Imagineers that they are able to find multiple uses for these complex (and expensive!) figures.
Read the rest of Alice's review in the AllEars.Net Guest Blog here:
http://land.allears.net/blogs/guestblog/2011/03/book_review_unearthing_hidden.html
"Walt Disney World Hidden History: Remnants of Former Attractions & Other Tributes" by Kevin Yee can be purchased in our AllEars.Net Amazon Store:http://astore.amazon.com/debsunoffiwaltdi/detail/0983159904
-=-=-=-=-=-=-=-=-=-
Jim Korkis: Storyteller and Renaissance Man
by Mike Scopa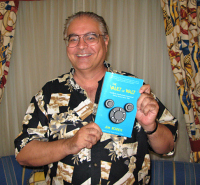 Over the past 11 years or so I have been very fortunate to talk to and interview some very interesting personalities in the Disney community. However, there is one person who I am honored to say is a friend of mine, who I place head and shoulders above all these individuals, because, like Walt Disney himself, this individual is first and foremost a storyteller. I am talking about Jim Korkis. You may recognize the name but if you don't, you may know Jim via his pseudonym, Wade Sampson — but more on that later. Before I tell you a little about "The Vault of Walt" by Jim Korkis (Ayefour Publishing: 2010. ISBN-978-0-615-40242-0), his latest, and may I say, greatest contribution to the Disney community to date (yes, I am expecting more from this storyteller), let me catch you up on Mr. Korkis. You see, he is not just another writer who one day decided to write a book on Disney content — Jim Korkis IS Disney content. If I were to begin the Korkis resume I would start with his elementary school years. Young Jim Korkis was a Disney fan as long as he could remember, but imagine his reaction when on one day as a student at the Thomas Edison Elementary School he found out that his teacher was a Mrs. Disney… and yes, she was married to one of THOSE Disneys.
Read the rest of Mike's profile on author Jim Korkis and his latest book in the View from Scopa Towers blog:
http://land.allears.net/blogs/mikescopa/2011/03/jim_korkis_storyteller_and_ren_2.html
"The Vault of Walt" can be purchased in our AllEars.Net Amazon Store:
http://astore.amazon.com/debsunoffiwaltdi/detail/0615402429
= = = = = = = = = = = = = = = = =


HIDDEN MICKEYS ALERT
= = = = = = = = = = = = = = = = =
Steve Barrett, author of the Hidden Mickeys books and webmaster of www.HiddenMickeysGuide.com says, "Some of the most challenging (and rewarding) Hidden Mickeys to find on Disney property are in attractions, during the rides, and in films and movies. A few of these Hidden Mickey (and other character) images are quite difficult to photograph. I present below three such images, two Hidden Mickeys and a Hidden Donald, at Walt Disney World. (Thanks to Bill Iadonisi for the photos.)
1. Magic Kingdom, Mickey's PhilharMagic: In the "Be Our Guest" portion of the movie, there is a point where you are watching Lumiere dancing on the table with other characters. The view goes to an overhead shot and there are shadows cast on the table from the candle hands of Lumiere. These shadows come together at times to form what appears to be a Hidden Mickey.
http://allears.net/btp/hm318.jpg
2. Epcot, Soarin': When you soar over the hills and spot a golf course, look to the right side of the course. About halfway along the fairway is a slightly distorted shadow classic Mickey on the green grass below a tree. The "ears" of the shadow Mickey almost touch the right side of the white cart path.
http://allears.net/btp/hm319.jpg
3. Disney's Hollywood Studios, Sci-Fi Dine-In Theater Restaurant: Inside the restaurant, watch the movie reel for Donald Duck. Spot him after a clip of Walt Disney. Donald is in a cartoon segment about a secretary who is kidnapped to another planet; Donald is one of the characters who chases her.
http://allears.net/btp/hm320.jpg
You can find a selection of past Hidden Mickeys Alerts here:
http://allears.net/btp/hiddenm2.htm
= = = = = = = = = = = = = = = = =


VEGAN TIPS
= = = = = = = = = = = = = = = = =
by Emily Woesthoff
General Manager for BabyCakes NYC at Downtown Disney
Walking up Main Street in the Magic Kingdom, in an attempt to avoid the crowds, the best route is to fake left and go right around a wall of Photopass Photographers. Suddenly, the sweet smell of waffle cones is in the air! It is quite possibly the best scent in all of Walt Disney World, The Plaza Ice Cream Parlor. As a vegan, it's natural to feel defeated upon seeing fellow guests eating mounds of ice cream and chocolate sauce piled high on golden cones (all with cherries on top, of course!). Sadly, we seldom get to reap the benefits of any ice cream parlor, let alone one as magical as this, but take a look at that menu! It proudly states (all the way at the bottom in super small print): Tofutti and Rice Dream available! The Plaza Ice Cream Parlor offers the vanilla or chocolate variety of either brand of frozen dessert. Here's the scoop (get it?!): The Tofutti brand has more of a creamy, ice cream-like taste and texture while Rice Dream is more reminiscent of a sorbet. If your bikini weight is on your mind, Rice Dream is the way to go, as it has less fat and fewer calories than its soy-based brother. Though it can take a little extra time and a meeting of the minds between the cashier and manager to muster up this "specialty" treat, chances are they will make up for it with an extra large portion of your desired flavor. On less crowded days in the Magic Kingdom, if you order your Rice Dream or Tofutti around 8:45 p.m., you'll still be able to secure a great spot for Wishes at 9. You can then enjoy the fireworks and cry into your cup of delicious dairy-free ice cream.
= = = = = = = = = = = = = = = = = =

RATE & REVIEW SPOTLIGHT
= = = = = = = = = = = = = = = = = =
Compiled by AllEars® Team Member Cathy Bock
In this monthly featurette, we take a look at recent comments made in the AllEars.Net Rate & Review section about a particular restaurant, resort, event, etc. This month, we examine what AllEars® readers are saying about the Flame Tree Barbecue, a counter service restaurant located in Disney's Animal Kingdom.
The Flame Tree enjoys a high average rating of 8.4 (out of 10) and is recommended by 96% of reviewers.
From recent reviews:
Food (general): "food was great"; "Really good food!"; "entire group was pleasantly surprised with our food"; "wasn't too happy about my food"; "everything was tasty and well prepared".
Ribs: "excellent as usual"; "were a tiny bit dry"; "very tasty"; "were good"; "tender and tasted delicious"; "were amazing!!".
Chicken: "very moist"; "very moist and delicious!"; "did not think the chicken was very flavorful"; "very tasty".
Sandwiches: "bbq pork sandwich was really good"; "pork sandwich had no flavor"; "great!" "husband got the pork sandwich and he was very pleased".
Sides: "baked beans were pretty bad"; "I don't usually care for baked beans, but these were really good!"; "we weren't too fond of the coleslaw"; "side dishes were just ok"; "very disappointed that they changed their baked beans recipe".
Desserts: "chocolate mousse and key lime mousse were very good"; "were yummy"; "were fantastic & very nicely presented"; "were not good"; "key lime dessert is great"; "chocolate mousse was good"; "key lime dessert was just ok".
Service: "lines may look long, but they do a great job of moving you through"; "had too much food and the cast members helped me to take it to my table"; "even though the park was very crowded, was very quick"; "was slow and disorganized".
Seating: "great view of Expedition Everest and there was a convenient condiment bar"; "love eating down by the water"; "great place to sit & enjoy"; "might be hot in summer"; "loved how I was able to sit outside in a shaded area"; "plenty of seating".
With only outdoor seating available, the Flame Tree gets a special category — The Birds — "thankfully people were not feeding them"; "didn't bother us but were funny to watch"; "are nothing but cute as long as you don't feed them!"; "bit annoying as they beg for food"; "don't feed the birds".
Overall: "great restaurant for a counter service meal"; "will definitely return"; "our choice for counter service at AK"; "We love this place!"; "Not sure that we will be back!"; "Loved, loved, loved, loved this place".
If you have recently dined at The Flame Tree Barbecue, we'd like to have your review!
http://land.allears.net/reviewpost/showproduct.php?product=48&cat=33
= = = = = = = = = = = = = = = = =


MONTHY REMIND-EARS
= = = = = = = = = = = = = = = = =
EVENTS
Epcot
Epcot's Flower & Garden Festival — March 2 – May 15, 2011. You can download the festival guide (9.5MB PDF file) directly from disneyworld.com here: http://tinyurl.com/6aena4y

Cable TV Network HGTV is sponsoring weekend appearances by its designers and landscaping experts at the 18th Epcot International Flower & Garden Festival, which runs March 2 through May 15, 2011. The lineup will include the likes of Genevieve Gorder, Lisa LaPorta, Kim Myles, Brian Patrick Flynn, Taniya Nayak, Ahmed Hassan, Patti Moreno, Michele Beschen, John Gidding, Frank Fontana, and Vern Yip appearing at the Festival Center each Friday, Saturday and Sunday of the festival on the HGTV Stage. The HGTV hosts will deliver tips to Disney guests on topics including "Mobile Gardens," "Secrets to Bringing Indoor Style Outside" and "Gardening with Kids." As part of the HGTV sponsorship, the Festival Center will open daily with presentations and Disney gardening workshops. Also new at the festival:

— Bambi's Butterfly Garden will accommodate more butterflies, plants and guests in celebration of the upcoming release of "Bambi" Diamond Edition on Blu-ray Hi-Def.

— At Pixie Hollow Fairy Garden, favorite Disney Fairies will pose for photos and sign autographs throughout the day. Young fans who enter this whimsical garden also discover play structures for children ages 2-5.

— Sleek floral topiaries of "Cars 2" stars Mater and Lightning McQueen will shine at the World Showcase Plaza in anticipation of the June 24 release of the original film's sequel.

— A Hundred Acre Wood wildflower display sets the scene for topiaries of Winnie the Pooh, Tigger and pals, set to appear in the "Winnie the Pooh Movie" this summer.

Flower Power Concerts for Epcot's 2011 International Flower & Garden Festival will be held weekends March 2 – May 15. Performances are at America Gardens Theatre at 5:15, 6:30 and 7:45 p.m. each Friday, Saturday and Sunday (subject to change):

— March 4-6 — Jose Feliciano
— March 11-13 — The Guess Who
— March 18-20 — Chubby Checker & The Wildcats
— March 25-27 — Melissa Manchester
— April 1-3 — Starship Starring Mickey Thomas
— April 8-10 — Marilyn McCoo & Billy Davis Jr.
— April 15-17 — Juice Newton
— April 22-24 — The Nelsons
— April 29-May 1 — Paul Revere and the Raiders
— May 6-8 — Davy Jones
— May 13-15 — Herman's Hermits Starring Peter Noone
Animal Kingdom
The 5th anniversary of Expedition Everest will be commemorated with a special event just for Walt Disney World Annual Passholders on March 5, 2011, from 6 to 9 p.m. Passholders who signed up in advance will ride Expedition Everest after Disney's Animal Kingdom closes for the day.
Disney's Hollywood Studios
ESPN The Weekend is scheduled for March 3-6, 2011 at Disney's Hollywood Studios. This year's event will again feature special motorcades and Q & A sessions with athletes and other sports celebrities, live ESPN telecasts and radio broadcasts, celebrity game shows and the ESPN Interactive Sports Zone. On hand will be such ESPN personalities as Mike Golic and Mike Greenberg (Mike and Mike in the Morning) , Colin Cowherd, Trey Wingo and Merrill Hoge. The tentative list of attending athletes includes wide receiver Chad Ochocinco, Julius Erving, Alonzo Mourning, Tony Dorsett, Cal Ripken Jr., and Mia Hamm. Also returning this year is the Champion 5K race.
ESPN Wide World of Sports
Major League Baseball's Atlanta Braves "Grapefruit League" home schedule at ESPN Wide World of Sports Complex includes a collection of top clubs, with the New York Yankees, Boston Red Sox, Philadelphia Phillies, New York Mets and St. Louis Cardinals visiting Champion Stadium. Here's the remaining schedule:

March 3 — Detroit Tigers (1:05 p.m.)
March 4 — Toronto Blue Jays (1:05 p.m.)
March 5 — New York Mets (1:05 p.m.)
March 8 — New York Yankees (1:05 p.m.)
March 9 — St. Louis Cardinals (1:05 p.m.)
March 10 — St. Louis Cardinals (1:05 p.m.)
March 12 — New York Mets (1:05 p.m.)
March 13 — Houston Astros (1:05 p.m.)
March 16 — Boston Red Sox (1:05 p.m.)
March 17 — Washington Nationals (6:05 p.m.)
March 19 — New York Mets (1:05 p.m.)
March 20 — Houston Astros (1:05 p.m.)
March 23 — Florida Marlins (1:05 p.m.)
March 25 — Detroit Tigers (6:05 p.m.)
March 27 — Philadelphia Phillies (1:05 p.m.)
March 28 — Washington Nationals (6:05 p.m.)

For more information, visit www.espnwwos.com
Disney's Dreamers Academy with Steve Harvey and Essence Magazine, a program created by Disney Parks to provide career-exploration and mentoring to high school teens, will hold its fourth class at Walt Disney World Resort March 3-6. The program brings together 100 high school students from across the country for several days of interactive workshops and seminars, mentoring and inspiration focusing on careers and life enrichment. Information about the program can be found at www.DisneysDreamersAcademy.com .
http://land.allears.net/blogs/dnews/2010/07/essence_communications_joins_w.html
=-=-=-=-=-=-=-=-=-=-
Don't forget to check our Events page for current updates: http://allears.net/pl/events.htm
-=-=-=-=-=-=-=-=-=-=-=-=-=-=-=-=-=-=-
REHABS AND CLOSINGS
Magic Kingdom
The Fantasyland Forest development in the Magic Kingdom has resulted in the closing of Mickey's Toontown Fair — its last day was February 11, 2011. Work has now begun on transforming the area into the new Storybook Circus section of Fantasyland. During the construction, Mickey Mouse and Minnie Mouse can be found on the Tomorrowland patio, located to the right of Space Mountain, and the Disney Princesses are holding court in the Adventureland Veranda. Check the Times Guide for when these characters are available. NOTE: Tinker Bell and friends can now be found in Epcot, at the Pixie Hollow Fairy Garden near MouseGear.

For more details and an artist's renderings of the New Fantasyland, read the official press release here:
http://land.allears.net/blogs/dnews/2011/01/largest_expansion_in_magic_kin_1.html

Enchanted Tiki Room — Under New Management remains closed after a fire last month. It is expected to reopen on June 1.
Disney's Hollywood Studios
Star Tours is closed for rehab. The attraction is scheduled to reopen May 20, 2011. The new experience will be in 3-D, an all-new ride that includes many of the new worlds and elements from the more recent Star Wars movies.

http://allears.net/tp/mgm/m_startours.htm

"Disney Junior – Live on Stage" is a new show set to replace the current "Playhouse Disney – Live on Stage!" at Disney's Hollywood Studios on March 4. (It opens later this month at Disney California Adventure.) The show will debut with new characters, some new adventures and a new marquee. The new production brings back three audience favorites (Mickey Mouse Clubhouse, Handy Manny and Little Einsteins) and also introduces a brand new segment based on Disney Junior's newest series, "Jake and the Never Land Pirates." "Jake and the Never Land Pirates" began airing on Disney Junior in February 2011 and shares the magical and adventurous world of Never Land with preschoolers.

http://disneyparks.disney.go.com/blog/2010/11/disney-junior-live-on-stage-debuts-at-disney-parks-in-2011/

Sounds Dangerous will be closed March 3-6.
Animal Kingdom
Primeval Whirl is closed for refurbishment through April 15, 2011.
Beach Club/Yacht Club
Routine maintenance is underway at the Yacht and Beach Club's Transportation Dock. While this work is being completed, FriendShip boat transportation to Epcot, Disney's Hollywood Studios and neighboring resorts will not be available from the Yacht and Beach Club. The dock is set to reopen March 14. Bus transportation will be provided to Disney's Hollywood Studios from the Yacht and Beach Club bus stops. You can reach Epcot, Disney's BoardWalk Inn and Villas, and the Walt Disney World Swan and Dolphin Hotels by walking.
Boardwalk Inn
The Coaster Slide will be closed for refurbishment through March 16. The pool will remain open, but guests will be allowed to use the slide at the Beach Club during the coaster slide's closure.
Fort Wilderness Resort and Campground
The Wilderness Swimmin' Pool will be closed for refurbishment March 14-April 22. During this time, the Meadow Swimmin' Pool will remain open.
Pop Century Resort
The Hippy Dippy Pool is closed for refurbishment until March 11. During this time, the Bowling Pool and Computer Pool will remain open.
Port Orleans Riverside
The Magnolia Bend Leisure Pool will be closed for refurbishment March 30-31. All other pools at the resort, including Ol' Man Island feature pool, will remain open.
Disney's Art of Animation Resort
Disney's Art of Animation Resort, the 26th resort at Walt Disney World, will feature family suites designed around four themes: The Lion King, Cars, Finding Nemo and The Little Mermaid. The resort will be located next to Disney's Pop Century Resort. Dates for booking haven't been announced, but the resort is scheduled to open in 2012.

http://land.allears.net/blogs/dnews/2010/09/disneys_art_of_animation_resor_1.html
Blizzard Beach closed on January 16, 2011, for its yearly refurbishment. Tentative reopening date is March 27, 2011.
Downtown Disney
As of January 15, 2011, the building that houses Pooh Corner, Summer Sands and Mickey's Mart in the Downtown Disney Marketplace closed for refurbishment. The location will be renovated into two new retail experiences. First to open will be the Disney-operated Mickey's Mart (working title). Set to debut in March 2011, the shop will offer guests unique Disney gifts at great prices. Later in spring 2011, LittleMissMatched will move into the space from its location at Downtown Disney West Side. LittleMissMatched offers fun and colorful socks, accessories, apparel and more.

LEGO Imagination Center at Downtown Disney Marketplace is undergoing an extensive renovation project that will increase its overall footprint by nearly 3,500 square-feet and add new LEGO exterior models of favorite Disney characters. During the project, LEGO Imagination Center will operate in a temporary "pop-up" location between Once Upon A Toy and Earl of Sandwich. The project is expected to be complete in mid-April, 2011.
A complete list of rehabs can be found here: http://allears.net/tp/rehabs.htm
= = = = = = = = = = = = = = = = =


MAGICAL MOMENTS
= = = = = = = = = = = = = = = = =
Each month we share reports of guests at Walt Disney World and Disneyland experiencing special Magic, which we call "Magical Moments":
Steve Duff: It was our honeymoon and we were spending the week at the Most Magical Place on Earth. We were dining at 50's Prime Time Cafe when we asked to speak to the chef because of my wife, Claudia's, food allergy to gluten. When the chef came to the table, he asked my wife what she would like. She responded by asking, "What can I have?" The chef then said, "No, my dear, I asked what would you like, because you can have anything on the menu." Claudia asked if she could even have the fried chicken, and the chef said that he had a wonderful recipe for fried chicken. Now up until that point, my wife had not had fried chicken in a decade. She was just about in tears! And yes, the fried chicken was outstanding! Only at Disney.
Mmoore1851: We had been in "the World" for three days with our 15-month-old daughter, and while she would wave at characters from afar, she was still too scared to go right up to them. We were coming out of the baby care center at Hollywood Studios when a cast member saw her, and asked me if we would like a special surprise. Of course we said yes, so he took us around the corner and Minnie, Donald, and Daisy were standing there! My daughter's eyes lit up and she started waving excitedly, and within 30 seconds she was standing in front of them showing them how to patty-cake and blow kisses, and within a minute she was letting them hug her. We got to spend over five minutes alone with the characters, with them fawning over my daughter and playing with her, and when we left she gave each of them a big kiss on the nose (or bill!). For the rest of the trip, she wasn't scared of the characters anymore!
Pat: On one of our trips, we were at the Magic Kingdom for Extra Magic Hours. Fantasyland was not very crowded yet. My family jumped onto the carousel, not paying attention to what was going on around us. My husband had just finished strapping my daughter (then 4) onto the horse, when a voice told her it was time for a race. You should have seen our faces –it was Mary Poppins on her horse on the carousel, right next to us. She was on for the ride with one of the penguins. She and my daughter talked the entire ride. When the ride was over, she took my daughter by the hand and led her to the Meet and Greet area. We have some great pictures with Mary, Bert & the penguin. Our daughter is now 9 and still tells everyone to this day what happened. I got all choked up just to see her beaming smile the whole time. This is Disney Magic!
We just bet you have a story to tell about an unforgettable moment during your Disney vacation! Please send your favorite memory for inclusion in a future AllEars® to: allearsnet@yahoo.com Thank you all for sharing!
-o-o-o-o-o-o-o-o-o-o-o-
Editor's Note: This story/information was accurate when it was published. Please be sure to confirm all current rates, information and other details before planning your trip.