Love is in the Air: Romantic Things to Do at WDW
by Alice McNutt Miller
AllEars® Feature Writer
Feature Article
This article appeared in the February 4, 2014 Issue #750 of ALL EARS® (ISSN: 1533-0753)
Editor's Note: This story/information was accurate when it was published. Please be sure to confirm all current rates, information and other details before planning your trip.
With just 10 days until that most romantic of holidays, Valentine's Day, we thought it would be a good idea to give some ideas to any of you who might happen to be celebrating it in the World.
A couple of years ago, I happened to be at Disney World on Valentine's Day (by myself, unfortunately), and I could not believe how crowded it was. There seemed to be a preponderance of happy couples, just spending the day enjoying the Magic Kingdom, in addition to the normal contingent of families with kids. It got me thinking that a quick trip to the World might just be the best Valentine's gift ever (hint, hint, Honey!). Most of the country is still mired in the doldrums of winter in mid-February, so a bit of Florida sunshine might be just what the doctor ordered. Here are a few ideas for making a Valentine's visit special.
Go without the kids! If there ever was a time of year that a visit to Disney World without the kids would be really special, Valentine's Day is it. Ask Grandma to come stay with the little ones, or have them stay with a friend for a few days. Disney World is an amazing place to visit with the family, but wouldn't you like just a few days by yourselves? And if you don't have kids, what are you waiting for?
Splurge on accommodations. When traveling with the family, hotel and resort choices might be driven most by what they would like, how the sleeping arrangements will be set up, etc. Use this special trip to stay somewhere you have always wanted to stay, but didn't because it wasn't the kids' first choice. The Yacht Club is one resort that comes to mind, as it has a more grown-up sensibility than many of the other Disney resorts, and of course the Grand Floridian Resort and Spa offers both romantic décor and some of the most romantic views on Disney property. Of the moderate resorts, my choice would be Port Orleans Resort — French Quarter for a dreamy setting. If you want to try a non-Disney hotel that offers lots of luxury, but is still close to the action, try the lovely Waldorf-Astoria Orlando (http://www.waldorfastoriaorlando.com/). And note for next year: the Four Seasons is opening a new outpost later this year that is sure to offer its particular brand of attentive service and attention to detail (http://www.fourseasons.com/orlando/).
Splurge on a special dinner. An adults-only Valentine's Day trip is a great opportunity to either try a new restaurant, or go back to an old favorite. Some of our romantic favorites at the resorts are: Victoria and Albert's, Citricos and Narcoosee's at the Grand Floridian Resort and Spa, the California Grill at the Contemporary Resort (especially if you can time your reservation to coincide with the Magic Kingdom fireworks), the Flying Fish at the Boardwalk Inn, Todd English's bluezoo at the Dolphin, Jiko at the Animal Kingdom Lodge, and Artist Point at the Wilderness Lodge. If you will be in Downtown Disney, try the Dining Room at Wolfgang Puck Grand Café or Portobello Country Italian Trattoria for a romantic atmosphere. In the parks, our favorite romantic restaurant used to be the Bistro de Paris in Epcot. We have not yet tried Monsieur Paul, its replacement, but I think it might be my top choice for a Valentine's Day meal at Walt Disney World. Other choices in the parks with lovely atmospheres for snuggling close to your loved one over a yummy meal are the San Angel Restaurante and the Coral Reef in Epcot, the Hollywood Brown Derby in the Hollywood Studios, and now, Be Our Guest Restaurant in the Magic Kingdom. Check out the menu page at AllEars.Net (http://allears.net/menu/menus.htm) for help in choosing.
Let them eat cake. While dining at one of these special restaurants, you may also be interested in ordering a special cake for dessert. Call the Cake Hotline at (407) 827-2253 to order. Specialty celebration cakes can be ordered up to 48 hours in advance, and non-personalized 6" cakes can be ordered on arrival at the restaurant ($21, no advance notice required, except for Victoria and Albert's).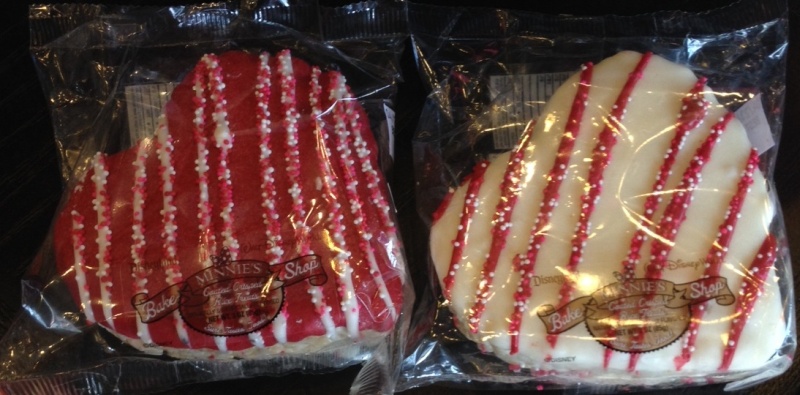 Take a romantic horse-drawn carriage ride. What would be more romantic than a ride through the beautiful woods of the Fort Wilderness Resort and Campground with your sweetie? Horse-drawn carriage rides leave from Pioneer Hall and traverse throughout the resort. Carriage rides can also be had at Port Orleans Resort Riverside, leaving from Boatwright's Dining Hall and continuing along the Sassagoula River (reservations are strongly recommended and can be made up to 180 days in advance by calling (407) WDW-PLAY, or (407) 939-7529.) Follow the ride up with drinks on the porch at Crockett's Tavern or a rollicking dinner at the Hoop Dee Doo Revue. I love this dinner show, and can imagine that the "ribbing" from the cast would be especially fun on Valentine's Day.
Play a round of golf. My husband loves to play golf, and I am sure that nothing would be more romantic for him than a round of golf with yours truly. I jest, but really, isn't making your significant other happy what Valentine's Day is all about? Disney's Palm, Magnolia and Lake Buena Vista courses are amazing, and the 9-hole walking course, Oak Trails, might be perfect for a short couple's round if a full 18 holes is too much for the less-avid golfer in your pair. (https://disneyworld.disney.go.com/recreation/) Also, my husband has played at the Waldorf Astoria Golf Club, located near Disney World property, and absolutely loved it! (http://www.waldorfastoriaorlando.com/golf/) If "real" golf is not for you, consider a round at one of Disney's mini-golf courses. We think that the Winter Summerland courses are the best we have ever played, anywhere, and Fantasia Gardens offers both traditional and pitch-and-putt style courses. Annual passholders and Disney Vacation Club members receive discounts on entrance fees.
Indulge in a couples spa treatment. Wouldn't you like a nice massage after that round of mini golf? Both of the Senses Spas — at the Grand Floridian Resort and Spa and the Saratoga Springs Resort and Spa — offer a "Spa for Two" package that includes an 80-minute massage and 50-minute pedicure for two people for $495 (https://disneyworld.disney.go.com/spas/grand-floridian-resort-and-spa/senses-spa/) (https://disneyworld.disney.go.com/spas/saratoga-springs-resort-and-spa/spa-at-saratoga-springs-resort/). The Mandara Spa at the Walt Disney World Dolphin Hotel has an 80-minute "Couples Retreat Ritual" for $310 (priced for two). The description sounds divine: "Experience a romantic retreat in a lavish grand suite. First, you and your loved one relax together in a spacious hydrotherapy tub. Then, enjoy a soothing duet massage as you rest side-by-side. Enhance your therapy with champagne and strawberries or lunch."
Plan a monorail resort pub-crawl. Board the monorail for a fun tour of the resorts, with adult beverages and snacks thrown in. Start at the Contemporary Resort, and pop into The Wave Lounge, for a Truffle Oil Martini (!) and the Appetizer for Two ("Lump Crab-Florida Rock Shrimp Cakes, Sustainable Fish Tacos with Avocado Gelato, and House-made soft Flour Tortillas"). Board the monorail, bypass the Transportation and Ticked Center, and alight at the Polynesian Resort. Here you have a couple of very good choices in the Tambu Lounge and Kona Island, but I would choose Kona Island where you can snag a Lapu Lapu and some Hawaiian-style tuna poke or made-to-order sushi. Amble back to the monorail station, and head over to your last stop, the Grand Floridian Resort and Spa. Head upstairs to Mizner's Lounge, where you can often hear the Grand Floridian Orchestra playing in the background. Order a Magical Star Cocktail ("X-Fusion Organic Mango and Passion Fruit Liqueur, Parrot Bay Coconut Rum, Pineapple Juice, and a souvenir Multicolored Glow Cube") and the Hardwood-grilled Berkshire Pork Belly ("with a Tamarind Glace and Hominy Cheddar-Potato Puree").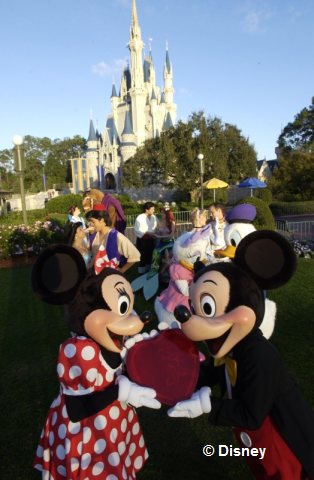 Plan a park cupcake crawl. You can find yummy sweet things (for your sweet thing!) in all of the parks, but let's start at the Hollywood Studios as an example of a venue for a fun day of cupcake sampling. Start at Starring Rolls Cafe and buy a Red Velvet Cupcake (red for Valentine's Day!) and a Butterfinger Cupcake (one of my favorite candy bars turned into cupcake wonderfulness). Walk around for a while. Exit the park and take a FriendShip to the Boardwalk Resort (or maybe keep walking to the resort, as there are more cupcakes coming). Go straight to the Boardwalk Bakery. Purchase a Coffee Mocha Cupcake (wake up!) and a Strawberry Shortcake Cupcake (more red!). After all of these sweets, walk upstairs in the Boardwalk to the Belle Vue Lounge, find a comfy couch, and have a quick nap before you find a way back to your resort.
Wander through the parks holding hands. One of the best things to do at Walt Disney World is simply to spend time wandering aimlessly through the parks, with no real agenda. On Valentine's Day, slow down, enjoy strolling through the parks, and just be together. Ride Dumbo (if the line is short), ride the Carrousel and take goofy (pun intended!) pictures of each other acting like kids. Buy some of that really fluffy, sugary cotton candy and feed it to each other. The Tomorrowland Transit Authority offers a nice venue for a snuggle while taking a tour of Tomorrowland (in the dark). Take a ride around the Rivers of America on one of the Liberty Square Riverboats. Catch a show at the Country Bears Jamboree. Take a romantic world tour. Stroll through World Showcase, and visit attractions and shops in each of the pavilions. Take a ride on the Gran Fiesta Tour Starring the Three Caballeros in the Mexico pavilion (in the dark). Stop into the Cava del Tequila for a tequila tasting, or visit the Tutto Gusto Wine Cellar for a super Tuscan and some cheese. After your two-week safari, spend time seeing the animals in the Pangani Forest Exploration Trail. Grab an identification card in the bird enclosure, and see how many of the different types of birds you can spot. Ask your Valentine to win you a stuffed animal in one of the carnival games in Fossil Fun Games in Dinoland. Relive the glamour of old Hollywood with a thrilling trip to The Twilight Zone, and relive the head-banging of your youth with a ride on the Rock 'n' Roller Coaster.
In the end, it doesn't really matter what you do to celebrate each other on Valentine's Day at Disney World. Just enjoy your time together, and remember, you are at the Most Romantic (er, Magical) Place on Earth!
= = = = = = = = = = = =
RELATED LINKS:
= = = = = = = = = = = =
— Sweet Time with Your Sweetie
— Romance in the Parks
=-=-=-=-=-=-=-=-=-=-=-=
ABOUT THE AUTHOR
Alice McNutt Miller is a lifelong Disney fan whose fondest childhood memories include "The Wonderful World of Disney" on Sunday nights and her first trip to Disneyland when she was 10 years old. Alice and her family are Disney Vacation Club members, and have now visited every one of the Disney parks throughout the world. They live in Vienna, Virginia.
-o-o-o-o-o-o-o-o-o-o-o-
Editor's Note: This story/information was accurate when it was published. Please be sure to confirm all current rates, information and other details before planning your trip.