Sweet Time with Your Sweetie
by Jennifer Arnold
AllEars® Guest Columnist
Feature Article
This article appeared in the January 24, 2012 Issue #644 of ALL EARS® (ISSN: 1533-0753)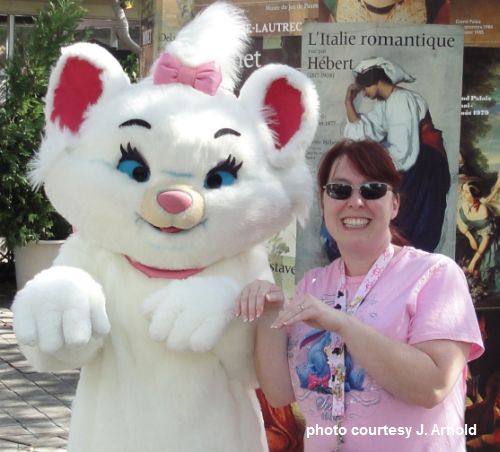 Now that the hustle and bustle of the holidays are over, perhaps you're thinking about planning a romantic vacation for two. What better place to go than to Walt Disney World (WDW)?
Disney can be a romantic vacation location and a perfect getaway to spend time with your significant other for Valentine's Day. Visiting in early February, you will find that the crowds are relatively low. This is especially true if you are there during the beginning part of Valentine's week and leave before the President's Day weekend crowds begin. When planning a trip, you will find that WDW offers countless ways to spend a romantic getaway, whether you're on a small or big budget.
Last year, my husband and I took a romantic vacation to WDW for Valentine's Day week.This was the first time that we would be in the park on Valentine's Day and we were very excited. WDW was offering a free dining promotion and we decided to splurge and stay at a Moderate resort. We chose the Cabins at Fort Wilderness Resort and Campground for its location and amenities.
The Cabins are located in the campground section of the resort and we found them to be quiet and cozy. All Cabins come with a full kitchen, dining room/living room combo, separate bedroom, full bath, deck with grill, and their own parking place right out front. We loved having our own little retreat instead of an individual room in a big resort.During our trip, Mousekeeping came daily, and even left heart stickers throughout the Cabin on Valentine's Day.It was such a wonderful surprise to come back to after a delicious dinner and a long day at the park.
Most mornings we got up early, made a quick breakfast and headed out to the boat launch to the Magic Kingdom. I loved walking in the early morning hours in the campground. The weather in the morning was chilly and the resort quiet as we strolled along the winding sidewalks, watching squirrels and birds along the way. At night, we would walk to the beach and cuddle up on the sand to watch the Electric Water Pageant glide by.
Securing an Advance Dining Reservation (ADR) for Valentine's Day dinner can be a little tricky, but if you book early you should be able to find the perfect place to celebrate. If booking early is not an option, try to check back often and be flexible with your dining times. We opted for a later reservation at 8 p.m. and were able to secure an ADR for Le Cellier Steakhouse in Epcot's Canadian Pavilion.We were very excited to try this restaurant and found the atmosphere to be wonderfully romantic. Having the dining plan while visiting WDW is a must for me. The plan allows me to simply enjoy a relaxing meal with my husband, focusing on us instead of reviewing the prices on the menu or feeling the dread of seeing the check.One item to note is that Le Cellier is now part of Disney's Signature Dining Restaurants and requires the use of two dining credits per person for dinner. (Lunch, however, is only one dining credit.)
For the Valentine's Day holiday, WDW added little touches here and there, including heart sprinkles on desserts at the restaurants, special pastries in the shops, and Valentine's themed gifts. If you are a pin trader, they even offer Valentine's themed pins. Since we were in Epcot for Valentine's Day, we took the opportunity to take our time and stroll hand in hand around the countries. We looked in all the shops, stopped to share yummy treats, and sat under the stars to just enjoy the chilly evening.
Of course, fun and romantic activities can be found throughout all the parks at WDW, not just Epcot. At Magic Kingdom, you can cuddle up in a doom buggy made for two at The Haunted Mansion or take a relaxing ride on the Tomorrowland Transit Authority with a great view of the park and Castle. If you stay in the park late, you can head over to a less crowded Fantasyland, where you can snuggle in a boat on a journey in the sky on Peter Pan's Flight, see if your Prince Charming can pull the sword from the stone and then take a ride on the Prince Charming Regal Carrousel, or go on a fun-filled adventure with Winnie the Pooh. At Hollywood Studios, you can take a trip on The Great Movie Ride, go to another planet on the new Star Tours, or challenge each other to see who can get the highest score on Toy Story Mania. You can even find romance at Animal Kingdom as you stroll through the Maharajah Jungle Trek, go on a safari at Kilimanjaro Safaris, or if you're a couple that loves excitement, take a ride together on Expedition Everest.
If you don't feel like going to the park on Valentine's Day there are still tons of activities to keep you entertained and in the romantic mood. If you want a bit of playful fun, head over to one of the miniature golf courses or rent two Sea Raycers at one of the marinas. Looking for something a little more low key? Take a walk along the Boardwalk or window shop in Downtown Disney. You could also head over to Fort Wilderness Resort for horseback riding or to the Animal Kingdom Lodge to view the animals at the savannas.For a very special treat, you can have a couple's spa treatment or take a specialty cruise like the Fireworks Cruise.
If you're looking for romantic dining options, you don't have to look very far. At WDW everyone can find something that is suited to their tastes. Some of my favorites include a table down close to the aquarium glass at The Coral Reef Restaurant in Epcot, dining under the twilight sky at the base of the Mayan ruins at San Angel Inn Restaurante in the Mexico Pavilion, or enjoying a feast at the sultan's palace at Restaurant Marrakesh in Morocco -- complete with a belly dancer and musicians to entertain you while you eat. In Magic Kingdom, you can't go wrong with a romantic Italian meal at Tony's Town Square Restaurant where you dine near a fountain of that famous couple, Lady and the Tramp. Would you rather go to the drive-in? Then head over to Disney's Hollywood Studios and the Sci-Fi Dine-In Theater, where you can cuddle up in a vintage car as you watch old sci-fi movie previews and cartoons under the stars while a carhop takes your order. If you don't want to go to the park that day, book a table at the Contemporary Resort's California Grill where you can watch the fireworks from the Magic Kingdom at the restaurant's observation deck. This dining location is one of Disney's Signature Restaurants and does require two dining credits per person.
If you're on a tight budget, you don't have to stay at a Moderate or Deluxe Resort to find romantic places. A nice Value Resort to find a romantic spot is at All Star Music. Take a stroll at night through the Broadway Hotel and Jazz Inn sections of the resort, then relax next to the fountain at the Jazz Inn and just sit under the stars. I also must say that the nostalgic in me just loves the Pop Century Resort the most out of all the Value Resorts. I simply adore its larger than life Play-Doh containers, Rubik's Cubes, and Yo-yos. Just finding a quiet bench to sit on or a chair by the pool late at night can be fun and relaxing.
Besides the Fort Wilderness Cabins another favorite Moderate Resort to find romance is Port Orleans French Quarter.We have always found this hotel to be quiet and peaceful. It is great to take a romantic walk along the river at night or splurge and take a carriage ride from Port Orleans Riverside. Plus, Port Orleans French Quarter recently went through renovations that have made it an even nicer resort, complete with queen-sized beds, ceiling fans in the rooms, and beautiful courtyards.
Planning to splurge on a Deluxe resort? In my opinion, the most romantic Deluxe Resort has to be the Polynesian Resort. I know many would say the Grand Floridian is the most romantic, but I just love walking through the Polynesian at night with the gentle flames of the tiki torches lighting your way. Whether you are staying at this resort or not, jump on the monorail and take the time to visit. During the day, you can relax in a hammock and watch the ferry boats going to and from the Ticket and Transportation Center to the Magic Kingdom.At night, you can snuggle on the beach and watch the fireworks at Magic Kingdom.
No matter your budget, consider a trip to Disney for Valentine's Day or even the whole week. It's a great way to celebrate a romantic holiday with your significant other.
= = = = = = = = = = = = = = = = = =
RELATED LINKS
= = = = = = = = = = = = = = = = = =
Romance in the Parks -- Reader Tips:

http://allears.net/btp/romance.htm
= = = = = = = = = = = = = = = =
ABOUT THE AUTHOR:Jennifer Shorey Arnold has been going to Disney since she was a little girl. Now married, she loves visiting Walt Disney World and Disneyland with her husband as often as possible. No trip for her to the Magic Kingdom is complete without riding Haunted Mansion as many times as possible. Her favorite rides at Disneyland include Pirates of the Caribbean and Indiana Jones Adventure. Fascinated with Disney history as well as the Disney of today, Jennifer loves to ready about Disney when she's not in the parks. Currently, she lives in Maryland and owns a photography business.
-o-o-o-o-o-o-o-o-o-o-o-
Editor's Note: This story/information was accurate when it was published. Please be sure to confirm all current rates, information and other details before planning your trip.