January 2013 Walt Disney World Bits and Bites
Feature Article
This article appeared in the January 1, 2013 Issue #693 of ALL EARS® (ISSN: 1533-0753)
Editor's Note: This story/information was accurate when it was published. Please be sure to confirm all current rates, information and other details before planning your trip.
= = = = = = = = = = = = = = = = =


STEP BACK IN TIME
= = = = = = = = = = = = = = = = =
Each month, we rummage around in our archives for this featurette, which indulges in a bit of nostalgia, taking you back in history for a glimpse of Walt Disney World and The Walt Disney Company through the ages. This month, we take a snapshot look at what Walt Disney World's Magic Kingdom was like 20 years ago, in January 1993:
In 1993, the theme park had two parades — Surprise Celebration (http://allears.net/tp/mk/surprise.htm) during the day and SpectroMagic (http://allears.net/tp/mk/spectromagic.htm) at night.
The Diamond Horseshoe Jamboree was still hosting five shows daily. Reservations were required and could only be made the same day at the Disneyana Collectibles Store on Main Street.
Character greetings took place at Mickey's Starland (which eventually became Toontown Fair) and also at the Town Square. There was also a show in Mickey's Starland that saluted the Disney Channel afternoon TV series and featured a segment on the "Goof Troop." Other shows in the Magic Kingdom included one at the Tomorrowland Theatre (Walt Disney World is Your World) and the Castle Forecourt show called Disneymania.
Several attractions have become "things that aren't there any more" since that year, including The Walt Disney Story, Explorer Canoes, Mike Fink Keel Boats, Mr. Toad's Wild Ride, Snow White's Adventures, Skyway to Tomorrowland, Magic Journeys, Mickey's Starland, Circle-Vision 360, Mission to Mars, and Starjets (which became Astro Orbiter).
As for ticket prices? Well, a 1-day/1-park ticket cost $34/adult, $27/child 3-9. A 5-Day Super Duper Pass was $162/adult, $128/child. A new Annual Pass was $190/adult and $165/child. Oh, and an annual pass for River Country (the water park formerly located near Fort Wilderness) was $52.50, while an annual pass for Typhoon Lagoon was $70.50. An excursion over to Discovery Island (the little wildlife sanctuary that closed many years ago) cost $8. And the now-defunct Magic Kingdom Club provided its members with all sorts of discounts.
= = = = = = = = = = = = = = = = =


2013 DINING PLAN
= = = = = = = = = = = = = = = = =
The Disney Dining Plan (DDP) for 2013 mirrors the 2012 program for the most part, but has new options for table-service restaurants that offer menu add-ons and prix-fixe menus. Here are the highlights of the 2013 DDP:
— Some table-service restaurants may offer a separate prix-fixe menu available for a retail price in addition to the regular a la carte menu. Those on the DDP can choose this option, but must pay a surcharge in addition to the normal table-service entitlement redemption. Separate surcharges for Disney Dining Plan guests and Deluxe, Premium, and Platinum Dining Plan guests will be noted on menus.
NOTE: For restaurants that offer only a prix-fixe menu (like Cinderella's Royal Table) or those that have a prix-fixe menu included on their regular a la carte menu (such as Captain's Grille), the prix-fixe menu is fully covered by the required DDP meal entitlements.
— Some table-service restaurants may offer menu add-ons, which allow you to add another "protein component" to an entree (for example, the option to add sea scallops to entree). Menu add-ons will be listed as such on the menu and require guests who choose this option to pay a surcharge. DDP Guests can also choose a menu add-on, but will have to pay the surcharge in addition to the normal table-service entitlement redemption.
— Be Our Guest Restaurant at the Magic Kingdom offers "fast casual" service for lunch and requires one DDP quick-service entitlement; however, for dinner, the restaurant operates as table service, requiring one table-service entitlement.
— Participating locations: Most Walt Disney World Resort theme park, resort hotel, Disney water parks, EPSN Wide World of Sports Complex, and the Downtown Disney Area restaurant locations accept the Disney Dining Plan, including Operating Participants.
— The list of eligible snack items includes a wide variety of food and beverage items available at carts, kiosks, quick-service and select merchandise locations across property. A complete list of snack items will be made available soon.
— All Disney Dining Plan packages include a Resort Refillable Drink Mug, which allows guests to refill at Quick Service locations and select shops at the Walt Disney World Resort Hotel at which they are staying and throughout the length of their current stay.
Dining reservations for table-service restaurants can be made in advance or cancelled online at www.disneyworld.com/dining. You can also make or cancel a reservation by visiting any Walt Disney World Resort Hotel Front Desk, Concierge or Guest Relations, by calling 407-WDW-DINE, or by pressing 55 from any house phone.
http://allears.net/pl/packages.htm
= = = = = = = = = = = = = = = = =


HIDDEN MICKEYS ALERT
= = = = = = = = = = = = = = = = =
Steven Barrett, author of the Hidden Mickeys books and webmaster of www.HiddenMickeyGuy.com, highlights a few interesting Hidden Mickeys at Disneyland and California Adventure. Check them out!
1. Admire the Matterhorn Mountain in Fantasyland from in front of Le Petit Chalet shop near "it's a small world." About two-thirds the way up the side of the mountain, a clearing in the snow forms a classic Mickey, tilted to the left. (Thanks to Steve Orme.)
http://allears.net/btp/images/hidden-mickey-384.jpg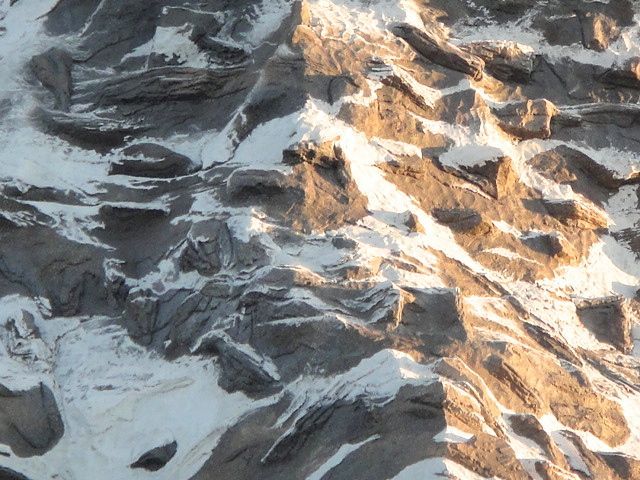 2. Along the entrance queue to Luigi's Flying Tires in Cars Land, as you enter the second inside room, look for collages on the right wall. In the third collage behind glass from the right wall, a tiny red Lightning McQueen antenna topper has a Mickey hat with ears on its roof. This antenna topper is at the right middle part of the collage, under a white piece of paper with "# 121." (Thanks to Luis Valdez, Joshua Garces and Steve Orme.)
http://allears.net/btp/images/hidden-mickey-386.jpg
3. Inside the Disneyland Hotel elevators, a small white classic Mickey hides in the stars on the side mirrored glass near the elevator doors. (Thanks to Kim Bacon.)
http://allears.net/btp/images/hidden-mickey-385.jpg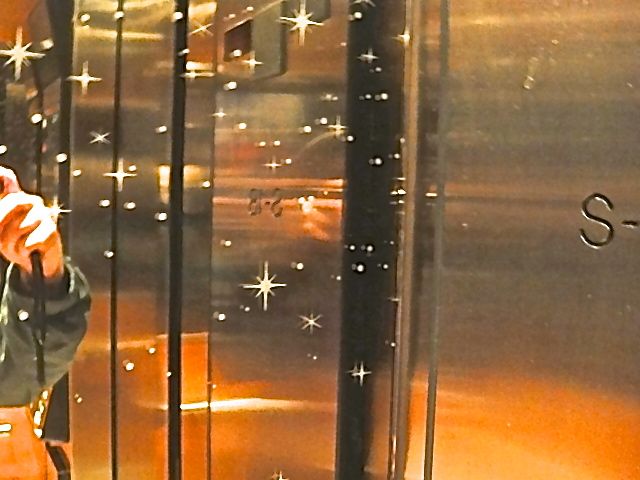 You can find a selection of past Hidden Mickeys Alerts here:
http://allears.net/btp/hiddenm2.htm
And check out our Searching Disney with Steve blog:
http://land.allears.net/blogs/stevebarrett/
= = = = = = = = = = = = = = = = = =

RATE & REVIEW ROUND-UP
= = = = = = = = = = = = = = = = = =
compiled by Debra Martin Koma
A special service that Disney provides to its Walt Disney World Resort guests is Magical Express — a complimentary passenger and luggage transfer service from the airport to your hotel, and back again. Even though Magical Express has been around for a few years, and will be for at least a few more, we often get questions from readers who wonder whether it's worth taking advantage of this service: Does it take too long to get from the airport? How long does it take to get your luggage? We thought we'd share a few recent thoughts on this service, pulled from reader comments in our Rate and Review section:
Recommended by: 100 percent of reviewers
Overall rating: 9.1 (out of 10)
— The Magical Express service was a great way to begin and end our vacation. We flew on Southwest so were able to check our bags both ways to the hotel and then to the baggage carousel at home. We didn't have to wait for a bus on the way to the hotel and our luggage was waiting in our rooms about three hours after we arrived. The only negative (if I had to search for one) is that the Magical Express desk at Orlando Airport was a very long walk. It seemed like we landed at one end of the airport and had to walk to the other, past every other form of transportation, rental car counter, etc.
— We arrived at the Welcome Center at MCO around noon and were put on a bus almost immediately. There were only two other people on the bus at the time, so we did sit for about 10-15 minutes until some more people boarded… Stops were made at the Poly and Grand Floridian before Wilderness Lodge, but we still made it to the resort by 1 p.m., and our tagged luggage was brought to our room right around 3 p.m., quite possibly the shortest turn-around time we've ever experienced! Our boarding passes were left on our door overnight and we checked our bags at the Resort Airline Check-In desk around 11 a.m… And our bags did make it home with us!
— We used Magical Express again this vacation and found the service is only getting better. We had no trouble finding the ME counter; the map in the booklet they send is quite good. We had little to no wait at MCO and were at our resort in no time. Our luggage appeared approximately three hours after our arrival, as it always has. Our return to MCO was prompt and we had just enough time to get through security, grab some lunch and catch our flight home.
— Stories I read about people not getting luggage to room in timely manner, so took own luggage off carousel to prevent this… which defeats purpose of service. Must leave three hours before flight. I hired a limousine service to return to airport so we can enjoy parks. Do not let them bring your bags to hotel. Get own suitcases off carousel. Also do not take their transportation back to airport, unless you do not mind sitting around airport for three hours before your flight as opposed to enjoying parks/pool. Bags take time to get to you.
— No issues at all. Easy to find at MCO and the wait to get on the bus at 10:30 a.m. was about 10 minutes. Ride to Beach Club was quick. Resort baggage check in was quick and efficient.
— Took ME from MCO to Port Orleans French Quarter. First we had to find it (ME). We get lost every time. Once we found it we were put on a bus within minutes. We were one of the last to board so we left right away. Made two stops before us. Got to our resort fairly quickly. Took our own luggage so can't comment on luggage arriving in the room… Would use ME again in the future.
— It was great that we just got off the plane and went to the bus to our resort and didn't have to stop at baggage claim. Our luggage was in the room within four hours of the time we landed. We didn't have to wait long for a bus to our resort. The only recommendation I would make is that they put signs up at the Orlando Airport directing you to the Magical Express. We had to ask someone and they explained that it was on level one of the airport.
— Third trip and third time using ME. WONDERFUL! The convenience of NOT having to worry about our luggage or how we are getting to hotel or renting a car FAR exceeds any amount of time we have to wait for the ME. FYI, expect to be picked up for return flight about three hours prior to flight. But again, STRESS-FREE TRAVELING! Disney knows how to make traveling easy!
Read more opinions about Magical Express — or share your own experiences — in our Rate and Review section here:
http://land.allears.net/reviewpost/showproduct.php?product=337&cat=88
= = = = = = = = = = = = = = = = = =


MONTHLY REMIND-EARS
= = = = = = = = = = = = = = = = =
EVENTS
Mickey's Jingle Jungle Parade runs through January 2, 2013.
2013 Marathon Weekend – to be held January 10-13. A record field of more than 65,000 runners, including more than 25,000 for the marathon alone, are lined up to run in various races during this 20th anniversary Walt Disney World Marathon Weekend presented by Cigna, making this the largest marathon festival weekend in America. Unique features await the marathon runners — a new Mickey Mouse medal, enhanced entertainment along Mile 20 to commemorate the 20th anniversary, a post-race party at Downtown Disney, some new course twists (the 26.2-mile route goes through the Walt Disney World Speedway and Champion Stadium) and the chance to run with several well-known running legends and celebrities (e.g. Drew Carey, Gilles Marini, Joey Fatone, etc.). For more info, go to runDisney.com.
EDITOR'S NOTE: Team AllEars® will be represented at this year's Marathon Weekend by more than 100 runners. Look for our runners and cheering squads along the courses.
-=-=-=-=-=-=-=-=-=-
Don't forget to check our Events page for current updates: http://allears.net/pl/events.htm
-=-=-=-=-=-=-=-=-=-=-=-=-=-=-=-=-=-=-
REHABS AND CLOSINGS
Fantasyland Expansion continues with the opening of Princess Fairytale Hall in 2013 and the debut of a new Disney "mountain" in the form of the Seven Dwarfs Mine Train in 2014.
Two Starbucks locations will open in Walt Disney World Resort next year, one in the Magic Kingdom and one in Epcot. The Magic Kingdom's Main Street Bakery will close for refurbishment in January 2013 and reopen as a Starbucks in early summer. The cast members there will wear costumes consistent with the early 20th century look and feel of Main Street, U.S.A. The Starbucks location will offer the full complement of Starbucks signature beverages, artisan breakfast sandwiches and a wide selection of baked goods, including muffins, scones and specialty treats.
http://land.allears.net/blogs/dnews/2012/11/starbucks_locations_at_magic_k.html
The Character Spot located in Epcot's Future World closed on October 21 for refurbishment. It is scheduled to reopen February 2013. A temporary location is available near the Fountain View Ice Cream shop where you can see Mickey, Minnie and Pluto. Also, Goofy is now appearing at Epcot's main entrance, near Spaceship Earth.
The Luna Park Pool closes for maintenance beginning January 2, 2013 and will reopen in early March.
Beginning late January 2013, the 14th floor rooms and suites of the Contemporary Resort will close for refurbishment. Some renovations planned for these suites include: a hard and soft goods refurbishment (things like bedspreads, linens, furnishings, etc.); improvements to the concierge lounge that will capitalize on the sweeping views of Cinderella Castle, nightly fireworks and the Seven Seas Lagoon or Bay Lake; enhancements to the corridors and elevator foyer. The new room design and in-room amenities will be reflective of high-end suites at all deluxe Disney Resorts. The health and wellness concept that was mentioned last year will not be included on that floor or within the suites; however, most of the design concepts previously shown for these suites will be incorporated. The refurbishment is expected to last through late summer 2013 (dates are subject to change).
The "soft goods" room refurbishment at Disney's Saratoga Springs Resort & Spa is underway. Accessories and linens will be replaced. The project is expected to last through spring 2013. Note that all refurbishment dates are estimates only and exact project dates may vary.
http://dvcnews.com/index.php/resorts/saratoga-springs/news/1881-saratoga-springs-room-refurb-details
On January 16, 2013, the spa at Disney's Saratoga Springs Resort will temporarily close for renovation. It will reopen in the summer as Senses – A Disney Spa at Disney's Saratoga Springs Resort.
Typhoon Lagoon will be closed through January 5, 2013.
Blizzard Beach will close on January 6 for its annual rehab, which will run through March 16, 2013.
=-=-=-=-=-=-=-=-=-=-
A complete list of rehabs can be found here: http://allears.net/tp/rehabs.htm
= = = = = = = = = = = = = = = = =


MAGICAL MOMENTS
= = = = = = = = = = = = = = = = =
Jenna Lawrence: My 2-year-old daughter absolutely loves the princesses, especially Snow White, so we decided to book a dinner at Akershus so that she could meet some of them. My daughter has a speech delay and is also very shy. Basically, she hardly ever speaks, especially to strangers, and when she does speak, it is difficult to understand her. One by one, we met Belle, Sleeping Beauty, and Cinderella. She didn't say a word to any of them, but just clung to me and hid her face. Finally, Snow White entered the room and my daughter was thrilled. She had been asking for Snow White all day and was so excited to see her enter the room. When Snow White finally got to the table, my daughter was absolutely starstruck. She could do nothing more than stare at her open-mouthed. When Snow White left, my daughter was so sad. Ariel came to our table next and somehow was able to get my daughter to talk to her. I could not believe how great Ariel was with her. I have never seen my daughter interact with a stranger like she did with Ariel. When it was time for Ariel to move on, though, my daughter was back to asking and begging for Snow White. Ariel heard this and asked us if Snow White had visited our table. We explained that she had, but that my daughter had been starstruck and that, coupled with her speech delay and shyness kept her from talking. We explained to Ariel that she was the only one who had been able to get my daughter to speak. She said that she would go talk to her friend, Snow White, and see if she could come back. She did, but my daughter was still too starstruck. When it was time for the parade, Ariel came back to our table, took our daughter's hand, and led her around so she wouldn't feel afraid. Then, when it was over, she escorted our daughter to Snow White and the three of them all spoke and played for a bit. Ariel got my daughter to be able to talk to Snow White. Snow White might be my daughter's favorite, but Ariel became mine this trip.
Lisa Benton: We (three generations) have just returned from what will most likely be my parents' last trip to the World. It is hard for them to get around, and as much as they love it, it is just too tiring. We went in January, and after that my mom said she wouldn't go again unless we went at Christmas time, because she would like to see that one more time. So my husband said, "Book it." We stayed at their favorite place, the Poly, and my kids (21, 19 and 14) had three things they could not gripe about: 1. Taking pictures when Mom (me) said. 2. Riding the Carrousel for Granddad. And 3. Seeing the Country Bears for Grandma. Well, we managed to do everything my parents like to do, but when it came time for the Country Bears, there were "technical difficulties". We left Grandma there waiting while we grabbed a Fastpass for Big Thunder Mountain and then kidnapped Granddad for the Pirates of the Caribbean. When we returned, the show was still having difficulties, but to our surprise, there was a "show" outside! Grandma's favorite, Big Al, along with others were dancing with guests. There was a Photopass photographer and I asked if Big Al could visit with my mom (in a wheelchair). He told me to come back before the next show. Then I asked Matthew, Big Al's handler, and he said he would see what he could do. Right after the show, I saw Matthew grab Big Al and whisper that he had to follow him for a photo. As I turned around, Mom saw him coming and threw open her arms and yelled, "Big Al!" He came running over and hugged and kissed her and posed for many photos (even with the aforementioned photographer). Afterward, my son said, "Grandma, you lit up like a little kid!" As I sit here at my work computer tearing up again, I will always remember Mom meeting Big Al. Thank you Matthew for a very Magical Moment. I don't think she minded not being able to see the Country Bear Jamboree one last time.
Marla Lacer: We took my 4-year-old son, who is a highly functioning autisic, to Disneyland. We didn't get the special pass. We've heard such magical things about the Disney experience we wanted to see how it would work on him. We brought our own water and snacks, earplugs, and bought every visual guidebook available. Goofy's Kitchen was AMAZING, especially Dale, who would only communicate through drawings (perfect to get Connor out from under his chair), and all the princesses who took every hug he had to offer, but wouldn't speak a word to. The most magical moment? He and I discussed every aspect of Space Mountain… He made the attendant check his lap restraint four times, made me check his earplugs and insisted on wearing his sunglasses. (The attendant smiled and agreed that protective eyeware was the smartest idea he'd ever seen.) At the end of the ride, my silent little boy was frozen, holding onto the handle on the seat and looked straight at me and screamed (because of the earplugs), "THAT WAS TRULY AMAZING, MOMMY! I LOVE YOU." We rode Space Mountain nine times in two days. Every meltdown went away as soon as we said, "Hey, let's take a break at Space Mountain!" Lesson learned? The biggest challenge in the park may be your most magical moment.
-=-=-=-=-=-=-=-=-=-=-=-=-=-=-=-=-=-=-=-=-
We just bet you have a story to tell about an unforgettable moment during your Disney vacation! Please send your favorite memory for inclusion in a future AllEars® to: allearsnet@yahoo.com
We welcome any Magical Moments photos you might want to send in for our Wandering the World featurette, as well!
Thank you all for sharing!
-o-o-o-o-o-o-o-o-o-o-o-
Editor's Note: This story/information was accurate when it was published. Please be sure to confirm all current rates, information and other details before planning your trip.