Getting Your Disney Fix Between Park Visits
by Autumn Hilden
AllEars® Feature Writer
Feature Article
This article appeared in the October 18, 2016 Issue #891 of ALL EARS® (ISSN: 1533-0753)
Editor's Note: This story/information was accurate when it was published. Please be sure to confirm all current rates, information and other details before planning your trip.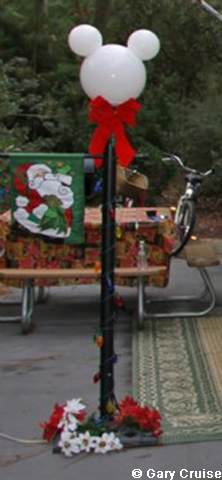 Regardless of how often you visit Disney parks, the space between trips can sometimes seem like a terrible eternity. You watch your home videos (or someone else's), you read and comment on all the parks' news, and of course you chart and plan your next adventure in glorious, unnecessary detail: every restaurant and every meal, ranked by favorite; another list of your absolute must-do rides and attractions; the order in which you'll visit your must-see spots to snap your must-take photos and make your must-make jokes. But when the longing turns into agonizing and vacation is still weeks, months, or years away, how can you really get your Disney fix?
Level Up Your Disney Music Collection
You may not know that there is an entire world of Disney music out there that goes way beyond the parks albums. The internet is a treasure trove of background music tracks (or BGM loops, as they are sometimes called), and plenty of it is available legally and for free. So what kind of melodies are waiting for you to discover? Think of all that magical music that has been playing from Disney bushes since the very beginning. Yodeling from Disneyland's Matterhorn queue? Check. Echoing lyrics from the lobby of the Hollywood Tower Hotel? Yep. The entire music loop from the line of your favorite princess meet and greet location? That, too. Even songs and entire ride-through audio from closed attractions, such as Epcot's Horizons or Disneyland's America Sings, are available. Hotel lobby tracks, ride closure announcements, the list goes on. Any time you want to feel like you're right in the middle of the magic, just fire up your BGM.
Try Your Hand at Backyard Imagineering
If you've got space and are handy with a set of tools, you can join the hundreds of "backyard Imagineers" that pay homage to Disney parks right at home, all around the globe. For these fans, waiting to experience the magic is best done actively, by re-creating it! From garage versions of Soarin', complete with queue, to yards filled with roller coasters and homemade dark rides, making your own version of Disney parks favorites lets you walk in Walt's footsteps all the more closely. Walt himself famously built a miniature train, the Carolwood Pacific, in his Los Angeles yard. So get inspired for your own Disneyland and WDW projects by checking out what's already been accomplished on YouTube — and then get to work!
Decorate, Disney Style
It's easy to bring some Disney parks magic into your house through themed decorating. Sure, there are Mickey-branded kitchen and bath items readily available at theme park stores, but when you've really got an itch to scratch, take notes from your favorite ride or hotel when you change the look of your room. Start small, perhaps with a bathroom or bedroom (bonus Disney fan points if you do your OWN room instead of a child's). Choose a focal point of the area you'd like to recreate, such as a bathroom mirror that you'll make "magic" for a Snow White's Scary Adventures bathroom. Then think about the color palette: black, brown, red, and white, for example. Decide what visual themes you can incorporate into your space: perhaps a shower curtain with bare branches and a mossy bathmat with some apple red towels, or a gilded frame for your "magic" mirror. They key to theme decorating is to be unafraid to go all the way. Be purposeful and unapologetic, and your Disney itch will thank you.
Host a Dinner Party
Even if you only invite yourselves (or your friends who "get it,"), recreating a meal from your favorite Disneyland or WDW restaurant can be enough to satisfy you when you're hungry for the Happiest Place on Earth. But no half-hearted efforts are allowed! Part of any memorable meal — and especially your favorite Disney parks meals — is the ambiance, so don't skimp when it comes to setting the scene. You're probably not doing any construction, so music and lighting will help you achieve the right mood. Let's say you want to recreate your visit to Trader Sam's. First, turn to your BGM (background music loops from the park) and pick out a handful of songs from the Tiki Room or from the International Gardens section of the 1964 World's Fair album. "Moonlight Time in Old Hawaii" frequently plays at Trader Sam's. Next, make it dark and light some candles or tiki torches. Thatch placemats, cheap silk flowers, and some coconuts will round off your scene with very little work. Then don your souvenir Hawiian shirts while you cook up some Chinese Long Beans and mix a mai tai or three. Aloha!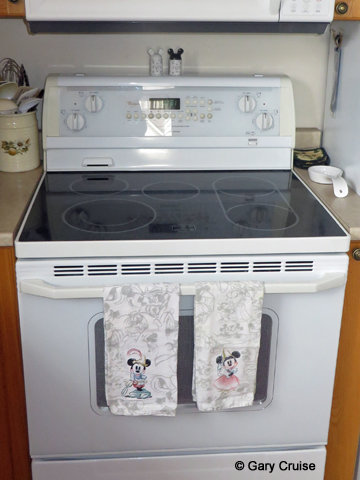 More Ideas for Disney Parks Magic Between Visits
Nothing here grabbing you? Choose from any of these additional ideas, or come up with your own and share them with us!
Throw a full-blown theme party based on one of your favorite lands, complete with food, decorations, music, and activities inspired by the park.
Set up a Winter Summerland mini golf course in your basement.
Do a virtual park visit, either with your own vacation videos or by visiting AllEars.Net's YouTube Channel, and serve popcorn and play parks music as a soundtrack to your night.
Attend a Disney traveling event, such as Disney on Ice or a Disney on Broadway play, near you.
Travel to a destination related to the Disney experience, such as the Walt Disney Family Museum in San Francisco, the Disney Vacation Club at Hilton Head, the studio lot in Burbank (closed to the public but very visible from the surrounding neighborhood), or Walt's hometown in Marceline, Missouri.
Catch a Cirque du Soleil show playing near you.
Visit a restaurant chain that you associate with Disney Parks, such as the Rainforest Cafe.
Order and watch a free vacation planning DVD (the actual DVD, so it arrives in the mail with planning materials).
Host a Disney movie night at home, or go out to see the latest Disney film at the theater.
Hit your local Disney Store.
Plan and shop for your next holiday/party costume or fan convention cosplay.
Explore Disney Bounding: everyday fashion inspired by Disney characters, rides, and other park elements.
Book tickets for a D23 event near you, or for the big D23 Expo coming to Anaheim next year.
Catch up on AllEars.Net's blogs and past AllEars® newsletter articles, which cover a wide range of Disney experiences.
What gets you through the valley between Disney trips? Share your wisdom by dropping us a line HERE.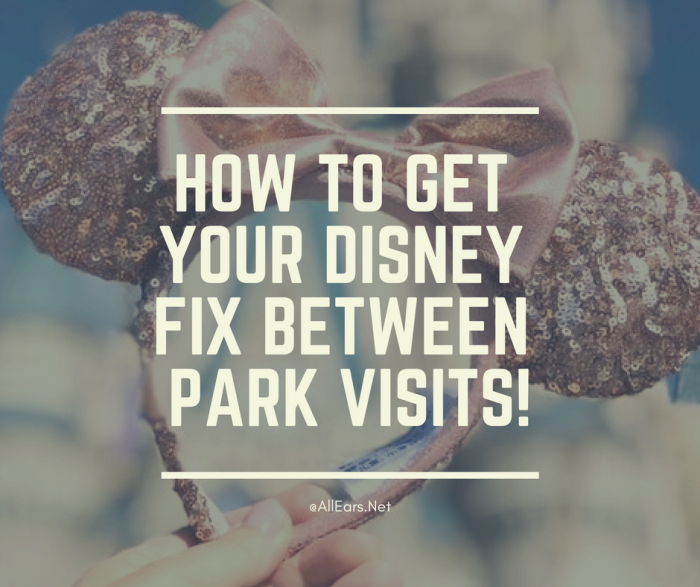 = = = = = = = = = = = = =
OTHER LINKS
= = = = = = = = = = = = =
Disney Craft Projects (including the Mickey Lamp Post, shown above!)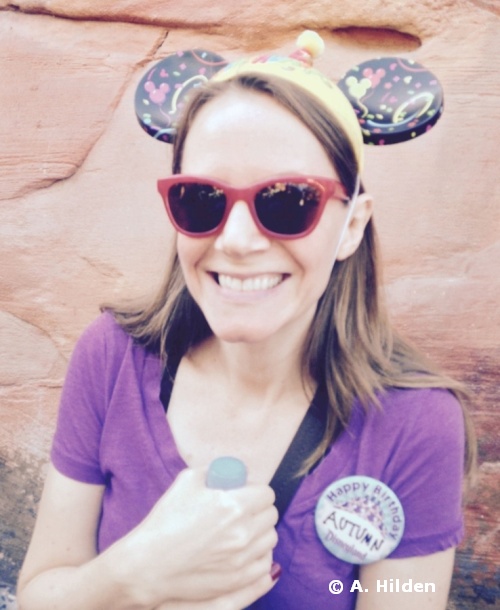 D23, The Official Disney Fan Club
= = = = = = = = = = = = =
ABOUT THE AUTHOR
= = = = = = = = = = = = =
Autumn Hilden is a Los Angeles-based writer and editor. She has worked for Disney Publishing Worldwide and The Jim Henson Company and is currently writing books for young adults. Autumn grew up taking family photos in front of the waterfall pool at the Polynesian Village Resort and selecting "desert" for the final flight on Horizons. She now embraces Disneyland as her happiest place on Earth. You can follow her on Twitter here.
-o-o-o-o-o-o-o-o-o-o-o-
Editor's Note: This story/information was accurate when it was published. Please be sure to confirm all current rates, information and other details before planning your trip.