February 2013 Walt Disney World Bits and Bites
Feature Article
This article appeared in the January 29, 2013 Issue #697 of ALL EARS® (ISSN: 1533-0753)
Editor's Note: This story/information was accurate when it was published. Please be sure to confirm all current rates, information and other details before planning your trip.
= = = = = = = = = = = = = = = = =


STEP BACK IN TIME
= = = = = = = = = = = = = = = = =
by Deb Wills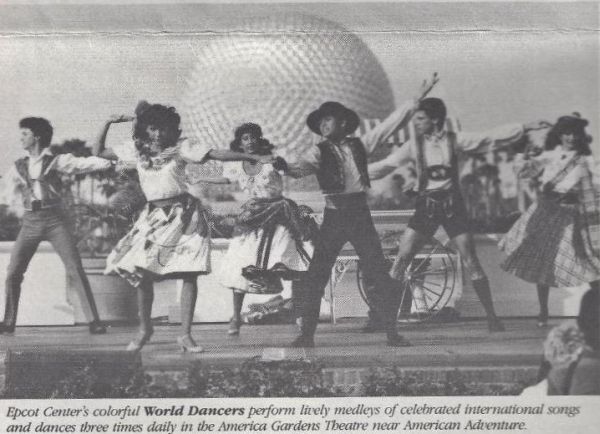 Each month, we rummage around in our archives for this featurette, which indulges in a bit of nostalgia, taking you back in history for a glimpse of Walt Disney World and The Walt Disney Company through the ages. This month, we dug up an old copy of the February 1984 issue of the Walt Disney World News. Here's what was going on in the World back then, nearly 30 years ago:
In the Magic Kingdom: "Minnie Mouse is joined by other Disney character favorites (including Mickey) in a musical revue called Fantasy Follies."
In Epcot: "The World Showcase Dancers perform lively medleys of celebrated international songs and dances in the American Gardens Theater (before it was covered) near the American Adventure. The World Dancers were originally created to perform at the Grand Opening of Epcot Center and at the various pavilion openings. However, they were so popular, the group has continued and expanded. Members also perform at various conventions held in the Walt Disney World Vacation Kingdom."
Dining: Dinner a la Disney — a delicious choice of dinner delights, plus fun-filled drop in appearances by popular Disney characters nightly at the Golf Resort Trophy Room.
Shopping: At the Contemporary resort, shops on the 4th floor included the Contemporary Woman, offering a wide range of quality women's clothing in all price ranges. Next door was the Contemporary Man, selling formal, casual and beach wear for men. (You could even rent tuxedoes!)
Finally, ticket prices were slightly different 29 years ago:
— 4- Day World Passport Adults $50; Child (3-12) $40 http://allears.net/tix/84-4dayresort.jpg
— 1-Day one-park ticket Adult $17; Child (3-12) $14 http://allears.net/tix/84-1daymkch.jpg
— Annual Passport Adult $125; Child (3-12) $100
= = = = = = = = = = = = = = = = =


HIDDEN MICKEYS ALERT
= = = = = = = = = = = = = = = = =
In the New Fantasyland at Walt Disney World's Magic Kingdom, Steve Barrett, author of the Hidden Mickeys books and webmaster of www.HiddenMickeyGuy.com, enjoys Hidden Mickeys in the "Under the Sea – Journey of the Little Mermaid" attraction. Awesome Imagineer effects!
1. Linger outside at the entrance. A classic Hidden Mickey is made of three circular impressions in the rock to the upper right of the sign. (Thanks to Wayne and Angie Vaughn and Michael Smart.)
http://allears.net/btp/images/hidden-mickey-387.jpg
2. Toward the end of the ride, check the pond (to your right) for frogs with dark green spots on their backs that form sideways classic Mickeys. The frogs are perched on lilypads to the left of Ariel and Eric in a boat. (Thanks to Ryan-Rachel-Samantha and Robert McMillan, Yinan Shentu, Sarah Del Grande, and Denise Morelli.)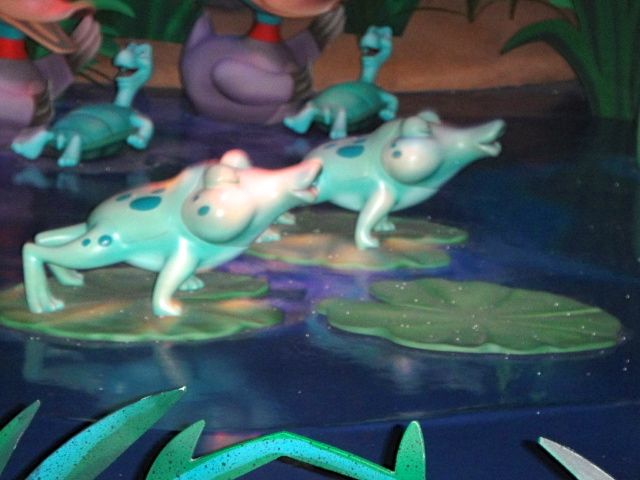 http://allears.net/btp/images/hidden-mickey-388.jpg
3. At the end of the exit walkway from "Under the Sea," turn to your right to spot this amazing Hidden Steamboat Willie Mickey Mouse. The Imagineers sculpted this image on a series of rocks. His left leg and shoe are closest to you, then his right leg and shoe are on the next rock. Two holes in the rocks represent the buttons on his shorts. His whitish face is on a flat rock, and he's looking left. His tall hat is the last rock above his head. (Thanks to Mark Petar, Josh Siegel, Nancy Rosenberg, and Rachel Savage.)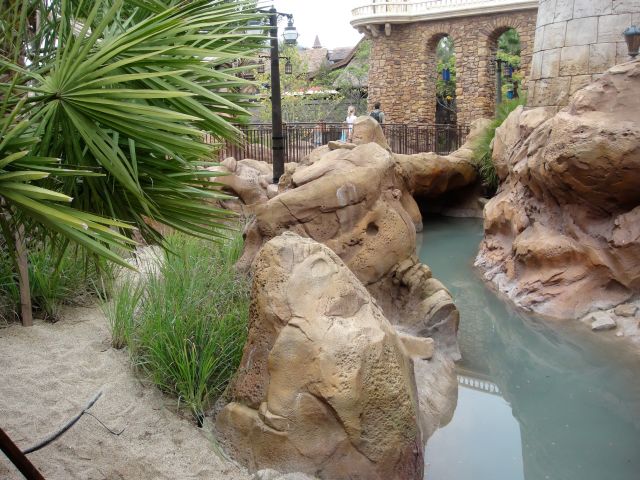 http://allears.net/btp/images/hidden-mickey-389.jpg
You can find a selection of past Hidden Mickeys Alerts here:
http://allears.net/btp/hiddenm2.htm
And check out our Searching Disney with Steve blog:
http://land.allears.net/blogs/stevebarrett/
= = = = = = = = = = = = = = = = = =

RATE & REVIEW SPOTLIGHT
= = = = = = = = = = = = = = = = = =
Compiled by AllEars® Team Member Cathy Bock
In this monthly featurette, we take a look at recent comments made in the AllEars.Net Rate & Review section about a particular restaurant, resort, event, etc. This month, we examine what AllEars® readers are saying about the Plaza Restaurant, which is located at the Magic Kingdom.
Plaza Restaurant is a table service restaurant featuring the same menu for lunch and dinner. AllEars® reviewers give it an average rating of 8.2 and it is recommended by 93% of reviewers.
From recent reviews:
Food (general): "Food was good, but not much of a variety"; "We all had good meals"; "Mostly sandwiches on the menu"; "…was bland and screamed for seasoning";
"Menu may not be extensive like some of the other restaurants, but there is enough of a selection for everyone".
Entrees: "Got the strawberry chicken salad. Although it was good, it wasn't worth the hype and I wouldn't get it again"; "Daughter liked her tuna sandwich and fries were good"; "Strawberry salad… for the price ($14.99) there was hardly any chicken or gorgonzola"; "…had meatloaf, the only real dinner. It was very plain without any goodies, although it did taste like quality ground beef"; "wife had a salad which was good"; "Husband loves the meatloaf and I get the club"; "Potato soup is wonderful"; "Had the tuna fish sandwich… it was a little bland, with salt it was good though"; "Husband had the meatloaf and said it is the best meatloaf he has ever had"; "Had the tomato soup and it is very good"; "Creamiest tomato soup I ever had in my life"; "grilled Reuben… came on marble rye bread and tasted heavenly".
Desserts: "Ordered Plaza sundaes… not sure there was enough hot fudge on mine to fill a spoon"; "Desserts were HUGE and those weren't bad"; "Had the raspberry sorbet – this was SO good!"; "Husband had the Coke float and he loved that"; "Sundaes were very yummy"; "Have VERY high standards on cheesecake. The Plaza exceeded those expectations".
Service: "Server was friendly"; "when it came to check-out time, it took about 15 minutes"; "Never came back while we were eating"; "Had a special food request for a low-sodium diet, and the chef here was the best at any Disney restaurant in going over things, giving him options, checking in, etc."; "Can't say enough about the great service"; "Chef Ken was so wonderful (food allergies) and personable I would dine here again even if our food wasn't great!"; "Good job on refills".
Atmosphere: "Quite loud.. nothing in decor to dampen noise"; "Other negative about this restaurant is the size and acoustics"; "Desperately needs a refurbishment"; "Interior is quaint and very lovely"; "Loved how bright it was, and the view was so nice"; "Like the size of restaurant"; "Restaurant is cozy".
Overall: "Good place to go (if you can get in) if you're tired of the nuggets, pizza, burgers and fries"; "One of our 'old reliables'!"; "One of the highlights of the trip!"; "We'll be back!"; "Won't likely return"; "Love it!"; "The prices are so reasonable"; "Will be dining here again".
Adult Menu: http://allears.net/menu/menu_pr.htm
Child Menu: http://allears.net/menu/men_prk.htm
If you have recently eaten at the Plaza Restaurant, we'd love to have your review!
http://land.allears.net/reviewpost/showproduct.php?product=69&cat=36
= = = = = = = = = = = = = = = = = =


MONTHY REMIND-EARS
= = = = = = = = = = = = = = = = =
EVENTS
runDisney
The 5th Disney's Princess Half Marathon Weekend will be held February 22-24, 2013. Special for the 5th Anniversary is an all–new Half Marathon finisher medal. Registration for the Half Marathon is full, but there is still fun available for the whole family with the Disney Royal Family 5K and runDisney Kids Races.
ESPN Wide World of Sports Complex
The Walt Disney World Pro Soccer Classic, which will involve eight professional soccer teams, six of them Major League Soccer (MLS) teams, will start February 9, 2013, and will culminate with a championship game on February 23 at ESPN Wide World of Sports Complex. The Disney Pro Soccer Classic, the marquee event of Central Florida's Soccer Spring Training initiative, was created by the Central Florida Sports Commission to boost interest in soccer throughout the region and develop Orlando as the prime destination for training and competition for professional soccer clubs.
Spring training for the Atlanta Braves begins in early February 2013 at ESPN Wide World of Sports Complex, in preparation for the team's February 22 game against the Detroit Tigers at Champion Stadium. The date is the earliest start for the Braves since the team started training at Disney in 1997. A pair of visits by the Yankees and contests against the St. Louis Cardinals and the Philadelphia Phillies highlight the Braves' 18-game schedule. This year's schedule will also include select promotional themed games, along with the traditional Disney family-oriented fun, including in-game entertainment, Disney character appearances and on-field fan experiences. Kids will again have the opportunity to run the bases after every game. Individual game tickets for the Braves' home spring training season go on sale Monday, November 26 at 10 a.m. through Ticketmaster (800-745-3000 and ticketmaster.com ) and at the sports complex box office. Information on the Braves' spring training season, group tickets and mini-packs is available by calling 407-939-GAME (4263) and online at www.espnwwos.com/atlantabraves . The popular mini-packs are now on sale, featuring four separate three-game options for 2013 and giving fans their first opportunity to purchase tickets to specific games on the Braves' 2013 spring training schedule.
Miniaturist Robert Olszewski will be at Walt Disney World Resort to launch his work, The Plaza Restaurant ~ Plaza Ice Cream Parlor from the Walt Disney World – Main Street, U.S.A. Collection. Olszewski will be on hand to sign at the following locations:
— February 9: Uptown Jewelers, Magic Kingdom, 10 a.m. – Noon and 3 – 5pm
— February 10: Art of Disney, Downtown Disney Marketplace, Noon – 2 p.m. and 4 – 6 p.m.
http://collections.disney.go.com/events/robert-olszewski-product-release-signing-2/?instance_id=
Splitsville Luxury Lanes, the new bowling and entertainment venue at Downtown Disney West Side, is hosting the Clean The World Super Bowling Party on Super Bowl Sunday (February 3). Splitsville has 40 flat-panel TV screens for game-watching, plus there are three full bars and indoor/outdoor seating. Admission, which includes complimentary appetizers and open bar from 6 to 9 p.m., is $75 per person (21 and older). (Open bowling is an additional $20.) A portion of the proceeds from the event will go to the Orlando-based Clean The World Foundation, a nonprofit organization that collects and recycles soap and shampoo products from the hospitality industry and distributes them to impoverished communities worldwide. For more information, visit the Clean the World Foundation website at http://www.cleantheworld.org/events.asp.
-=-=-=-=-=-=-=-=-=-
Don't forget to check our Events page for current updates: http://allears.net/pl/events.htm
-=-=-=-=-=-=-=-=-=-=-=-=-=-=-=-=-=-=-
Animal Kingdom
Magic Kingdom
Splash Mountain is closed for enhancements and will reopen on March 19, 2013.
Fantasyland Expansion: The ongoing Fantasyland expansion project continues with the opening of Princess Fairytale Hall in 2013 and the debut of a new Disney "mountain" in the form of the Seven Dwarfs Mine Train in 2014.
Two Starbucks locations will open in Walt Disney World Resort next year, one in the Magic Kingdom and one in Epcot. The Magic Kingdom's Main Street Bakery closed for refurbishment in January 2013 and will reopen as a Starbucks in early summer. The cast members there will wear costumes consistent with the early 20th century look and feel of Main Street, U.S.A. Over in Epcot, the Fountain View will close in March 2013 and reopen as a Starbucks location in midsummer. The cast member costumes there will match the park's futuristic theme. The Starbucks locations at Magic Kingdom and Epcot will both offer the full complement of Starbucks signature beverages, artisan breakfast sandwiches and a wide selection of baked goods, including muffins, scones and specialty treats.
http://land.allears.net/blogs/dnews/2012/11/starbucks_locations_at_magic_k.html
Epcot
The Character Spot located in Epcot's Future World is scheduled to reopen sometime in February 2013. Until it does, there is a temporary location near the Fountain View Ice Cream shop where you can see Mickey, Minnie and Pluto. Also, Goofy is now appearing at Epcot's main entrance, near Spaceship Earth.
Disney's Hollywood Studios
Disney Junior – Live on Stage! at Disney's Hollywood Studios and Disney California Adventure is now closed for rehab. When it reopens at Walt Disney World in mid-February, it will feature some new Disney Channel television series characters: Sofia the First and Doc McStuffins. It will come to Disney California Adventure one month later, in March 2013.
Boardwalk Resort
Luna Pool is closed until sometime in March 2013. A shuttle will take guests to Stormalong Bay (check with front desk for details).
The BoardWalk Bakery is undergoing renovations through April 26, 2013. The renovation will include a new entrance, queue area, and refillable mug station. When the bakery reopens, the menu will include soups, sandwiches, and salads. During the closure, some bakery goodies will be sold from a temporary tent set up outside on the boardwalk. You'll find the tent located between the BoardWalk To Go kiosk and BoardWalk Joe's Margarita Bar. The temporary location will offer a limited selection of pastries, sandwiches, snacks, and drinks, and will be open from 6:30 a.m. to 11 p.m. The Belle Vue Lounge, off of the hotel's main lobby, will still be open for continental breakfast as usual. For guests who are using refillable mugs, you'll still be able to pick up the mugs at the temporary tent location, or at Seashore Sweets, located adjacent to the Bakery. Guests can refill their mugs at the temporary location from 6:30 a.m. to 11 a.m. daily. After 11 a.m., refills will be available at the Boardwalk Pizza Window until midnight. Guests can also refill their mugs during these hours at Belle Vue Lounge, Seashore Sweets, and Leaping Horse. (Note also that Leaping Horse will also be closed during a scheduled pool renovation from January 28 through early March.)
Contemporary Resort
California Grill will close on February 1 for an extensive renovation. The restaurant is slated to reopen later in the summer and will be sporting a new look.
Beginning in late January 2013, the 14th floor rooms and suites of the Contemporary Resort closed for refurbishment. Some renovations planned for these suites include: a hard and soft goods refurbishment (things like bedspreads, linens, furnishings, etc.); improvements to the concierge lounge that will capitalize on the sweeping views of Cinderella Castle, nightly fireworks and the Seven Seas Lagoon or Bay Lake; enhancements to the corridors and elevator foyer. The new room design and in-room amenities will be reflective of high-end suites at all deluxe Disney Resorts. The health and wellness concept that was mentioned last year will not be included on that floor or within the suites; however, most of the design concepts previously shown for these suites will be incorporated. The refurbishment is expected to last through late summer 2013 (dates are subject to change).
Grand Floridian Resort & Spa
The Courtyard Pool and Courtyard Kiddie Pool are temporarily closed. During this time, a new zero-entry slope is being added. The Beach Pool and Slide are open.
Saratoga Springs Resort & Spa
The "soft goods" room refurbishment at Disney's Saratoga Springs Resort & Spa continues. Accessories and linens will be replaced. The project is expected to last through spring 2013. Note that all refurbishment dates are estimates only and exact project dates may vary.
http://dvcnews.com/index.php/resorts/saratoga-springs/news/1881-saratoga-springs-room-refurb-details
On January 16, the spa at Disney's Saratoga Springs Resort temporarily closed for renovation. It will reopen in the summer as Senses – A Disney Spa at Disney's Saratoga Springs Resort.
Blizzard Beach closed January 6 for its annual rehab, which will run through March 16, 2013.
=-=-=-=-=-=-=-=-=-=-
A complete list of rehabs can be found here: http://allears.net/tp/rehabs.htm
= = = = = = = = = = = = = = = = =


MAGICAL MOMENTS
= = = = = = = = = = = = = = = = =
John Lebel & Crystal Boston: We just returned from an awesome Disney family vacation with our grandson Logan, his first visit to Disney (he's age 2-1/2). Before leaving we made matching t-shirts. Ours read "Logan's 1st Visit" and Logan's shirt read "I'm Logan". On the day we wore these shirts, Logan received a lot of attention. In and around the parks, the cast members and guests all welcomed him, and he always seemed amazed that everyone knew his name! At Magic Kingdom one morning, Logan was approached by a PhotoPass photographer and asked if he would like to "open" Casey's Corner with the first pitch! He loved throwing the baseball and all the attention from the cast members and guests, and the photographer got tons of great pictures and we got a certificate for one free print. Very magical!
Denise Miller: Every time we go to Disney it seems that something magical happens. My favorite happened when I took my young niece and nephew with me to watch my children's high school band march in a parade in Magic Kingdom. We were out very late at Mickey's Very Merry Christmas Party. While we were there, we met Princess Jasmine and talked with her a little bit. The next morning, we had breakfast scheduled in Epcot at Akershus. When Princess Jasmine came to our table, she said, "How did you enjoy Mickey's Very Merry Christmas Party last night? You are up really early for someone who was out so late last night." I realize that it was a very big coincidence that we had the same Princess Jasmine twice in a row, but it was very special for the kids.
Sonja Whitchurch: We've had two wonderful vacations at Walt Disney World with our 18-year-old daughter, who has high-functioning autism (Asperger's Syndrome), but with limited social and communication skills. It's truly a magical place for her. On our last visit, she decided to collect and trade pins, which was amazing for her social skills, and the Disney employees were amazing with her. On a bus one day, she lost a pin, which she desperately looked for, and so did the other Disneyites on the bus. Despite a trip to lost and found, we didn't locate the pin, which saddened my daughter, as it was one of the Pooh series she had collected. The next day, at Epcot, she saw the exact pin she had lost. When the lovely young lady heard that my daughter wanted it because she had lost one the previous day, she gave it to her without asking for a trade. It was one of the things that made that trip for her. So, to that young lady in the camera shop at the entrance to Epcot, I doubt you remember us, but we won't forgot you and your kindness.
Jim Linsky: I always bring a small red plastic gem to the Magic Kingdom so I can "pluck it out of the air" during Mickey's PhilharMagic and give it to my daughter. This week I was reaching into my bag and heard something something bounce out of it in the car, but didn't see what it was. Turns out it was my gem! As we were approaching PhilharMagic, I realized I didn't have the gem with me. Panicking, I stopped at one of the small stores just past Pooh, next to where Snow White's Scary Adventures used to be. I asked the cast member who was working if they sold plastic gems. She told me they used to, but didn't any longer. She then proceeded to open every storage drawer in the place to see if they still had some lying around. They did not. She told me to wait, and came back in two minutes and told me to hold out my hand. She dropped a whole handful of gems into it, and told me to have a magical day!
-=-=-=-=-=-=-=-=-=-=-=-=-=-=-=-=-=-=-=-=-
We just bet you have a story to tell about an unforgettable moment during your Disney vacation! Please send your favorite memory for inclusion in a future AllEars® to: allearsnet@yahoo.com
This month we also have a collection of readers' magical moments captured in photographs — Epcot at night! See them in our photo feature, "Wandering the World":
http://allears.net/tp/wander/wander.htm
Thank you all for sharing!
-o-o-o-o-o-o-o-o-o-o-o-
Editor's Note: This story/information was accurate when it was published. Please be sure to confirm all current rates, information and other details before planning your trip.