February 2011 Walt Disney World Bits and Bites
Feature Article
This article appeared in the February 1, 2011 Issue #593 of ALL EARS® (ISSN: 1533-0753)
= = = = = = = = = = = = = = = = =

STEP BACK IN TIME
= = = = = = = = = = = = = = = = =
We rummage around in our archives for this monthly feature, which indulges in a bit of nostalgia and takes you back in history for a glimpse of Walt Disney World and the Disney Company through the ages. This month, we take a look at notable happenings throughout the month of February in years gone by:
Early February 1999 — Kali River Rapids in Animal Kingdom was in previews.
February 2, 1967 — Roy Disney outlined his late brother's plan to build a theme park and the world's first futuristic metropolis (aka EPCOT) in a film that debuted at the Park East Theater in Winter Park, Florida. "Project Florida — A Whole New Disney World" ran 25 minutes, and showed a "city of tomorrow" that spanned 50 acres, based in an industrial park located between Orlando and Kissimmee.
February 2, 1992: The first phase of the Dixie Landings Resort opened.
February 5 — In 1934, the first Mickey Mouse watch was patented. The U.S. Patent Office granted the patent to the Ingersoll-Waterbury Clock Company. Also on this date, Peter Pan opened in theaters in 1953.
February 8, 2001 — The grand opening of Disney's California Adventure.
February 9, 1996 — The Disney Institute opened.
February 14 — In 1998, the Ghirardelli Soda Fountain & Chocolate Shop at the Downtown Disney Marketplace had its grand opening. On this same date in 2009, the American Idol Experience attraction celebrated its grand opening at Disney's Hollywood Studios.
February 22, 1996 — The website www.Disney.com was launched .
February 23, 2010 — Michael Jackson's 3D film Captain EO returned to Disneyland.
February 25, 1999 — Disney named Bob Iger president of Walt Disney International.
February 25, 2010 — Disney's Wide World of Sports Complex was officially relaunched as ESPN Wide World of Sports.
= = = = = = = = = = = = = = = = =


HIDDEN MICKEYS ALERT
= = = = = = = = = = = = = = = = =
Steve Barrett, author of the Hidden Mickeys books and webmaster of www.HiddenMickeysGuide.com says, "It's time to visit Disney movies again! This month, I've included two early movie Hidden Mickeys and one recent image. It's intriguing to speculate that at times Disney animators and artists subconsciously (or purposefully?) created three-circle Mickey images in the early days of Disney animation, long before the term Hidden Mickey was first used in the late 1980s."
1. The 1941 movie "The Reluctant Dragon" combined live action with animation. During the specific animated sequence about the Reluctant Dragon, a classic (three-circle) Mickey can be found on the dragon's left leg. (Thanks to Dan Smith and Murray Bishop.)
2. When Cinderella cleans the floor in her 1950 movie, three soap bubbles form a classic Mickey. (Thanks to Yaelle Berset.)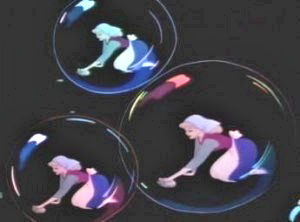 3. In one scene in the 2009 movie "The Princess and the Frog," Prince Naveen (as a frog) is on a vanity in Charlotte's bedroom, right after he "meets" Tiana and is trying to convince her to kiss him. He holds up a book with the fairy tale story about the Frog Prince. There is a strand of pearls hanging out of the jewelry box next to the book. The "bottom" of the pearls forms a classic Hidden Mickey. (Thanks to Murray Bishop, Karen Price, and Khrys Sganga.)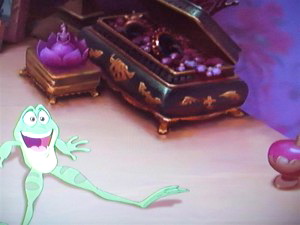 You can find a selection of past Hidden Mickeys Alerts here:
http://allears.net/btp/hiddenm2.htm
= = = = = = = = = = = = = = = = =


VEGAN TIPS
= = = = = = = = = = = = = = = = =
This month, AllEars® introduces a new featurette — Vegan Tips by Emily Woesthoff, general manager for BabyCakes NYC, which is located in the new Pollo Campero space in Downtown Disney Marketplace:
Tucked in a corner, next to the American Adventure in Epcot's World Showcase, is a vegan's true American dream. No, I'm not talking about Heritage Manor Gifts (that's cool too), I'm speaking of the Liberty Inn Restaurant. The term "American fare" does not usually conjure vegan-friendly thoughts, but the Liberty Inn brings something a little different to their veggie burger offering.
You may have noticed that within recent months, Walt Disney World quick service restaurants have discontinued their offering of a Boca-style veggie burger and have, instead, started serving a vegetable patty in its place. This is a welcomed change as these patties are a bit more flavorful than their predecessors and have pieces of vegetables tucked inside, which add a little pizzaz. The difference at the Liberty Inn is the addition of everyone's favorite fruit… the avocado! That's right! Along with the standard lettuce and tomato, slices of avocado adorn this tasty veggie burger which makes the meal to feel more substantial, especially if you choose apple slices or grapes as your side dish.
As another added bonus, the dining room at the Liberty Inn is usually relatively quiet, so you can take your time and relax through lunch or dinner. Also, if you want to literally spice it up a little, ask at the pick-up counter for barbecue sauce, as it is not available at the fixings bar with the other condiments. None of the other quick service restaurants have caught on to this genius avocado idea yet, so head over to the Liberty Inn next time you're hungry while traveling around World Showcase. OK, so a couple of avocado slices might not really classify as an American dream per se, and the veggie burger offerings are kind of greasy, but as a vegan Walt Disney World fanatic I'll take every small victory that I can find.
ABOUT THE AUTHOR: Emily Woesthoff is a life-long Walt Disney World fan who has been vegan for the last six years. She became vegetarian in 2003 after seeing PETA's Meet Your Meat, and decided to go vegan as a New Year's resolution in 2005. She has never looked back. She is now lucky enough to have her passion for veganism and Walt Disney World combined into one dream job as the General Manager for BabyCakes NYC at Downtown Disney.
= = = = = = = = = = = = = = = = =

RATE & REVIEW
SPOTLIGHT
= = = = = = = = = = = = = = = = =
Compiled by AllEars® Team Member Cathy Bock
In this monthly featurette, we take a look at recent comments made in the AllEars.Net Rate & Review section about a particular restaurant, resort, event, etc. This month, we examine what AllEars® readers are saying about the 50's Prime Time Cafe, located in Disney's Hollywood Studios.
This popular restaurant has an average rating of 7.9 (out of 10) and is recommended by 92% of reviewers. Reviews include both lunch and dinner.
From recent reviews:
Food: "food isn't the best around"; "food has wide appeal"; "food was ok".
Fried Chicken: "loved the fried chicken and mashed potatoes"; "it was good"; "fried chicken is awesome"; "the best I have had".
Pot Roast: "thought the meat was a bit subpar"; "was delicious"; "wasn't very good".
Sandwiches: "were huge and the fries were plentiful and fresh"; "chicken sandwich was yummy".
Milkshakes and Desserts: "PB & J malt/milkshake was awesome"; "shakes and desserts were very good"; "best part were the shakes and malts"; "still talking about how good the brownie dessert was"; "wasn't very impressed by the No Sugar Added Cheesecake".
Kids' Meals: "mac n cheese was terrible"; "so happy with that kids meal selection"; "kid who eats EVERYTHING didn't finish his mac and cheese because it was 'yucky' "; "had the hot dog meal and ate everything including the salad".
Server Interaction: "waitress was a lot of fun and kept calling my father Daddy'O"; "servers not into the theme at all"; "tailored his act to each of the different tables' personality and mood"; "my friend did not eat her vegetables and the "moms" fed them to her"; "no wild & crazy antics by the servers"; "a perfect "mom" and was probably the best we've had in all of our visits"; "very interactive with our area and provided lots of entertainment with his teasing and comments"; "Grandma was adorable!"
Overall: "outstanding theme"; "decor was great to enjoy and brought back lots of memories of the 50's and 60's"; "last 2 (trips) just haven't lived up to what we experienced in the past"; "restaurant is small, as is the check in area"; "when you get a waiter/waitresses that is in character, then it is a great experience"; "best attention in dealing with my food allergy during our entire trip"; "very pleased with the management and how quickly they tried to resolve my unhappiness"; "fun for the whole family and a unique dining experience".
If you have recently dined at 50's Prime Time, we'd like to have your review!
http://land.allears.net/reviewpost/showproduct.php?product=111&cat=35
= = = = = = = = = = = = = = = = =


MONTHY REMIND-EARS
= = = = = = = = = = = = = = = = =
EVENTS
Epcot
Epcot's World Showcase pavilions will be hosting a number of special guests in their shops:

In the Norway Pavilion:
— Puffin's Roost, February 1-6: Fragrance experts from Laila will tell the story of Laila Fragrances and give a refreshing hand massage.

In the France Pavilion:
— Givenchy Boutique, February 3-6: Fragrance and beauty experts from Givenchy, will be on hand. Receive a complimentary consultation with a Givenchy make-up artist, and receive a gift with any $75 Givenchy purchase.
ESPN Wide World of Sports
The third Disney's Princess Half Marathon presented by Lady Foot Locker will be held on February 27, 2011. The 13.1-mile event charts a course through Magic Kingdom and Epcot as the highlight of a full weekend of women's fitness-focused fun. Disney's Princess Half Marathon Weekend February 25-27, 2011, includes: Disney's Fit for a Princess Expo at ESPN Wide World of Sports Complex February 25-26 (no admission charge); Disney's Royal Family 5K and Disney's Royal Family Kids' Races February 26; and Disney's Princess Half Marathon February 27. To learn more about endurance events at Disney, or to sign up for any of the runDisney events, go to www.runDisney.com.

National League East team the Atlanta Braves begins spring training at ESPN Wide World of Sports Complex in February 2011 under new manager, Fredi Gonzalez. Fans' first chance to see the team in action at Walt Disney World Resort will be on February 27, 2011, vs. the New York Mets – the first of 18 Grapefruit League games at Champion Stadium during February and March. The Braves will host the Houston Astros on February 28. Visit www.espnwwos.com/atlantabraves for the details.
Pin Trading
"Love Is Magical" is a special, ticketed trading event scheduled for February 5, 2011, at Epcot's Wonders Pavilion. Guests of all ages will be able to attend this day "filled with love, trading and desserts" from 10 a.m. to 6 p.m. Event admission is $50 per guest. Admission includes: first opportunity to pre-purchase limited edition items via random selection process; a dessert buffet; three coupons for themed trading activities and games; a limited edition commemorative pin; opportunity to participate in a silent auction; opportunity to meet Disney theme park merchandise product developers and artists. (Event admission does not include theme park admission to Epcot.) To learn more or to register visit:
http://eventservices.disney.go.com/pintrading/event?id=53051
The Jane Goodall Institute is sponsoring an exclusive VIP Weekend at Disney's Animal Kingdom Lodge featuring the chance to spend time with the renowned primatologist over President's Day Weekend, February 18-21, 2011. Trip highlights include: private VIP transportation to and from Orlando International Airport; three nights in a savanna-view room in Disney's Animal Kingdom Lodge; exclusive breakfast with Dr. Jane Goodall and some of Disney's famous characters; intimate campfire with Jane Goodall overlooking a savanna, including stories, hot chocolate, s'mores and more; special Backstage Safari Tour; gala dinner featuring an exclusive private performance of the Festival of the Lion King; access to Disney's theme parks with Park Hopper passes.
http://land.allears.net/blogs/dnews/2011/01/join_jane_goodall_for_an_exclu.html
Disney Design Group artist Darren Wilson will appear on Friday and Saturday, February 25-26, 2011, from 5 to 8 p.m. at the Art of Disney in the Downtown Disney Marketplace to sign his newest masterpieces, Timeless Princess, Scrooge Treasure and Butterfly Mickey Mouse. The new releases will be available in limited edition reproduction giclees and open edition petite prints.
http://psc.disney.go.com/eventservices/artofdisneyparks/event/wdw_wilson_aotm_feb2011.html
=-=-=-=-=-=-=-=-=-=-
Don't forget to check our Events page for current updates: http://allears.net/pl/events.htm
-=-=-=-=-=-=-=-=-=-=-=-=-=-=-=-=-=-=-
REHABS AND CLOSINGS
The Fantasyland expansion project in the Magic Kingdom means the closure of several existing Magic Kingdom park areas in 2011, including Toontown, which closes February 11.
In addition, certain entertainment experiences will be relocated:
• Meet-and-greets with Mickey Mouse will take place in Town Square Exposition Hall
• Meet-and-greets with Cinderella, Aurora, Belle, and Tinker Bell and her friends will take place in Town Square Exposition Hall.
For updated details and an artist's renderings of the new Fantasyland, read the latest official press release here:
http://land.allears.net/blogs/dnews/2011/01/largest_expansion_in_magic_kin_1.html
Liberty Square Riverboat in Magic Kingdom is closed for refurbishment through February 4.
Disney's Hollywood Studios
Star Tours is closed for rehab. The attraction will be updated and is scheduled to reopen May 20, 2011. The new experience will be in 3-D, an all-new ride that includes many of the new worlds and elements from the more recent Star Wars movies.
Animal Kingdom
Primeval Whirl will be closed for refurbishment through April 15, 2011.
Beach Club/Yacht Club
The water slide at Stormalong Bay closed for refurbishment January 3. It will reopen in early February. The rest of Stormalong Bay remains open. Guests may use the slide at the Boardwalk.
Boardwalk Inn
The Coaster Slide will close for refurbishment February 7 through mid-March. The pool will remain open. Guests will be allowed to used the slide at the Beach Club during that time.
Saratoga Springs
Work began in fall 2010 on the new feature pool in the Paddock area of Disney's Saratoga Springs Resort & Spa, building on the resort's turn-of-the-20th-century, upstate New York theme. The timetable for the new pool, which will replace the Paddock area's 1,100-square-foot quiet pool with a 3,300-square-foot zero-depth-entry pool, a 146-foot water slide, a 1,600-square-foot wet-play area, and an expanded pool deck spanning more than 11,000 square feet, has been modified somewhat. The new pool area, which will include an on-site, quick-service-dining location, is now scheduled to reopen in the fall of 2011.

http://land.allears.net/blogs/dnews/2010/03/new_feature_pool_at_disneys_sa.html
Disney's Art of Animation Resort
Disney's Art of Animation Resort, the 26th resort at Walt Disney World, will feature family suites designed around four themes: The Lion King, Cars, Finding Nemo and The Little Mermaid. The resort will be located next to Disney's Pop Century Resort. Disney has released a new artist rendering showing Disney's Art of Animation Resort at Walt Disney World as part of a new web page just launched on the WaltDisneyWorld.com site. Dates for booking haven't been announced, but the resort is scheduled to open Summer 2012.

http://land.allears.net/blogs/dnews/2010/09/disneys_art_of_animation_resor_1.html
Blizzard Beach closed on January 16, 2011, for its yearly refurbishment. Tentative reopening date is March 27, 2011.
Downtown Disney
As of January 15, 2011, the building that houses Pooh Corner, Summer Sands and Mickey's Mart in the Downtown Disney Marketplace closed for refurbishment. The location will be renovated into two new retail experiences. First to open will be the Disney-operated Mickey's Mart (working title). Set to debut in March 2011, the shop will offer guests unique Disney gifts at great prices. Later in spring 2011, LittleMissMatched will move into the space from its location at Downtown Disney West Side. LittleMissMatched offers fun and colorful socks, accessories, apparel and more.

LEGO Imagination Center at Downtown Disney Marketplace is undergoing an extensive renovation project that will increase its overall footprint by nearly 3,500 square-feet and add new LEGO exterior models of favorite Disney characters. During the project, LEGO Imagination Center is operating in a temporary "pop-up" location between Once Upon A Toy and Earl of Sandwich. The project is expected to be complete in mid-April 2011.
The Fairways Course at Fantasia Gardens Miniature Golf (adjacent to the Walt Disney World Swan and Dolphin Resort) is closed for refurbishment through mid-February. The other side of the golf course, the Gardens Course, will remain open during this rehab.
A complete list of rehabs can be found here: http://allears.net/tp/rehabs.htm
= = = = = = = = = = = = = = = = =


MAGICAL MOMENTS
= = = = = = = = = = = = = = = = =
Each month we share reports of guests at Walt Disney World and Disneyland experiencing special Magic, which we call "Magical Moments":
Phyllis: When returning our rented stroller as we exited the Magic Kingdom, a cast member sweeping in the area noticed our granddaughter, then 8, dressed in her full Cinderella costume. He made a deep bow and stated, "Your highness," at which time she dropped an elegant deep curtsey worthy of Cinderella herself (where did she learn that?). We heard oooohs and ahhhhhs from others watching, and we still get goosebumps remembering. A really magical moment, coming when least expected!
Karen Jackson: It was our first wedding anniversary and my parents' 50th. I noted it on the dinner reservation for Citricos and forgot all about it. When we arrived, we were presented with badges for all of us and a complimentary glass of champagne. We had personalized menus that were given to us in a bag with some biscuits to take away with us, and a complimentary appetizer that was gorgeous. We also had a wonderful chocolate creation for dessert that had been done especially for us. It was also magical as we were sitting by the window and got to see the sun go down and all the lights come on around the Grand Floridian. When we left, everyone wished us a happy anniversary and my mom and I had a red rose given to us. Only at Disney!
Zougirl: Our oldest son (a teenager) was having a pretty good time, but was quite sure that he was 'too old' to enjoy it that much! We found a late evening at Epcot with only a handful of folks at the Character Spot. Our son was wearing a shirt with a picture of the Aflac duck dressed in Donald's clothes. Our first visit was with Mickey and he nearly split his pants laughing at our son's shirt. Mickey grabbed his hand and pulled him through the whole room to Donald where he pointed and laughed and slapped his knee over and over, while our teen's face was as red as Mickey's tie… well, it was special. He has told everyone the story of how he was dragged around by Mickey to make fun of Donald. It was one of those magical moments that, especially for a teen, won't be forgotten. AND, the PhotoPass folks got some GREAT shots of the whole ordeal for us to really remember it forever!
We just bet you have a story to tell about an unforgettable moment during your Disney vacation! Please send your favorite memory for inclusion in a future AllEars® to: allearsnet@yahoo.com Thank you all for sharing!
-o-o-o-o-o-o-o-o-o-o-o-
Editor's Note: This story/information was accurate when it was published. Please be sure to confirm all current rates, information and other details before planning your trip.