Fantasy(land) Becomes Reality
by Debra Martin Koma
AllEars® Senior Editor
Feature Article
This article appeared in the December 11, 2012 Issue #690 of ALL EARS® (ISSN: 1533-0753)
Editor's Note: This story/information was accurate when it was published. Please be sure to confirm all current rates, information and other details before planning your trip.

SPOILER ALERT! In this week's feature, Senior Editor Deb Koma shares her thoughts on and observations of New Fantasyland, which officially opened on December 6. In the feature, she'll be showing photos and commenting on details about the new attractions — if you do not wish to learn too much about New Fantasyland before you've seen it for yourself, you may not want to read the following!
Wow. Just how long have we all been waiting for New Fantasyland in Walt Disney World Resort's Magic Kingdom? Since it was first announced, I, along with many of you, have been anxiously anticipating what's been billed as the "largest expansion in Walt Disney World history." I know, I know, some purists argue that this expansion didn't really double Fantasyland in either geographic size or number of attractions, but regardless, you have to admit that the absorption of Mickey's Toontown into Fantasyland does give that land an impressive growth spurt.
So it was with great excitement that I journeyed to Walt Disney World last week for the official unveiling of the newest section of Fantasyland (along with the grand opening of a reimagined Test Track in Epcot, a new minor Captain Jack Sparrow attraction in Disney's Hollywood Studios and a preview of the Splitsville Luxury Lanes at Downtown Disney).
If you follow Disney at all, and have heard any of the Disney execs and Imagineers speak about the work they do, you'll notice that they repeat certain buzzwords over and over. They emphasize how they create attractions with an eye to "storytelling" and say that they want to "immerse guests" in experiences that will "create lasting and special memories." It's easy to become a bit jaded after you've heard this sort of corporate line a hundred times, and start to roll your eyes every time you hear the words "immersive" or "story." But I guess I'm not that jaded yet, because I realized as I walked around Storybook Circus, and then later through the Enchanted Forest, that I really believe they've succeeded in their goal with this new section of the park. I felt "immersed." When I saw the authentic-looking ticket booths, the red and white striped circus tents, the almost-garish color everywhere, the smell of popcorn and cotton candy permeating the air, I could almost pretend that I was at the circus. As I walked toward Beast's Castle, hovering up on that hill somewhat ominously, I could imagine that I had stepped right into the movie Beauty and the Beast. I just had to close my adult eyes, and then open them to look at it all as though I was still a child. In fact, I think they did such a good job that when I walked back into the old part of Fantasyland I found myself looking around and thinking, "Hmm, this all could use a coat of paint or something." Just like sprucing up one room in your home with new paint and carpet makes you realize that the next room is looking dowdy and tired.
You probably already know that New Fantasyland is made up of two parts — the Storybook Circus, which has debuted in phases over the last few months, and the Enchanted Forest, which had its grand opening on December 6. I had the opportunity to see most of Storybook Circus during my visit in July and again in October, and was impressed by the amount of rich detail that has been poured into this area. Even before the second Dumbo carousel and its new "queue lounge" were added, it was clear to me that the Imagineers had paid an extreme amount of attention to creating the whole circus theme. What I saw in the Enchanted Forest took that imagination and attention to detail to a whole new level.
I realize that there have been pages and pages already written about this addition to what is arguably the heart of Walt Disney World, but I hope that you don't mind hearing my impressions of what I saw and heard during this grand opening celebration.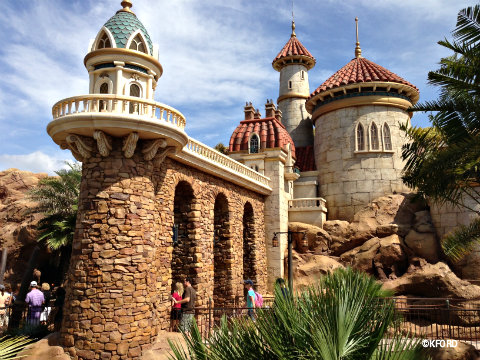 Under the Sea: Journey of the Little Mermaid — My journey into the Enchanted Forest began as I left Storybook Circus the other night and found myself approaching Ariel's Grotto, where you can actually meet the lovely mermaid. The abrupt change in architecture and landscaping signals you are entering another world, and I half-expected to find the ocean right around the next bend. Inside the Grotto, the atmosphere is a little less magical, intruded upon as it is by artificial lighting and railings to keep the line organized. But once you reach Ariel, all that matters is having the chance to pose with her as she sits on her scalloped throne. It's nice to have her back, in her fishy form (as opposed to her two-legged, human incarnation), greeting guests once more.
As I walked further along, the rugged rockwork stretching out and rising up alongside me, I took note of the many artistic touches, like the roaring waterfall, with the little pools of water collecting nearby. And then in front of me — there was Prince Eric's Castle, which houses the new attraction, Under the Sea: Journey of the Little Mermaid. Unlike the nearby Cinderella Castle, and even the brand new Beast's Castle, this new regal abode has a less angular exterior with a warmer ocher color and distinctive aqua touches that make it more welcoming. A ship that features Ariel herself as its figurehead marks the entrance to the attraction's barnacle-encrusted queue. I spent some time examining the area, and enjoyed checking out the embedded starfish and shells along the path. Having ridden this attraction in Disney California Adventure last year, I knew what to expect from the ride, but I was surprised at how much more interesting the queue was here.
In keeping with the current trend to make the waiting as much fun as the ride itself, this queue has its own interactive experiences, starting with the cute little crustacean who entertains you while you wait. Every few feet you find this busy blue crab tucked into some nook on the wall, where he drags various artifacts into view. You can play something of a matching game with him, indicating whether the items belong with the others he has. It's a truly fun device to keep idle minds, young and old alike, occupied as they spend what I'm sure will be a long while waiting to experience the attraction. An Audio-Animatronic Scuttle (the comical seagull from the film) monitors the queue further along, and his amusing mutterings and antics also help to pass the time.
The ride itself is beautifully crafted, with explosions of color and music in the scenes featuring all the sea creatures, but at the end of the day, it is simply a gentle dark ride, along the lines of Peter Pan or even "it's a small world". The Ariel and Eric animatronics are well-designed and impressive in some scenes, less so in others. (I've even heard some people complain about the artificiality of Ariel's expressions in some of the scenes.) Still I'm sure that plenty of little princesses and princes will enjoy it, even if they may be a bit scared of the AA sea witch Ursula, who is as menacing here as she is in the film.
Be Our Guest Restaurant: Nowhere in Fantasyland is the theming more well-executed, in my opinion, than in the new Beast's Castle and Be Our Guest Restaurant. From the first moment I spied Beast's Castle looming in the distance I was impressed by its aloof beauty. With its pale purplish facade, it really looked like the sort of dramatic place in which a doomed, enchanted prince might reside.
You have to cross a bridge to reach the castle's front door, which is guarded by a pair of imposing lion sculptures. Once inside the castle though, wow! Dark and cavernous, the murky shadows lit by gilded chandeliers, this place looks like it was pulled straight out of one of the movie's frames. Just after you enter and down a hallway you'll find the Armory Room, home to a row of enchanted suits of armor. Enchanted? Yes! These metallic men actually TALK to each other. Honestly, if they had had these when my son was 4 and still obsessed with all things related to the knights of the realm, we would never have been able to leave — we would have spent our entire vacation sitting in front of them, gawking. How entertaining they are.
In the main ballroom, you'll find the opulence you would expect from a castle — huge golden chandeliers, marble columns, gilded, vaulted ceilings, intricate mosaics with hints of gold, and even an ostentatious mural painted on the ceiling that features chubby little cherubs. (We're told they represent the children of the Imagineers who worked on the project, or the Imagineers themselves, in the case of those Imagineers who have no children.) Along the one wall of the room, oversized, arched windows look out onto a landscape upon which it appears to be snowing — another touch of Disney magic.
For aficionados of the Beauty and the Beast film, the West Wing room is probably the most important. In this room, which was the Beast's forbidden retreat in the film, you'll find the enchanted rose that drops its petals to indicate how much time is left before the Beast will remain under his curse forever. When a petal of this animated flower drops, a thunderstorm occurs — much like that you'll experience at a Rainforest Cafe — with flashes of "lightning" and rumbles of thunder. On one wall, there's a portrait of the handsome, human Prince, which reveals his Beast-ly side during the storm.
Finally, in the Rose Gallery, you'll find portraits lifted from the movie, along with an lovely focal point — a large music box, supposedly made by Belle's father, that features Belle and Beast dancing. Above this piece is a gorgeous chandelier with a stained glass center that carries out the rose motif from the film.
While the decor and atmosphere of Be Our Guest excel, the food — well, it's OK. I did not have the opportunity to eat a proper meal at the restaurant, but samples of all its menu items were on offer at the press event, and all of those I tried were, as I said, just OK. Although I did "try the gray stuff" (as Lumiere invites you to do in the song "Be Our Guest") and it WAS — well, maybe not delicious, but very, very good. Am I allowed to tell you what it really is? It's Oreo panna cotta!
Gaston's Tavern — The new counter service spot, a recreation of Gaston's Tavern from the Beauty and the Beast, is another fine example of exquisite attention to detail. Everything about this space exudes the spirit of the macho villain of the film, from the antler-accented light fixtures to the walls adorned with mounted animal heads to the menu, which features a manly roasted pork shank. I loved the rustic charm of the place, and wouldn't have been surprised to see Gaston and his "biceps to spare" burst through the door at any moment. As for the fare at the tavern, I can say that the pork was tasty, and makes a nice change from the ubiquitous turkey legs you can find elsewhere in the parks. But what about Le Fou's Brew, the featured drink, a frozen apple juice concoction with marshmallow and topped with passion fruit-mango foam? As my son would say, "Meh." I liked the concept, and it did resemble a foamy draft beer, which I assume is the look they were going for, but it was just too sweet for my adult taste buds.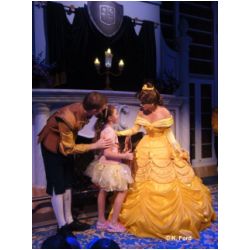 Enchanted Tales with Belle — Finally, I want to talk about what many will find to be the highlight of New Fantasyland. In fact, throughout the press event last week, I heard several different Imagineers who had worked on the New Fantasyland project talk about what their favorite features were. Each one ranked Enchanted Tales with Belle among his (I only heard from male Imagineers this time) favorites — if not naming it as THE favorite aspect of the whole project. After experiencing it for myself, I can certainly see why.
Your experience begins as you wind up the cobbled path to Maurice's Cottage. For those of you unfamiliar with the story of Beauty and the Beast, Maurice is the inventor-father of Belle (AKA Beauty). The walk to the cottage is rich with details pulled directly from the animated movie — wagon wheels, a well, lanterns, rustic wooden buckets. Even the cast members' costumes paint them as townspeople from the animated classic.
Once inside Maurice's Cottage you find yourself in a cozy room with a fireplace, stacks of books everywhere — we learned that a page in one book even has the corner torn off, a detail taken straight from the movie. You then pass into Maurice's workshop (maximum room capacity is posted at 47), which carries out the theme in even more detail. As you wait, you'll note an ornate mirror on one wall, and the cast member points out several of Maurice's inventions on the shelves and suspended from the ceiling.
After chatting with guests for a bit, the cast member finally decides it's time to go back to "the day Belle and Beast fell in love." As the lights dim, the mirror lights up and magically becomes an entryway into the next room. How does it do that? The solid wall dissipates and you can walk right into the adjoining room, where the talking Wardrobe (voiced here, as in the film, by comic actress Jo Anne Worley) awaits. A cast member recruits everyone, children and adults, to act in a skit that will recreate when Beauty and the Beast fell in love, as a surprise for Belle. Volunteers for the skit are chosen — there are enough parts for everyone who wants to participate — and props are dispensed. I got to be a Laughing Portrait and was given a frame to hold to help me get "in character." Other parts assigned included Beast, the Suits of Armor, Mrs. Potts and Chip. The group moves to the library, where an Audio Animatronic Lumiere — said to be the most advanced AA that Walt Disney Imagineering has worked on to date — directs the audience. The lights dim, and Belle enters the room to a big "Surprise!" Cast members then assist the "cast" in acting out their parts, to Belle's delight. The highlight of the play is when Belle dances with the guest (a child) portraying Beast. During our experience, the Beast was a little girl of about 7 or 8, who simply could NOT take her eyes off Belle as they waltzed. She was mesmerized, and her wide-eyed look of wonder was enough to make this old mom a bit verklempt — not appropriate for someone who was supposed to a Laughing Portrait. But EXACTLY the kind of emotional memory that I think the Imagineers were referring to when they discuss those "special memories" they want to create for the guests as they build their "immersive experiences." THAT was a Magical Moment if ever I saw one — one that the little girl, and I, will remember for a while. Yep. They got me.
On the whole, I think New Fantasyland succeeds on many, many levels, and, as I said earlier, looks so new and shiny it makes you wonder when they're going to get around to re-doing the rest of Fantasyland… and Tomorrowland… And Frontierland… And… well, you get the idea. Personally, I can't wait to go back to see what other details I missed, and to let myself get "immersed" in New Fantasyland one more time.
====================
RELATED FANTASYLAND
EXPANSION LINKS
====================
— New Fantasyland Opening Day
— Grand Opening Celebration Video/Photos
— "Around Our World" Presentation"
Be Our Guest Restaurant
— Be Our Guest Interior
— Be Our Guest – Exterior
— Be Our Guest Food Photos
— Be Our Guest Dinner Review
— Be Our Guest Lunch Review
— Imagineers' In-Depth Look at Be Our Guest Restaurant
Belle's Village
— Gaston's Tavern Photo Gallery
— Gaston's Tavern
— Enchanted Tales with Belle
— Enchanted Tales with Belle Photo Gallery
— New Fantasyland Merchandise
Under the Sea
— Little Mermaid Report
— Little Mermaid Photo Gallery
Storybook Circus
— Dumbo the Flying Elephant
— Dumbo Photo Gallery
— The Giggle Gang in Storybook Circus!
— Barnstormer featuring the Great Goofini
— Casey Jr. Splash 'n' Soak Station
— Pete's Silly Sideshow
— Big Top Souvenirs
-o-o-o-o-o-o-o-o-o-o-o-
Editor's Note: This story/information was accurate when it was published. Please be sure to confirm all current rates, information and other details before planning your trip.