Annual Events
Water Parks
Tours
Sports-Related Activities
Other Fun Things
Photography
Specialty Cruises
Writers' Corner
AllEars.Net
Feature Writers
Orlando Area Information
La Nouba by Cirque du Soleil

at Downtown Disney West Side
UPDATE JANUARY 9, 2013: La Nouba by Cirque du Soleil announces special offers for Florida's Emergency First Responders and Florida residents. Tickets are available for purchase starting January 17. This offer is available for performances Tuesdays through Saturdays -- January 29 through March 9.
Florida's Emergency First Responders can purchase tickets in Category 3 at 35 percent off the regular price. Discounted tickets are $48.75 for adults and $39 for children (plus tax). Florida residents can purchase tickets in Category 2 at 25 percent off the regular price. Discounted tickets are $69.75 for adults and $55.50 for children (plus tax).
Tickets are available for purchase online at cirquedusoleil.com/lanouba, by phone at (407) 939-7328 or at the box office located on the plaza level of the theater. Group discounts are available by calling (702) 352-0197.
LA NOUBA -- More than 70 artists from around the world -- including gymnasts, acrobats, dancers and clowns -- take artistic energy to riveting new heights in the original production, La Nouba, at the Cirque du Soleil theater in Downtown Disney's West Side. With its original musical score, extraordinary costumes, surreal sets, theatrical lighting and high-energy choreography, La Nouba weaves an unforgettable 90-minute tapestry of art, life and high drama on an Elizabethan-style stage in a 1,671-seat theater designed to engage and delight audiences.
La Nouba originates from the French expression "faire la Nouba," which means "to party, to live it up." La Nouba transforms the ordinary into the extraordinary, engaging the imagination from beginning to end. Featuring mesmerizing high wire and flying trapeze, stunning acro-gymnastic performances and other dynamic displays of coordination and strength, La Nouba promises to surprise, excite and mystify.
Cirque du Soleil uses no animals in their performances.
There is no videotaping or flash photography allowed.
The show is 90 minutes long, with no intermission. The first show of La Nouba was performed on December 23, 1998.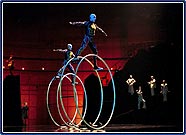 Show Schedule
Performances are held from Tuesday through Saturday at 6 p.m. and 9 p.m. There are no performances on Sundays and Mondays.
NOTE: The theater will be dark on the following dates in 2013:
January 15-19
March 19
May 14-18
May 21-25
July 23
September 17-21
November 5-6
Price
 
ADULTS
CHILDREN
(3-9 years old)
Golden Circle
USD$144.00
USD$117.00
Front and Center
USD$134.00
USD$107.00
Category 1
USD$119.00
USD$95.00
Category 2
USD$93.00
USD$74.00
Category 3
USD$75.00
USD$60.00
Category 4
USD$61.00
USD$49.00
Prices exclude sales tax.
Purchase Tickets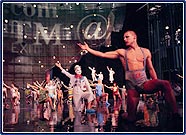 You may purchase tickets one of four ways:
-- By phone: call 407 WDW SEAT (407 939 7328).
-- In person at the Box Office next to the Cirque du Soleil store at the West Side.
-- Through your travel agent.
-- Online up to six months in advance at: www.cirquedusoleil.com
Bottom of the page click on TICKETS
Right column click on NOUBA
Select a Date and click PROCEED
Select a Time and click PROCEED
Select a Seating Type and Number of Tickets and Click PROCEED
The next screen shows your selections and cost of the tickets
If this is what you want, click CHECK AVAILABILITY
The next screen offers the exact seat location.
If it is what you want, fill in the information and purchase.

GROUP BOOKING -- For group reservations (12 people or more) and information about group sales, click here.

Call: +1-877-826-0255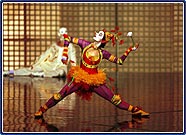 It is recommended you arrive at least 30 minutes prior to the show. If you are not in your seat 10 minutes prior to a show, they will SELL YOUR SEAT! Tickets bought 8 days or sooner before a performance can be picked up at the Will Call Window, so make sure to add time to the 30 minutes prior so they can receive their tickets as well.
Directions
Cirque Du Soleil is located in Downtown Disney's West Side. From Downtown Orlando take I-4 West to exit #68 Lake Buena Vista. Turn right off the exit and then your first left heading towards the Disney Marketplace. Follow to the end and turn left at the light. Turn right into the 4th parking entrance for the AMC/Downtown Disney. Cirque Du Soleil is on the far left corner of Downtown Disney next to House of Blues & DisneyQuest. It is a tall white building. Valet parking is also available.
Visit the Official Website: http://www.cirquedusoleil.com