Avoiding the "IT" in the Parks
by Kim Sutherland
AllEars® Guest Writer
Feature Article
This article appeared in the April 12, 2011 Issue #603 of ALL EARS® (ISSN: 1533-0753)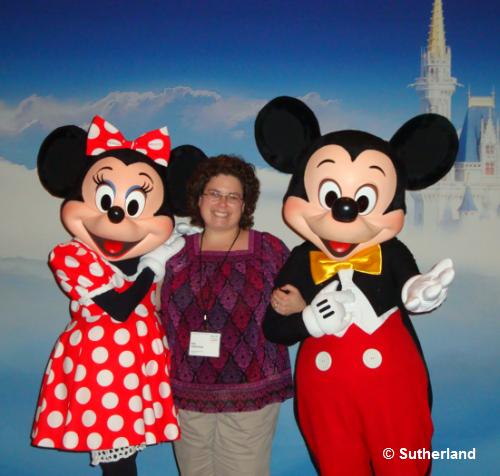 "IT" happens every time, in every season, in every park. IT creeps up behind you, and scares the Crocs right off your feet. IT turns something Magical into the stuff nightmares are made of. "IT" is the word I use to describe "the family meltdown". IT is born of the hours and hours of clipped coupons, the umpteen internet flight searches, the on-property/off-property debates, lengthy "meal plan or wing it" discussions, and sacrificed coffees from Cafe Wakemeup in order to scrape together enough nickels to gain entry into the Happiest or Most Magical Place on Earth.
IT creeps into the adult psyche the moment the cash leaves your bank account and cements your fiduciary commitment to come play with The Mouse. IT leaves normally sane parents to growl at their weepy children who are hours past their naptimes. IT prods intelligent adults to bellow at 5-year-olds: "I know you're too hot. I'm too hot; we paid a lot for this vacation, so deal with it!" IT turns family bonding into indentured servitude to a rectangular piece of paper with a biometric memory of your index finger. IT plants the frenzied idea in one's head that "the money we spent on this vacation will only be worth it if we are in this park from the moment it opens until the moment it closes, so help us, Walt!" IT must be stopped. For your own health, please — join me in beating IT back!
I am the mother of a 6-year-old boy. I understand IT. I have a need to get the most bang for my buck. I know you're with me on that one. The first step in defeating IT is to identify what you define as "bang for your buck". Ask me that question about 20 years ago and I would have answered "do as much as you can for as long as you can," especially since FastPass was not even invented yet. Now with a 6-year-old who has been to the House of Mouse twice, my answer is much different. I want quality time with my husband and son. I want us to be able to play together and laugh and stop to look at the little details hidden in plain sight everywhere you turn. I know now that my husband and I cannot drag our little-legged prince (Oh wait, he's a pirate this week) all over Walt's backyard without expecting exhaustion and sensory overload to take over. If I spend my Disney day ranting "hurry up, we're going to be late," or "They'll be out of FastPasses and then we'll miss it," or "We're almost there, you can do it," then how different is that from the daily morning dash to the bus? That goes something like this: "Come on, get your clothes on," "You're not brushing!" and "Stop fooling around!" I heard you gasp just now — I know, it happens in your house, too!
It's easy to fall into that mindset. After all, we work hard, we save hard, and we want to play hard. But play shouldn't be hard. We lose track of that too easily as we get swept up in our obligations to school, work, Cub Scouts, dance lessons, football practice, etc. Vacation can easily turn into another obligation — lists of dining reservation confirmation numbers, Excel spreadsheets of budgets, and Google Calendars of where to be every second of the day can take over. I'm guilty of this. When do we stop the worrying and extreme planning, and get to the fun?
It is said that Walt Disney's vision for Disneyland emerged while he was sitting on a park bench watching his daughters have a grand time in an amusement park whose aim was to please children. He wished there was a place where families could have fun together. Disney's vision translated into the parks which bear his name, dot the globe, and are considered by many as the world's top vacation destinations for families. So it stands to reason that you and I and our families travel to Disney Parks because we want that experience as well. We save, save, and then save some more. We want magic, we want entertainment — we want it all. But let's be real. We can't have it all, and when we try to force "having it all" is when IT takes over and ruins some of the best stuff! There's a reason for the saying "too much of a good thing."
We realized this very thing during a less-than-proud moment on our last trip when we scolded our son for stopping (in the middle of our mad dash to the Festival of the Lion King show) because he spied an interesting bird and wanted a closer look. The end result? Some tears and some very guilty parents groveling for forgiveness. Why couldn't we stop? It wasn't as if we were missing a dining reservation at a restaurant we had booked exactly 180 days prior to our trip! We could always catch the next show. Our son taught us an important lesson and I'm grateful — because when my husband and I refrained (ahem… mostly) from the nagging and the dragging, we had MORE fun doing LESS. For the rest of our vacation, we turned over a new, more flexible leaf, with room for wandering and exploring. We sat and ate Mickey bars at the hottest part of the day while watching musical acts in World Showcase. We left the park for a nap or swim at our resort when IT was attempting, and succeeding, in infiltrating many families one particularly crowded day in the Magic Kingdom. Cooled and refreshed, we re-entered later in the day, with a fresh outlook, dry clothes, and fond memories of waterslide rides and lunch by the pool. My son never ever said, "Gee, I wish we had done more on vacation, Mom." Rather, he quipped, "Wow, we did so much! I can't wait to go back!" That was enough for him, and once we were able to embrace the idea that micromanaging our vacation was not the same as enjoying vacation (I still create a vacation calendar, but use it as a guideline more than a gospel), IT had no power over the sacred time that is our family vacation.
May you enjoy IT-less days on all your magical wanderings!
=-=-=-=-=-=-=-=-=-=-=-=-=
ABOUT THE AUTHOR: Kim Sutherland is a lifelong fan of the Mouse, with more trips to Walt Disney World than she can recall. In between dreams of Disney splendor, Kim works as a special needs teacher, and is a teacher consultant with the National Writing Project. She lives in Rhode Island with her Donald Duck-loving husband and their Lightning McQueen-loving son.
-o-o-o-o-o-o-o-o-o-o-o-
Editor's Note: This story/information was accurate when it was published. Please be sure to confirm all current rates, information and other details before planning your trip.