Aulani: Place That Speaks with Deep Messages, Part 1
by Laura Gilbreath
AllEars® Feature Writer
Feature Article
This article appeared in the October 11, 2011 Issue #629 of ALL EARS® (ISSN: 1533-0753)
Disney recently opened its Aulani resort on the island of Oahu. As a guest of Disney, I had the opportunity to attend the Grand Opening event and spend several days exploring the resort.
The short form: Aulani is beautiful and it has all the elements to make for a magical, memorable, family vacation. There are plenty of things to do there — it's almost its own little world. There are activities for those of all ages whether it be playing in the Waikolohe Valley waterplay area, relaxing by the pool, chilling in the teen spa or kids' club, learning the hula, swimming or snorkeling in the blue lagoon, enjoying a treatment in the Laniwai Spa, watching a beautiful tropical sunset, or listening to a Hawaiian storyteller. For me personally it's not a matter of IF I will visit Aulani again, but WHEN.
Aulani, which means "the place that speaks with deep messages," is a celebration of the culture and history of Hawaii, and most of the Disney touches are quite subtle. Several of the executives and designers I spoke to during my stay described it as "Big 'H', little 'd'". Not that you won't find "Disney" there, but the Disney touches are more in the theming and the enormous attention to detail that we expect from Disney. There aren't Disney characters everywhere. To be honest, when I first walked into Aulani I would not have known that I was at a "Disney" resort — instead I was struck by the magnificent lobby and artwork — but now that I think about it, that is true of most of the deluxe Disney resorts, like Animal Kingdom Lodge, the Grand Caifornian, Wilderness Lodge, and Grand Floridian.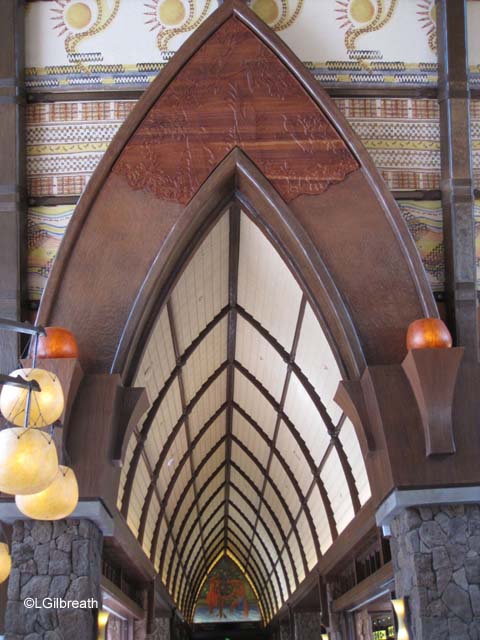 Let me talk a little bit about the lobby — the Maka'ala. Maka'ala means "open up your eyes and take a second look". I know that the more I looked around the more that I saw! There's the 200' mural around the ceiling, depicting historic Hawaiians and scenes from Hawaiian life as the people work, play, and celebrate. Above the mural are the intricately-designed kapa bands representing land, sea, and sky. There's the ki'i (tiki) carvings, the rockwork, the compass rose on the stone floor, the side alcoves with tropical plants or ponds and waterfalls, and the comfortable furniture.
Aulani contains one of the largest private collections of contemporary Hawaiian art, and in many different forms — from paintings to wood carvings, music, photographs, kapa designs, sculptures, and even six huge 15-story bas relief scultptures on the outside of its two towers. The Hawaiians are storytellers, and every piece of artwork tells a story — there's so much more detail than I have space to write about here!
One of my favorite pieces of artwork is the "Rainbow Wall" above the registration desk. The 138 images that make up the rainbow were photographed by Hawaiian students (kindergarten through high school) who were asked to take pictures focusing on a single color. Their choices of photographic subjects include fish, flowers, animals, and places, in all of the colors of the rainbow.
————
THE ROOMS
————
Aulani is both a hotel and a Disney Vacation Club resort and features both regular hotel rooms and Disney Vacation Club Villas in its two towers. At this point there are 217 hotel rooms and 72 two-bedroom equivalent villas. This expands to 347 rooms and 207 villas when phase 2 opens in mid-November, and 359 rooms and 481 villas when the resort is complete in 2013. The resort is available to anyone, and not just to owners of the Disney Vacation Club.
I stayed in a standard hotel room with two queen beds. I found my room to be comfortable and elegant — definitely not a kitcshy tropical hideaway. The decor features lots of rich woods and earthy colors, though the Hawaiian quilt throw on the bed and art on the walls provide a splash of color. It reminds me of what I think of as "old Hawaii", and some people might find it to be a little too dark for their taste. Whimsical touches include the surfboard Mickey lamp on the table and hidden Mickeys in the throw and the fish painting in the bathroom. One nice feature of the room – the beds are raised high enough that luggage fits underneath, so I didn't have to try to make room for it in the closet. All rooms feature (at no additional charge) a lanai or balcony, wireless internet service, small refrigerator, in-room coffeemaker with coffee and tea supplies, a safe (large enough to hold a laptop computer), flat screen TV, DVD player, and two wonderfully cushy Aulani robes.
There was a large tub in the bathroom, and two different shower heads — a wall-mounted handheld shower head and an overhead rainwater shower head. Aulani bath products, including soap, body lotion, body wash, shampoo, and conditioner, were provided.
For those in hotel rooms, daily housekeeping service is provided, which also includes a nightly turndown service. Each night I had a towel orchid, a fresh orchid, and an Aulani bookmark — there are multiple designs featuring different Hawaiian traditions and motifs.
One thing I found interesting about checkout — if you provide an email address, your Express Checkout statement will be emailed to you rather than left on your door.
I had the opportunity to tour two Disney Vacation Club Villas — a two-bedroom vllla and a three-bedroom Grand villa. They were both just stunning. Lots of light and very airy and comfortable. I could certainly see myself being quite happy living in a one-bedroom villa for a week (or two). Like the standard hotel rooms there is lots of wood, especially in the kitchen, and the same type of carpeting, curtains, TV cabinets and storage. I found the decor in the DVC villas to be much brighter and more casual than my hotel room.
Studio units include a kitchenette with a small sink, refrigerator, toaster, coffeemaker and microwave, and anything larger has a full kitchen with all the standard appliances — even a rice cooker. They are also fully equipped with dishware, flatware, glasses, pots, pans, and cooking utensils. Just about everything you need for your Hawaiian home away from home — especially if you plan to do a lot of your own cooking, which is what I'd plan to do if I were staying there. Which brings me to…
————
DINING
————
Dining is the only aspect of Aulani that disappointed me. The dining options are limited, and I found them quite expensive, though I have since learned that the prices are comparable to those at other high-end resorts in Hawaii. It was still a case of "sticker shock" for me, though. There are two restaurants: 'AMA 'AMA, the table service restaurant, and Makahiki, a buffet. 'AMA 'AMA serves only lunch and dinner at this time, though it opens for breakfast in Phase 2. I did not get a chance to dine there, so I can't offer a review. Dinner entrees range in price from $31-$49, with appetizers and soup/salad from $12-$18. Desserts are $10. Lunch is more modestly priced, with entrees from $12-$24, which includes fries or a salad.
Makahiki serves a daily breakfast buffet and dinner buffet. The buffet selections have quite an international flavor — breakfast choices include Hawaiian favorites like Loco Moco as well as the Asian flavors of Dim Sum, Miso soup, and fried rice, in addition to the traditional American bacon, eggs, and Mickey Mouse waffles. I found the food to be good but not exceptional (though the local fresh fruit was outstanding) and I was surprised that there was no omelet station. On Saturdays, Sundays, and Wednesdays, "Aunty's Breakfast Celebration" takes place, featuring Aunty and favorite Disney characters like Mickey, Minnie, and Goofy. The character breakfast is $32 for adults and $18 for kids 9 and under, and the regular breakfast buffet is $27 and $14. (Plus tax and gratuity.)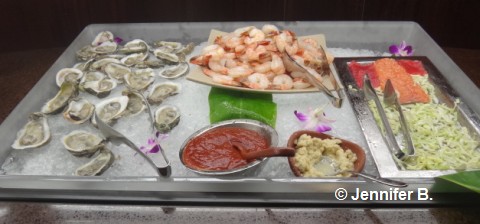 The dinner buffet is $43 for adults and $21 for kids, plus tax and gratuity. It also features dishes from around the world, with an emphasis on locally inspired dishes and Asian cuisine. I really enjoyed my dinner here, and took the opportunity to try Lau Lau, poi, tempura, poke, dim sum, island sweet potatoes, edamame salad and I don't remember what else. They had sushi and sashimi as well, which some of my dining companions tried and said was good. I was not impressed with the dessert selection — but I'm a chocolate girl, so bread pudding, guava cupcakes, and pineapple-coconut cobbler aren't really my favorites.
One Paddle, Two Paddle is the counter service location, and is only open for lunch and dinner, with a very limited menu: cheeseburger, fish tacos, pork sandwich and two kinds of wraps. Prices from $12-$14. I tried the fish tacos and they were good, though the tortillas were dry.
Other dining options include the 'Olelo Room, which serves a continental breakfast in the morning and appetizers in the evening; the Lava Shack, which offers cold boxed lunches like fried chicken and salmon; and Off the Hook, which offers a turkey wrap and a vegetable wrap in addition to the menu items from One Paddle, Two Paddle. There was no location on property to get a hot counter service breakfast, though of course room service is always a dining option.
A Hawaiian favorite is shave ice, and there's the Papalua Shave Ice stand at the pool. $3.75 and choice of 12 different flavors — don't be afraid to try your favorite combination of two or three or five. (I recommend the mango, guava, and lilikoi!)
The Rip Swirl Yogurt bar is in the Painted Sky teen spa. But don't let that discourage you — the yogurt bar is open to anyone. There are four different yogurt flavors, and the pairs in each of the two machines can be swirled. For $5.75 you get a good-sized cup of frozen yogurt with up to three toppings, which include several kinds of fresh fruit as well as sprinkles, nuts, chips, and granola. It was very refreshing and quite filling.
There are some food items like packaged sandwiches, yogurt, and salads available at Kalepa's Store, next to the main lobby, which also has a small selection of grocery items like bread, cereal, frozen entrees, and ice cream novelties. Kalepa's Store is also the only retail outlet at the resort, and also offers various Aulani souvenirs, as well as Hawaiian souvenirs like chocolate-covered macadamia nuts, macadamia nuts, and Hawaiian cookies.
(For a better selection, including a deli, fresh produce, beach supplies, and souvenirs, visit the Island Country Market ABC store located in the Ko Olina Station just across the street — less than a five-minute walk away. It's also quite a bit cheaper, and a good source for Hawaiian souvenirs if you don't have a car to go buy them at Wal-Mart, Target, or Costco, which have the best prices.)
Refillable mugs are available at the resort, and the price (initially an outrageous $32.99) is $18.99. Beverage stations are available in Kalepa's Store, and at One Paddle, Two Paddle and the Lava Shack.
EDITOR'S NOTE: Watch for Part 2 of Aulani: The Place That Speaks with Deep Messages, coming in the NOVEMBER 1 issue of AllEars®!
= = = = = = = = = = = =
READER QUESTIONS
= = = = = = = = = = = =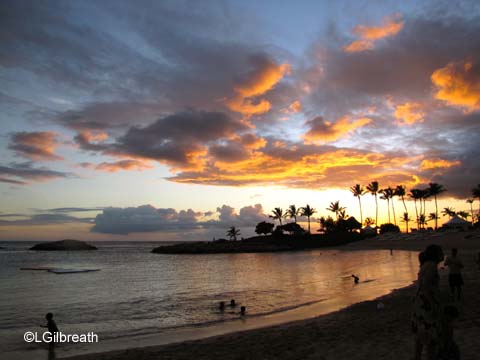 We asked you what you'd like to know about Aulani, and below are the answers to some specific questions that I did not address in my narrative above.
From Gale: Is there a Magical Express from airport to hotel?
A: At this point Disney does not provide a "Magical Express" type of transportation shuttle to/from the airport (though they say they are "looking into it"). Guests must take a taxi, shuttle, or rental car to Aulani.
From Leslie: Are rental cars available at Ko Olina or only the airport?
From Gena: Can you shuttle to the resort and then arrange a car rental there?
A: A car rental desk (Alamo) is located in the Holoholo Tour area next to the third floor lobby and has cars on-site. Limited hours of operation. Hertz and Enterprise (and maybe others) will pick you up at Aulani and transport you to a rental location. Guests who choose to rent a car should be aware that parking is $35.00/day, except for Disney Vacation Club members who are staying on points, for whom parking is free.
From Michelle: My question would be does Aulani provide any transportation to the local shopping/restaurant areas, tourist attractions, etc.?
A: For those interested in shopping or dining options at other resorts in the Ko Olina area there is a free shuttle bus service that runs between the Ko Olina resorts. Buses arrive at Aulani about every 30 minutes from 6 a.m. to 11 p.m. The Halihali Shuttle provides round-trip transportation for $30/person to either the Waikele Outlets, Ala Moana Shopping Center, or Waikiki. It is not a "hop-on/hop-off" type of shuttle, so you must choose ONE of these destinations only. The shuttle operates three days a week.
From Gena: What do they do when you arrive?
A: Upon arrival at the resort's porte cochere, all guests receive a Hawaiian greeting — a lei of fresh orchid flowers for women, and a kukui nut lei for men. Upon stepping into the lobby you'll hear Hawaiian music — some of it composed especially for Aulani. There are greeters in the lobby who can answer questions about some of the artwork or give directions.
= = = = = = = = = = = =
RELATED LINKS:
= = = = = = = = = = = =
Main Aulani Links page, including resort map, samples of the daily 'IWA, and menus:
http://allears.net/acc/aul/aulani_links.htm
Aulani FAQ:
http://allears.net/acc/faq_aulani.htm
Photo gallery — lobby, grounds, and artwork:
http://allears.net/acc/aul/g_aul2.htm
-o-o-o-o-o-o-o-o-o-o-o-
Editor's Note: This story/information was accurate when it was published. Please be sure to confirm all current rates, information and other details before planning your trip.