Aulani: Place That Speaks with Deep Messages, II
by Laura Gilbreath
AllEars® Feature Writer
Feature Article
This article appeared in the November 1, 2011 Issue #632 of ALL EARS® (ISSN: 1533-0753)
AUTHOR'S NOTE: Disney recently opened its Aulani resort on the island of Oahu. As a guest of Disney, I had the opportunity to attend the Grand Opening event and spend several days exploring the resort. This is part 2 of my special feature on the resort.
————————-
THE CAST MEMBERS
———————-—
I was very impressed by the cast members at Aulani — even by Disney standards they were welcoming and helpful, and just about everyone I saw, from housekeepers to gardeners, greeted me with a cheerful "Aloha!". Those I spoke to were very excited about the resort and the opportunity to work for Disney.
————————-
A CRUISE SHIP ON LAND
————————-
One of the things that struck me quite early in my stay is how much Aulani resembles a land-based Disney cruise ship. There are a number of cruise line elements that have been brought to Aulani. For example, each day a new "daily 'IWA" publication is available at the front desk or various locations around the resort (it is not delivered to your room). Like the "Daily Navigator" on the cruise ships, this describes all of the activities that will be held at the resort that day. On Sunday, a "weekly 'IWA" provides a higher-level overview of the events for the week, to allow guests to do some more advance planning. The weekly version is provided to all guests on check-in, regardless of what day they arrive.
There is also a tour desk which offers various island tours and experiences from pre-screened tour operators, as well as the specialized Adventures by Disney excursions. (More on those later.)
Aunty's Beach House offers kids' club programming for children ages 3-12, again similar to that on the cruise line. Kids are checked in/out by their parents, wear an RFID band while in the house, and are under the supervision of counselors at all times. All guests must sign in. Parents are welcome to stay with their kids if they wish. The house is divided into two sides: Aunty's side for the 3-5 year olds and Uncle's side for those 6-12. There is a secure outdoor play area in the back. The basic program is free of charge to Aulani guests, and activities include costume and dress-up, storytelling with Aunty or Uncle, the magic play tables, video games, crafts, movies, etc. A snack is also included at certain times of the day. There are some premium programs as well for an additional charge, which include some kind of themed activity, such as preparing food for the fish in the koi pond, as well as a meal, a character visit, craft, and something they will take away with them.
As on the cruise line, character greetings are held at specified times of the day, and announced in the daily 'IWA. There is also a character breakfast at the Makahiki restaurant on selected mornings, featuring characters like Mickey, Minnie, Goofy, Donald, Chip, and Dale. I expected Lilo and Stich to have more of a presence — while Stitch has a statue on the grounds and participates in meet and greets, I did not see him at the character breakfast, nor did I see Lilo at all.
————————-
WAIKOLOHE VALLEY
————————-
In the center of the resort is the seven-acre Waikolohe Valley. "Waikolohe" means "waters of mischief", and among the koi ponds and waterfalls there are also jumping fountains and other magical touches, like the children's water play area — the Menehune Bridge. There's also the lazy river — the Waikolohe Stream (but watch out for those mischievous waters!) — and two slides: a tube slide and a body slide. There are two pools, both with zero entry and maximum depth of 3' 6". The Waikolohe Pool is the main pool in the middle of the valley, while the Wailana "quiet pool" is located next to the Waianae Tower. There are also four whirlpool spas — one with a hot waterfall dropping into it. Or watch the sunset from the two-tiered Sunset Spa.
Rainbow Reef and Makai Preserve are two experiences in the Waikolohe Valley available at an additional charge. At Rainbow Reef guests can snorkel in a lagoon inhabited by colorful fish found around the Hawaiian Islands, like butterflyfish and pennantfish. At the Makai Preserve guests have the opportunity to interact with brown stingrays. This experience is available by reservation only.
The Waikolohe Valley is also the location of the Menehune Adventure Trail. Pick up a communication device in the Pau Hana room, and Aunty will guide you around the valley where you'll experience a variety of special (and surprising) effects. (Those familiar with the Kim Possible experience at Epcot will notice similarities.)
Speaking of menehune… these mischievous Hawaiian "little people" have found hiding places all over the resort, both indoors and out, some in places where only smaller guests will easily spot them. While there's no formal game associated with finding them, I had a lot of fun seeing how many I could find.
————————-
GUEST ACTIVITIES
————————-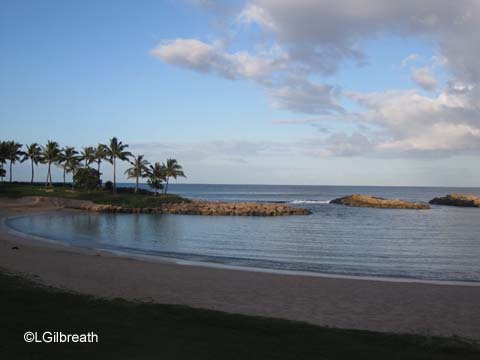 The Kohala Lagoon and beach is located behind Aulani. It is publicly accessible and is also shared with several other resorts. The breakwater and beach are man-made, and the water in the lagoon is very calm. Aulani guests are welcome to swim here, and snorkel gear, beach chairs, paddle boards, and kayaks are available to rent. Be aware that there is no life guard on duty. The gate to re-enter Aulani property requires a valid room key.
There are numerous guest activities available througout the day at the Pau Hana room (aka Community Hall). Local artisans visit multiple times a week to engage guests in acitivities like making leis or bracelets, weaving lauhala items, or learning the hula. Uncle also visits periodically and plays his ukulele and "talks story." A variety of board games and DVDs are also available.
There are several nighttime activities appropriate for the whole family. Visit the the Fireside Mo-olelo to listen to a master storyteller. Family movie nights are held outside under the stars on the Makaloa Lawn (mats are provided). Also on the Makaloa Lawn is the Starlit Hui, which features wonderful traditional and contemporary Hawaiian music and dancing. I really enjoyed this — it was much better than any luau show I've ever seen, and there is no charge for it. The Starlit Hui also includes a dance party with some of the Disney characters.
————————-
LANIWAI SPA
————————-
Want to pamper yourself while on vacation? Then consider spending some time at the Laniwai Spa. "Laniwai" means "freshwater heaven", and I had a pretty heavenly afternoon there (all in the name of research, of course!). I think my favorite part was the Kula Wai hydrotherapy garden. This is 5,000 square feet outdoors, and includes two warm aromatherapy pools, hot and cold whirlpool spas, and six different warm outdoor rain showers — everything from a gentle mist to a pounding waterfall. (The Kula Wai is co-ed, and visible from hotel rooms above, so bring swimwear.) There are a number of chaise lounges in the area and I saw several people reading a book or napping. The spa staff recommends you come at least an hour before your spa appointment to spend time in the Kula Wai or relax in the sauna or steam room, or in one of the relaxation areas. And then you're welcome to return to the Kula Wai after your treatment and stay as long as you like. (I was there both before and after.) They have a few healthy snacks available, or there's a spa menu for those who want a little more to eat.
Some of their signature treatments are the lomilomi massage (with pressure point sticks), the Hana Pohaku hot stone massage, and the KiliKili massage — a lomilomi massage under a warm gentle rain. They also offer 'Ohana treatments for families — there is a large family suite with two treatment tables, its own restroom, and a private outdoor relaxation area. There are pre-natal and post-natal massages for moms, as well as the "Makana" for mom, dad and baby. A full selection of salon treatments is also available.
Teens have their own spa area — the Painted Sky Teen Spa — for those 13 and over. Inside, teens have their own treatment room as well as an area to hang out or play computer games.
For the Spa services and prices: http://allears.net/acc/aul/Laniwai_SpaPricing.pdf
————————-
EXCURSIONS
————————-
There are many activities available on Oahu, and guests can either choose to do these on their own, or book a tour through Aulani's Holoholo Tours desk. There are two types of tours available — Adventures by Disney tours available exclusively to Aulani guests, or tours run by selected Hawaiian tour companies, which are also open to non-Aulani guests. Adventures by Disney tours include experiences like a catamaran and snorkeling trip, hiking in a rainforest, kayaking on Kailua Bay, horseback riding at Kualoa Ranch, surfing lessons, and cooking lessons with local chef Sam Choy. These excursions pick up and drop off at Aulani.
Non-ABD excursions travel to places like the Polynesian Cultural Center, Pearl Harbor, Diamond Head, and Hanauma Bay. These excursions may require you to provide your own transportation to/from the pick-up point.
————————-
THE LUANA LOUNGE
————————-

Because of flight schedules to the U.S. mainland, many visitors arrive at the airport early in the morning and leave late at night. This means that often on check-in or check-out day they have a lot of time between when they arrive or leave and when they can use their room. For guests in this situation Aulani offers the use of the Luana Lounge. It's located on the bottom floor of the Ewa Tower next to Waikolohe Valley. Inside are two seating areas furnished with comfy sofas and chairs. There's a television on one side, and a work area with tables, and a computer for airline check-in on the other. For guests who wish to use the pool area there are men's and women's locker rooms, showers, and restrooms. There's even a "swimsuit spinner" which extracts most of the water out of a wet swimsuit — plastic bags are provided for packing damp suits. So pack a small day bag, leave the luggage with Bell Services, and go out and enjoy the pool area while you're waiting!
= = = = = = = = = = = =
READER QUESTIONS
= = = = = = = = = = = =
We asked you what you'd like to know about Aulani, and below are the answers to some specific questions that I did not address in my narrative above.
From Dennis: I would love to hear anything about handicapped accessibility.
A: Aulani is fully accessible — there are both accessible rooms and fully ADA-compliant rooms. Both of the pools and the lazy river have a zero-entry access point. There are ramps or elevators to all guest areas with the exception of the two slides, which are only accessible via stairs. Both the Luana Lounge and the Laniwai Spa have accessible restroom and shower facilities. At the Spa, the treatment tables are electric, and can be lowered for easier access. I asked about sand chairs for beach access. At this point they don't have them, but "will look into it."
From Ashley: When on Oahu I normally stay on the east side of the island because I have heard the west side is where many locals live and that there is really only one main road into and out of Ko Olina to get to the other parts of the island. So, I have always avoided this area. I am just curious what your drive times will be to other parts of the island if you go and if the traffic is as bad as locals in Hawaii have warned me.
A: I did not travel from/to the airport during rush hour, but the drive was less than 30 minutes. Yes, there is only one road in/out of the Ko Olina area, but it is a multi-lane highway. For those traveling from Aulani to areas north of Honolulu, such as the Dole Plantation, North Shore, Polynesian Cultural Center, and Waimea Falls, the drive is shorter than from Waikiki, plus it completely avoids downtown Honolulu traffic. Pearl Harbor should also be a shorter drive time-wise than it is from Waikiki.
From many of you: What excursions are available?
A: Questions on excursions were by far of the most interest to many of you. I hope I answered some of them above. Aulani has made information on most of its excusions available on their web site:
http://aulaniexcursions.resorts.disney.go.com/
Click "Search Excursions" on the top left to browse all available excursions, both Adventures by Disney and other tour operators.
For those who asked, yes, there are day-trip excursions to the outer islands, but be aware that you will be responsible for round-trip transportation to the Honolulu Airport.
From Bridgette: Interested to know if the resort is fully operational with plenty to do, sightseeing tours available, eating, etc. With only phase 1 completed, I'm concerned that it would be better to wait a year or two rather than come during the inaugural year.
A: As far as I can tell, the only thing not available in phase 1 is breakfast at 'AMA'AMA, which starts in phase 2 (November). I think that now is actually a great time to visit, because, since not all the rooms are complete, there are fewer guests, making everything less crowded and more accessible.
= = = = = = = = = = = =
RELATED LINKS:
= = = = = = = = = = = =
Main Aulani Links page, including resort map, samples of the daily 'IWA, and menus:
http://allears.net/acc/aul/aulani_links.htm
Aulani FAQ:
http://allears.net/acc/faq_aulani.htm
Photo gallery — lobby, grounds, and artwork:
http://allears.net/acc/aul/g_aul2.htm
Laura's multi-part trip report from Aulani:
http://land.allears.net/blogs/lauragilbreath/aulani/
-o-o-o-o-o-o-o-o-o-o-o-
Editor's Note: This story/information was accurate when it was published. Please be sure to confirm all current rates, information and other details before planning your trip.