August 2012 Walt Disney World Bits and Bites
Feature Article
This article appeared in the July 31, 2012 Issue #671 of ALL EARS® (ISSN: 1533-0753)
Editor's Note: This story/information was accurate when it was published. Please be sure to confirm all current rates, information and other details before planning your trip.
= = = = = = = = = = = = = = = = =


STEP BACK IN TIME
= = = = = = = = = = = = = = = = =
by Deb Wills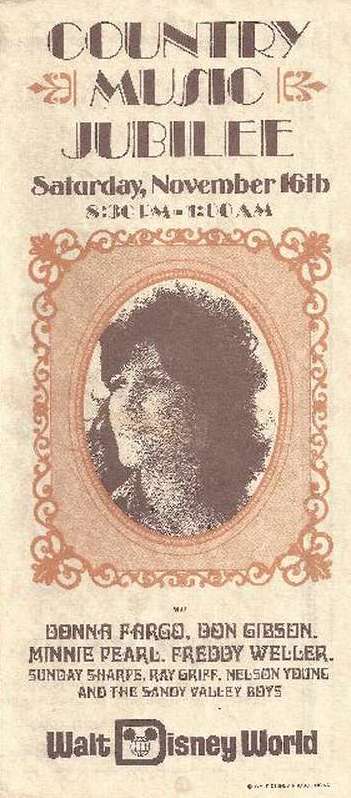 Each month, we rummage around in our archives for this featurette, which indulges in a bit of nostalgia, taking you back in history for a glimpse of Walt Disney World and The Walt Disney Company through the ages. This month we take a look at a one-time affair held in the Magic Kingdom more than 35 years ago.
On November 16, 1974, the Magic Kingdom held a special "hard-ticketed" party entitled "Country Music Jubilee." The special ticket cost a whopping $6.95 per person in advance, $7.95 at the gate.
According to the brochure, "Your Country Music Jubilee Ticket admits you to all your favorite adventures and attractions." It was, according to the advance press, "the biggest country music extravaganza in the three-year history of the Magic Kingdom."
The headliners at this event were some big names at the time: Donna Fargo ("Happiest Girl" and "Funny Face"), Don Gibson ("I Can't Stop Lovin' You"), Minnie Pearl (known for her zany hats), and Freddy Weller. The second tier entertainers included Sunday Sharpe, Ray Griff, Nelson Young and the Sandy Valley Boys. All acts performed twice during the day.
Donna Fargo and Minnie Pearl played at the Castle Forecourt, while Don Gibson was at the Tomorrowland Terrace. Sunday Sharpe performed at the Diamond Horseshoe, and Freddy Weller and Ray Griff were at Fantasy Faire in Fantasyland. Nelson Young and the Sandy Valley Boy took over at the Plaza Pavilion.
The Magic Kingdom stayed open until 1 a.m. for this event!
Do you remember the Country Music Jubilee? Share your stories or photos with us at allearsnet@yahoo.com!
= = = = = = = = = = = = = = = = =


VEGAN TIPS
= = = = = = = = = = = = = = = = =
by Emily Woesthoff
General Manager for BabyCakes NYC at Downtown Disney
Ladies and gentlemen, I have found the best vegan quick service entree on property. Brace yourselves, we're headed into the wilderness. Wilderness Lodge, home of Roaring Fork. Roaring Fork, home of the Vegetarian Quinoa Wrap. It's really that simple, and it's only $8.99. Also it's completely vegan. This wrapped masterpiece features delicious hummus, grilled vegetables, and prepared spiced quinoa. This sandwich definitely has a slight kick, but please do not let that deter you. Typically, the cast members behind the counter are nice enough to let you sample the contents before they make your wrap, so if you're nervous, give the separate ingredients a try! There is only one slight problem with the Vegetarian Quinoa Wrap. After you eat it, you will wonder why everywhere on property does not offer this, or at least a similar option. You'll ask yourself, "If this is possible, why do veggie burgers even need to exist anymore?" Just be sure not to ask with your mouth full of quinoa, because that wouldn't be polite. This meal will definitely be worth making a special trip to Wilderness Lodge. I have definitely been guilty of, more than once, getting out of work late and heading to Wilderness Lodge just to have this for dinner. (They're open until 10 p.m.!). While you're there, be sure to also take the time to admire the rustic beauty of the lobby, the fireplaces and artifacts on display. Enjoy!
Missed previous Vegan Tips from Emily? We're compiling them here:
http://allears.net/din/vegantips.htm
= = = = = = = = = = = = = = = = =


HIDDEN MICKEYS ALERT
= = = = = = = = = = = = = = = = =
Steven Barrett, author of the Hidden Mickeys books and webmaster of www.HiddenMickeyGuy.com, invites you to check out these cool classic (three-circle) Hidden Mickeys at Walt Disney World:
1. At the Art of Animation Resort, stroll out of the Registration Area and behind the large swimming pool to a play area for kids formed by a blue coral reef rising from the ground. Walk to the left of the slide exit and duck your head as you enter a small passageway through the coral. Halfway along the passageway, about 3/4 of the way up on the right wall, is a classic Mickey made of depressions in the rock. (Thanks to Rich Kordalski, Aurora McBride, Tony Hudson, Josh Hudson, and Chrystine Gallegos.)
http://allears.net/btp/images/hidden-mickey-371.jpg
2. Enter the Marketplace Fun Finds store at Downtown Disney Marketplace and look for the yellow dog with a blue classic Mickey spot on the right front leg. (Thanks to Michaela Benson, The Skazick Family, and Orlando Attractions Magazine.)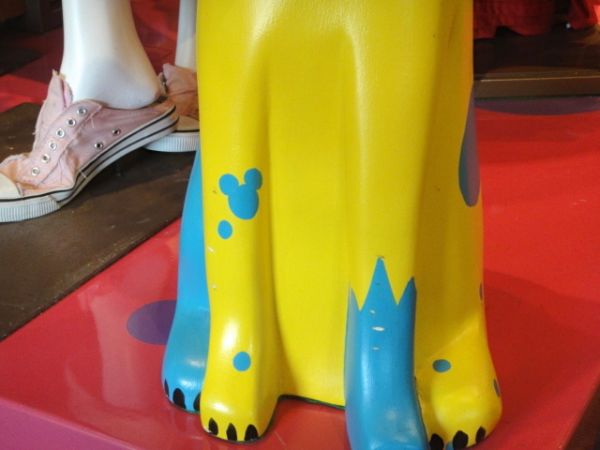 http://allears.net/btp/images/hidden-mickey-370.jpg
3. Inside Epcot's Mexico Pavilion, make your way to the right rear of the seating area inside San Angel Inn Restaurante. Peer over the fence at the inside of a "Cast Members Only" area by the river. A classic Mickey made of depressions in the rock is in the middle of the second step from the top. (Thanks to Vickie Barrett!)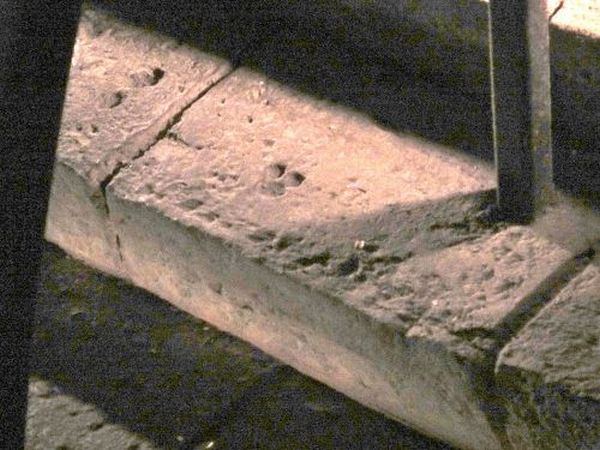 http://allears.net/btp/images/hidden-mickey-369.jpg
You can find a selection of past Hidden Mickeys Alerts here:
http://allears.net/btp/hiddenm2.htm
And check out our Searching Disney with Steve blog:
http://land.allears.net/blogs/stevebarrett/
= = = = = = = = = = = = = = = = = =


SOUVEN-EARS
= = = = = = = = = = = = = = = = = =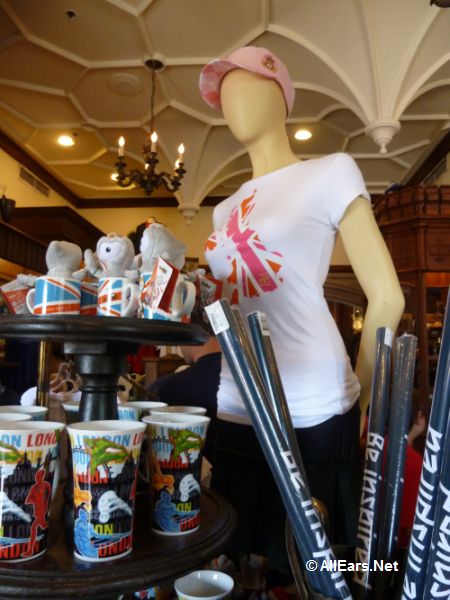 Can't get over to London for the 2012 Summer Olympic Games? Well, never mind — if you're headed to Walt Disney World this summer, you'll still have the chance to pick up some commemorative Olympics merchandise. Not surprisingly, you'll find the items in The Sportsman's Shoppe, located in the United Kingdom pavilion in Epcot's World Showcase, across from the Rose & Crown. Many of the items available feature the one-eyed official mascot of the London Olympics called Wenlock, named after the small town of Much Wenlock in Shropshire. (Wenlock is supposed to represent one of the last drops of steel from a steelworks in Bolton.)
The items are, surprisingly, reasonably priced. Men's and women's t-shirts in a number of styles and colors are $18, while posters are just $9.95. A mug and plush Wenlock combo set is $19.95, and keyrings are $12.95. Other plush items are a little more expensive: there's a Wenlock with a Union Jack motif that's $34.95, as well as a larger gray Wenlock and one dressed as a Beefeater guard at $39.95.
Even if the Olympics aren't your thing, The Sportsman's Shoppe still might have just the souvenir you're looking for. If there's a tennis fan in your life who missed Wimbledon, for example, there are still some leftover tees and collared shirts ($26 and $32, respectively). And finally, if you're just looking for something quirky and fun for that special soccer fan you know, you might want to pick up the hat that looks like a soccer ball resting on a patch of green grass — it's just $24.95.
= = = = = = = = = = = = = = = = = =

RATE & REVIEW SPOTLIGHT
= = = = = = = = = = = = = = = = = =
Compiled by AllEars® Team Member Cathy Bock
In this monthly featurette, we take a look at recent comments made in the AllEars.Net Rate & Review section about a particular restaurant, resort, event, etc. This month, we examine what AllEars® readers are saying about Port Orleans – French Quarter, one of Walt Disney World's moderate resorts.
Port Orleans – French Quarter has an average rating of 8.9 and is recommended by 97% of reviewers.
From recent reviews:
Rooms: "renovated rooms have two queen beds of decent quality"; "was nice, clean, quiet, and we felt safe"; "room was a bit small for us…me, my husband, and 2 teens"; "very clean"; "room noise…pretty much non-existent"; "comfortable queen size beds"; "room was extremely clean and was cleaned early every morning".
Resort staff: "Maid service was great"; "on two occasions, I felt they were a little brusque"; "everyone was friendly and helpful"; "housekeeping was great"; "were helpful and friendly"; "very friendly!"; "great service at the front desk"; "Mousekeeping was excellent and prompt each day".
Resort amenities: "lots of activities for kids at the pool in the afternoons"; "love the pool and hot tub"; "kids enjoyed the pool, and the laundry facilities were fine"; "nice that they offer games at the pool for kids during the day, but the music is really played too loud"; "pool was fun for my family and we took advantage of the nice laundry facilities".
Resort layout: "could easily access the pool, lobby, food court, arcade, gift shop, and bus stop"; "not a large resort"; "convenient parking if you have a car"; "elevators in all buildings"; "it was truly nice being so close to the food, pool and bus stops"; "not quite as sprawling as Riverside which made the pot luck of room assignments less worrisome".
Transportation: "don't like it when they lump French Quarter with Riverside"; "bus service was up and down"; "every bus to and from the resort was full to capacity"; "boat to Downtown Disney good"; "buses were never too crowded and the boat to Downtown Disney was fun and convenient"; "boat to Downtown Disney is a home run"; "only con would be having to share buses with Port Orleans Riverside".
Food: "liked the salad bar"; "food court is small with very limited selections"; "food court was good"; "breakfast items we tried were good"; "food court doesn't have very much variety but what they do offer is good"; "beignets good".
Other Comments: "so happy with our choice!"; "theming in French Quarter is fantastic"; "did not think this resort was worth the large price addition over the cost of a value resort"; "a lovely resort"; "exceeded my expectations"; "would definitely stay at this resort again"; "a very nice resort and so very quiet!"
If you have recently stayed at Port Orleans French Quarter, or any Disney resort, we'd love to have your reviews, too!
You can find Rate & Review here: http://land.allears.net/reviewpost/index.php
= = = = = = = = = = = = = = = = = =


MONTHY REMIND-EARS
= = = = = = = = = = = = = = = = =
EVENTS
ESPN Wide World of Sports Complex
The AAU Boys and Girls National Championships will be held at the ESPN Wide World of Sports Complex from July 3 through August 4, 2012. Competitors range from third through 12th graders, and feature some of the top high school-age players from across the country. Known as a breeding ground for future NBA stars (e.g. LeBron James, Dwight Howard), the event attracts NCAA coaches from the top basketball programs, making it the premier collegiate recruiting event in the nation. As part of the National Championship, the AAU U-17 Boys Basketball Super Showcase presented by Champion anchors the ESPN HS Games, a multi-sport festival featuring several elite high school sports events. The invitation-only tournament features marquee 17-and-under club teams from across the country.
Downtown Disney
Internationally recognized artist Larry Dotson, known for his oil paintings of scenes around the Disney parks, will be at Art of Disney, Downtown Disney Marketplace from August 31 to September 9. Dotson's work can be found at the four Walt Disney World theme parks, Animal Kingdom Lodge, Caribbean Beach Resort, Disney Golf Course Pro Shops, Art of Disney Galleries, and on the Disney Cruise Line. Check with the individual locations for exact times.
Downtown Disney Marketplace's Disney's Pin Traders is continuing to host monthly events with Disney Design Group artists. Artist Adrianne Draude, who is behind the creation of a number of Walt Disney World pins, will be meeting with fans and signing pins from 5 to 7 p.m. on August 10.
The Art of Disney in Downtown Disney Marketplace will host Disney Design Group Artist Costa Alavezos for an artist showcase Friday and Saturday, August 17-18, from 6 to 8 p.m. Alavezos will debut his latest works, Mickey & Donald Comic, Mickey Mouse Quad, and Mickey 1928.
-=-=-=-=-=-=-=-=-=-
Don't forget to check our Events page for current updates: http://allears.net/pl/events.htm
-=-=-=-=-=-=-=-=-=-=-=-=-=-=-=-=-=-=-
REHABS AND CLOSINGS
The ongoing Fantasyland expansion project continues. Under the Sea ~ Journey of The Little Mermaid, Enchanted Tales with Belle, Be Our Guest Restaurant, Gaston's Tavern, and Ariel's Grotto will open in time for the holidays. The Be Our Guest Restaurant will feature beautiful chandeliers and murals from the popular movie. For a video with a look at some of the restaurant interiors:
http://youtu.be/g_E_IM07DbQ
The Be Our Guest Restaurant will start taking reservations in late August. For more information on the Be Our Guest restaurant menu:
http://land.allears.net/blogs/dnews/2012/06/be_our_guest_restaurant_menu_a.html
The Seven Dwarfs Mine Train will not open until 2014.
http://allears.net/tp/mk/fant_expansion.htm
The Country Bear Jamboree will be closed for refurbishment August 22 until October 16, 2012.
Test Track in Epcot's Future World closed for refurbishment April 16, 2012. It is expected to reopen as Test Track Presented by Chevrolet in fall 2012. The re-imagined attraction will transform into the "Chevrolet Design Center at Epcot" with interactive design and styling workstations at which you will be able to create custom concept vehicles. Also included will be a "SimCar" ride vehicle experience where you can put your design through its paces on the Test Track circuit. The post-show area will feature the latest Chevrolet vehicles in an all-new, state-of-the-art showroom, as well as lots of special effects. While Test Track is closed for refurbishment, a number of special experiences have been added to the entertainment schedule. The Test Track Allstars, a travel-themed a cappella group, is now performing daily in the area near the Test Track pavilion. In addition, the Epcot Character Spot, Soarin' and all attractions, merchandise locations and grab-n-go food and beverage offerings in The Land will remain open until 10 p.m. on a trial basis.
http://allears.net/tp/ep/e_tt.htm
Bistro de Paris restaurant in the France pavilion will be closed from August 1 through the end of October for renovations.
Kilimanjaro Safaris in Disney's Animal Kingdom is undergoing some changes, aimed at giving guests the opportunity to see more of their favorite animals, specifically zebras, during the 20-minute open-air ride. The audio-animatronics "Little Red" elephant and related "poacher" set pieces have been removed and the theme park is adding a new savanna space, including a watering hole for live animals. Work began in March; construction is scheduled to be complete in Fall 2012. Kilimanjaro Safaris is open during the construction.
A new indoor, air-conditioned character meet and greet location is under development in the Discovery Island area at Animal Kingdom. Beastly Bazaar, a merchandise location, will close August 12 to be rethemed for the meet and greet experience, which will open this fall.
Disney's Art of Animation Resort
The next wing of Disney's Art of Animation Resort scheduled to open is the Lion King wing on August 10; the Little Mermaid wing is slated to open September 15.
http://allears.net/acc/faq_artan.htm
Cape May Cafe buffet restaurant, which hosts a character breakfast, will be closed through August 4, 2012.
Disney's Grand Floridian Resort
The spa at the Grand Floridian Resort and Spa closed on September 19, 2011, for 18 months as part of a planned renovation at the resort, and the addition of Disney Vacation Club units. During this downtime, enhancements are also being planned for the spa. As an alternative, you can purchase spa services at Disney's Saratoga Springs Resort & Spa. If you are staying at the Grand Floridian or the Polynesian Resort and you book a spa treatment at Saratoga Springs Resort & Spa, complimentary transportation will be provided for you. Note that the health club at Disney's Grand Floridian Resort & Spa is still open. In addition, the Ivy Trellis Beauty and Barber Shop remain open in the main building of the Grand Floridian.
http://land.allears.net/blogs/dnews/2011/12/disney_vacation_club_announces.html
A number of refurbishments will be taking place at the Grand Floridian Resort and Spa between now and the end of the year:
The following full-service restaurants and bars will be closed during the dates listed:
• Beach Pool Bar: April 2-August 24
• Citricos: July 23-August 4
While the above are closed the following locations will be open:
• Grand Floridian Cafe
• Narcoosee's
• 1900 Park Fare
• Private Dining
When the Beach Pool Bar reopens it will have a grill and extended quick service items. Also, once it reopens:
• The Courtyard pool will temporarily close August 24, reopening in late November. During this time, a new zero-entry slope will be added. The Beach Pool and Slide will remain open.
• Gasparilla Grill and Games is also expected to close August 24, and will reopen in December. It will be renovated to include additional seating. During this time, an extended menu will be available at the Beach Pool Bar and a selection of pre-packaged food will be available at Mizner's Lounge.
Sandy Cove will be closed beginning August 21 for refurbishment and will reopen in December. While closed, you can purchase sundries at the M. Mouse Mercantile on the second floor. Note also that The Mouseketeer Club will be closed during the refurbishment at Gasparilla Grill and Games.
The amenities at the Polynesian (including the pool and Never Land Club) will be open to Grand Floridian guests during this time.
http://allears.net/acc/faq_gf.htm
Disney's Saratoga Springs Resort & Spa
Building repainting is expected to conclude in August 2012. Also, accessories and linens ("soft goods") are being replaced. The project is expected to last through spring 2013. Note that all refurbishment dates are estimates only and exact project dates may vary.
For some photos of the rehab: http://allears.net/acc/g_ss_refurb.htm
http://dvcnews.com/index.php/resorts/saratoga-springs/news/1881-saratoga-springs-room-refurb-details
The Yachtsman Steakhouse at the Yacht Club Resort will be undergoing refurbishment from August 27 to September 15, 2012.
Splitsville at Downtown Disney West Side is expected to open this fall, combining bowling with billiards, dining, music and nightlife. Splitsville will include 45,000 square feet with 30 lanes on two floors. Bowlers can feast on hand-tossed pizza, fresh-rolled sushi, hand-cut filet sliders and other menu items served right at the lane, all while enjoying an entertaining atmosphere. The all-new day-and-nighttime venue also will be available for birthday parties and corporate events. Splitsville will join other new offerings at Downtown Disney, such as BLINK by Wet Seal, Apricot Lane, a completely redesigned Sunglass Icon by Sunglass Hut, an extensive renovation of Basin and an exterior remodel at Rainforest Cafe (see below).
http://disneyparks.disney.go.com/blog/2011/07/downtown-disney-update/
On Pleasure Island, some buildings have been removed, but plans for the site are being reevaluated, which means previously announced construction plans have been delayed.
http://disneyparks.disney.go.com/blog/2011/07/downtown-disney-update/
Rainforest Cafe in Downtown Disney is undergoing refurbishment. During the renovation, the restaurant will remain open. Upon completion in October 2012, a new lounge area, exterior updates and an updated volcano will be unveiled.
=-=-=-=-=-=-=-=-=-=-
A complete list of rehabs can be found here: http://allears.net/tp/rehabs.htm
= = = = = = = = = = = = = = = = =


MAGICAL MOMENTS
= = = = = = = = = = = = = = = = =
Peg: My sister and her family joined my husband and I on our last trip to Disney World. At 9 and 10 years old, it was my nephew and niece's first trip to Disney World and they just didn't get my love of the place. You have to know my nephew to know how hard it is to coax a smile from him. Well, after character meals with Tigger and the Mad Hatter, three days of rides, fireworks and shows, he threw his arms around me and with a great big smile said, "Aunt Peg, now I know why you love Disney so much." To this day, I still get teary when I think of that moment. I have all of Disney World to thank for one of my most memorable and magical trips and creating memories that will last me a lifetime.
Karen in South Carolina: We don't have any children in our family, and after many trips to WDW over the years, we sometimes feel like Magical Moments tend to be reserved for the little ones. Well, on our trip last month, we were proven wrong. We were walking through Fantasyland near Storybook Treats when a cast member approached us and asked if we had a minute. We said sure! She said that Cinderella had been watching us from her castle window and we looked so sweet that she wanted to share a sweet treat with us. The cast member then motioned to another who walked over to us with a HUGE strawberry shortcake sundae, complimentary. We thanked them profusely, but I hope they knew how special it was, as adults, for someone to keep up the magic for us, too!
Jodi: We took our daughter, Alexis, and her best friend, Veronica, to WDW to celebrate their Sweet 16 (they were born two days apart). So many cast members wished them Happy Birthday, but one CM went above and beyond! We were walking into The American Adventure at Epcot when the CM said, "Veronica? Where are you from?" She replied, "Louisiana," and then he said, "Is Alexis here, too?" The girls were puzzled, not realizing he had read their names on the birthday buttons they were wearing. Then he said he had just gotten a phone call for a Veronica and Alexis from Louisiana and they needed to call back right away. He pointed to a phone and told them what extension to dial. The girls were so excited to hear Goofy on the line singing Happy Birthday to them. What a wonderful memory thanks to a wonderful cast member going the extra mile.
-=-=-=-=-=-=-=-=-=-=-=-=-=-=-=-=-=-=-=-=-
We just bet you have a story to tell about an unforgettable moment during your Disney vacation! Please send your favorite memory for inclusion in a future AllEars® to: allearsnet@yahoo.com
This month we also have a collection of readers' visual magical moments spotlighting "Family Fun" in our photo feature, "Wandering the World":
http://allears.net/tp/wander/wander.htm
Thank you all for sharing!
-o-o-o-o-o-o-o-o-o-o-o-
Editor's Note: This story/information was accurate when it was published. Please be sure to confirm all current rates, information and other details before planning your trip.