April 2017 Walt Disney World Bits and Bites
Feature Article
This article appeared in the March 28, 2017 Issue #914 of ALL EARS® (ISSN: 1533-0753)
Editor's Note: This story/information was accurate when it was published. Please be sure to confirm all current rates, information and other details before planning your trip.
= = = = = = = = = = = = = = = = =


STEP BACK IN TIME
= = = = = = = = = = = = = = = = =
by Joan L. Feder
AllEars® Contributor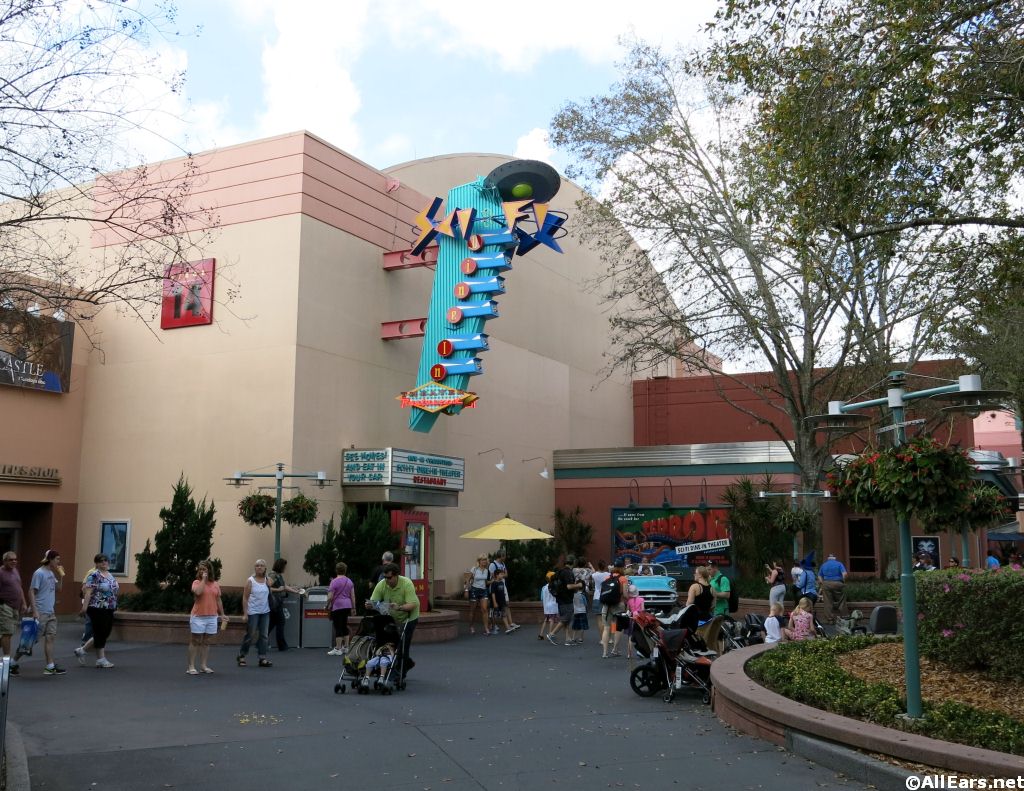 We hunt through our archives for this monthly featurette, which looks at the history of Walt Disney World and The Walt Disney Company. This month, we travel back 26 years to see what the Sci-Fi Dine-In Theater at Disney's Hollywood Studios was like when it first opened.
This heavily themed restaurant, located at the end of Commissary Lane in Disney's Hollywood Studios, officially opened on April 20, 1991, and has remained essentially the same since opening day. Upon entering, you are transported to a beautiful night at a drive-in movie theater from the 1950s. A carhop ushers you to your table under a sky filled with twinkling fiber optic stars. A fence surrounds the theater, and the hills of southern California glow in the sunset just beyond. Most of the tables are made to look like old-fashioned convertibles. Each one is outfitted with whitewall tires, 1955 license plates and glowing tail lights. Speakers are mounted on poles next to the cars, just like at a real drive-in.
The atmosphere is just part of the fun at the Sci-Fi; there is also the entertainment. The tables/cars are all parked facing a large screen that has shown the same 47-minute movie reel of "thrilling, chilling sci-fi scenes", since opening day. There are trailers and clips from campy grade B horror films like the "Attack of the 50 Foot Woman," "The Giant Gila Monster" and the infamous "Plan 9 from Outer Space." Vintage black and white news reels describe inventions of tomorrow, including self-driving electric cars and video phones. Old drive-in ads encourage movie-goers to buy candy and popcorn. There are also cartoons with alien and space travel themes, and even a clip of Walt Disney with his pal Garco, the robot. The only time this movie was changed was for the special Star Wars Galactic Dine-In breakfasts, held during Star Wars weekends in 2015, when Stars Wars clips were shown instead.
Some things have changed, though, since opening day. Gone are the complimentary popcorn and the roller-skating carhops. The improvisational cast members (like the policeman searching for deadbeat movie-goers) are no more. Another thing of the past are the punny menu item names, like the "Attack of the Killer Club Sandwich" and the "Tossed in Space" garden salad. The menu now lists more descriptive but ordinary choices; instead of the "Beast from 1,000 Islands", just order the reuben sandwich.
The food at the Sci-Fi is still American-style cuisine, but today's menu is the same whether you come for lunch or dinner. Appetizers include spinach and artichoke dip, onion rings and fried pickles. Entrees range from steak and fish to pasta and sandwiches. There are glowing beverages and flavored sodas, like cherry and vanilla Cokes, for kids of all ages. The Sci-Fi also boasts a full bar, including "Cosmic Concoctions" for adults. The creamy and decadent milkshakes are a specialty of the house, and also come in grown-up versions (try the Orbiting Oreos with Godiva Chocolate Liqueur).
Within a year of opening, the Sci-Fi was the most popular restaurant at Hollywood Studios. In fact, when Walt Disney World marked its 20th anniversary on October 1, 1991, the advertising campaign for the 15-month "Year of Surprises" enticed guests to visit the Sci-Fi Dine-In Theater as one of the "20 New Reasons to Visit Walt Disney World."
At its peak, the Sci-Fi Dine-In Theater serves more than 2,200 people a day. For some guests, the Sci-Fi is still a must-do every time they visit Walt Disney World. Others are not so sure, complaining that the food is too plain or too expensive. In this writer's opinion, the Sci-Fi is worth a visit. While the food is good (particularly the shakes and fried pickles), the atmosphere is even better.
The Sci-Fi currently accepts the Disney Dining Plan (one table service credit) and Tables In Wonderland. Kids' menus, vegetarian options and accessible seating are available. The Sci-Fi remains a very popular destination, so Advanced Dining reservations are recommended in order to avoid disappointment.
RELATED LINKS:
— Sci Fi Dine In Theater
— Rocketeer Artifacts in the Sci-Fi
— Where in the World is the Rocketeer?
— Recipe: Artichoke Spinach Dip
— Recipe: Oreo Milkshake
= = = = = = = = = = = = = = = = =


HIDDEN MICKEYS ALERT
= = = = = = = = = = = = = = = = =
Steve Barrett, author of the Hidden Mickeys books and webmaster of HiddenMickeyGuy.com, hopes you enjoy the following Hidden Images around Walt Disney World.
1. Pop Century Resort. Poster ads for pizza delivery are inside the guest building elevators. Check out the upside-down classic (three-circle) Hidden Mickeys formed by pepperoni pizza toppings on each slice! These ads have been in place for a while. (Thanks to Len Reeves, and James Girard.)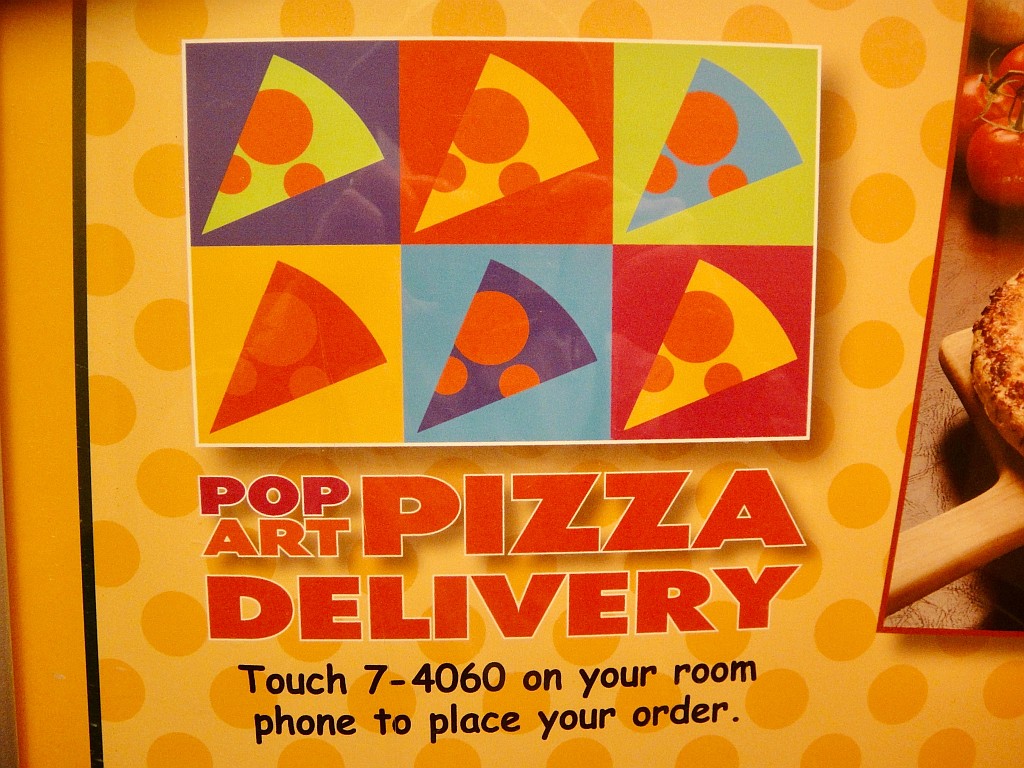 2. Contemporary Resort. A Cast Member informed me of this image. Outside at the marina, the marine alphabet letter flags on the glass front of the Sand Bar spell "MICKEY."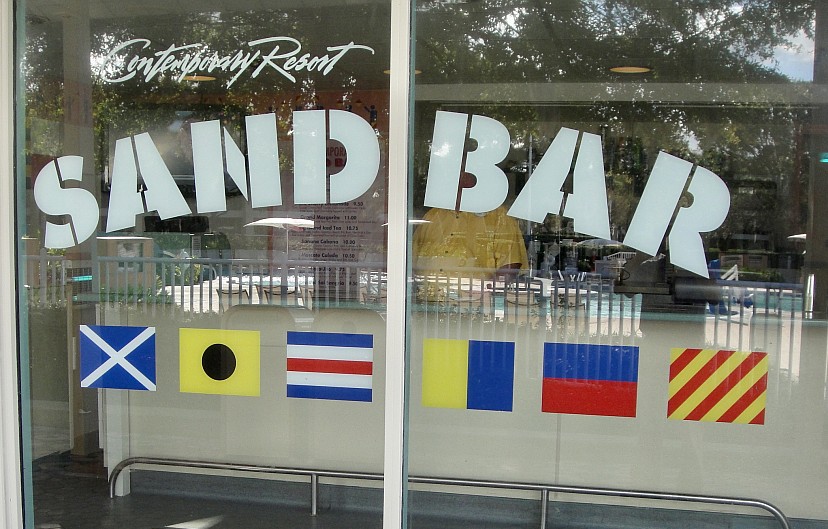 3. After many attempts over the years, I finally got a (somewhat) decent photo of this Hidden Mickey in the American Adventure show at Epcot. At the beginning of the film, an upside-down classic Mickey appears on the rock behind (and to your right of) a kneeling female pilgrim. The image changes as the show progresses, so stay alert for it!
=-=-=-=-=-=-=-=-=-=-=-=-=-=-=-=
You can find an archive of past Hidden Mickey Alerts HERE.
And check out our latest Searching Disney with Steve blog.
= = = = = = = = = = = = = = = = =


SOUVEN-EARS
= = = = = = = = = = = = = = = = =
Our occasional featurette on shopping around the World returns this week with an entry from our staff writer and "A Mom and the Magic" blogger Kristin Ford.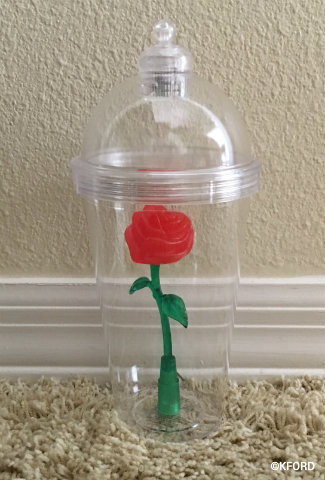 As pretty much any Disney fan or moviegoer knows, the live-action Beauty and the Beast movie has been a huge box-office hit in the two weekends it has been in theaters. And Disney also is cashing in on the merchandise — both movie-specific and long-standing items that can be found at Walt Disney World.
Two of the most coveted items have prompted long lines and soaring eBay prices. The new Enchanted Rose tumbler is a clear plastic cup with a rose in the middle of the base, a lid with various light-up features, and a clear plastic straw. The cups originally were for sale at Disneyland in the Red Rose Taverne, which is a limited-time "Beauty and the Beast"-themed overlay at the Village Haus restaurant in Fantasyland. They were so popular that they sold out within a day of being placed on sale at the quick-service restaurant. Almost immediately, the cups, which cost about $13 in the parks, showed up on eBay and have been selling for $50 to $75 apiece. In the meantime, the Enchanted Rose tumblers made an appearance in Orlando and were sold for the same price at Be Our Guest restaurant in the Magic Kingdom. They have since sold out at Walt Disney World, as well, and there is no word on when or if either location will restock. So, if this is a must-have item, your best bet is eBay, where you will pay a pretty penny.
Two editions of Beauty and the Beast-themed Dooney & Bourke purses, bags and wallets also were snapped up quickly – and at much higher prices. The first release in August 2016 was only on the Shop Disney Parks app and included a Large Tote ($248), Large Letter Carrier ($198) and Wristlet ($98). They were sold out within a day, much to the disappointment of many consumers. Then, without notice, a second release of the pattern on new silhouettes appeared at Walt Disney World this month. There was a Large Tote ($328), Medium Tote ($248) and Wallet ($158), and two of the styles sold out within a couple days. The only bag that still is available for sale on property is the Large Tote, and there are limited quantities (at the time of this publication) only at D Living at Disney Springs.
Pandora sterling silver jewelry came out with a set of three charms — the enchanted rose, Belle's yellow gown and Mrs. Potts with Chip — for $185. Customers who purchased the set during the promotional period received a free Beauty and the Beast soundtrack and a movie lithograph. The offer is still available in stores while supplies last. Also, the beads can be purchased separately.
There also is plenty of other Beauty and the Beast merchandise that is readily available at Walt Disney World right now. Fans of the movie will find a collector's doll modeled after actress Emma Watson ($34.95); an iconic yellow ball gown costume ($64.95) with a gold jewelry set ($29.95); a MagicBand 2.0 with characters from the movie ($32.99); a 2017 Disney Visa Beauty & the Beast pin ($12.99); a mug with Watson's image ($14.99); and two youth movie T-shirts ($27.99 and $21.99), among other things.
Of course, Walt Disney World also carries Beauty and the Beast merchandise from the original animated film, too. Shoppers will find: a Beast plush ($39.95); two different Belle plush dolls ($16.95 and $32.95); two styles of gold mouse ears ($24.99 and $27.99); plastic and ceramic Chip cups ($9.99 and $21.99); a light-up Lumiere statue ($55); and a working Cogsworth clock ($80).
Happy Shopping!
= = = = = = = = = = = = = = = = =


MONTHLY REMIND-EARS
= = = = = = = = = = = = = = = = =
Through May 29: 2017 Epcot International Flower and Garden Festival — The 90-day festival will feature an array of new gardens and character topiaries, popular entertainers and tasty food and drink offerings.
April 2: Bon Voyage Breakfast Debuts — The new Bon Voyage Breakfast will give guests the opportunity to meet a variety of characters, including Rapunzel, Flynn Rider, Ariel and Prince Eric. Reservations are now open.
April 14: Star Wars: Galactic Nights at Disney's Hollywood Studios.
April 20 – 23: Star Wars Half Marathon – The Dark Side Weekend — Races include the 5K, Kids' Races, 10K, and half marathon, with the Dark Side Challenge for those completing the 10K and half marathon distances. New for 2017: the 10K and half marathon will start on Floridian Way and finish at Epcot. In the Inaugural event those races started at Epcot and finished at ESPN Wide World of Sports. The Kessel Run Challenge medal will be awarded to those who complete both the Star Wars Half Marathon – The Light Side in California and the Star Wars Half Marathon – The Dark Side in Florida.
-=-=-=-=-=-=-=-=-=-
Check our Events page for a full schedule of upcoming events.
-=-=-=-=-=-=-=-=-=-=-=-=-=-=-=-=-=-=-
Magic Kingdom
Hall of Presidents is closed for an extended refurbishment through June 29, 2017.

Prince Charming Regal Carrousel in Fantasyland will close for refurbishment April 24 to May 18, 2017.
Exterior maintenance and painting will be performed through April 2017.
The resort rooms are undergoing a "hard goods refurbishment" that will continue for some time into 2017.
Disney's Old Key West Resort will be undergoing a wholesale refurbishment starting in Spring 2017. This refurbishment is expected to be completed in 2019.
Resort rooms will undergo a "hard goods" refurbishment through May 7, 2018.
Alligator Bayou North Pool will be closed for refurbishment through April 7, 2017.
The Walt Disney World Swan and Dolphin
The resort is currently undergoing the largest renovation in its 25-year history. The Dolphin room renovations are currently scheduled to be completed by the end of 2017. In addition, starting in the spring of 2017 the Dolphin lobby will undergo a $12 million re-design. When finished in the fall of 2017, the new lobby will be completely transformed into a sleek, contemporary space and will feature new dining and beverage options. The lobby re-design is the final stage of the $140 million renovation project.
Wilderness Lodge and Boulder Ridge Villas
General resort refurbishments and construction work in multiple areas will continue until 2017. Some pathways and the nature trail will be unavailable at certain times. Hidden Springs leisure pool, resort beach, playground and recreation fire pit are also unavailable during this construction, but are expected to reopen by July 17, 2017.

Cub's Den Children's Activity Center is closed now through 2017.

Roaring Fork and Trout Pass Pool Bar at Wilderness Lodge closed for refurbishment as of February 13, 2017. They are slated to reopen July 17, 2017. The new Geyser Point Pool Bar & Grill now serves breakfast, lunch and dinner. Territory Lounge also offers a continental-style breakfast featuring gourmet coffees, pastries and a yogurt parfait.
The Yacht and Beach Club Convention Center is undergoing expansion and renovation now through February 1, 2018.
Resort room refurbishment taking place through mid- to late 2017.
Blizzard Beach Water Park
Run-off Rapids is closed for refurbishment.
Disney Springs
Portobello Country Italian Trattoria at the Disney Springs Landing will be closed for refurbishment from April 23 until sometime in Fall 2017.
-=-=-=-=-=-=-=-=-=-
A complete list of known rehabs can be found HERE.
= = = = = = = = = = = = = = = = =


MAGICAL MOMENTS
= = = = = = = = = = = = = = = = =
Each month, we like to share a few heart-warming Magical Moments brought to us by the amazing Disney cast members!
Ruth Morehart: My husband and I both decided to get ECVs while visiting Epcot on our most recent visit. He needed one because of his recent back surgery, and I was having a fibromyalgia flare-up. We arrived in Epcot early, and went directly to the ECV rental office. I told the cast member that we both needed to rent ECVs for the day, and she immediately said, "The first couple, wait right here." She acted excited and we wondered what was going on. It was Valentine's Day, so they had a special treat in store. First we filled out our name cards, which were white with a huge heart. Then they brought out my husband's ECV. It had a large red valentine balloon tied to the back of his seat and the basket was lined with red tinsel with hearts. The look on his face was priceless. He wasn't real excited about all the red embellishments, but he went with it. My cart had a large pink balloon with red hearts on it. The basket was also embellished with tinsel and hearts. The cast member took our picture and told us to stop in at Guest Relations to see about IllumiNations that night. Instead, we rode all around Epcot with our pink and red decorated carts waving at people. It was amazing, as almost everyone smiled, laughed, and generally got a kick out of us on these decorated carts. My husband got into it and we talked, laughed, and visited with many people. When we were ready to leave the park, we gave our balloons to a couple of little girls dressed up like princesses. My little girl looked totally in awe of getting this balloon as I said, "This balloon is for you, Princess." She had a big smile on her face. But our magical moment was not over yet. I finally went to Guest Relations to see what the cast member from the ECV rental place had meant. The cast member at Guest Relations told me that we were on a list to be admitted to the VIP viewing area for illumiNations that night. What a thrill! Our routine Valentine's Day turned into a magical moment for us — one we will never forget!
Domenica Colonna: I had a wonderful experience on my last vacation. I had reservations with my daughter and granddaughter for breakfast at Cinderella Castle. I arrived at 8:20 a.m. for an 8:40 reservation. I went to check in, but the cast member could not find my reservation! After the cast member made several attempts to locate it without success, I finally looked at My Disney Experience account and discovered that my reservation was for the NEXT day. I felt awful. My granddaughter was going to be so disappointed. But the cast member worked miracles and managed to find us a table. I could not thank all the wonderful cast members enough. After breakfast we walked to the Bibbidi Bobbidi Boutique for a princess makeover. What a wonderful morning for my 6-year-old granddaughter! It was a day she will never forget!
Katie: My family and I visited our favorite vacation spot, Walt Disney World, for my 21st birthday. We had a 10-day reservation to stay in a Little Mermaid standard room for our first time at the Art of Animation Resort. When we arrived at the resort after the Magical Express bus ride my dad heard a cast member calling our name. She went on to say "Happy Birthday" to me and that for my 21st birthday they wanted to upgrade us to a suite! Instead of staying in the standard Little Mermaid room we got to stay in a wonderful two-bedroom Cars family suite. We were thrilled! To make the upgrade even more magical, the suite was on the second floor, which is exactly want we wanted for the standard room, and it had a view of the lake! This was my 10th and, by far, most magical trip to WDW. Thanks to cast member Jean and everyone at Art of Animation for making my 21st birthday and our family vacation more magical than we could have ever imagined!
-=-=-=-=-=–=-=-=-=-=-=-=-=-=-=
We just bet you have a story to tell about an unforgettable moment during your Disney vacation! Please send your favorite memory for inclusion in a future AllEars® via our Contact Us page. Thank you all for sharing!
-o-o-o-o-o-o-o-o-o-o-o-
Editor's Note: This story/information was accurate when it was published. Please be sure to confirm all current rates, information and other details before planning your trip.