April 2013 Walt Disney World Bits and Bites
Feature Article
This article appeared in the March 26, 2013 Issue #705 of ALL EARS® (ISSN: 1533-0753)
Editor's Note: This story/information was accurate when it was published. Please be sure to confirm all current rates, information and other details before planning your trip.
= = = = = = = = = = = = = = = = =


STEP BACK IN TIME
= = = = = = = = = = = = = = = = =
by Debra Martin Koma
Senior Editor
Each month, we rummage around in our archives for this featurette, which indulges in a bit of nostalgia, taking you back in history for a glimpse of Walt Disney World and The Walt Disney Company through the ages. This month, we celebrate the 15th anniversary of Disney's Animal Kingdom, which opened on Earth Day 1998, and the significant role the month of April has played in that theme park's history and evolution.
Can you remember a time when there was no Disney's Animal Kingdom, no 145-foot-tall Tree of Life dominating the landscape in that part of the World? I can, but just barely. I'd only been to Walt Disney World once when the fourth Walt Disney World theme park, then dubbed Disney's Wild Animal Kingdom, was announced on June 5, 1995. Construction began in August of that year on what was to be the first new Walt Disney World theme park to open since Disney-MGM Studios in 1989.
More than 1500 animals, 4 million trees, plants, shrubs, and other plantings, and 403 acres later, Disney's Animal Kingdom celebrated its grand opening on April 22, 1998.
At the time, the park consisted of just a few attractions, with the promise of more to come: Kilimanjaro Safaris, Countdown to Extinction, Festival of the Lion King, It's Tough to be a Bug, Journey into the Jungle Book, Gorilla Falls Exploration Trail, Rafiki's Planet Watch (including the Wildlife Express Train) and Pocahontas and Her Forest Friends.
The day before the Grand Opening, a dedication ceremony was held. An opening act featuring life-size animal puppets, 1,500 costumed Disney cast members and the strains of the award-winning "Circle of Life" set the scene for then-Chairman Michael Eisner, flanked by Roy E. Disney, Walt's nephew and then-vice chairman of The Walt Disney Company, to dedicate Disney's Animal Kingdom.
In a gesture reminiscent of the one 43 years before when Walt Disney read from the plaque dedicating Disneyland in Anaheim, Eisner read from the dedication plaque for Disney's Animal Kingdom: "Welcome to a kingdom of animals ... real, ancient and imagined: A kingdom ruled by lions, dinosaurs and dragons; A kingdom of balance, harmony and survival; A kingdom we enter to share in the wonder, gaze at the beauty, thrill at the drama ... and learn."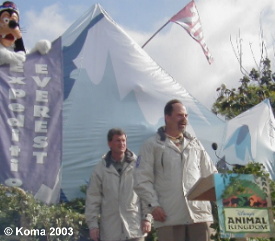 On Earth Day 2002, Primeval Whirl, a new DinoLand wild coaster ride, officially opened at Disney's Animal Kingdom in Florida.
I wasn't at Animal Kingdom for its grand opening, but I was there five years later, during Animal Kingdom's 5th anniversary celebration on April 22, 2003, when Imagineer Joe Rohde unveiled plans for a new thrill ride -- Expedition Everest.
"We go fast, we go high, we fall far, we get cold, and we do finally see the Yeti itself," Joe Rohde, said at the time. "He's a huge, HUGE, gigantic shaggy creature as real as we can bring him to life."
Expedition Everest officially opened on April 7, 2006, even though there were many sneak previews for various groups, such as passholders and Disney Vacation Club members, leading up to that date.
And on Earth Day 2008, the park's 10th anniversary, there was a brief ceremony, during which a new name and a new logo were introduced for Disney's conservation outreach efforts, changing the Disney Wildlife Conservation Fund to the Disney Worldwide Conservation Fund. The new name builds on Disney's commitment to conservation, and communicates the broader vision for the future of the DWCF which is not only wildlife focused but also supports ecosystems and community conservation.
Who knows what this Earth Day, April 22, 2013, will bring as the theme park celebrates its 15th anniversary?
RELATED LINKS

Animal Kingdom turns 10:
http://allears.net/tp/ak/ak10th.htm
Animal Kingdom turns 5:
http://allears.net/ae/issue187.htm
= = = = = = = = = = = = = = = = =


SOUVEN-EARS
= = = = = = = = = = = = = = = = =
by Debra Martin Koma
Senior Editor
The shops related to the 2013 Epcot Flower and Garden Festival are overflowing with more than just plants and flowers. They are full of irresistible festival-themed and gardening-related merchandise, perfect for taking home a little dose of Disney to those you left behind -- or for your own "souven-ears", for that matter. I'm always looking for little trinkets that won't take up too much space in my suitcase, and, with Mother's Day, Father's Day and assorted birthdays coming up soon, I was able to find something for just about everyone on my shopping list.
Among my favorite items this year are the adorable strawberry ear hats, pictured at left, that are selling for $19.95. I also really liked the ladybuy-spotted, grass-covered mouse-ear headbands -- thought the $22.95 price tag was a bit steep, but I can just imagine one of my little nieces getting a kick out of them. While on the subject of headgear, I know my dad would really like the festival cap this year, which features the logo of Mickey's Mow and Grow Landscape Services ($24.95). Mom's a gardener who likes to keep out of the sun, so she might have appreciated the floppy white and green hat I found for her ($26.95), but in the end I decided it was too plain. I opted instead for a Mickey-head dish bird feeder ($42.95). It was a little more than I wanted to spend, but hey, it's for Mom! Of course, after all that shopping for others, I figured I deserved a reward, so I splurged on a pretty V-necked tee that features topiary Minnie in this year's Flower and Garden Festival logo ($32.95).
I found all of these items at Garden Gifts, the main shop located in the Festival Center, but I'm sure that most if not all items can be found at the other festival shops located around World Showcase, and perhaps even in Mouse Gear. If you don't see what you're looking for, just ask!
All around, a successful "souven-ear" shopping trip!
= = = = = = = = = = = = = = = = =


HIDDEN MICKEYS ALERT
= = = = = = = = = = = = = = = = =
Steve Barrett, author of the Hidden Mickeys books and webmaster of www.HiddenMickeyGuy.com, describes a few Hidden Mickeys around Walt Disney World that are worth your effort to track down. Check these out!
1. To the right of the main ballroom of Be Our Guest Restaurant in the New Fantasyland, look for a small painting on the left rear wall of the Rose Gallery seating area. Bubbles floating in a dish form a classic Mickey in front of Mrs. Potts and Chip. (Thanks to Wayne and Angie Vaughn, and Deborah Carpenter.)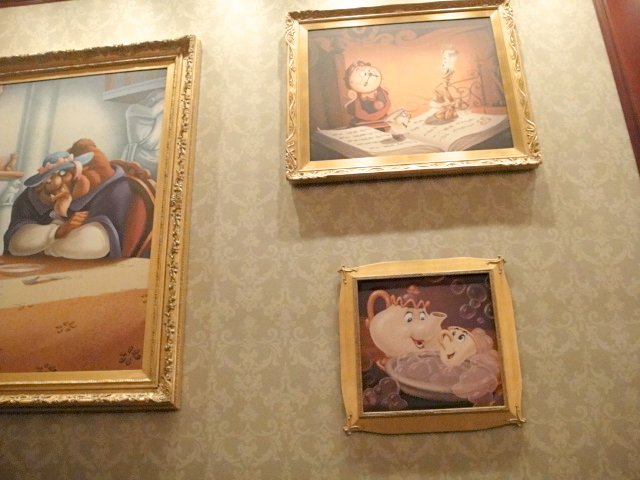 http://allears.net/btp/images/hidden-mickey-393.jpg
2. Near the end of the entrance queue of Kilimanjaro Safaris in Disney's Animal Kingdom, just before the final loading dock, a monitor above you shows a continuous video loop. Look for the resting orange and white leopard with black spots. Three spots on white fur form a classic Mickey on the left side (your right) of the leopard's neck. (Thanks to Terry Berringer.)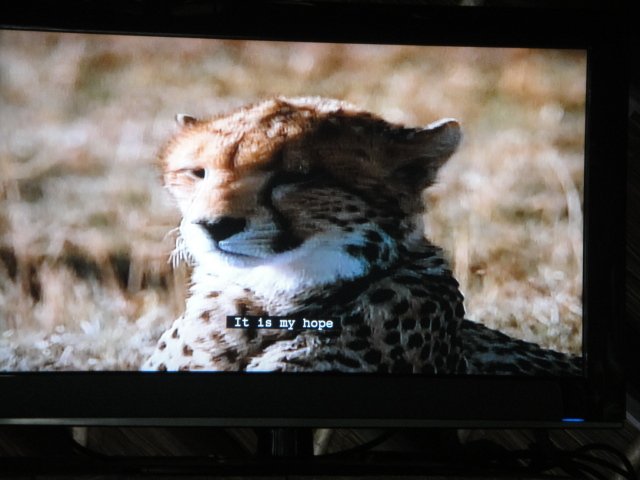 http://allears.net/btp/images/hidden-mickey-394.jpg
3. Walk to the rear of the lobby at the Wilderness Lodge Resort. A small classic Mickey is on the floor at the left front corner (as you face the rear of the lobby) of the rectangle of dark hardwood slats that surround the bubbling source of the water spring. The Mickey is formed of a circle in the wood with small indentations in the wood for "ears." (Thanks to Matt Buchanan and son.)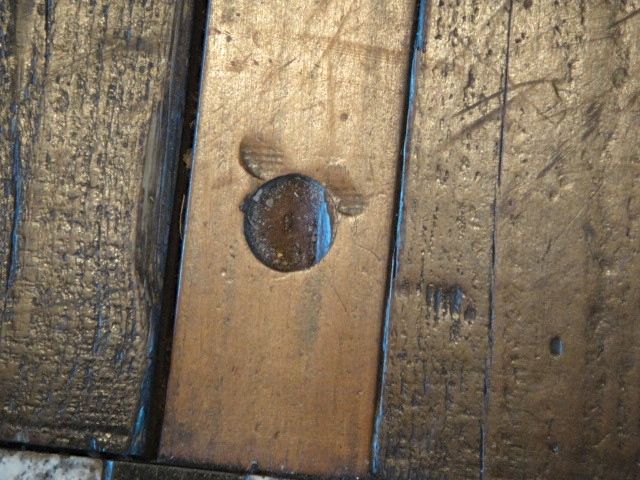 http://allears.net/btp/images/hidden-mickey-395.jpg
You can find a selection of past Hidden Mickeys Alerts here:
http://allears.net/btp/hiddenm2.htm
And check out our Searching Disney with Steve blog:
http://land.allears.net/blogs/stevebarrett/
= = = = = = = = = = = = = = = = = =

RATE & REVIEW SPOTLIGHT
= = = = = = = = = = = = = = = = = =
Compiled by AllEars® Team Member Cathy Bock
In this monthly featurette, we take a look at recent comments made in the AllEars.Net Rate & Review section about a particular restaurant, resort, event, etc. This month, we examine what AllEars® readers are saying about Art of Animation, Walt Disney World's newest value resort, featuring both suites and traditional rooms.
Art of Animation has an average rating of 8.5 and is recommended by 95% of reviewers.
From recent reviews:
Rooms: "absolutely rich in Disney themeing....just beautiful"; "loved having a sleeping area separate from the kids!"; "size of the suites with two bathrooms was wonderful"; "suite was great!"; "plenty of room and plenty of storage"; "rooms are very spacious"; "Little Mermaid rooms were nice for us. Just enough space to fit our stuff for the week, and never felt cluttered"; "suite was laid out well and fitted our family"; "absolutely loved the shower in the master!"; "stayed in the Little Mermaid section...rooms were great for the time we were there"; "everything was neat, clean, and in working order"; "beds were comfortable, although the top quilts were heavy and still very stiff".
Resort staff: "Housekeeping did nice job and kitchen area was restocked daily with paper plates, plastic utensils, cups, and coffee pods"; "CMs were very friendly and attentive"; "Housekeeping was very good"; "Front Desk CMs were fantastic".
Resort amenities: "Big Blue pool was spacious and clean"; "temperature inside the arcade was FRIGID"; "loved the pool and the food court"; "loved the Big Blue Pool (Something about hearing the music underwater really caught my attention)"; "poolside activities and late night movies looked fun"; "impressed by the variety in the gift shop".
Resort layout: "would not stay if I had to stay in the Little Mermaid section...it is sooooo far away"; "hotel is huge and a walk from the LM section would be far."; "suites were in the Cars section (about as far away from buses and dining as possible)"; "first few days weren't bad, but after a long day in the park, and when you're hot and tired and all you want is a drink, but your refillable mugs are in your room, the distance from the bus stop to the room was unbearable"; "Little Mermaid rooms are a LOOOOONG walk from the food court/ buses/main building".
Transportation: "Bus service was good to and from each park"; "bus was quick and frequent"; "buses were packed and standing room only"; "buses ran smoothly"; "bus transportation was a nightmare...waited for 40 minutes to get on a bus with 6 six tired children in our group"; "bus service was busy but fine".
Food and Food Court: "food court is small and seems more expensive than similar food items"; "we were not crazy about the choices at the food court"; "food in cafeteria was good, not hot enough"; "was very crowded, which made the food court hectic"; "food was actually better than most CS places around the world"; "Food was very good and the produce was fresh"; "food court in the morning can be very slow"; "food court was fine-quick and convenient, sometimes busy but the employees were efficient".
Other Comments: "fun choice!"; "lobby, gift shop, food court, and arcade were always busy": "thought the theme was excellent and each section was beautiful"; "loved it here"; "will not stay here again"; "Enjoyed the resort thoroughly!"; "would stay here again".
If you have recently stayed at Art of Animation, or any Disney resort, we'd love to have your reviews, too!
You can find Rate & Review here: http://land.allears.net/reviewpost/index.php
= = = = = = = = = = = = = = = = = =


MONTHLY REMIND-EARS
= = = = = = = = = = = = = = = = =
EVENTS
Epcot's Flower & Garden Festival - - The 20th Epcot International Flower & Garden Festival runs through May 19, 2013. The festival, including all gardening programs and exhibits, is included in regular Epcot admission.
Flower Power Concert Series for April 2013 (tentative lineup):
-- April 5-7: The Turtles featuring Flo & Eddie
-- April 12-14: Paul Revere & the Raiders
-- April 19-21: The Village People (New to the festival this year!)
-- April 26-28: The Orchestra, featuring former members of ELO and ELO II
At The Seas with Nemo & Friends at Epcot: April 22 -- Earth Day observation.
April 22: Party for the Planet for Earth Day, with related activities. On April 19-22, as part of the Earth Day celebration, artists and vendors such as Just Plumerias, Elemental Nursery, Photographer Carlos Cuba, silver designer Tim "Bushman #1" Adebule and ACME Archives artist William Silvers will be in the park. There will also be special merchandise to commemorate the day.
-=-=-=-=-=-=-=-=-=-
Don't forget to check our Events page for current updates: http://allears.net/pl/events.htm
-=-=-=-=-=-=-=-=-=-=-=-=-=-=-=-=-=-=-
REHABS AND CLOSINGS
=-=-=-=-=-=-=-=-=-=-
Magic Kingdom
Fantasyland Expansion: The ongoing Fantasyland expansion project continues with the opening of Princess Fairytale Hall in 2013 and the debut of a new Disney "mountain" in the form of the Seven Dwarfs Mine Train in 2014.
The Magic Kingdom's Main Street Bakery closed for refurbishment in January 2013 and will reopen as a Starbucks in early summer. The cast members there will wear a costume consistent with the early 20th century look and feel of Main Street, U.S.A. The Starbucks location will offer the full complement of Starbucks signature beverages, artisan breakfast sandwiches and a wide selection of baked goods, including muffins, scones and specialty treats.
http://land.allears.net/blogs/dnews/2012/11/starbucks_locations_at_magic_k.html
Epcot
Boardwalk Resort
The BoardWalk Bakery is undergoing renovations now through April 26, 2013. The renovation will include a new entrance, queue area, and refillable mug station. When the bakery reopens, the menu will include soups, sandwiches, and salads. During the closure, some bakery goodies will be sold from a temporary tent set up outside on the boardwalk. You'll find the tent located between the BoardWalk To Go kiosk and BoardWalk Joe's Margarita Bar. The temporary location will offer a limited selection of pastries, sandwiches, snacks, and drinks, and will be open from 6:30 a.m. to 11 p.m. The Belle Vue Lounge, off of the hotel's main lobby, will still be open for continental breakfast as usual. For guests who are using refillable mugs, you'll still be able to pick up the mugs at the temporary tent location, or at Seashore Sweets, located adjacent to the Bakery. Guests can refill their mugs at the temporary location from 6:30 a.m. to 11 a.m. daily. After 11 a.m., refills will be available at the Boardwalk Pizza Window until midnight. Guests can also refill their mugs during these hours at Belle Vue Lounge, Seashore Sweets, and Leaping Horse. (Note also that Leaping Horse is also closed during the scheduled pool renovation through early March.)
Contemporary Resort
California Grill closed for an extensive renovation in early February 2013. The restaurant is slated to reopen late summer and will be sporting a new look and menu.
http://land.allears.net/blogs/dnews/2013/02/a_preview_of_the_new_californi.html
The 14th floor rooms and suites of the Contemporary Resort closed for refurbishment in January. Some renovations planned for these suites include: a hard and soft goods refurbishment (things like bedspreads, linens, furnishings, etc.); improvements to the concierge lounge that will capitalize on the sweeping views of Cinderella Castle, nightly fireworks and the Seven Seas Lagoon or Bay Lake; enhancements to the corridors and elevator foyer. The new room design and in-room amenities will be reflective of high-end suites at all deluxe Disney Resorts. The health and wellness concept that was mentioned last year will not be included on that floor or within the suites; however, most of the design concepts previously shown for these suites will be incorporated. The refurbishment is expected to last through late summer 2013 (dates are subject to change).
Saratoga Springs Resort & Spa
The "soft goods" room refurbishment at Disney's Saratoga Springs Resort & Spa continues. Accessories and linens are being replaced. The project is expected to last through spring 2013. Note that all refurbishment dates are estimates; exact project dates may vary.
http://dvcnews.com/index.php/resorts/saratoga-springs/news/1881-saratoga-springs-room-refurb-details
The spa at Disney's Saratoga Springs Resort temporarily closed for renovation. It will reopen in the summer as Senses - A Disney Spa at Disney's Saratoga Springs Resort.
Walt Disney World Resort announced the multi-year transformation of Downtown Disney into Disney Springs, which will treat guests to more shopping, dining and entertainment amid open-air promenades, springs and waterfront charm. Disney Springs will feature an eclectic and contemporary mix from Disney and other noteworthy brands, from boutique shops to unique flagship anchor stores. Disney Springs will double the number of shops, restaurants and other venues for guests to explore, resulting in more than 150 establishments. Drawing inspiration from Florida's waterfront towns and natural beauty, Disney Springs will include four outdoor neighborhoods interconnected by a flowing spring and vibrant lakefront. In addition to a new gateway with a signature water tower and grand entry, the destination will feature:

-- The Town Center, which offers a mix of shopping and dining along a promenade.
-- A commercial district called The Landing, with inspired dining and waterfront views.

-- The family-friendly Marketplace that will continue to delight guests of all ages by combining new experiences, such as an over-the-water pedestrian causeway, along with classic Disney favorites, including an expanded World of Disney store.

-- A West Side that provides an exuberant atmosphere with lively entertainment, along with a series of new elevated spaces that provide both shade and an overlook to the activity below.

The project will create an estimated 1,200 construction jobs and nearly 4,000 operational roles. New areas will open in phases. Disney Springs is expected to be complete in 2016.
http://land.allears.net/blogs/dnews/2013/03/disney_unveils_vision_for_disn_1.html
-=-=-=-=-=-=-=-=-=-
A complete list of rehabs can be found here: http://allears.net/tp/rehabs.htm
= = = = = = = = = = = = = = = = =


MAGICAL MOMENTS
= = = = = = = = = = = = = = = = =
Bill Bathel: When Linda and I were married 30 years ago, we were young, paying for everything ourselves and were really focused on our guests vs. us. The day was so trying that we did not eat at our own reception, we went to Burger King for fast food on the way to our wedding night. Obviously, no honeymoon... we would do that later when we had the funds. Well, we just never made time for it... we joined the Disney Vacation Club instead.

Now fast-forward 30 years. Linda's wedding ring had been stolen two years ago and while recovered, still reminded her of some "not so pleasant memories." So, to celebrate our 30th anniversary, I planned a trip to Walt Disney World, including a special night at Victoria and Albert's. I purchased a 30-year anniversary (and replacement wedding) ring. But then the pressure was on me. How and when would I surprise her with this? I wanted a new memory to be made, not to replace the past, but to lead us into the next 30 years. My thought was to visit the Wedding Chapel at the Grand Floridian just before our dinner at Victoria and Albert's and hopefully, the "magic" would happen.

On the "big day," I asked cast members at the BoardWalk (where we were staying) for help arranging the visit. In true Disney fashion, they bent over backwards, but, "unfortunately, the Wedding Chapel was unavailable for viewing due to a wedding." But they had lined up something else, using Victoria and Albert's as the venue to present the ring while at dinner.

We arrived at the Grand Floridian 45 minutes prior to the reservation, with me having the secret present in my suit coat pocket. You would have thought it was 30 years ago. I must have checked my pocket for the ring box dozens of times. As we entered the Grand Floridian, I decided to take a long shot and asked if we could walk to the Wedding Chapel. I received a "sure" so off we went, and I thought, "I can spring the surprise in the view of the Wedding Chapel, that'll work!"

As we arrived, I spoke to Linda of 30 years ago, just to remind her of our wonderful life together, mixed with some challenges that has made our marriage stronger than ever. As we approached the Wedding Chapel, a cleaning crew was vacuuming outside. As we peered inside, a cast member asked, "Would you like to go inside and take a look?" With my heart now racing, knowing "this is it," we walked into The Chapel. We strolled to the altar, and as we gazed out the window with Cinderella Castle as our backdrop, I reached into my pocket and the "magical moment" happened. But, what occurred next was all up to the actions of cast member Art.

As I placed the ring on my wife's hand, he stood quietly and watched by the front pew. He gave us the physical and emotional space needed, and then asked, "What can I do to make this moment better for you, do you have a camera?" In my mind, we had already overstepped our bounds and may have put Art and crew at risk, so I said, "How about one picture, and we'll let you finish your job and get home." Art became our own personal guide and photographer requesting us to do pose after pose, and then said, "Let's go to the garden out back for another surprise." More pictures...

When it was all said and done, we thanked Art time and time again and I reached to give him a tip, which he literally ran from in decline. Instead he shared a story of 46 years of his own magical marriage and how Disney had allowed him and his wife to have so many special memories. Quite a testimony.

To Linda and me, his actions were the embodiment of Disney, but so much more. And while so many others contributed to the "magical moment" that Disney so proudly (and correctly) promotes... Art's actions touched our soul. Not only for what he allowed the moment to be, but also, how he added to it with his attention to us and his story of devotion to his wife.
-=-=-=-=-=-=-=-=-=-=-=-=-=-=-=-=-=-=-=-=-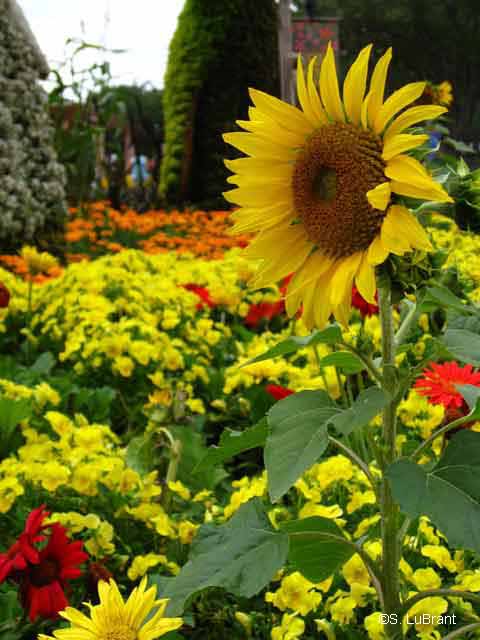 We just bet you have a story to tell about an unforgettable moment during your Disney vacation! Please send your favorite memory for inclusion in a future AllEars® to: allearsnet@yahoo.com
This month we also have a collection of readers' magical moments captured in photographs -- the EPCOT FLOWER AND GARDEN FESTIVAL ! See them in our photo feature, "Wandering the World":
http://allears.net/tp/wander/wander.htm
And remember, we're still looking for your "Then and Now" photos for an upcoming edition of "Wandering the World." Send us photos of yourself or your kids with a character at one of the Disney parks years ago, and then another of yourselves with the same character in the present day. We think it will be a fun way to see how things have changed (or not!) over the years. Send your photos to: allearsnet@yahoo.com
Thank you all for sharing!
-o-o-o-o-o-o-o-o-o-o-o-
Editor's Note: This story/information was accurate when it was published. Please be sure to confirm all current rates, information and other details before planning your trip.