WDW Chronicles: Year One - Year of Magical Mouse
by Jim Korkis
Disney Historian
Feature Article
This article appeared in the June 21, 2011 Issue #613 of ALL EARS® (ISSN: 1533-0753)
People often talk about the impact of the opening of Walt Disney World on the Central Florida area.
Since this series of columns is focusing specifically on that first fiscal year of Walt Disney World from October 1, 1971 to October 1, 1972, let's concentrate on just those 12 months and see what stories the numbers tell about that impact. That first Year of the Mouse in Central Florida 40 years ago clearly foretold what was to happen in the years to come.
Officially during that first year, the Magic Kingdom had attracted 10,712,991 guests (which most articles round up to an even 11 million) and recorded total gross revenues amounting to $139 million. Walt Disney World property had been assessed for tax purposes at about $150 million with a tax bill that would run about $3 million and another $9 million generated in sales taxes.
Sales at local area restaurants, lunch rooms and catering services increased 94 percent. Even candy sales at stores surrounding Walt Disney World were up 18 percent.
Hotels and motels were booked solid with tourists being diverted to Tampa and Daytona Beach for lodging (and an additional hour's drive back to Walt Disney World). Before Walt Disney World opened, the Orlando area offered about 5,800 hotel and motel rooms. By June 1972, the total had jumped to about 10,000 rooms with another 7,000 more rooms under construction.
Orlando Realtor Jack Gale reported that land adjoining Disney on the north "is a good buy at $3,750 an acre" but pointed out "up to $120,000 per acre has been paid for some high density development land in the immediate area." (The Disney Company had paid on average about $180 an acre, which was considered a generous price for swamp land.)
Citrus growers often awoke early in the morning to find people in their groves either wanting to buy fresh oranges or to buy the land itself. In 1967, Orange County showed 68,005 acres in citrus trees. By 1972, that figure, according to the most recent survey, had fallen to 60,551 acres and was continuing to drop. The same decline in citrus groves was seen in Seminole County and Osceola County, as farmers simply could not afford to turn down the prices being offered for their land.
When Walt Disney World opened, the only recreational campground open in the immediate area was Yogi Bear Jellystone Park near Sand Lake Road. Owner Jon Peterson stated in November 1972, "I figure there are 4,000 new sites within 10 miles of me today." Walt Disney World's Fort Wilderness campground had already announced in the near future it was expanding from 500 to 800 sites even though the cost of staying there was sometimes double the cost of other non-Disney sites.
The Orlando branch of the Salvation Army that helped 18,000 indigent transients in 1966 recorded 67,000 cases in 1971 and the ever-increasing numbers were putting considerable strain on their facilities and supplies. Director Richard Bergren stated that the Salvation Army in 1972 had gone $19,000 in debt feeding transient indigents who had come to town with no money and no jobs but simply hopes for finding work.
While the largest employer in the area was Walt Disney World, official spokesmen emphasized that Disney was only seeking employees in the Central Florida area "between 20 and 25 years old for guide-type jobs" and of course, costumes were only made in certain sizes (not the wide variety available today) that favored the more slender applicant.
The work force at Walt Disney World in early 1972 was 10,400, but was expected to swell to 12,100 for the upcoming summer months. The Magic Kingdom's weekly payroll was documented as $1.1 million each week.
The Saturday Review in the April 8, 1972 edition described the Walt Disney cast members as "fresh-faced kids who run the part of the enterprise already under sail look as if they were recruited from the national company of Up With People. They are unfailingly pleasant, unfailingly neat, properly -- if that's today's correct word -- coifed or barbered, and taken all together, are what one's grandmother would call 'nice-looking boys and girls.'"
Overall in Orlando, employment was up more than 11 percent in April 1972, compared with April 1971, and unemployment was a low 2.8 percent.
Like countless other publications, Architectural Forum (June 1972) also extolled the positive environmental philosophy on the Disney property: "WDW is the first New Town in the U.S. to set aside almost one-third of its total acreage to a spectacular conservation project -- 7,500 acres of Everglades-type jungle, inhabited by alligators, birds, snakes, bears, fish and exotic trees, and forever protected from vandals."
The opening of Walt Disney World had an impact on the surrounding attractions as well. Cypress Gardens reported that by June 1972, that business had increased 38 percent already with expectations for the summer months to be "something that Florida will long remember." Cape Kennedy stated that visitors taking tours of the space facility increased more than 27 percent in just the first four months of 1972. During that same time period, St. Augustine recorded a 29 percent increase in visitors. Even Silver Springs, with its gentle glass-bottomed boat tour, saw an increase of visitors of 28 percent within the first quarter of 1972.
Interestingly, while Disney expected that tourists after visiting Walt Disney World would travel on down to the south, it didn't work out that way. Miami was hurt the most with only 6.9 percent of tourists saying their destination was Miami, whereas the months before Walt Disney World opened the count was 9.8 percent and looking to climb even higher.
Increased tourism (and the sales taxes) resulted in the general revenue fund for Florida to show a surplus of $207 million by the beginning of the summer of 1972. The Legislature used almost $100 million on long-delayed building programs and still kept a $50 million working surplus fund.
Comptroller Fred Dickinson Jr. enthusiastically stated, "We've only seen the beginning of this whole upswing. We have just begun to realize the effects of Walt Disney World and when the full impact is felt, even the most optimistic predictions will fall short."
There are many technical and lengthy documents statistically reporting and analyzing the full economic impact, but suffice it to say, the bottom line was that Walt Disney World's impact in the Orlando area that first year was much greater than anyone had expected.
Orlando Mayor Carl T. Langford publicly stated: "I think it's the greatest thing that's happened since the city got its charter one hundred years ago. The benefits greatly outweigh what few problems are caused. I don't believe there's a mayor in the United States who wouldn't be delighted to have Disney World open up outside his door."
Of course, all of that expansion also brought an increased crime rate, including drugs (only four drug arrests had been made in the entire year of 1966, but in the beginning months of 1972, there had already been 256 drug related arrests) and other crimes ranging from theft to prostitution. In addition, there were also increased property taxes and traffic challenges. However, Disney spokesmen pointed out that those negative aspects were more a reflection of the changing times rather than the presence of Disney in Florida.
In truth, the opening of Walt Disney World could not be directly blamed for the increased ills plaguing Orlando. The Disney Company was highly diligent in screening and monitoring all its employees. But the Disney inspired prosperity did attract a criminal element, and a variety of social misfits flooded into the area looking for quick riches.
In 1972, the traffic count at an Interstate 4 location between Gore Avenue and Anderson Street showed a 34 percent increase, with roughly 82,460 cars whizzing by that stretch each 24 hours. The first six months of 1972 clocked a nearly 23 percent increase in the use of the Florida Turnpike with toll revenues close to $30 million. While Eastern Airlines, the official airline of Walt Disney World, doubled its flights to Orlando from 40 to 80 at the beginning of 1972, nearly 80 percent of tourists still arrived to Florida in an automobile.
Director Robert Jackson of the Office of Information Services, United States Travel Service, U.S. Department of Commerce at the first anniversary of the opening of Walt Disney World stated, "Early in its first year, Walt Disney World moved to Position Number One on the list of United States destinations of greatest interest to the international travel industry... WDW has been significantly responsible for the increased vacation plans by the international tourist... WDW has also played a very important role as a strong counter-balance to the negative sociological influences that have often injured the nation's image abroad... With only a year's history behind it, Walt Disney World has already had an extraordinary past."
That first Year of the Mouse had been a busy and prosperous one. With new additions planned and announced for the Disney vacation destination, it seemed like it would be a great big beautiful tomorrow.
Disney Chairman of the Board Donn Tatum wrote in Disney's 1972 Annual Report, "It is the year which saw us bring on stream, on a fully operative basis, Walt Disney World, a project the scope and complexity of which are difficult to describe -- let alone comprehend -- and the future of which will undoubtedly add more great chapters to our Company's history."
=-=-=-=-=-=-=-=-=-=-=-=-=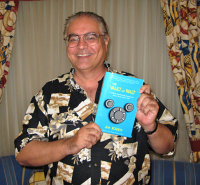 ABOUT THE AUTHOR: Jim Korkis is an internationally respected Disney Historian who has written hundreds of articles about all things Disney for more than three decades. He is the author of the popular recently published book The Vault of Walt, which contains nearly 40 chapters of untold Disney stories. As a former Walt Disney World cast member, his skills and historical knowledge were utilized by Disney Entertainment, Imagineering, Disney Design Group, Yellow Shoes Marketing, Disney Cruise Line, Disney Feature Animation Florida, Disney Institute, WDW Travel Company, Disney Vacation Club and many other departments.

Read more about the The Vault of Walt: http://astore.amazon.com/debsunoffiwaltdi/detail/0615402429
Jim Korkis will be a featured speaker at the Disneyana Convention in California the week of July 13-16. He will be speaking on July 13 about the creation of Walt Disney World and will sit on an authors' panel on July 14. July 16 is the Disneyana Show and Sale day open to the public, during which Jim will be at a table autographing copies of his book and talking with folks.
Later in the month, on July 23, Jim will appear at 3 p.m. PST at the Disney Family Museum talking about Walt Disney and Outer Space.
Finally, don't miss Jim speaking on the history of the Carousel of Progress at AllEars.Net's "It's a Great Big Beautiful Meet!" (sponsored by Maple Leaf Tickets), part of our December to Remember 15th anniversary celebration, on Thursday, December 8, 2011, 1 - 4 p.m. at the Contemporary Resort and Carousel of Progress in the Magic Kingdom:

-o-o-o-o-o-o-o-o-o-o-o-
Editor's Note: This story/information was accurate when it was published. Please be sure to confirm all current rates, information and other details before planning your trip.