April 2010 Walt Disney World Bits and Bites
Feature Article
This article appeared in the March 30, 2010 Issue #549 of ALL EARS® (ISSN: 1533-0753)
= = = = = = = = = = = = = = = = =

STEP BACK IN TIME
= = = = = = = = = = = = = = = = =
Ever wonder what Walt Disney World was like way back when? We rummage around in our archives for this monthly feature, which takes you back in history for a glimpse of Walt Disney World through the ages. This month we go back 20 years to April 1990 when Downtown Disney Pleasure Island (then just barely a year old) became a gated attraction with a New Year's Eve theme.
Beginning April 7, 1990, Pleasure Island featured a New Year's Eve show every night with choreographed fireworks, live video and a street party. Admission was $9.95 after 7 p.m., which gave you entry into all six clubs; a season pass cost $24.95.
Each club had its own New Year's Eve celebration: Neon Armadillo had a footstompin' hoedown, the Comedy Warehouse had a comic/satiric version of every tacky feature of every tacky party ever thrown, and the Adventurers Club conducted a club exorcism, complete with an Official Club Exorcism Snake Dance!
You could gain access to the restaurants on Pleasure Island at no charge. Can you name the dining spots on Pleasure Island at the time?
Answer: Portobello Yacht Club, the Fireworks Factory and the Empress Lilly.
For current Pleasure Island news: http://allears.net/btp/pleasure-island.htm
= = = = = = = = = = = = = = = = =


SOUVEN-EARS
= = = = = = = = = = = = = = = = =
This month, Senior Editor Debra Martin Koma donned her shopper's cap and browsed around the Flower and Garden Festival marketplaces to come up with some nifty Souven-Ears:

There was a whole line of cute "Mickey as a Garden Gnome" merchandise that caught my eye this year. I particularly liked the wind chimes ($14.95) and the rain gauge ($10.95) for their smaller size (which means easier to transport home). But there were also small pots ($12.95) and garden flags ($19.95), and, if you're driving or you don't mind have the package shipped, there's "Gnomickey" himself as a full-sized figure for $26.95 (left). If you're a Tinker Bell fan, you're in luck. There's a line featuring the pert pixie as well, including a beautiful iridescent bird feeder ($39.95) (http://allears.net/tp/ep/fg10/fg10_tinkfeed.jpg), a hummingbird feeder ($19.95), and an adorable, but pricy, turquoise gazing ball positioned in the seated Tink's lap ($62.95) (http://allears.net/tp/ep/fg10/fg10_tinkball.jpg). Don't miss this year's Festival poster, created by artist Randy Noble -- it's a cottage nestled in the woods (sort of looks like it's supposed to be the Canada pavilion's cottage to me), with Bambi, Thumper and Flower ($25). (Noble will be at Epcot this Saturday, April 3, for signings, by the way.) Finally, be sure to check out the hanging price tags on any merchandise you get -- many are impregnated with wildflower seeds, so you can plant them instead of throwing them in the trash!
= = = = = = = = = = = = = = = = =


HIDDEN MICKEYS ALERT
= = = = = = = = = = = = = = = = =
Steve Barrett, author of the Hidden Mickeys books and webmaster of www.HiddenMickeysGuide.com encourages you to check out these Hidden Mickeys the next time you're at Walt Disney World:

1. At the exit from the Contemporary Resort's Garden Building to the parking lot (facing the monorail), a huge classic Mickey is traced in the tile under the exit canopy between the benches. It's difficult to capture this image in a photo; the one below shows part of the Mickey etching. (Thanks to Mikey Ricco.)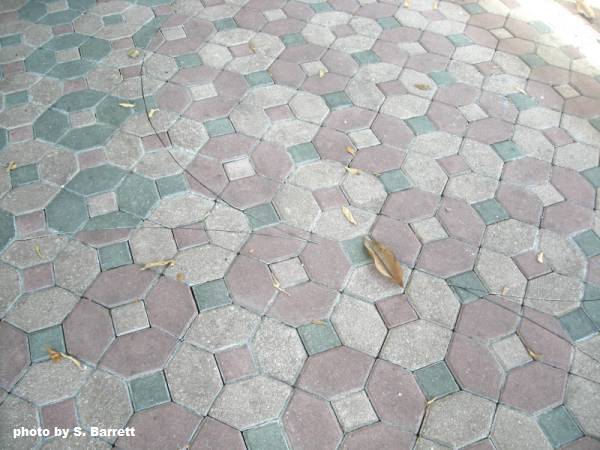 http://allears.net/btp/hm284.jpg
2. Inside
Shutters Restaurant at Caribbean Beach Resort
, a cloud classic Mickey is in a painting on the left wall of the seating room close to the rear exit door. (Thanks to Sharon Meyer.)
http://allears.net/btp/hm285.jpg
3. At Fort Wilderness, a classic Mickey with the letter "D," is high on a post to the left just as you enter the Horse Barn. (Thanks to Jim Greenhouse.)
http://allears.net/btp/hm286.jpg
Don't miss past Hidden Mickey Alerts: http://allears.net/btp/hiddenm.htm
= = = = = = = = = = = = = = = = =


TAKING AIM
= = = = = = = = = = = = = = = = =
by Lisa Berton
Picture This! Photo Blogger
Fort Wilderness Resort and Campground offers archery lessons every Thursday, Friday, and Saturday to everyone 6 years old and older. You don't need to have previous experience playing Robin Hood or have taken home any trophies from camp as a young teenager like I did. All you need to have is $25 (plus tax) and a desire to learn. Most of the 90-minute class is spent shooting arrows. For every turn you'll shoot five arrows, wait for your fellow archers to finish and when it's safe you'll be directed to retrieve them. Starting out relatively close to the padded bullseye allows you to work on your aim and power. So many attempts later, you'll move back, making it a bit more of a challenge. After shooting from that location, you'll move even further away from the target making it even harder. I missed the target twice from that position. The non-pointed arrows just bounced off a heavy sheet that's hung up behind the targets.
Read more about Lisa's experience and check out the photos at:
http://land.allears.net/blogs/photoblog/2010/03/ready_archery_experience_revie.html
= = = = = = = = = = = = = = = = =


MONTHLY REMIND-EARS
= = = = = = = = = = = = = = = = =
EVENTS
EASTER is April 4, and Walt Disney World will have some special activities for the holiday.
-- Magic Kingdom Park: Mr. and Mrs. Easter Bunny will be doing a meet-and-greet in the Tour Guide Garden "intermittently" from 8 a.m. until 5 p.m. now through Sunday, April 4. Also, on Sunday, April 4, there will be a 3 p.m. parade featuring an Easter theme with the Easter Bunny, Daisy and other entertainers.

-- Epcot: On April 4, there will be Easter egg hunts for children ages 3 to 9 every 20 minutes from 10 a.m. to 5:20 p.m. at Heritage Garden at the American Adventure Pavilion. There will also be Easter egg relays for children ages 6 – 12 at Future World West Garden every 40 minutes from 10:40 a.m. to 4:40 p.m.

-- Dining: Some WDW restaurants will have special menus for Easter. We have a partial list here:
http://allears.net/din/easter.htm

-- Religious Services: For those observing Easter, Walt Disney World will host religious services on Sunday, April 4, 2010, in the Fantasia Ballroom of Disney's Contemporary Resort Convention Center. Note that the parking lot at the Contemporary Resort, Polynesian Resort and Grand Floridian Resort & Spa will be operating under parking restrictions. As a result, resort guests staying around the monorail beam are encouraged to take the monorail or watercraft system to the Contemporary Resort and all other WDW Guests must use Walt Disney World transportation to the Magic Kingdom, then transfer to a shuttle bus to the Contemporary.

The service schedule will be: Catholic Mass - 8 a.m. and 10:15 a.m. Protestant Service - 9 a.m.

http://allears.net/btp/church.htm
Epcot's Flower & Garden Festival Continues through May 16, 2010. The festival will showcase a number of new features this year, including an expanded Butterfly House in Future World West and an expanded Pixie Hollow Fairy Garden.
The April list of performers for the Flower Power Concerts to be held on weekends during the Epcot International Flower & Garden Festivall, subject to change, is:
-- April 2-4 - Tony Orlando
-- April 9-11 - Herman's Hermits Starring Peter Noone
-- April 16-18 - The Nelsons
-- April 23-25 - Atlanta Rhythm Section
-- April 30 - Fran Cosmo (former lead singer of Boston)

EDITOR'S NOTE: Don't miss DizneyMike Bachand's Flower Power Concert Series Blogs:
http://land.allears.net/blogs/michaelbachand
Grad Nites Return to the Magic Kingdom -- After spending last year in Disney's Hollywood Studios, Walt Disney World Grad Nites move back to the Magic Kingdom in 2010. The dates for the event are April 23-24, and April 30-May 1. Live performances tentatively scheduled include: April 23-24: Paramore, Keri Hilson, All Time Low, and Quest Crew (from MTV's America's Best Dance Crew); April 30 and May 1: Boys Like Girls, Mario, Hey Monday, and Beat Freaks (from MTV's America's Best Dance Crew).
http://allears.net/tp/mk/grad.htm
Don't forget to check our Events page for current updates: http://allears.net/pl/events.htm
-=-=-=-=-=-=-=-=-=-=-=-=-=-=-=-=-=-=-
REHABS AND CLOSINGS
Magic Kingdom
Sometime in 2010, Mickey's ToonTown Fair will close to make way for the Fantasyland Expansion!
Epcot
Cantina de San Angel at the Mexico pavilion in Epcot has closed for a significant refurbishment and expansion until fall 2010 (reopening is tentatively set for late September, but could change). The company that operates the restaurants in the Mexico pavilion, San Angel Inn, LLC, plans to open on the site a new 400-seat waterside restaurant and quick service food location "specializing in the freshly baked culinary flavors of Mexico." During the refurbishment, the San Angel Inn Restaurante and La Cava de Tequila, located inside the Mexico pavilion, and the Taqueria Del Lago, located alongside the promenade, will still be open for Mexican dining.

The new 300-seat restaurant/pizzeria being constructed in the Italy pavilion in Epcot has still not been named, but it is slated to open in early September. Disney has released an artist's rendering of what the new structure will look like when it's completed.
Disney's Hollywood Studios
Muppet Vision 3D will be closed for refurbishment April 24-May 14.
Blizzard Beach has reopened from its annual rehab, however, the unseasonably cold winter has delayed work on the Teamboat Springs attraction, so it will remain closed for an additional few weeks. All other attractions in Blizzard Beach will be open. According to Walt Disney World, Lottawatta Lodge now offers healthier options, including a new chopped salad and a chicken wrap on the kids' menu. Also new will is a turkey, salami and ham sandwich on ciabatta bread at Lottawatta Lodge, and at the Warming Hut. A couple BBQ options including a rib basket and a pulled pork basket have been added as well.
The Breathless II boat will be unavailable until further notice due to unforeseen maintenance issues. If you have an existing reservation you will be contacted to reschedule if possible.
The All Star Music Bus Depot is currently closed for resurfacing of the area. The bus stop has temporarily relocated to two locations. Magic Kingdom, Animal Kingdom and Epcot stops are now in the parking lot across from the Check-in Parking area (turn right as you exit the resort main entrance). There are three small white tents set up for the stops. Disney's Hollywood Studios and the water park bus stops are now to the left as you exit the main resort entrance. This resurfacing is scheduled to be completed in April.
Saratoga Springs Resort
Work will begin this spring on a new feature pool in the Paddock area, building on the resort's turn-of-the-20th-century, upstate New York theme. Plans call for the new pool, scheduled for completion in mid-2011, to replace the Paddock area's 1,100-square-foot quiet pool with a 3,300-square-foot zero-depth-entry pool, a 146-foot water slide, a 1,600-square-foot wet-play area, an expanded pool deck spanning more than 11,000 square feet and, for hungry swimmers and sunbathers who'd rather not make the trip across the lake to Artist's Palette, an on-site, quick-service-dining location.

http://land.allears.net/blogs/dnews/2010/03/new_feature_pool_at_disneys_sa.html
A complete list of rehabs can be found here: http://allears.net/tp/rehabs.htm
= = = = = = = = = = = = = = = = = = =


GIVE A DAY. GET A DISNEY DAY.
= = = = = = = = = = = = = = = = = = =
Even though the program has reached its goal of recruiting 1 million volunteers and is not taking any additional applicants, we'll be sharing reports of guests who have experienced special Magic as part of the "Give a Day. Get a Disney Day" program:
Pat Kramer: My husband and I ended up in two very different arenas to complete our day of service. I volunteered at the local library packing donated books. Unwanted books can be dropped off at the library and sent to a third-party, which sells them for the library at a much better price than they could get. A percentage of that money is then put back into the library for new books, equipment, and materials. What a win-win situation! My husband, a regular blood donor, wanted to help out at the local Red Cross, so he volunteered as a driver. He had to fill out an application, have a background check and actually have an interview, but he pulled through with flying colors and worked with another volunteer to pick up blood from satellite locations and deliver it to the main processing center. He did this for two evenings and has actually been contacted to help out again. We both were able to walk away with new appreciations for the need for volunteerism in our OWN neighborhood. We've printed out our certificates and will use them this month on a much-needed vacation to a warmer climate! Thank you, Disney!
Jeannine B.: We are visiting WDW in June and we have young children (6 and 9 years old), so it was important to me that we find a volunteer opportunity that would include our entire family. Boy, did I find the perfect fit. The organization we helped is "Children's Chance" in Columbia, South Carolina. They provide school supplies (free of charge) to children with cancer and their siblings. Children's Chance has two School Supply Bashes in the state of SC to distribute the supplies. We held a school supply drive in our large neighborhood by placing flyers stapled to plastic bags on mailboxes. A few days later, our family went around to collect the filled bags from mailboxes. So simple. Within a week, the school supplies were delivered to Children's Chance and our volunteer efforts had been verified, and our tickets were ready to print. Thank you, Disney, for an amazing experience.
Terry W.: My daughter, her son and I were a cheer team for the Chevron Houston Marathon. We were assigned mile-marker 20. We had no idea how much fun we would have. My grandson, who has autism, blew a noisemaker for hours. Many runners, who had been on the course for four or more hours when they passed our station, thanked us for being there. We could not guess how tired and hoarse we would be. We certainly did not expect the sense of well-being we had when it was over. As we were packing up the car parked on the median, our section of the course closed and disassembled, a straggler jogged up and asked for water. Able to hand him a bottle as he jogged past, I looked up and saw the water tables up ahead were gone. Alone, with no water and few people in sight, this man intended to persevere and reach his goal. We are pleased and proud to have had a small part in Disney's "Give a Day, Get a Day" promotion .
Mary Jarvis (follow-up from February Bits and Bites newsletter): Using our volunteer voucher and getting to spend the day at the Magic Kingdom was truly overwhelming for me. It was such a great honor to get a free pass and then the Volunteer Pin to wear. Putting on the pin turned into a very Magical Day for my friend and I. We were greeted at the ticket counter with a very warm hello and thank you from our ticket taker. I thought, "Wow! He even noticed our pin!" After we were in the park, so many people came over to say thanks and many other visitors were so curious about our experience. I explained over and over about the organization that we worked for -- the Child Abuse Prevention Association (CAPA) from our town in Beaufort, South Carolina, and the day we spent working in its thrift store. Disney has given so many people an amazing opportunity to see what the needs of our communities are and how we can each do a small part to help so many wonderful organizations. Thank you, CAPA and Disney, for such a rewarding experience.
-o-o-o-o-o-o-o-o-o-o-o-
Editor's Note: This story/information was accurate when it was published. Please be sure to confirm all current rates, information and other details before planning your trip.