Meet the Authors Series:
Imagineer Alex Wright
Edited by Debra Martin Koma
AllEars® Senior Editor
Feature Article
This article appeared in the January 13, 2009 Issue #486 of ALL EARS® (ISSN: 1533-0753)
To give you an opportunity to get to know the authors behind the various Disney-related books that are on the market, AllEars® runs an occasional series called, originally enough, Meet the Authors. In addition to giving you a little background on the authors and their work, we also solicit questions from our readers to pose to our subjects.
This edition of Meet the Authors lets you get up close and personal with Alex Wright, a Disney Imagineer who has worked on the series of "The Imagineering Field Guides." To date, the series includes books on the Magic Kingdom, Epcot, Animal Kingdom, and Disneyland, with a field guide on Disney's Hollywood Studios slated to be published later this year.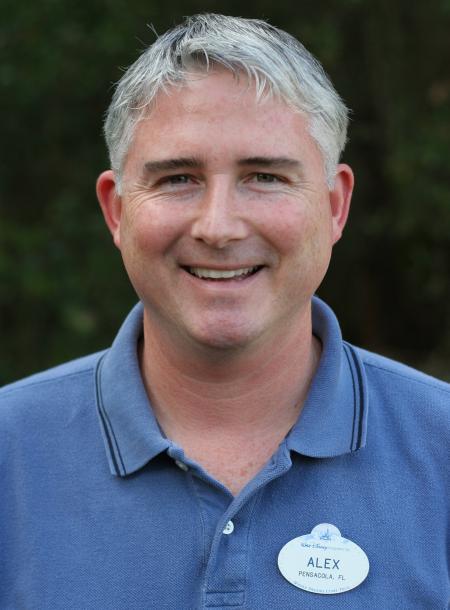 As an Imagineer, Alex has been involved in a variety of diverse projects over the years, ranging from Magic Kingdom's Monsters Inc. Laugh Floor and the latest renovation of the Haunted Mansion (he worked on the staircase and the stretch room), to Disney's Animal Kingdom theme park. He brings all this experience to bear in writing the Field Guide series, which explain the various roles of the Imagineers, as well as the details behind the making of a theme park.
Several months ago, we asked AllEars® Readers to submit questions to Alex relating to the third book in this series, "The Imagineering Field Guide to Disney's Animal Kingdom." This pocket-sized paperback points out details and tells stories about the Animal Kingdom theme park, along with behind-the-scenes Imagineering insights -- almost like having a personal tour in the park with an Imagineer, as the book's back cover clams. This particular field guide provides the development art, sketches, and schematics for what has been called Disney's most "real-world" park to date, and talks about the park's tribute to wildlife and all the subtle details that help bring the park to life.
Alex was gracious enough to answer all sorts of questions from our AllEars® Readers, not just on the book and the Field Guide series, but on being an Imagineer, and on the Animal Kingdom theme park itself:
Jean B. from Kennebunkport, Maine: First, let me say, I love Animal Kingdom. It is a masterfully imagined experience. I was wondering, as you were planning the park facilities, what were the thoughts behind having a treatment room where people could watch procedures in Conservation Station? This is one of my favorite parts of the park (I'm a frustrated Vet). I have been known to sit for the entire morning watching these very gifted professionals work their magic. I love to watch for the little signs of the bonds between caregivers and the animals -- a soft little pat to a waking animal or a gesture of concern from a handler. As an Imagineering group, were you trying to show this bond? Were you trying to give the guest a view they would not see very often? Trying to show animal vulnerability? And what do you feel guests leave with from the experience? Have you ever considered posting the follow up from interesting cases somewhere as a way to 'finish' the experience?
AW: I'm really glad to hear that you enjoy that viewing opportunity. For Conservation Station at "Rafiki's Planet Watch", it has always been important to us to provide a true backstage view of the operations of the Park. Here we've taken the guest out of all of the recreations of wild places around the world, and given them a view to the ways in which the animals are cared for in support of our show. In trying to tell a broad story such as this, it's important to capture every angle. The care of animals in facilities such as Disney's Animal Kingdom is a big part of the story of the interaction of humans with animals. Our Animal Programs team members, including keepers, veterinarians, scientists and educators, maintain a bond with the animals that is of great value to our Guests to be able to see and, as you mention, it's not something that people are typically able to observe anywhere else.
Rob R of Stafford, VA: I have all three of the Field Guide books, having just purchased the Animal Kingdom book at Disneyland at the end of June, and I love them all! The original logo for Animal Kingdom depicts a dragon and a lot of Internet sites mention the land Beastly Kingdom. Some of the original concept art for Animal Kingdom depicts this land as well. Will this land ever be built?
Mary from Rhode Island: One thing I am curious about is Beastly Kingdom. What rides and attractions were intended to be built there? Why was BK's construction delayed/canceled? And is there any chance that it will finally be built?
AW: It's often said that no idea ever truly goes away at Imagineering, but sometimes they reappear in somewhat different forms than those that were initially envisioned. The thrust of Beastly "Kingdomme" (it was originally to be spelled in Old English style) was to bring mythical animals into the fold of the Park's storylines. So, in a way, Expedition Everest begins to fulfill that same promise.
We are constantly in a state of reassessing the Parks and our plans for their future development. Lots of variables come into play whenever we undertake to make decisions on the scale of the addition of a new land, with input drawn from all of the various stakeholders in the whole Walt Disney Parks and Attractions organization. So, while we never say never, we also can't comment on how likely something like that might be.
Linda from Maryland: Was the Festival of the Lion King theatre always thought to be in two stages... The open air and then the enclosed?
AW: Festival of the Lion King, and all of Camp Minnie-Mickey for that matter, was a fairly late addition to the roster of opening-day attractions for Disney's Animal Kingdom, as the expectations for the Park continued to rise during construction. It wasn't known at that time for how long that new area would be needed as the Park continued to grow beyond opening. The incredible popularity of that show has led to a couple of rounds of improvements.
Rob R., Bill M. from Arlington, Texas, Sue from Chicago, Ray S. from Tarrytown NY, and others ask: When will the book: The Imagineering Field Guide to Disney's Hollywood Studios at Walt Disney World, be published? What others can we look forward to?
AW: I'm just getting started in earnest on the Field Guide to Disney's Hollywood Studios, so that means that we would expect it to be available some time within the next year. At this point I take them one book at a time, but if I am finished after this one, Disney Editions will find somebody to work on any additional books or updates that they would like to publish.
Holly from Texas: What is the best "track" to becoming an Imagineer? What different types of departments require Imagineers? What potentially could I be doing if I pursued and achieved this goal?
AW: Well, we have over 140 disciplines represented amongst our ranks, and if you were to ask this question of several Imagineers from each of those, you really would get a different answer from each of them. There is no typical track, as the work we do is so varied and the experiences that can offer value to our process can be so unique. We have designers of all stripes, architects, writers, engineers, artists, project managers, construction experts, special effects wizards, and so on, along with all the expected functions in the areas of finance and contracts and procurement that make any business able to do its work.
My advice to anyone who asks is always that it's more important to find the thing(s) that you enjoy doing, and pursue those until you become really proficient at them. I believe that being in the right field of study will lead to a greater degree of success in studying it. That was always my experience.
We use so many distinct skill sets to pull off the incredibly complex flights of fancy that we produce, that once someone becomes really good at their type of work there's a pretty good chance we can put them to use somewhere along the way.
Barrie B. from California: Is there a legend available showing a list of all animals on The Tree of Life and/or where they are? Are all visible to guests or are some in cast only areas?
AW: While the sculptors of the tree worked from notes showing the intended placement of all the animals, I don't know of such a thing having been published. They are all visible to Guests, however some are only visible from very specific locations, such as portions of the "It's Tough to be a Bug" queue. One of my favorite little tidbits has always been the placement of the dinosaur bones in the lower reaches of the Tree's root structure, usually shown as being revealed by underneath layers of bark that have been peeled away.
Beth from NY: Here's something I've often wondered. Do Imagineers ever tour their parks in a wheelchair or ECV? Attractions & shows are getting more wonderfully accessible every time I visit, and I've been there on wheels probably 25 times at this point. Bravo and keep up the good work! But... I think if an Imagineer spent a day in each park, in a chair, there would be some wonderful improvements. The paths at AK are just miserable if you're in a chair. I know some of the design features (texture, bumps) help keep guests from slipping on wet pavement, and the narrow spots help with traffic flow. They're just SO bumpy and nasty if you're riding on your sorry sore butt all day!
AW: We take our responsibility to design for accessibility very seriously. While I haven't done it myself, I do know of instances in which groups of Imagineers (and other Walt Disney World Cast Members) have made outings into the Parks to experience them from the point of view of a Guest in a wheelchair. I also attended a departmental staff meeting in which we were able to experience Soarin' at Epcot while blindfolded, after being told of Guest feedback that indicated that Soarin' was one of the favorite attractions for our vision-impaired Guests. This sounded counterintuitive at first, so we wanted to try it for ourselves in order to better understand that response. What we found is that the additional sensory inputs that were added to that ostensibly visual attraction made it quite exhilarating even without the ability to see the images. That is all part of the first of Marty Sklar's "Mickey's Ten Commandments," directing Imagineers to always "Know Your Audience."
Donna from New York: Was Animal Kingdom designed to be more eco-friendly than the other parks? Are there any 'green' products for a WDW guest to bring home to remember their visit (like a t-shirt made from recycled bottles)? How about organic or local produce being used in the AK restaurants?
AW: Disney's Animal Kingdom was designed with environmental concerns in mind, in keeping with the themes and stories that Disney's Animal Kingdom represents. For example, there is a greater degree of visibility for elements such as benches made from recycled plastic, wherever it can be done while maintaining adherence to our stories. Other considerations were made in less visible applications, such as choices of lighting fixtures. And today, WDI's 'green' initiatives continue to expand in design and construction efforts. At Walt Disney World, our merchandise team has really started coming up with creative items that could be picked up during the next trip to Downtown Disney or one of the parks. How about a basket made from recycled telephone wires? Look for the baskets at Mombasa Marketplace at Disney's Animal Kingdom and Zawadi Marketplace at Disney's Animal Kingdom Lodge. If looking for organic cotton, you can choose from several styles of organic cotton T-shirts and two styles of tote bags. Wildlife conservation is a top priority at Disney's Animal Kingdom -- and the park's merchandise reflects this. Guests can purchase plush hippos, tigers, elephants and more for the young (and young at heart) on their lists, and $1 from each purchase will go to the Disney Worldwide Conservation Fund (DWCF) to help wildlife here in Florida and around the world. Need a gift for a pin collector? The DWCF pin is a real find -- and 40 percent of the purchase price goes to the fund. If you're shopping at the park, you can also choose from three styles of T-shirts and a tote bag that support the World Wildlife Fund.
Brian from Virginia: Did they learn anything while building AK they wish they had known when working on MK or Epcot? Has it affected any future building plans?
AW: We learn new things all the time, and strive to apply them in all subsequent efforts. From my point of view I've always felt that the Animal Kingdom construction effort demonstrated for us a new state of the art in our character plaster (rockwork and architectural finishes) and character paint (aging and patina effects) disciplines that have found their way into projects like Tokyo DisneySea and others.
Lou from Pittsburgh: Many guests comment that Animal Kingdom seems hotter than the other parks. What's the coolest place to hang out?
AW: I've always enjoyed the overlook to the lake from the seating areas of Flame Tree Barbecue. I spent a great deal of time out there during the construction of the Park placing the Balinese concrete statuary pieces that decorate the site. And now we even have a great view toward Expedition Everest!
Linda from Florida: Why is there such a variety of terrains in the park?
AW: It's particularly important at Disney's Animal Kingdom that we depict each of the animals in a setting that represents their native habitat. The fact that our animal stories come from all around the world gives us the opportunity to recreate all of these amazing settings.
Alex from DC: Can you explain why is there no longer the cruise on the "river" that was there when the park first opened?
AW: As for the Discovery River Boats... that was an example of the learning process we go through for each of our new endeavors. We constantly assess and reassess our offerings to make sure that we're doing the best we can in service of the Guest experience. That particular one just didn't pan out the way we expected.
Laura from San Diego: Can you tell us anything about what you might be working on now that we will be seeing in the future?
AW: My biggest projects right now are the development of the ESPN overlay at Disney's Wide World of Sports and a Community Relations effort, the front lobby play space for Disney Childrens Hospital at Florida Hospital.
Gloria from Miami: What's on the planning board for the Animal Kingdom? A new "continent?" Any new attractions? Anything you can talk about?
AW: While we like to maintain the ability to surprise our Guests with new projects as they are announced, I can assure you there's always something new on the drawing board. Animal Kingdom offers a wonderfully broad creative canvas, and I'm truly excited to see how it develops over the years.
===============
RELATED LINKS:
To read more of Alex Wright's insights on Disney's Animal Kingdom, buy the "The Imagineering Field Guide to Disney's Animal Kingdom" here: http://astore.amazon.com/debsunoffiwaltdi/detail/1423103203
Meet the Authors Series: http://allears.net/btp/authors1.htm
-o-o-o-o-o-o-o-o-o-o-o-
Editor's Note: This story/information was accurate when it was published. Please be sure to confirm all current rates, information and other details before planning your trip.