A "Low Carb-cation": Special Dining at WDW
by Blaine Helmick
AllEars® Guest Columnist
Feature Article
This article appeared in the January 13, 2015 Issue #799 of ALL EARS® (ISSN: 1533-0753)
Editor's Note: This story/information was accurate when it was published. Please be sure to confirm all current rates, information and other details before planning your trip.
(EDITOR'S NOTE: This is another in our occasional series of columns on guest experiences when visiting Walt Disney World with a special diet or other special need. Please do not consider the opinions offered in this column as expert medical advice, and consult your physician or medical professional before embarking on any special diet.)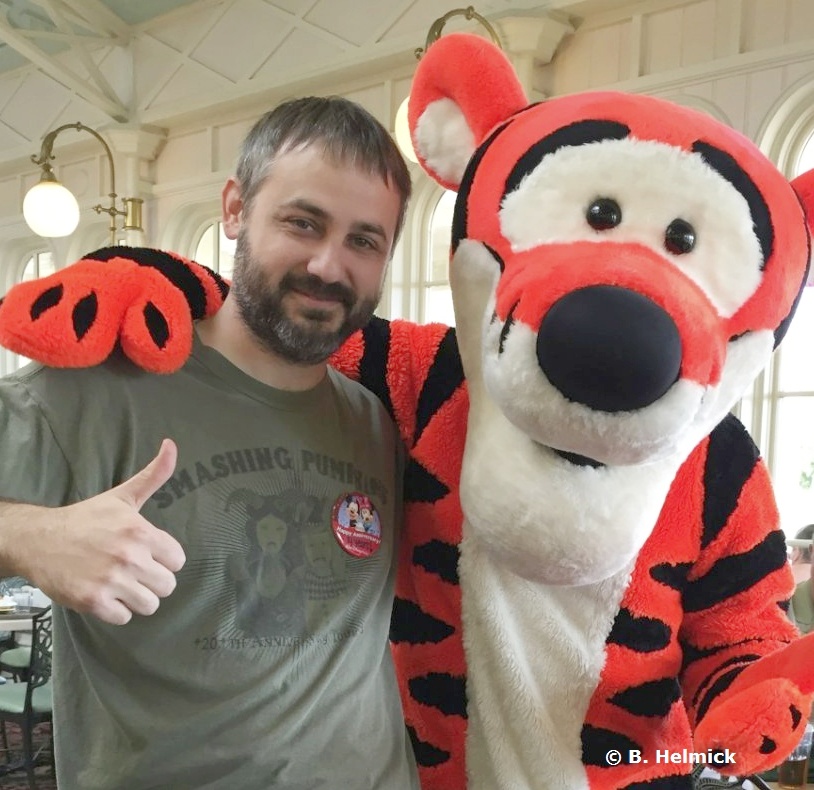 My wife, Tammie, and I have been married for nearly 15 years. A few years into our marriage we found out that Tammie has a condition known as PCOS or Poly-Cystic Ovarian Syndrome. Without going into a lot of detail, suffice it to say that people with PCOS struggle with weight and infertility, among other issues.
After many years of different diets, doctors and treatments, we learned that some recent emerging theories suggest that a low-carbohydrate (LC) diet may help. For Tammie and me, this was our answer. After switching to a low-carb diet, the pounds slowly — very slowly — but steadily went away. We have since been blessed with two amazing children, Wesley (3) and Charlie (1). And while we have more to go, we're proud of what we've accomplished together. Tammie is the researcher and eater, I'm the writer and motivator; together we're making it work.
We've always been "Disney People" and now that we have kids, we are even more so, if that's possible. Before kids and the LC diet, Disney was a treasure trove of sweet and starchy treats enjoyed regularly. Now, however, with the LC diet firmly yielding results, can we have our Disney and eat it, too? I'm here to tell you it's not only possible, it's delicious! And I'd like to share part of our recent Disney journey with you, with tips on how to eat LC without feeling deprived.
DISCLAIMER: Please remember we're not doctors. We're just two people sharing our experiences. This diet is not for everyone and could carry risks for people with certain medical conditions. If you are considering a low carbohydrate diet it's imperative that you consult with your physician first.
No two words can spark an ear-to-ear smile from us faster than, "Welcome Home!" After months of watching the countdown on the refrigerator whiteboard, we made the drive to Disney for our semi-annual pilgrimage. Fortunately, we live only an hour away from "Mickey's House" and as Disney Vacation Club members we enjoy staying at the Orlando resorts a couple times a year.
Staying in a DVC villa (even if you're not a DVC member) is actually one of my first tips for eating LC while at the World. In fact, we've found that preparing meals in your room is a great way to help keep yourself on the LC program. It's not only a money-saver, but it's also a carb-saver. By eating low- to no-carb for the morning meal you could perhaps splurge a bit on your meal out in the parks. We often eat breakfast in the kitchen that comes with all DVC villas. Eggs, bacon, and some fruit keep it very LC. Lunch is also often in the room — mozzarella cheese sticks wrapped in turkey or ham and some veggies to tide us over to dinner.
This visit was actually our first stay at Kidani Village at Animal Kingdom Lodge, and we had booked several meals at some of our favorite restaurants.
'Ohana was scheduled for our first night. We piled the brood into the family truckster to drive over to the newly (re)minted Polynesian Village Resort. As we sat down to the all-you-can eat Polynesian meal at 'Ohana, we were greeted with a huge loaf of sweet pineapple bread. A delight for the kids and myself, but of course this was definitely off-limits for Tammie. As delicious as the bread is, sadly this is not an LC option. As if to add insult to injury, the restaurant's chicken wings are slathered in a deliciously wrong sweet teriyaki glaze and pork gyoza (dumplings) are served. Again not LC. However, all was not lost! Tammie quickly realized she could eat the inside of the gyoza, leaving the flour wonton wrapper alone. So she made it work by opening the little heaven pockets and eating the filling.
Onto the entrees! How can you go wrong with unlimited meat and shrimp? Not only are they completely LC, they're just darn tasty. Tammie skipped over the noodles of course, but the veggies were awesome; a very slight char, likely due to stir-frying, and lots of delicious butter. This is LC eats for sure.
Dessert was bread pudding with two-scoops of vanilla ice cream on top. Let's all say, "Mmmmmmmm." Oh but sadly, bread, pudding, and ice cream aren't exactly in the LC playbook. The server was more than happy to supply Tammie with a nice bowl of fresh fruit. Overall, 'Ohana is a fantastic destination for any LCer. You could eat totally LC without making many substitutions at all.
One day we had lunch at the Coral Reef restaurant in Epcot. Now, this is a menu that's built for low-carb eaters. Lots of fish, beef, pork, and chicken options all scrumptiously prepared in different ways to amaze the palate. Each menu option comes with a starchy side but, as always, Disney is prepared, and our server was happy to substitute starchy sides for vegetables. I ordered the seared rainbow trout while Tammie ordered mahi-mahi. We substituted our starches for green beans cooked in garlic and butter, which complimented the fish perfectly.
We were set to dine another night at Tony's Town Square in the Magic Kingdom for dinner before the Christmas Party. One look at the menu and you would think this is definitely a no-go for Low Carb. After all, it wasn't zucchini "noodles" that Lady & The Tramp were sharing. Fortunately, there were a couple of LC options on the menu, including a sustainable fish — in our case, it was tilapia. Also there was a seasonal melon with prosciutto for an appetizer. If you have not tried this combination, I suggest you do immediately. This marriage of natural sweetness and smoky savoriness was clearly meant to be. One thing to avoid, however, is the tomato and mozzarella salad appetizer. It may sound low-carb, but after asking we found that the balsamic glaze does indeed have added sugar, and it just isn't a tomato and mozzarella salad without the balsamic. Either ask to leave it off or avoid this altogether.
Tony's Town Square is awesome, especially if you score outdoor seating on a beautiful fall or spring evening, but I'm afraid the focus on pasta is particularly pervasive in this menu, which limits your low-carb choices. Even though minefields abound, what they do offer is mighty tasty, so it might be worth a visit if you're willing to make some LC substitutions and sacrifices.
One of our dining highlights this trip came on our special night out to celebrate our wedding anniversary. We had a sitter come to our room to watch the boys, while the wife and I enjoyed the California Grill at dinner.
We had been to the California Grill once before many years ago; but this was the first time we'd been since its refurbishment. I loved the menu back then, but that was before we moved to the LC lifestyle.
Let me just say that California Grill does not disappoint. Our server was highly knowledgeable about the menu and didn't seem fazed by our request for low-carb recommendations. In fact, she was so well-informed she was able to guide us to a number of menu options and make smart substitution recommendations. I must say this is the reason I come to Disney time and time again.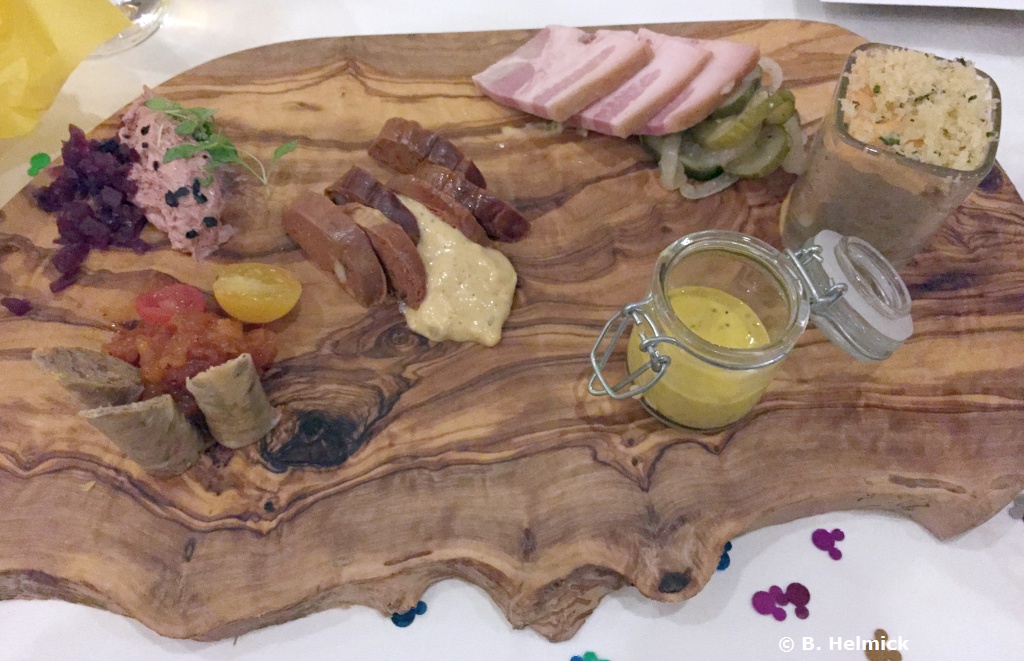 Her first recommendation was the charcuterie as an appetizer; it's big enough for two to share and is very LC. By default it comes with toast, but that is easily either ignored, or in our case not served at all. Have you ever had homemade spicy mustard? If not, you must book a reservation at California Grill now to try this! When paired with the Orange Honey Picnic Ham (which is pork shoulder) this is a flavor explosion. A little salty, a little sweet (not nearly enough for LC concern), a little spicy and a mouth-pleasing array of textures. My mouth is literally watering as I'm typing this recalling the flavor experience.
While I could spend a full page on the charcuterie menu alone, I'll move on to the entrees. The menu is very deep when it comes to LC entree options. Let your server guide you here. I'm confident saying that you can put yourself in their good hands. Tammie decided on the lamb porterhouse, while I went with the decidedly not LC gnocchi. (Yes, I cheat from time to time, but it was a special occasion.) In fairness I'll leave out a review of the gnocchi (WOW! IT WAS AWESOME) and just focus on the lamb. The lamb was… nothing short of incredible. Perfectly seared with a scrumptious peppery crust and perfectly cooked to a medium. Tammie decided to keep the couscous and eat just a bit of it. But this was, after all, a porterhouse so she couldn't quite eat it all.
California Grill is a fabulous restaurant by any measure. Due to their depth in menu for all courses, extremely knowledgeable servers, and ease/willingness to substitute, California Grill earns a 9 of 10 on my "Carb-Magic" rating scale. The rule here is simple — you can make just about anything work, you only have to ask.
In fact, that tends to be my advice for anyone who wants to dine LC at most Disney World restaurants. ALWAYS ask your server if they have any low-carb or diabetic alternatives for any menu item. Specifically, alternate desserts can be provided more often than not. Also keep in mind that "low-sugar" or "no-sugar" does NOT mean "low-carb."
As you can see, we enjoy dining out at Walt Disney World, and don't let our special dietary concerns hold us back. We figure out ways to make it work, and I hope to share more of our LC dining experiences with AllEars® readers in the future!
= = = = = = = = = = = = =
RELATED LINKS
= = = = = = = = = = = = =
Navigating WDW with a Special Diet (AllEars® #780, 9/02/14 )
Disney World, the Dining Plan and a Diet (AllEars® #758, 4/01/14)
Special Dietary Needs at Walt Disney World

'Ohana Restaurant in the Polynesian Village Resort

Tony's Town Square Restaurant in Magic Kingdom
Coral Reef Restaurant in Epcot
California Grill at the Contemporary Resort
-o-o-o-o-o-o-o-o-o-o-o-
Editor's Note: This story/information was accurate when it was published. Please be sure to confirm all current rates, information and other details before planning your trip.